With video conferences on the rise due to more people working remotely, it's even more important to be able to have a call without distracting background noise. Right now, many of us find ourselves working in embarrassingly noisy situations – and we have a need for a solution that will allow us to communicate more effectively. 
Noise cancellation apps have become even more useful than ever. Such an app allows you to speak and listen clearly, no matter what noise and chaos is going on in your environment. From construction sounds to background chatter to barking dogs, the app cancels out everything and leaves only your voice. 
If you are looking for a noise cancelling app, then you may have stumbled upon these two apps available on the market: Krisp and BabbleLabs. But which is the right one for your needs? 
These two apps are quite similar in the way they function. However, they differ when it comes to resource consumption, performance and range of platforms supported. 
Let's dive deeper and see the differences between Krisp and BabbleLabs – so we can determine which one is a better noise cancelling app for you.
What is Krisp?
Krisp is an AI powered noise cancellation app that mutes background noise from your side of the call, as well as all call participants. It is known for being one of the world's best noise cancelling technologies and it works with the power of artificial intelligence. The AI software has been trained to recognize the difference between human voices and background noise, so that it can seamlessly filter out distractions.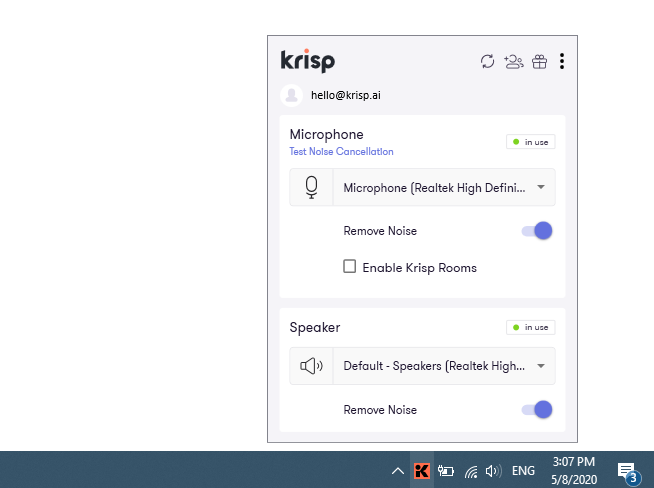 Krisp is designed to support a number of devices, including microphones, headsets and speakers. It works with more than 800 apps, from streaming apps to conferencing apps to recording apps. And Krisp is independent of microphone, speaker, hardware.
The app also provides you with a high level of privacy, as it performs all audio-processing locally. This means that the recordings of your audio will not ever leave your device. It is a very reliable and easy to use app, ideal for anyone who has multiple conference calls, interviews or phone conversations. 
What is BabbleLabs?
BabbleLabs is a Silicon Valley based speech science technology company and they recently launched their Clear Edge software. 
BabbleLabs Clear Edge app is designed for conferencing and integrates with your audio stack to enhance the clarity of your voice and remove background noise. It was designed in a similar way to Krisp – the developers used thousands of hours of audio data to train the AI to recognize the difference between background noise and human speech. 
The software works efficiently to remove all background noise in any communication or conference call. It can be used on any device, from laptops to desktops to mobile phones to tablets. 
Krisp vs. BabbleLabs: Features, supported apps and technical requirements
Let's take a look at the features, supported apps and technical requirements of Krisp vs. BabbleLabs. Are these apps identical, or are there differences in how they function? 
Noise Cancellation
Both Krisp and BabbleLabs are applications that allow to mute background noise in any communication app. These two apps are very similar in the way they work – both using AI to filter out background noise in a very efficient way. 
They add a virtual Microphone and Speakers within the system, so that you can select from the conferencing app. Then you can turn on and off the noise removal from the app. 
Verdict: Both of these apps function in a very similar way – and both are successful at cancelling out noise during conference calls, recordings and streaming audio. 
Note: We did a full test and compared the two apps for their noise canceling quality. Keep reading to get to the techy part 🙂
Supported Apps
Another factor to keep in mind when it comes to choosing a noise cancelling app is which other apps are supported. Does the app work with the conferencing application you will be using?
This is a factor in which BabbleLabs and Krisp are quite similar as well. Both of these apps essentially add a virtual microphone to whichever conferencing app you are using. 
BabbleLabs Clear Edge works with any conferencing application, including Zoom, Google Hangouts, Microsoft Teams, Discord or Skype. Krisp also works with a huge range of over 800 different conferencing apps. 
Therefore, you'll have no problem using any conferencing application and either Krisp or BabbleLabs will likely be supported by any app you use. 
Verdict: There isn't much difference when it comes to this factor. Whichever app you chose, it will be supported by the conferencing app you use. You will be able to use a wide variety of apps, knowing that your noise cancellation app will work reliably with each one. 
Hardware and OS Requirements
Before choosing the ideal noise cancellation app, it's also important to consider the hardware and OS requirements. Ideally, an app will have flexible requirements so you can use it no matter what hardware and operating system you are using. This is especially important, as many business professionals rely on several different communication platforms as part of their job. 
At this moment BabbleLabs supports only Windows with its ClearEdge desktop application. This means that if you are on Mac the choice is already made for you when it comes to which noise cancelling app you should use. 
Also it has a mobile noise removal application called ClearCloud, which allows you to remove noise only from existing audios/videos. Unfortunately, this application cannot be used with real-time calls. This somewhat limits the amount of situations in which you can use the BabbleLabs app. 
Krisp runs on Windows, Mac OS, it is also available as a Chrome Extension. This makes Krisp a better choice compared to BabbleLabs.
Besides, Krisp Noise Cancelling Dialer is available in the AppStore as an iOS mobile application for real-time calls. This means that you can use it when you are taking conference calls from your mobile – making it more versatile. 
Verdict: When it comes to Hardware and OS Requirements, Krisp runs on a wider range of operating systems and it works with more different types of hardware. It is the most versatile choice and can be used in a more diverse range of settings. 
Pricing
Let's take a look at the difference in pricing between the two options. 
Krisp
BabbleLabs 

Free:

Krisp offers a free version of the software that allows you to mute microphone and speaker noise for 120 minutes per week. 

Pro

: The pro version costs $3.33 per month, billed yearly, and it includes unlimited muting of microphone and speaker noise. ($5 per month with monthly billing.)

Teams:

The teams version of the app includes all the features of Pro, as well as an admin panel that allows you to manage members, have centralized billing and configuration. It costs $3.33 per user per month, billed yearly. ($5 per month with monthly billing.)

Enterprise:

There is also an enterprise tier available for Krisp – the price is available upon request.  

BabbleLabs Clear Edge offers a three month free trial that will allow you to try out the app and see if it works for you. 
Verdict: Both apps offer a free version for you to try them. When it comes to pricing, Krisp offers different plans suitable for various purposes, while BabbleLabs allows you to try their app for a limited time.

Krisp vs. BabbleLabs: Performance Comparison
Of course, one of the most crucial aspects of choosing a noise cancelling app is the quality of the performed noise removal. After all, if the app isn't up to the task – then all of the other factors don't matter very much. 
So, we put both apps to the test to find out which one offers the best performance. 
Note: Krisp's technology is available in various bandwidth modes. For the tests, we used the Krisp HD full-band model. As of now, Krisp's desktop app uses Regular mode (wideband), but the HD mode will be released soon.
Audio Quality (Noise Cancellation + Voice Quality)
When you compare these two apps – which one offers higher voice quality when blocking background noise out of calls? 
In order to determine this, it's important to compare official test results. We can determine this by assessing POLQA – Perceptive Objective Listening Quality Analysis. This is a standard for benchmarking voice quality by means of analyzing digital speech signals. 
It was developed by industry experts and it is the ideal way to measure the voice quality of next-generation networks.
To compare the audio quality we've evaluated POLQA scores both for Krisp and BabbleLabs Clear Edge for a set of noises that are the most disturbing during the work from home conference calls. The comparison chart is shown below.

Verdict: As you can see, Krisp outperforms BabbleLabs Clear Edge for almost every type of background noise. In some cases, such as a baby crying, dog barking or construction noise, Krisp performed significantly better. 
CPU/GPU Load and Memory Usage
Another factor to consider when choosing a noise cancelling app is the amount of memory usage and the CPU load of the app itself. The app might offer you a lot of beneficial features, but if it uses too much memory it will slow down your computer, phone or tablet and cause issues. You might find your device freezing or running slowly, which is not ideal. Besides, if you use a laptop, your battery will drain much faster if the app isn't optimized for lower resource consumption.
We took a look at the difference between memory usage and CPU load for both Krisp HD and BabbleLabs Clear Edge. We have run them separately on the same machine – Processor Intel(R) Core(TM) i7-9700F CPU @ 3.00GHz, 32.0 GB RAM, NVIDIA 2080 Ti GPU. Each run took around 30 minutes to complete. 


We found that while having the higher NC quality, Krisp FullBand model still uses less resources. This means that it will operate smoothly, without slowing down your system and draining your battery fast.
It's also important to note that Krisp is designed with features that make it run faster. For example, Krisp has NVIDIA GPU support which significantly offloads CPU in case if the system has a graphic card.


Verdict: Since Krisp takes up less memory and CPU, it will be the advantageous choice as it will not overwork your operating system and will not slow down your device.
Krisp vs. BabbleLabs Comparison Conclusion: Which One Should You Choose?
Due to the current social distancing measures and the rise of remote work, a huge number of people now work remotely. Disruptions such as background chatter, children playing, car horns, barking dogs, construction noise and more can affect your call and make you sound unprofessional. These noises are not only distracting, they can disrupt a meeting and make it more difficult to collaborate. 
With a noise cancellation app such as Krisp or BabbleLabs Clear Edge, you'll be able to have crystal clear conversations every time – without any distracting noise. 
Both of these apps are designed with a number of features that will be beneficial to you when it comes to cutting down background noise during your next call. Either app will block out background noise during your conference calls and recordings – using the power of artificial intelligence to filter out the unwanted sounds. 
However, the key difference between these two options is in the variety of supported platforms, resource consumption and the quality of the performed noise cancellation. Looking at the data, you can see that Krisp supports more platforms and consumes less resources on your device, while offering superior noise cancellation.