Looking for a noise cancelling app for Windows? Read on for the 5 tried-and-tested noise cancelling apps currently available on Windows.
Companies lose $600 billion every year due to workplace distractions. The most common among them? Background noises during meetings, webinars, and client calls. 
Noise negatively affects the quality of your call or recording and makes it difficult to hear and understand one another, leading to further misunderstandings and even losing clients altogether. 
Over the past years, we've tested all of the noise cancelling solutions on the market and collected 5 of the best noise cancelling apps for Windows.
But first…
What should you look for when choosing your next noise cancelling app for Windows?
Before you make your first purchase, keep an eye on the following criteria for choosing a noise cancelling app that suits your needs:
Operating system availability:

Many of the latest noise cancelling apps are built for Mac and iOS users first since there's a higher demand there. So whenever you come across a noise cancelling app with the features you want, make sure it's available on Windows too.

Noise cancelling accuracy:

Video conferencing tools like Zoom or Google Meet come with an integrated noise suppression feature. However, the capabilities of these apps aren't advanced as they merely lower the volume of background sounds instead of removing them altogether.
[demo-new]
Use cases:

If you're recording a video or podcast, you'll want the noise cancelling app to work as you record. Some apps only cancel noises during the editing part so you won't be able to use them for real-time calls and events.

Features:

At their most basic level, these apps remove background sounds for a fairly large specter. Advanced features include removing echoes, improving the quality of your voice in both real-time and for recordings, and getting insights into how long you spend in meetings to improve productivity.

Ease of use and learning curve:

Look for noise cancelling apps that you or your team won't have to spend hours learning how to use. Some of the solutions on this list like Krisp and SoliCall work automatically with a single click so you won't have to spend extra hours editing the audio.
Best Free Noise Cancelling Apps for Windows
1. Krisp – best for individuals and teams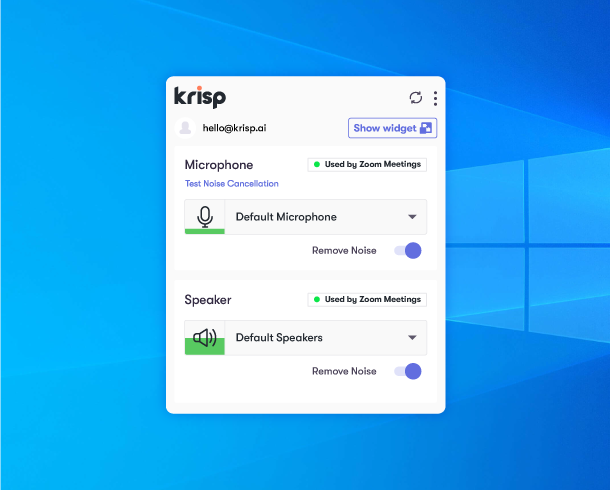 Krisp is a noise cancelling app that removes all background sounds during calls in real time.
It works with any conferencing, messaging, recording, and streaming app that accepts Krisp as their audio input. All you have to do is switch it on once and the tool automatically removes noises on both ends of the conversation. The Krisp widget can even tell you if there are any sounds impacting the quality of your audio so you won't have to take a long time to prepare for a meeting or presentation.
[demo-new]
Krisp uses a Deep Neural Network that's trained to recognize and remove background noises, leaving only the clean human voice on the audio. The audio processing is done locally on the device, so your audio data stays secure.
Krisp for Windows is available, so give it a try and let us know what you think!
2. SoliCall – best for phone calls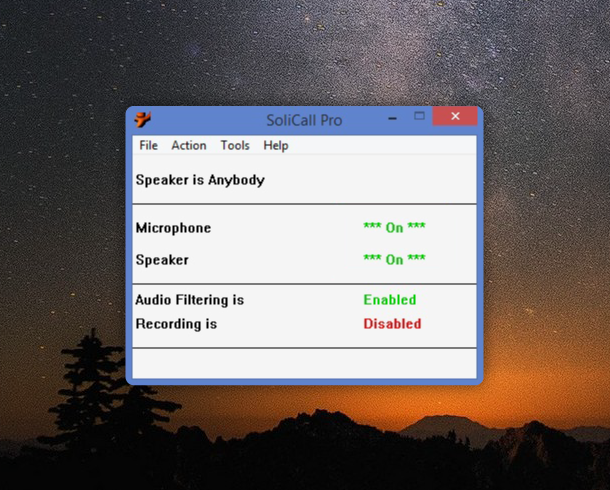 Solicall is a noise cancellation app for Windows specifically designed for phone calls. It aims to improve the audio quality and cloud-based echo cancellation of your phone calls through two noise reduction technologies: profile-based and reference-based.
With profile-based noise reduction technology, the background noise is attenuated by focusing on the voice of the speaker. The app identifies the voice of the speaker and separates it from the audio signal.
Reference-based noise reduction technology removes background noise along with human voices. This means that whenever you're in a call, the nearby conversations won't be audible. SoliCall's best use is for call centers where both incoming and outgoing calls won't let nearby human voices come through.
3. Audacity – best for post-recording noise cancelling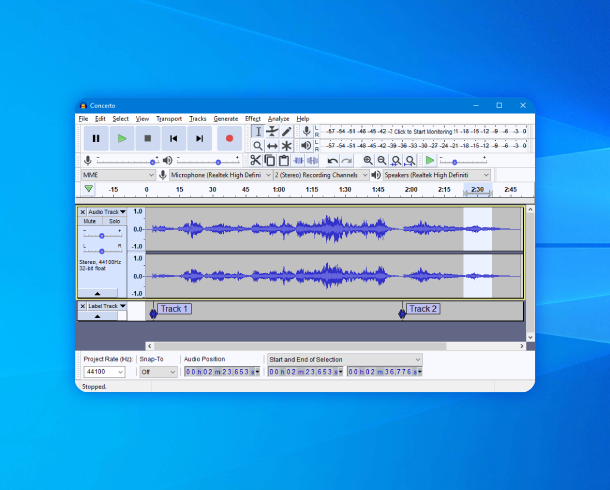 Already have a recording and need to get that pitch-perfect sound? Audacity is a go-to choice for professional podcasters and video creators who want to remove or lower the noises on their recordings. The tool allows you to add special effects and even filter out noises that are covering up your speech. 
You can also use it to lower ambient background sounds so they're not distracting listeners or making the conversation unintelligible. Note the feature doesn't completely remove noises as it's officially a noise reduction functionality that filters sounds based on volume, sensitivity, and frequency smoothing.
Compared to the other apps on this list, Audacity has a steep learning curve as it requires the user to learn how to use the functionality and choose the best noise reduction settings every time. The catch is that you have to select a noise portion within your audio to tell the app what it needs to remove throughout the rest of the audio. For best results, you'll still have to edit all noise reduction settings.
4. Noise Blocker – best for reducing recurrent sounds on a track
Noise Blocker is a different kind of noise cancelling app for Windows as it works by pre-recording sounds you want the tool to remove during future calls or streams. Think of it as a library you build and then use to maintain clear audio.
While the tool is fairly easy to use, the process of reducing noises can get tedious as you have to record sounds you want the app to remove before the start of a call. Noise Blocker then compares news sounds during a live call to the ones you recorded ahead of time in order to prevent unwanted noises from passing through to the listener.
Some ideas for noises you can pre-record are humming sounds, keyboard typing, laptop fans, clapping, buzzes, mouse clicks, and even dog barking. This noise cancelling app for Windows works on apps like Skype, Discord, Slack, and Mumble.
5. Zoom or other video calling app with an integrated noise cancelling feature – best for use without any extra downloads
Several video conferencing apps like Zoom or Microsoft Teams have integrated noise suppression features. This will be a perfect solution if you're looking for a quick or temporary fix to your audio problems. Such features come by default with the free plans for these tools and require no prior setup. 
You can use them straight away by simply selecting the sound level you want to block. With Zoom, for instance, you can choose between Low (faint noises), Medium (computer fan, pen taps), and High noises (barking, typing). The Auto mode also adapts to sounds as the meeting progresses but it won't fully remove all sounds you find distracting as there's no AI or pre-recording feature.
These built-in noise suppression features work well for team meetings and one-on-ones. However, they don't provide the advanced features you'd need for an online event, professional video recording, or podcast episode.
How does Krisp compare
Each of the tools above works in slightly different ways, but if you're looking for a go-to solution for multiple purposes, Krisp will suit all your needs. Compared to the other noise cancelling tools for Windows, Krisp ensures you're:
Preventing misunderstandings during meetings as Krisp blocks background noises on both ends of a call 

Removing all acoustic and room echoes that could otherwise ruin your audio

Keeping track of meeting time to maintain peak productivity levels

Getting useful insights about your talk time to improve next time

Recording clear audio for podcasts, videos, and events in HD voice with no post-recording edits required

Using multiple tools at the same time through the power saving mode

Reducing the time your new team members need to get used to the tool as Krisp has one of the lowest learning curves on the market
You can start using Krisp for free right away for higher-quality remote meetings. The free version will cancel noise for up to 240 minutes per week. With the paid tiers, you get unlimited noise cancellation for use, so head to the Krisp pricing section to learn more.

P.S. If you're a Mac user, check out our list of noise cancellation apps for Mac.