As people began to make much more audio and video communications than ever before, there is a growing interest in how to make these calls better. Sound is often the most important part of the call, and distracting background noise can be quite a hassle. 
The best way to deal with this is to use a dedicated noise reduction software. So if you're on the hunt to find the best one, you've likely come across Krisp and Nvidia Voice RTX. You may have narrowed your decision between them, but if you are still browsing, we can save you a lot of time and help you decide which noise cancelling app is the right one for you.
Let's find out with our in-depth comparison.
Krisp vs Nvidia RTX Voice: Brief Introduction
What is Krisp?
Krisp is the first noise canceling tool that removes background noise from communication apps. It works in real-time, using AI capabilities to separate unwanted background noise from human voices.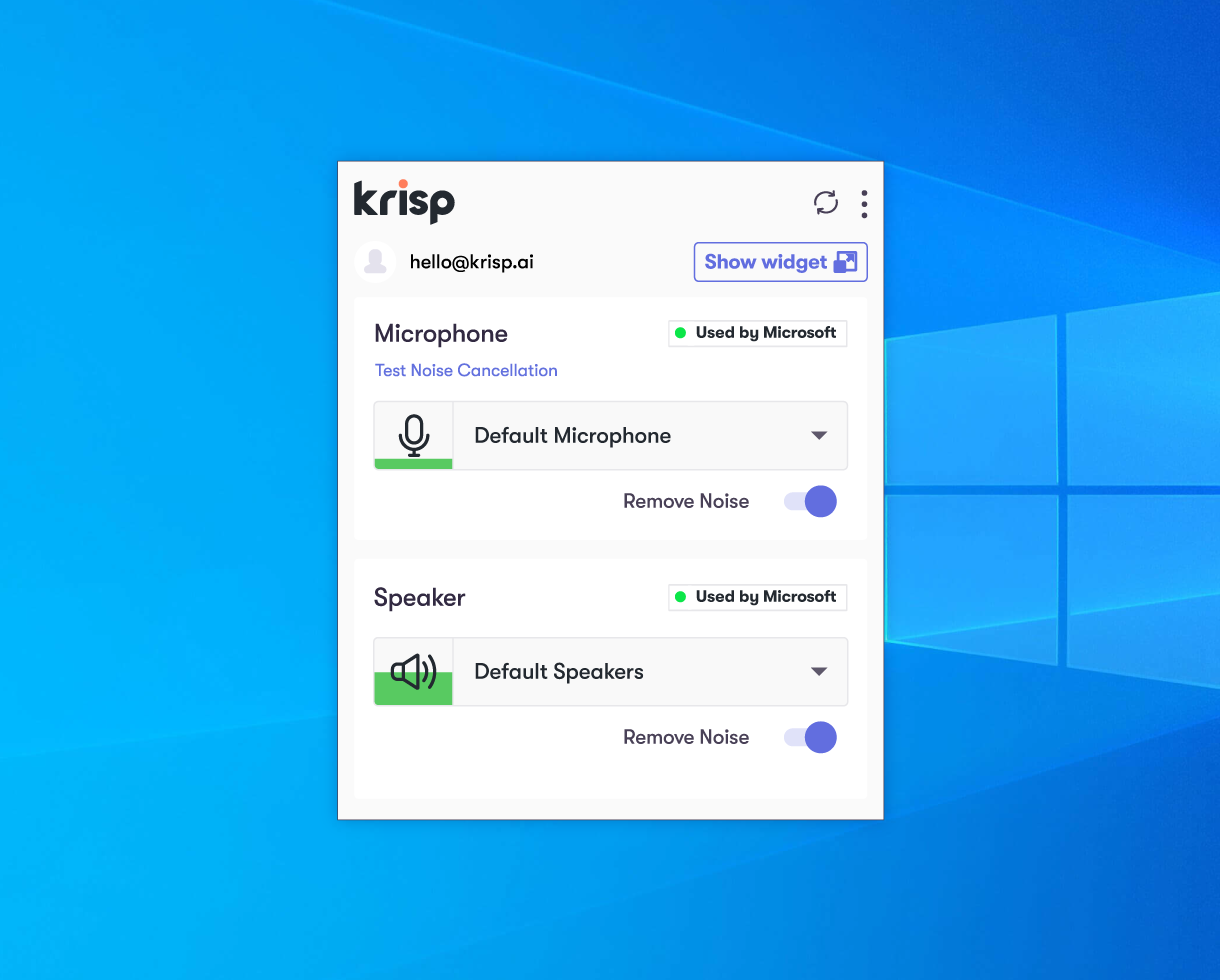 In addition to removing background noise from your microphone, you can also filter out background noise coming from other people during a call. In essence, it's like adding a protective layer between your microphone or speaker and the app you use to make sure that noise doesn't pass through.
Krisp was launched on ProductHunt and had a huge success by becoming the product of the year. In April 2020, Discord partnered with Krisp to bring the innovative noise suppression feature to its 250+ million user base.
What is Nvidia RTX Voice?
Nvidia RTX Voice is the new noise canceling plugin released in April 2020. It works with Nvidia's RTX graphics card and uses their AI capabilities to eliminate background noise from your streams and calls.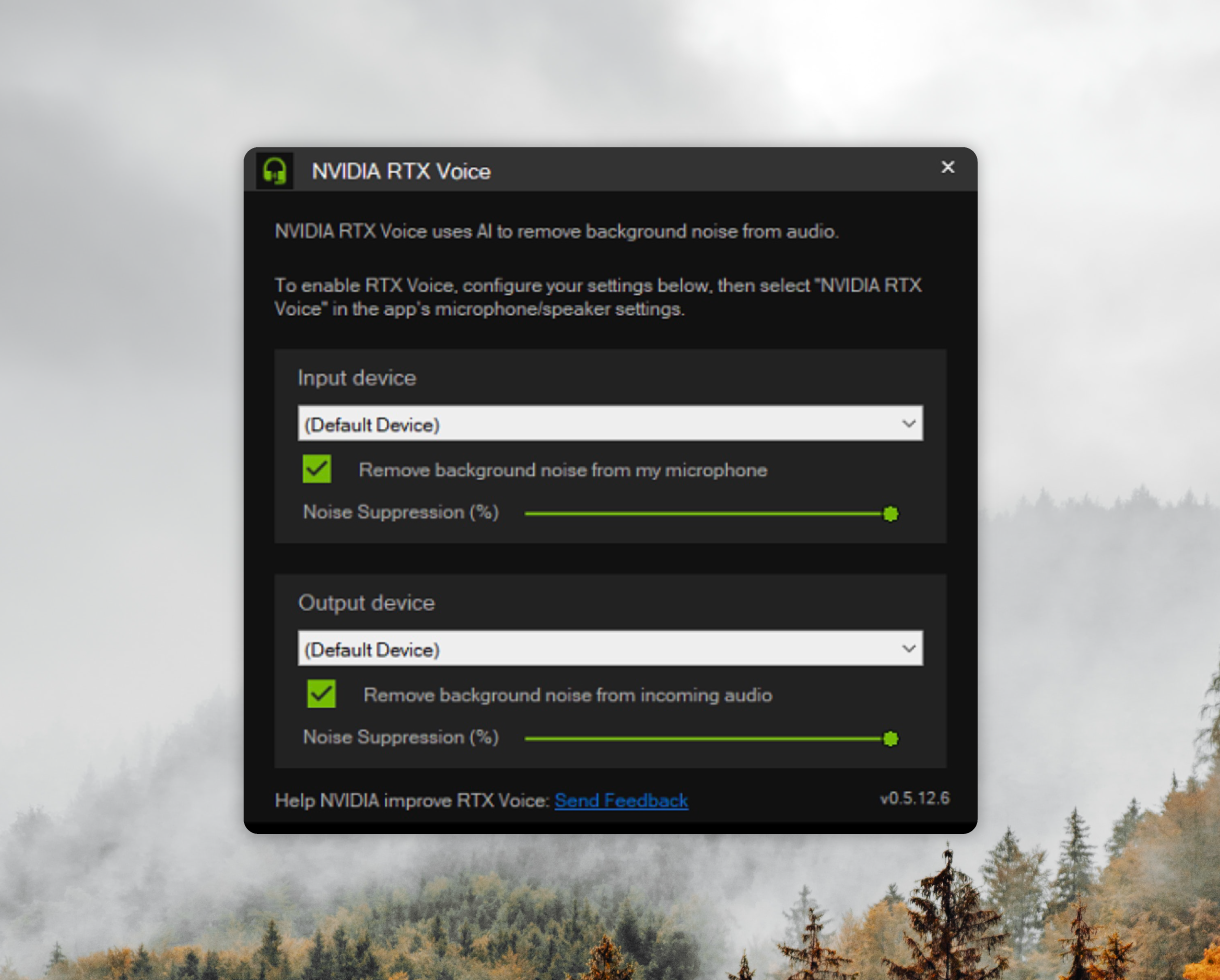 Like Krisp, RTX Voice creates a virtual microphone and speakers within your system that are used in your audio and video chats to remove background noise. RTX Voice also suppresses background noise from incoming audio of players in noisy environments.
As of now, RTX Voice is in Beta.
Krisp vs. Nvidia RTX Voice: Features, supported apps and technical requirements
Let's start our comparison of Krisp vs RTX Voice by looking at the similarities and differences of the two apps in terms of their features, technical requirements and pricing. 
Noise cancellation
Both Krisp and RTX Voice support two-way noise removal and can eliminate noise from outgoing and incoming audio streams. The noise comes in one end and then emerges from the other end as a clean and crisp voice. This means that during a call you can speak and also hear others without noise.
You can join your remote meetings without having to worry about unwanted sounds, whether it's keyboard clatter, the noise of a barking dog or a crying baby, or a hammering sound coming from the construction site near your home. Just don't forget to turn on your noise cancelling app beforehand 🙂
[demo-new]
We made a full comparison of the noise reduction quality of Krisp vs. Nvidia RTX Voice, according to which Krisp's technology showed a 10% better result on average. (So keep reading to get to the nitty-gritty part!)
But before we get to that part, here's a quick video review from Chris Fox from BBC. Chris experimented with different noises and compared the performance of two apps. Take a look.
Verdict: Both apps support two-sided noise cancellation so you can speak and listen without noise. On average, Krisp's technology was 10% better.  
Supported apps
Another similar feature of Krisp vs. RTX Voice is that they can be used with any conferencing, streaming, and recording applications. Since Krisp and RTX Voice add a virtual microphone and speaker to your system, you can configure them both with any communication app that allows you to change audio settings and select a virtual device.
You can use Krisp and RTX Voice with the most popular applications, such as Zoom, Slack, WebEx, Skype and many others.
This is very helpful, as sometimes you can find yourself juggling between different apps throughout the day, depending on what you are doing or who you are talking to. You can easily do your remote meeting with Zoom, send a quick video message to colleagues through Loom, and stream with OBS in the evening — all while staying noise-free.
Verdict: No winner here. Both Krisp and RTX Voice support working with the communication apps that allow selecting a speaker and a microphone.
Hardware and OS Requirements
When it comes to hardware and OS requirements, apps begin to differ. The key difference is that RTX Voice requires an RTX graphics card and Windows 10, while Krisp works with the built-in hardware on your device and across multiple OS platforms. 
To use RTX Voice, you must use an Nvidia GeForce RTX or Quadro RTX graphics card on Windows 10. 
Krisp, on the other hand, is entirely software-based. It's available cross-platform on Mac and Windows, and doesn't require any special hardware. Krisp has various modes, which allow it to be used on both high-end and low-end PCs and laptops.
All the audio processing is done locally on your device, you're not sending audio to the cloud, so it's private too.
As for additional devices, such as a microphone, speaker and headphones, Krisp and RTX Voice can be paired with any of them.
So while both apps support two-way noise cancellation and work with the majority of communication apps, RTX Voice is designed for Nvidia RTX cards, while Krisp can run on most devices and doesn't require any special hardware.
Verdict: Krisp is clearly a winner when it comes to hardware and OS requirements. You can use Krisp with the available hardware of your device on multiple platforms.
Pricing
Krisp is free to download and start using it for free with a set number of minutes every week. Besides, you can take advantage of Krisp's referral program and get free months for each invited friend.
For unlimited noise cancellation, multi-device usage, and additional features, several plans are available for individuals, teams as well as for enterprises. Head over to the pricing section to learn more. 
RTX Voice is a free plugin, but it requires an Nvidia RTX graphics card, the price of which starts at $350.
Verdict: When it comes to pricing, there's no obvious winner as RTX Voice is free and Krisp has a free plan. However, RTX Voice requires you buying a RTX video card. So if you don't have one already, Krisp is a better option for you.
Here's also a quick overview of features, requirements and supported apps both for Krisp and Nvidia.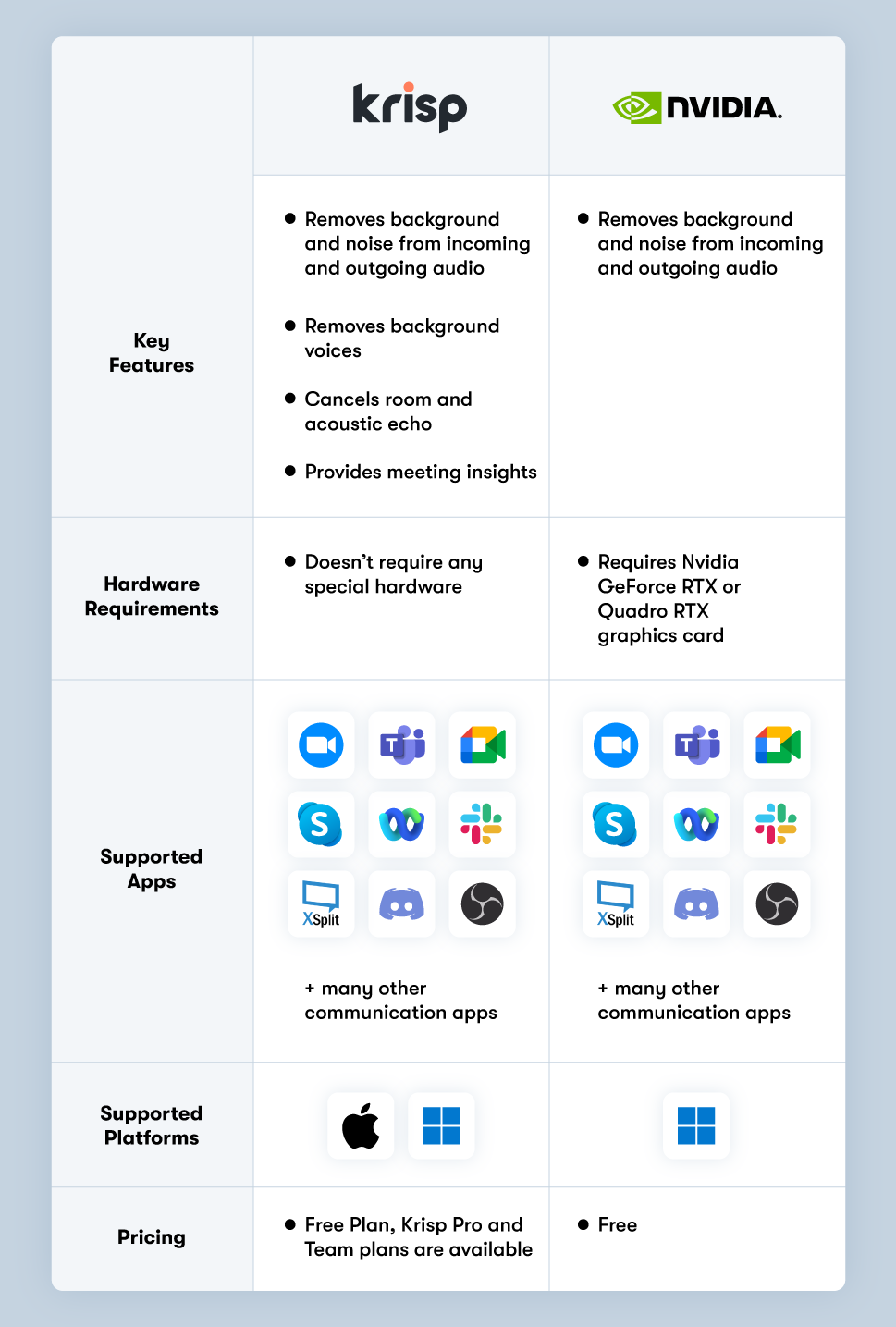 Krisp vs. Nvidia RTX Voice: Performance Comparison
At this point, you are probably already wondering, which application removes noise better, right?
So let's move on to the more technical part. 
In this part, we evaluate Krisp vs. RTX Voice according to the following two criteria:
quality (noise cancellation + voice quality) – how well the app removes the most common background noises and maintains high voice quality.

resource consumption – how resource-intensive is the app, i.e., how much are the memory usage and CPU.
Note: Krisp's technology is available in various bandwidth modes. For the tests, we used the Krisp HD full-band model since RTX Voice's technology is full-band. As of now, Krisp's desktop app uses Regular mode (wideband), but the HD mode will be released soon.
Audio Quality (Noise Cancellation + Voice Quality)
For this review, we took clean voice recordings and mixed them with 12 of the most common background noises, such as keyboard typing, babble, traffic, household noises, crying baby, barking dog, sirens, and others. We then processed the resulting noisy audio files with Krisp HD and RTX voice.
To compare the noise cancellation and voice quality provided by Krisp HD and RTX voice, we did POLQA evaluations. If you are not familiar with the terminology, POLQA is (a global standard for benchmarking audio quality by comparing processed audio files with the corresponding clean voices. The results are on a scale from 1 (bad) to 5 (excellent).
This is what we got: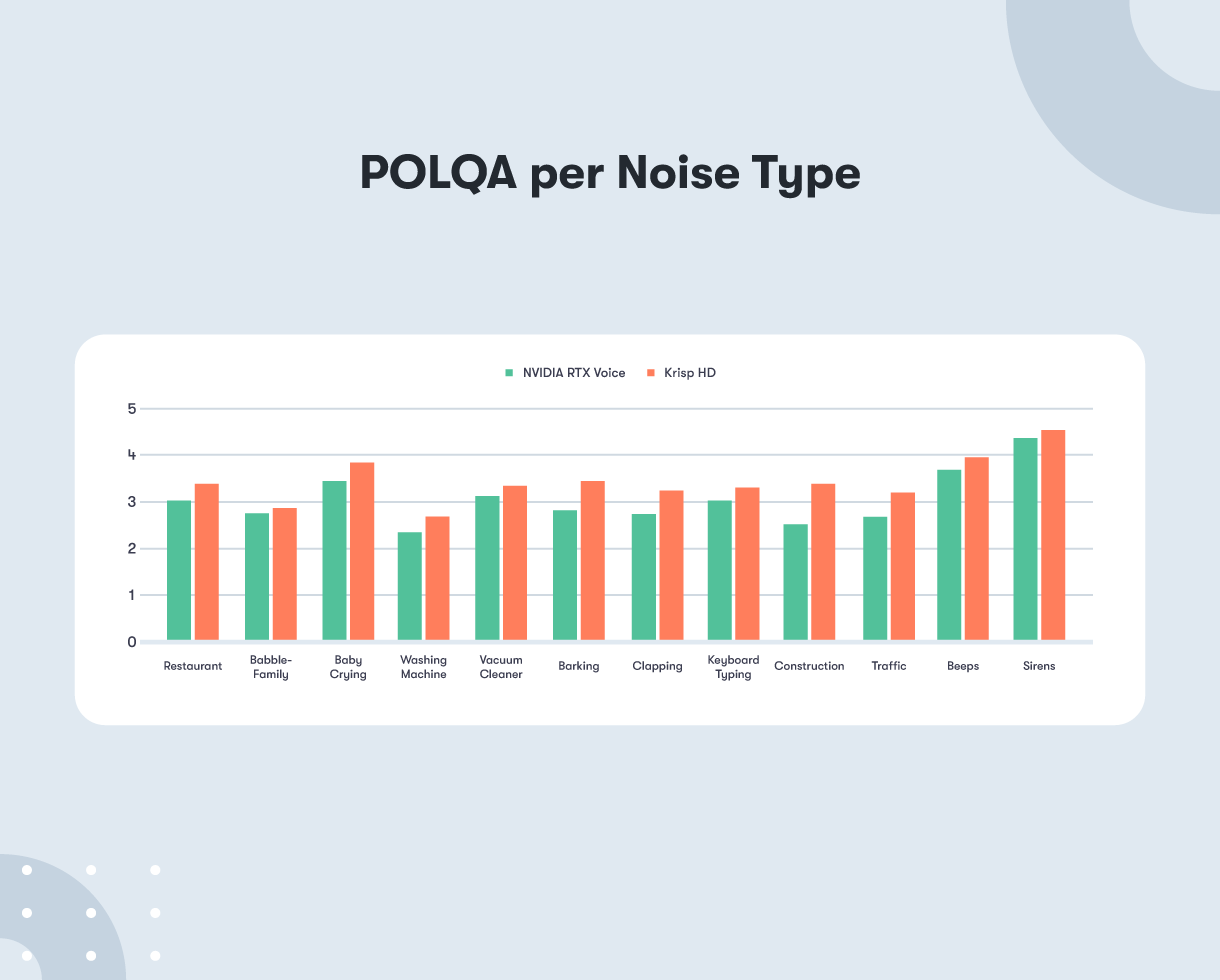 In the case of Krisp HD, all indicators are mostly above 3, which means that it has good performance in terms of eliminating noise and keeping voice clarity. In contrast, RTX Voice's scores above 3 only in half of the cases.
Both apps show a very good result (above 4) in case of sirens and are close to that for the noises of beeping sound and a crying baby. In the case of babble noise and washing machine's noise, both applications show the result just below the mark of 3.
Verdict: Looking at the results of this test, you can see that overall, Krisp HD has higher POLQA values and shows higher performance than RTX Voice. On average Krisp HD quality performance is 10% higher compared to Nvidia RTX voice. 
CPU Load and Memory Usage
Since both apps are AI-powered and use advanced audio processing algorithms, it is essential to compare their impact on system performance as well. 
When working with resource-intensive programs, you may notice that certain commands and actions may take longer to be executed. Besides, higher CPU usage can lead to overheating your system, and in the case of a laptop, also to faster battery discharge. Generally, a device operates more quickly, smoothly, and lasts longer on a battery charge if few resource-intensive processes are running at the same time.
With a noise-canceling application, the consumption of system resources is important, because in an ideal scenario, you would like it to work in the background so that you can quickly hop on calls anytime without worrying about the noise and checking if you forgot to turn on the app.
Unlike the RTX Voice plugin that requires Nvidia RTX GPUs to remove background noise, Krisp doesn't require a specific graphics card and works on CPUs as well. 
Tip: Head over to Nvidia's in-depth article to learn more about the difference between CPU and GPU.
To compare the CPU load and memory usage for both apps we have run them separately on the same machine – Processor Intel(R) Core(TM) i7-9700F CPU @ 3.00GHz, 32.0 GB RAM, NVIDIA 2080 Ti GPU. Each run lasted around 30 minutes to complete.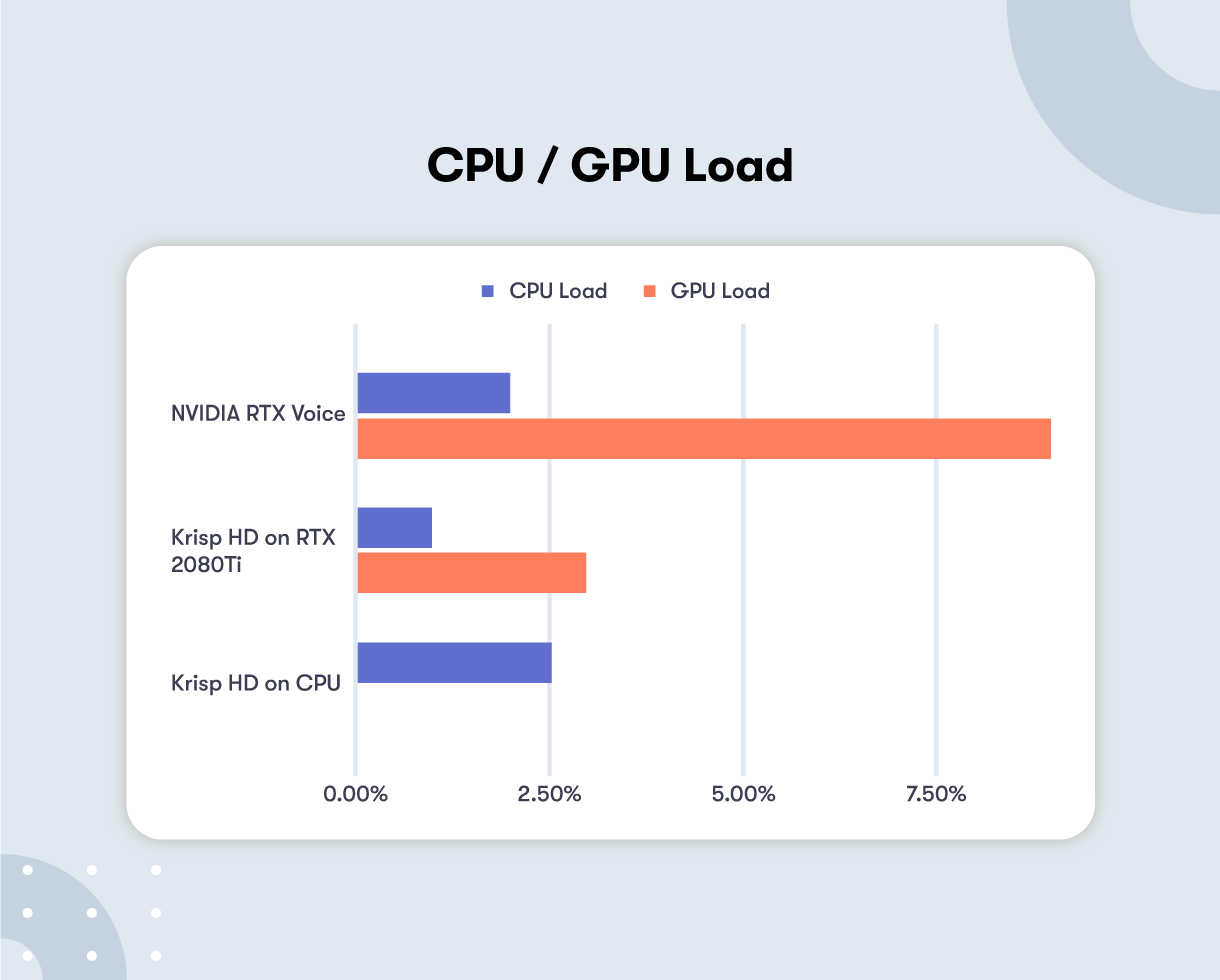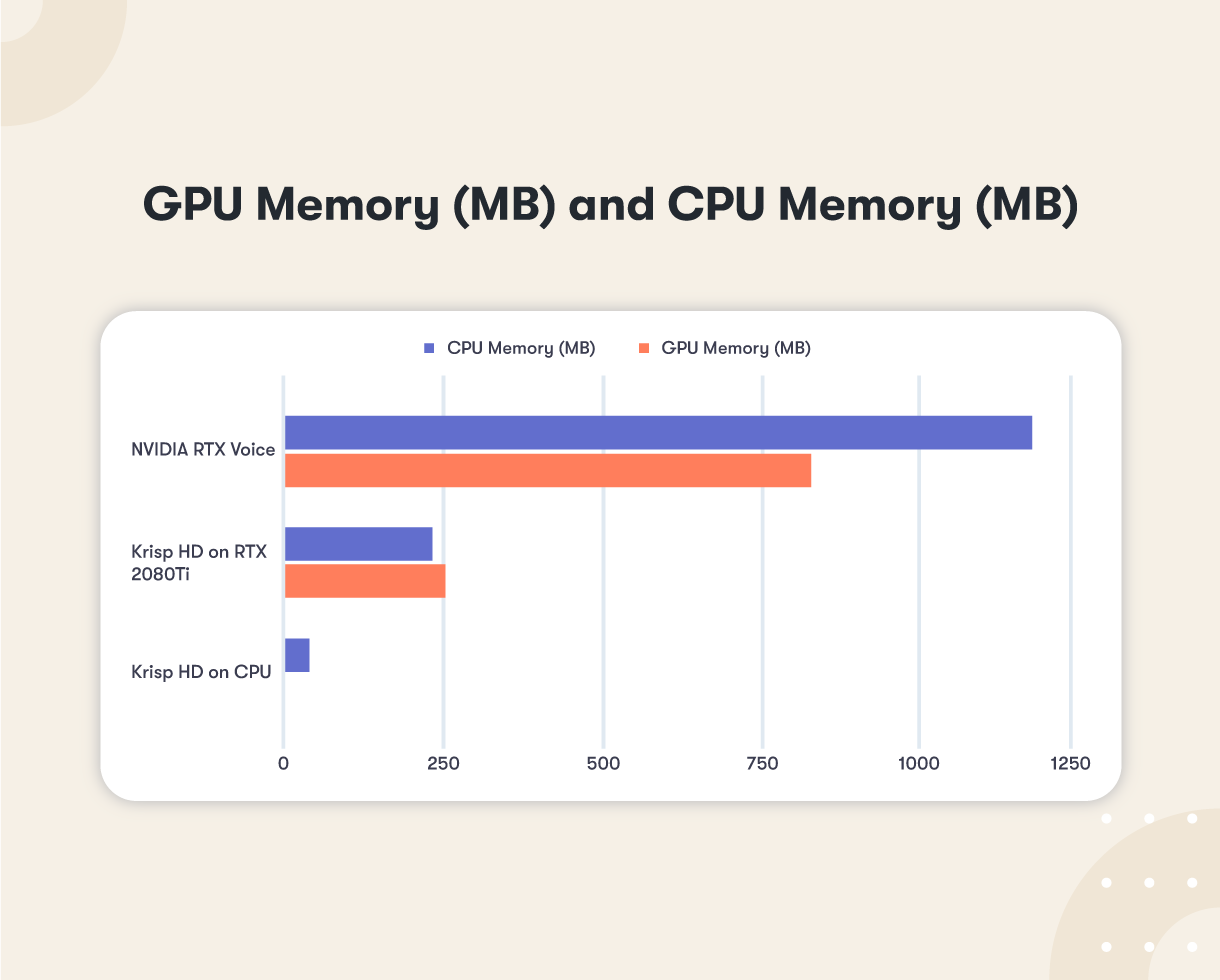 From the comparison charts it's clear that RTX Voice is a more resource-intensive application. Krisp HD is the heaviest model in Krisp, but it's still lightweight compared to RTX Voice. It has about 2x less CPU Load than RTX Voice on the same machine. At the same time, Krisp HD uses about 5x less CPU memory.
Verdict: In this case, Krisp is a better option as it requires fewer system resources while providing superior performance.
Krisp vs. RTX Voice Comparison Conclusion: Which One Should You Choose?
Krisp and RTX Voice work similarly by adding a virtual device to your system and working based on AI to remove noise in real-time. The most crucial difference between applications lies in their requirements. While RTX Voice is specifically designed for use on RTX graphics cards, Krisp can be used with the built-in hardware of your device across multiple platforms. 
So if you use Mac or Windows and don't plan buying a high-end graphics card, then Krisp is the best noise cancelling application for you. It is very easy to set up, and can help you have clear communication during your calls anytime.
Even if you have an RTX video card but still care about system performance, Krisp is the most optimal solution that doesn't consume significant resources and provides excellent performance.
[demo-new]