The past two years have brought most teams face-to-face with dozens of new digital solutions. For 54% of people, this app overload is making knowledge management more difficult. So in the hybrid office setting, you'll want to use dedicated tools that can cater to specific needs without overloading your team's work days.

I've compiled a list of 8 mandatory hybrid workplace communication tools to consider as you're settling into this new way of work. Each app is going to help you with a different need so you can speed up work, create better team connections, and remove diversions.
1. Krisp – to keep distractions away and make the most of meetings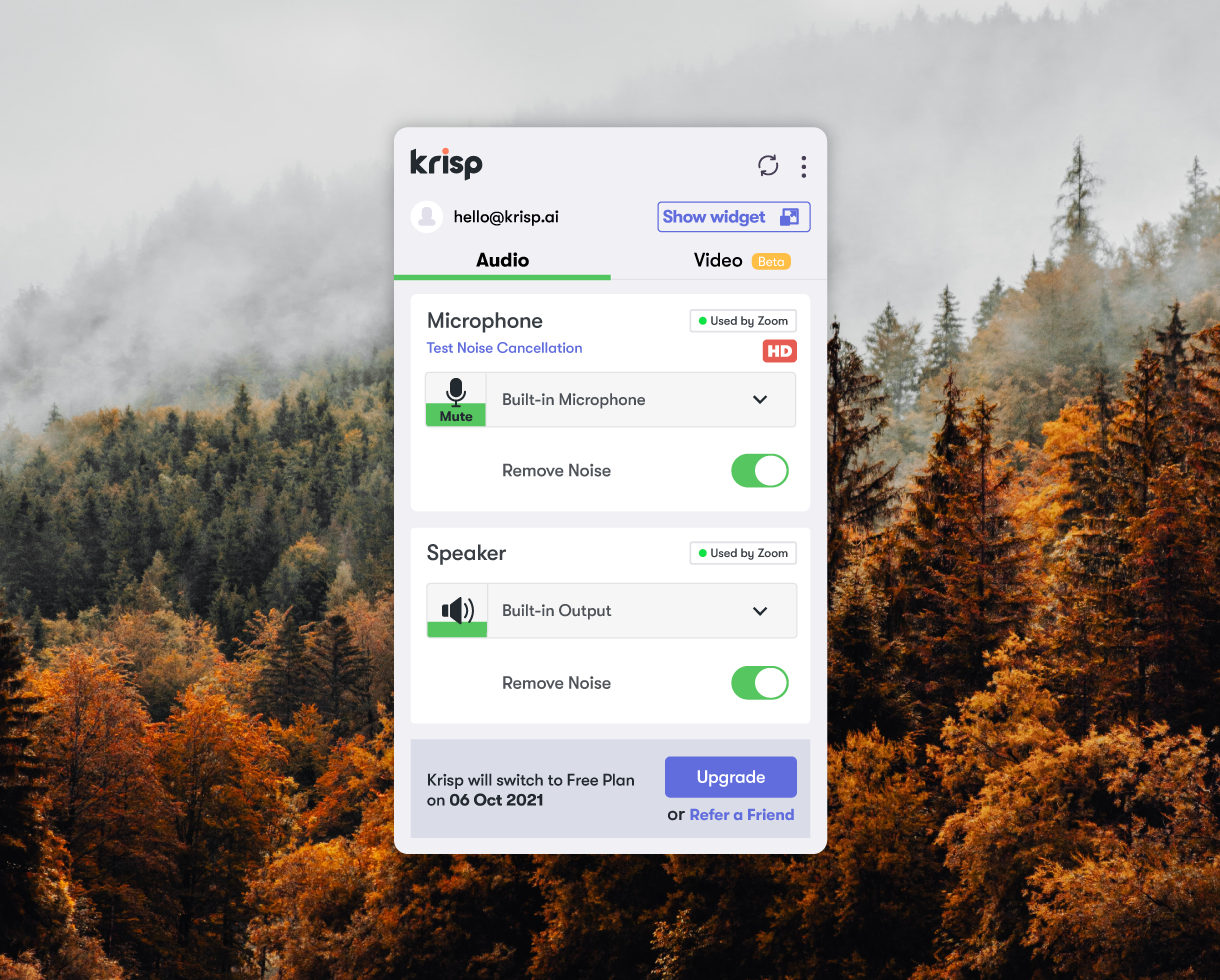 Krisp is a noise-cancelling solution that eliminates background noises on both ends of a conversation, ensuring distraction-free calls. On top of its noise-cancelling functionalities, Krisp also provides insights into every team member's talk time as well as into how much time you're spending in meetings.
[demo-new]
How to use this tool in the hybrid workplace:
At-home background noises can be a huge distraction for colleagues who are in the office during a call. This app uses artificial intelligence to filter out noises and exclude the voices of people talking in the background. 
This is perfect if your employees need to record demos, podcasts, or other events but they're not always willing to drive to work for a single task. The echo cancellation feature eliminates distracting room and acoustic echo so anyone can have their own studio-like recording environment at home.
Bonus tip:
Play with Krisp's Virtual Backgrounds to give your video calls a professional or branded look. Choose from a series of preloaded images or upload one of your own to display your product, a call-to-action, or something fun.
2. Donut – to connect colleagues, regardless of their team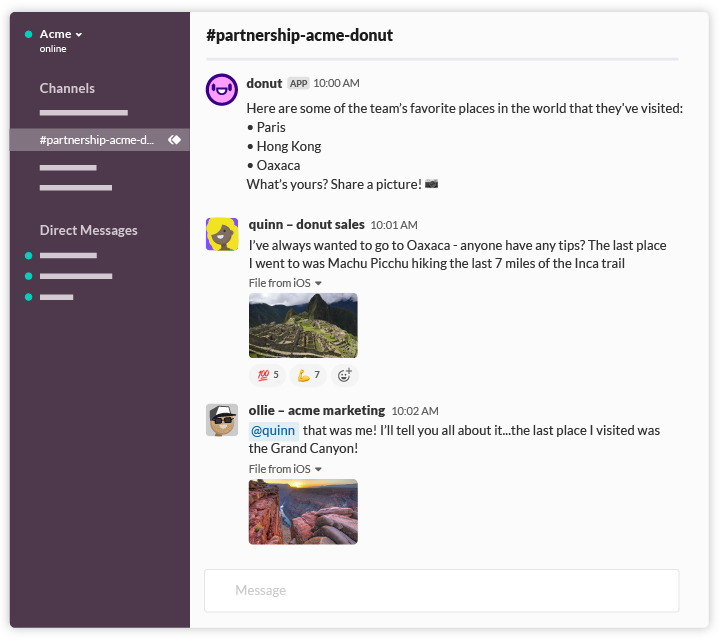 Yes, you can create [and keep] bonds between co-workers, no matter whether they are. Donut is a Slack app that helps build camaraderie by ensuring everyone gets a chance to engage with the rest of their colleagues.
Essentially, Donut acts as an office manager or "team connector", creating discussion topics and running matchmaking so two or more employees can meet up for a quick coffee break. The tool will also help your team discover shared interests so you can rest assured empathy development will be at its peak.
How to use this tool in the hybrid workplace:
At first sight, culture development might seem like your smallest problem. But hybrid teams tend to have fewer and less equal connection opportunities. Without a tool like Donut in place, your team would be stuck "just working", never having fun convos or side chit-chats.
Once you start using Donut, you'll get access to dozens of templates specifically built for hybrid teams, including Weekly Wins, New Hire Cohort Connections, and Favorite Things.
Bonus tip:
Use Donut to spread the knowledge by connecting peers to diverse learning opportunities. Launching a mentorship program is always a good idea if you're planning on hiring new graduates or junior-level professionals remotely. The regular reminders you send via Donut provide the much-needed reminder to make a habit out of levelling up and networking.
3. Mapiq – custom suggestions to help you focus on the security and privacy of your hybrid team
Think of Mapiq as your digitized office. A place you can always turn to when you want to check on your team and make adjustments based on changing demands.
How to use this tool in the hybrid workplace:
Mapiq connects all aspects of your team's day from desk booking and hybrid meeting scheduling to the fun coffee chats and more. You'll receive automate smart suggestions and insights based on how your employees use the physical office into clear.
This hybrid communication solution lets you integrate all facilities, improve sustainability, and reduce costs, every step of the way.
Bonus tip:
Say goodbye to manually assigning meeting rooms. Sync Mapiq with your team's calendar to receive automatically selections for hybrid workspaces that are available during certain timeframes or have the necessary equipment to support both in-person and remote attendees.
4. Gather – for bringing the gamified office to everyone
What if your remote workers could join your office and still be at home? That's exactly what Gather does by creating a virtual office space that looks and feels just like the real deal.
How to use this tool in the hybrid workplace:
No matter your company size, Gather has got a ready-made office layout for all kinds of teams. You can always build upon these templates to support your team's needs, be they work-related or not.
Bonus tip:
Use Gather to host events for your users and target market as well. Create virtual events with challenges, giveaways, or scavenger hunt quests. Some companies are even using Gather as a replacement for non-personal webinars as the customization options this hybrid communication app provides dedicated activities as well as rooms for people to chat in smaller groups.
5. Confetti – for team building activities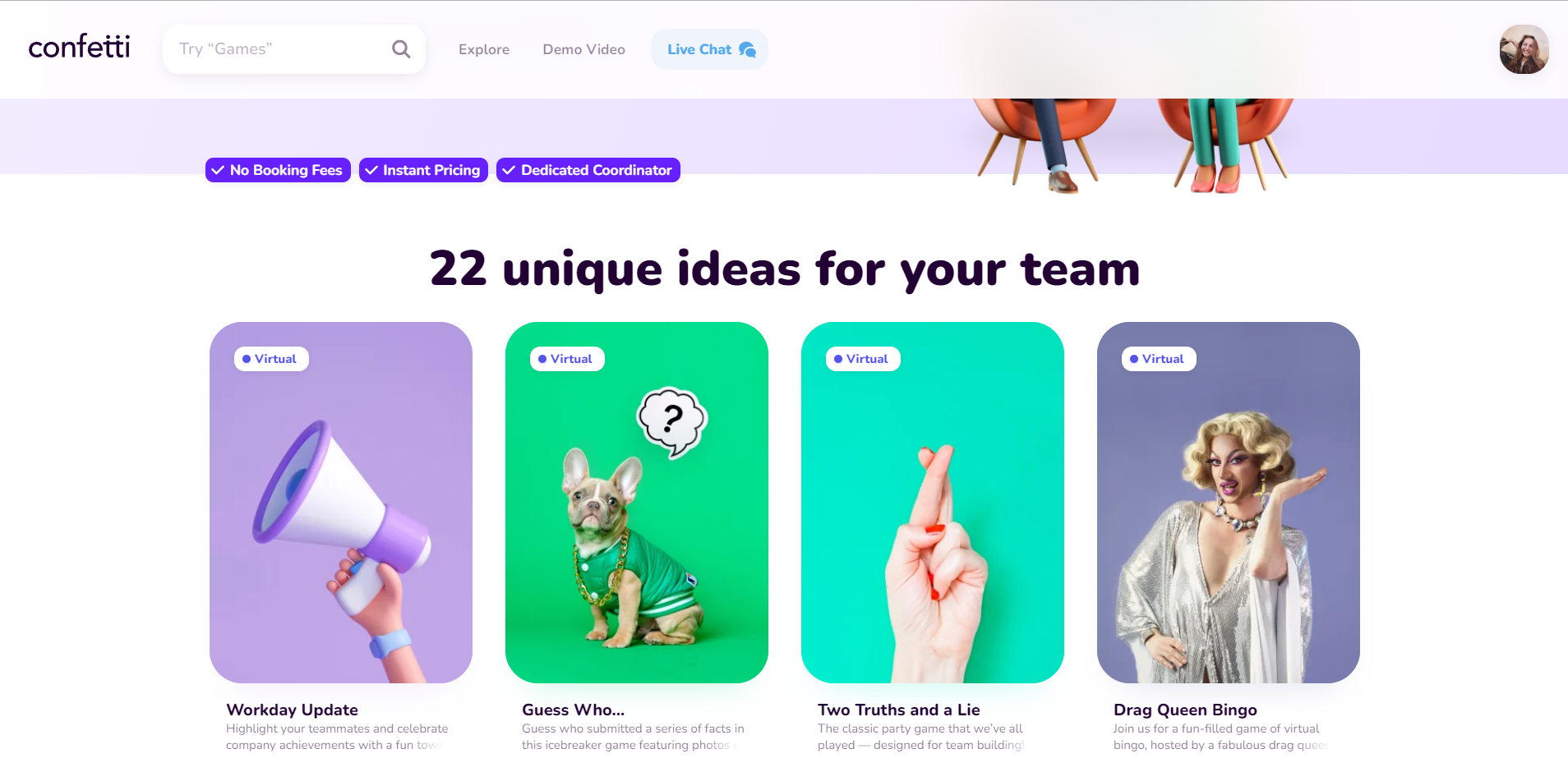 Confetti provides hundreds of team building, DE&I, and professional development activities you can book instantly. Each activity type comes with its own unique perks. Team building games, for instance, come with their own host so you won't have to prepare anything or worry about keeping your team engaged.
How to use this tool in the hybrid workplace:
Confetti has a varied set of events specially crafted for boosting hybrid team communication and improving team culture. General templates that work for everyone regardless of their interests include Workday Update, Guess Who, and the classic Two Truths and a Lie.
Bonus tip:
You don't need to keep your team sitting all day. Fitness classes, although more costly, are a great way to mix in team building with the health benefits you provide. Bring your own workout space though. ?
6. Tella – to create instant videos for every purpose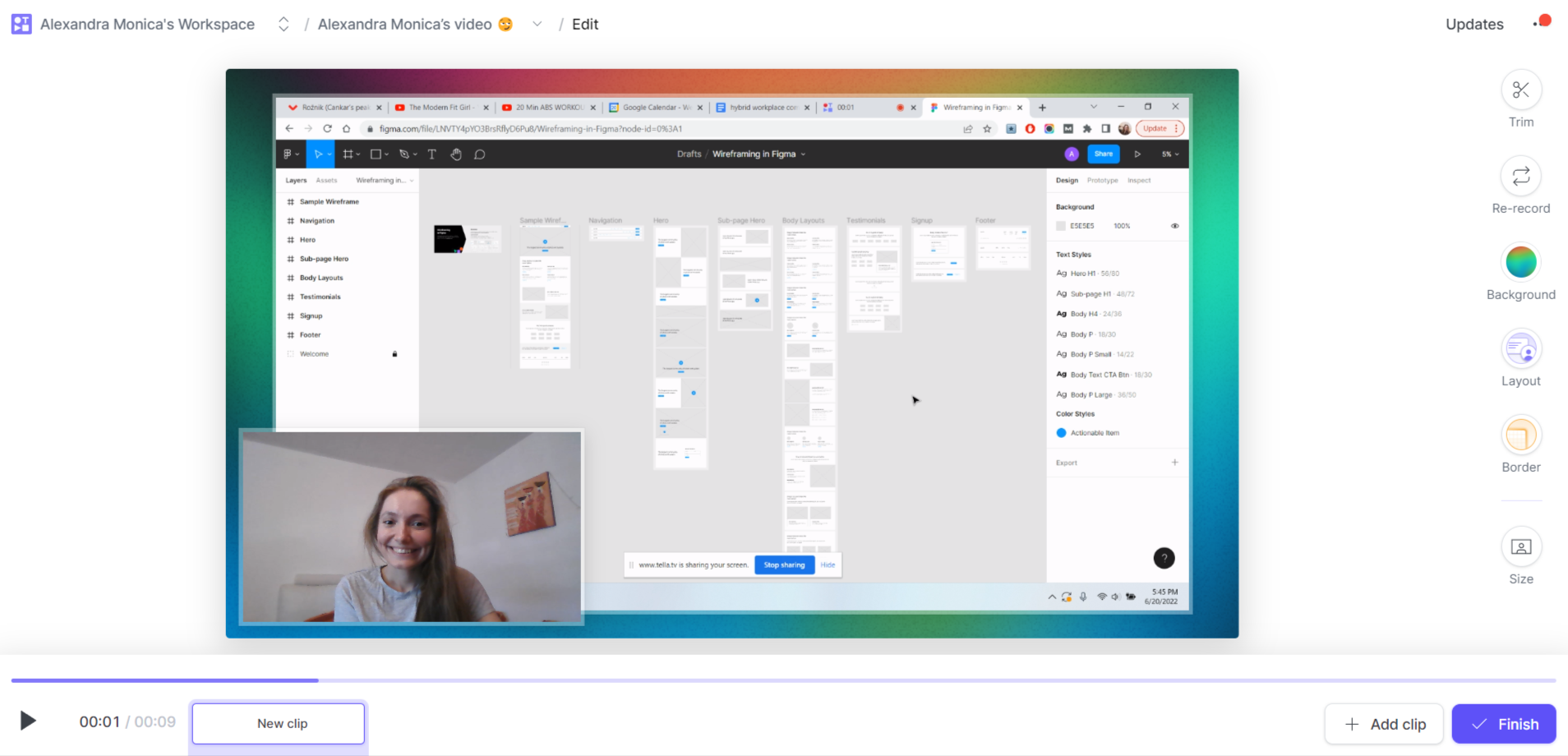 Tella is a Loom alternative with more varied editing options and use cases. The strong customization capabilities will help you create beautiful informative videos in less than five minutes. No design skills needed.
How to use this tool in the hybrid workplace:
One of my biggest secrets for ensuring peak productivity in a hybrid work model is sending videos for instructions. A video helps you clarify task details when you're delegating tasks. In turn, this will prevent unnecessary back-and-forths caused by the classic "I wasn't told" or "I didn't know you wanted this."
Tella can be used both internally and externally. So once you get used to sending your colleagues instructions, task feedback videos, or just short thank-you clips, there's loads of other use cases to consider:
Product launch videos

App demos

Sales outreach videos

Knowledge base tutorials

Online courses

Startup pitches

Customer onboarding sessions

Event promos

Whatever you need!
Bonus tip:
Use their Chrome extensions to easily record instructions for teammates, set up personalized employee onboarding sequences, or send your users a brief customized tutorial.
7. Slite – for knowledge management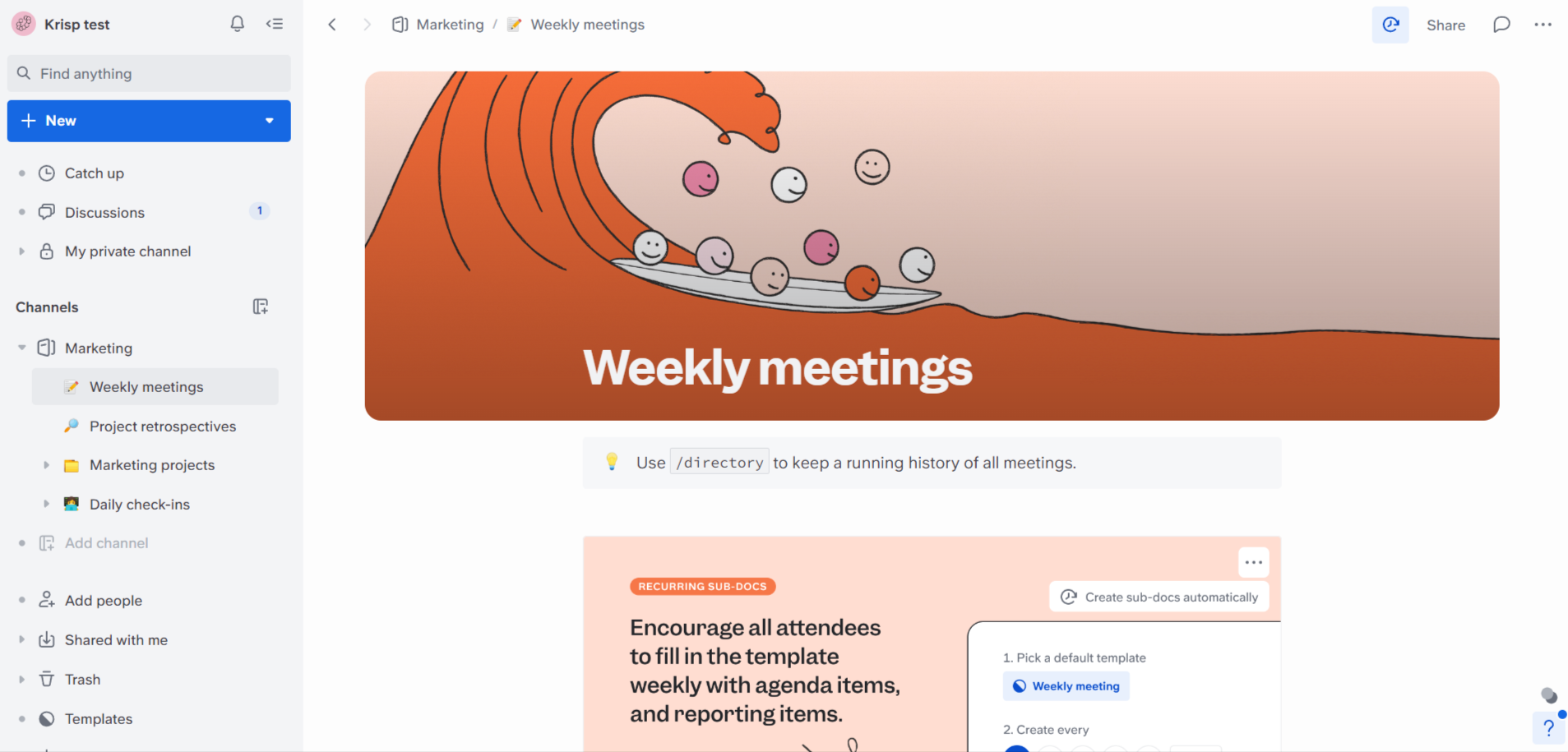 75% of organizations say creating and preserving workforce knowledge is important or very important for their success. At the same time, it's the most important challenge most companies aren't paying attention to until it backfires. 
Slite aims to fix this issue by providing one common wiki for teams to share knowledge and make decisions.
How to use this tool in the hybrid workplace:
Projects, processes, onboarding flows, team updates, meetings, user research, and more. These are just a couple of the use cases Slite covers for you. Its level of customization resembles Notion as every team will find dedicated templates to apply to their work.
Take your engineering tip as an example. Regardless of where they work from, they can keep all updates on their software and project documentation, QA templates, and technical documentation in one place.
Bonus tip:
Don't rush through the onboarding. Slite has a smooth workspace set-up flow that will ensure you're not missing out on any functionalities your hybrid team might find handy.
8. Hypercontext – for organizing meetings and tracking goals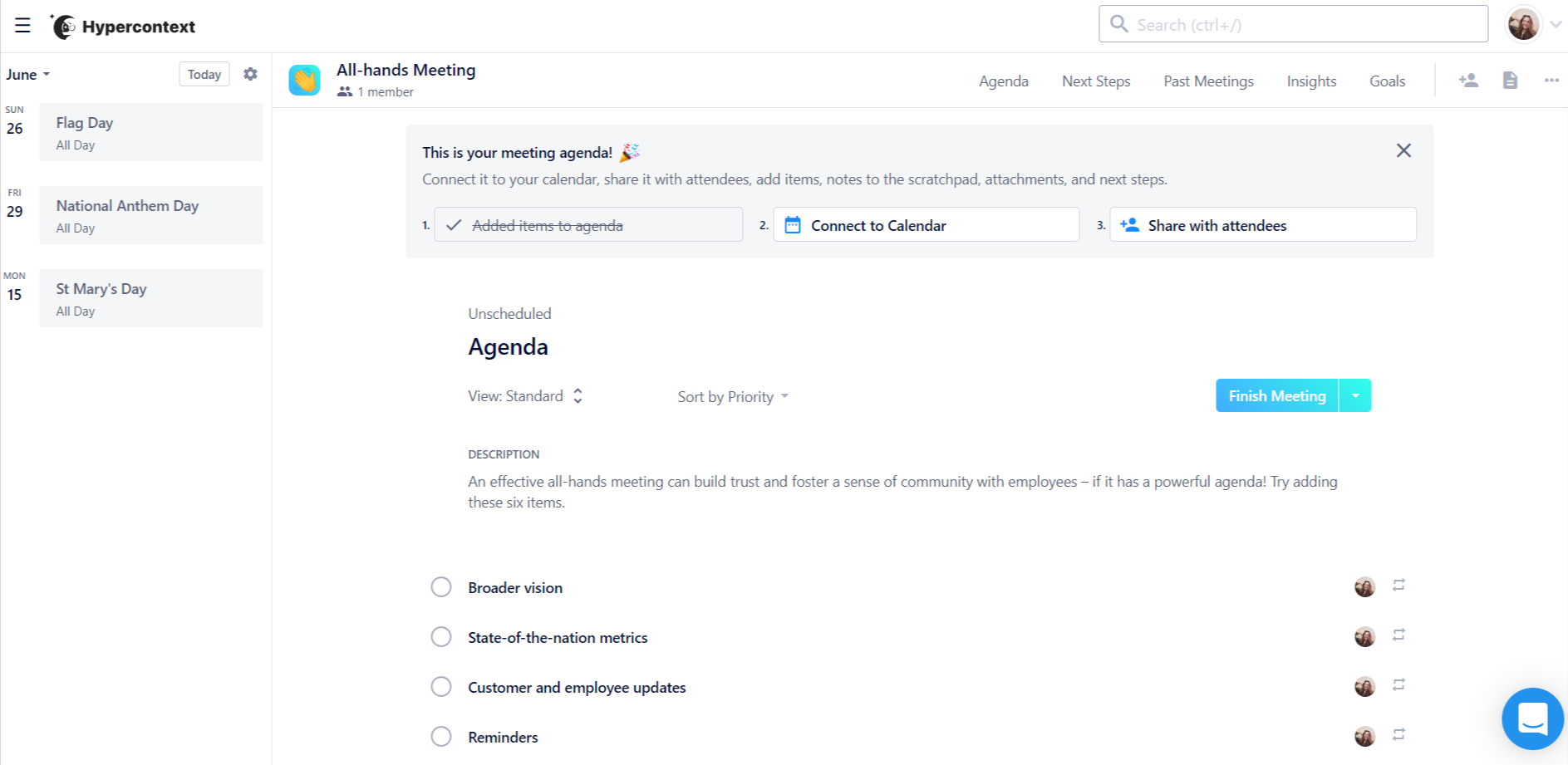 Hypercontext helps hybrid teams stay productive, run meaningful 1:1s, create meeting agendas, track decisions, and stay accountable.
How to use this tool in the hybrid workplace:
Start by using it to structure better meeting agendas. During every meeting, let Hypercontext run and take automated minutes that'll save you hours. You'll then be able to compare your one-on-one and meeting notes with actual team results.
Keep your team accountable through the goal-setting features by connecting every meeting agenda point to a goal. To stay aligned in time, measure progress through milestones and deadlines or add goal reminders to your next meetings.
Bonus tip:
Hypercontext is an excellent tool for encouraging continuous employee improvement. You can use it to share and receive performance feedback whenever work happens. This makes it the first tool to prioritize if you're looking to build a feedback culture effortlessly. The tool organizes real-time pulse surveys and helps you gather anonymous feedback so every single person on the team will have a say.
Selecting the right hybrid workplace communication tools
All of the tools above serve a different purpose. But you'll have to prioritize adding them to your team's daily routine based on your own company priorities and budget. 
Next are two scenarios to help you decide.
You've recently gone from a fully-remote work setting to a hybrid one.

Your priorities include keeping all communication in one place and ensuring everyone gets equal treatment. Tools to consider in this case: Slite for knowledge management, Krisp to keep distractions away, Tella to ensure smooth collaboration processes.

You've been managing a hybrid team for a couple of months but your employees don't seem engaged.

Your next goal is to create and maintain a memorable team culture. Tools to consider in this case: Confetti for the fun activities, Krisp for monitoring meeting length, Donut to give everyone an equal chance to engage with their colleagues.