With everyone working from home these days, having an Android or iPhone noise cancelling apps is more important than ever. They can make the difference between a call that sounds professional and one that gets interrupted by screaming kids and barking dogs.
Here, we'll discuss some of the best iPhone noise cancelling apps on the market. We'll also look at some Android noise cancelling app options, so everyone will be covered.
Let's dive in!
Best iPhone Noise Cancelling Apps
Denoise – audio noise removal
Denoise is a iPhone noise cancelling app that removes background noise from your videos and audio recordings. It comes with a significant upside: it works as an iOS extension. This means that when you record video or audio with any app, Denoise will automatically start working. You don't have to worry about launching it every time you finish a voice memo or a video.
Denoise is not designed for live calls or teleconferencing. Instead, it's designed for content creators, so you can get studio-quality sound on the go. You can shoot videos and record voice memos and don't worry about background noise as Denoise will remove all of it.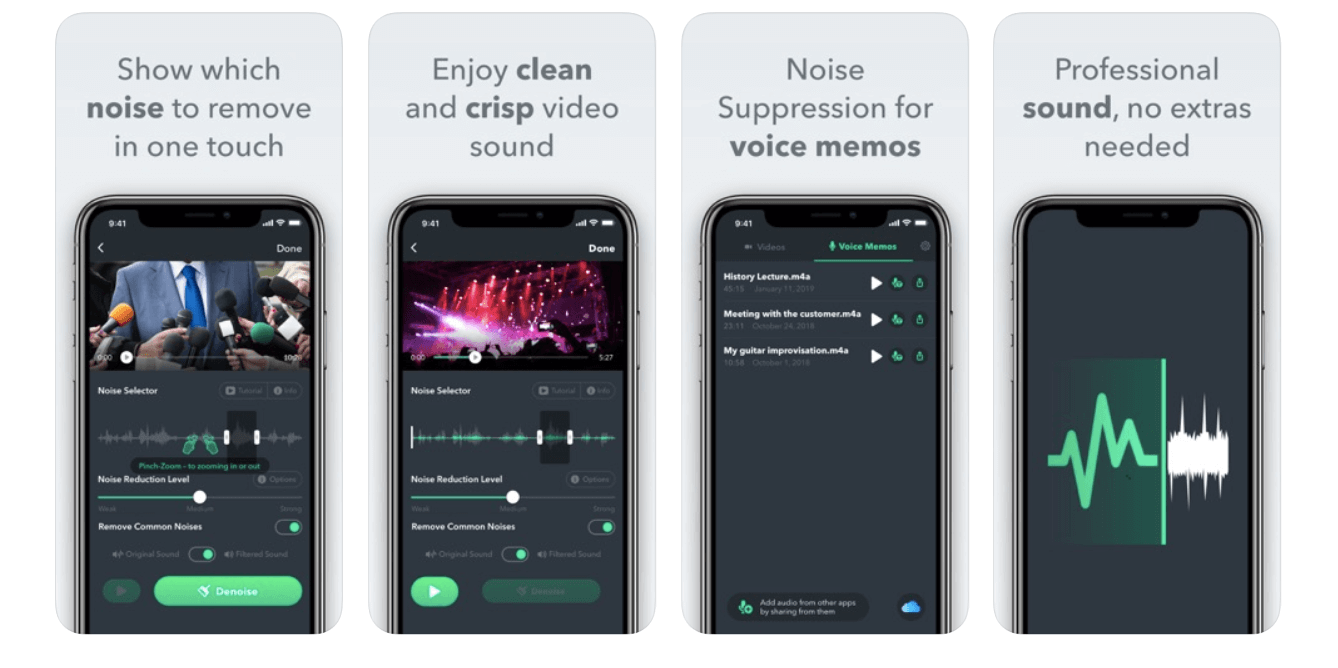 And if it fails to eliminate a particular noise, you can go back and fix things later using the interactive waveform analyzer. There, you can manually mark the spot where noise is interfering, and it will be removed. The developers are also working on a built-in DropBox uploader, but that feature has not yet gone live.
That said, Denoise is not free. It costs $1.99 and for this upfront fee, you can use it for the rest of your life. And there are no ads or watermarks to muck up the experience.
Best noise cancelling app for Mac and Windows: Krisp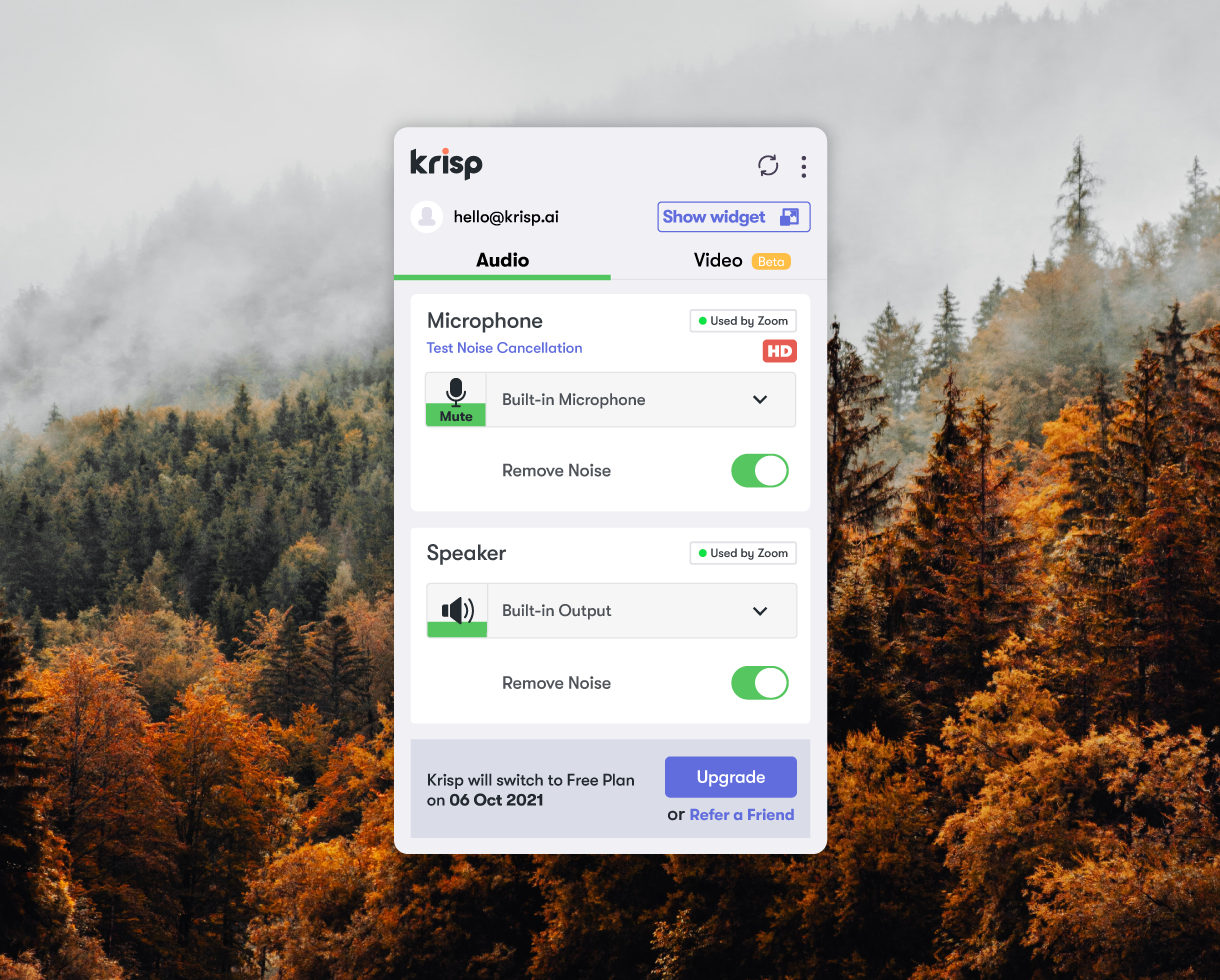 Krisp is an AI-powered noise-cancelling app for Mac and Windows 10. It recognizes and removes background noise on your side of the call so the other call participant can't hear it.
Krisp is free to use. The free version will cancel noise for up to 240 minutes per week. With the paid tiers, you get unlimited noise cancellation for use, so head to the pricing section to learn more.
[demo-new]
Best Android Noise Cancelling Apps
Neutralizer
Neutralizer is an Android-only app that's designed to work for your own individual hearing. Everyone's hearing is different, so a noise cancelling app that works well for one individual may not work well for another. That's where Neutralizer comes in. When you first launch the app, you take a short hearing test, which measures your ability to hear different frequencies at different volumes. This enables Neutralizer to build a custom profile just for you.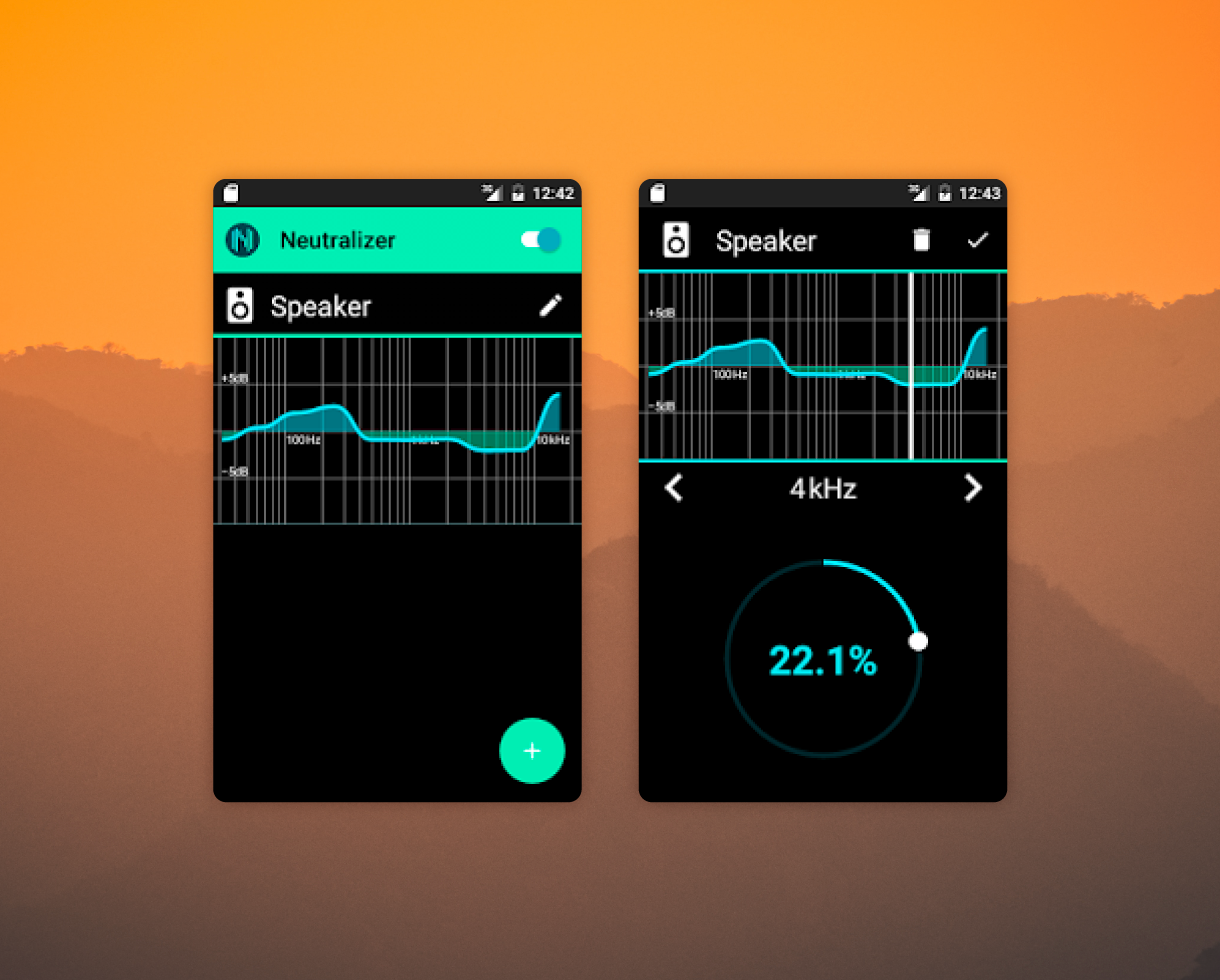 This serves two purposes. First, for noise cancelling purposes, it means that Neutralizer can predict which noises are most likely to distract you. For example, if you hear high frequencies better than low frequencies, Neutralizer will respond to high-pitched background noise more than it responds to low-pitched background noise.
Second, for overall listening purposes, it means that Neutralizer can adjust your EQ (equalization) to a setting that's best for you. Rather than a one-size-fits-all "bass boost" or "country music" setting, you get an EQ that compensates for your individual hearing. This eliminates the distortion you may experience from using more generic EQs.
So if you listen to music with headphones and there's a lot of noise around, Neutralizer will automatically increase the sound volume in the headphones, thereby suppressing the noise around you.
Neutralizer is free to use.
Noise Killer – Stop the Noise!
Noise Killer is another Android noise cancelling app. It's designed to filter out noises in public spaces such as train stations, airports, or crowded streets. When you activate the app, it will instantly begin noise cancelling. One nice feature it offers is that it works even when your screen is turned off. This can help you save batteries.
Noise Killer can also automatically adjust the volume based on background noise. When used in this mode, it doesn't just cancel background noise; it straight-up blocks them out. Better yet, it will lower the volume automatically when background noise decreases, saving battery life.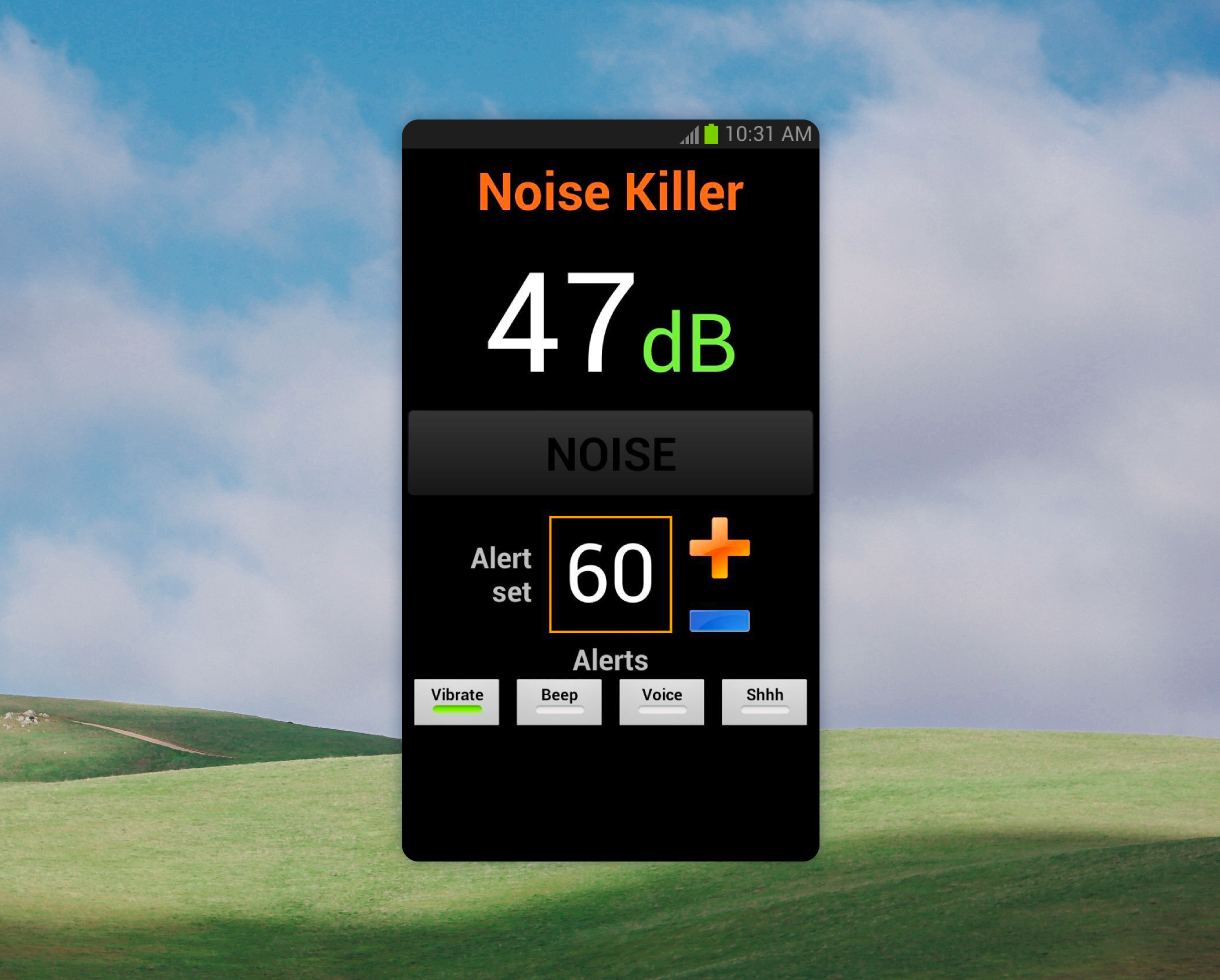 There's an optional "shake" function, which can be used to adjust volume based on phone movement. This is a great feature for joggers. When you start running, your phone will shake, and the volume will automatically go up. There's also a geo-location feature. This is great if you use your phone to listen to music in your car. As you accelerate and the wind and noise get louder, your volume will increase. When you come to a stop, it will return to a normal level.
So whenever you want to pull back from your surrounding noise and side talks, Noise Killer is a great and free app to use.
Safe Headphones – Hear Background Noises
Safe Headphones is an Android app that does the opposite of what most of these other apps do. In fact, it might be best described as a noise "un-cancelling" app. It has a variety of purposes, depending on exactly what you're trying to do.
First off, as its name implies, it can helps you stay safe when you use headphones in public places. When it's enabled you can hear your surrounding background noises without taking off headphones. So if you have to walk through a sketchy area, you can turn the app on to ensure that you're able to hear anyone around you. It's also useful for hearing car horns when you cross the street while listening to music.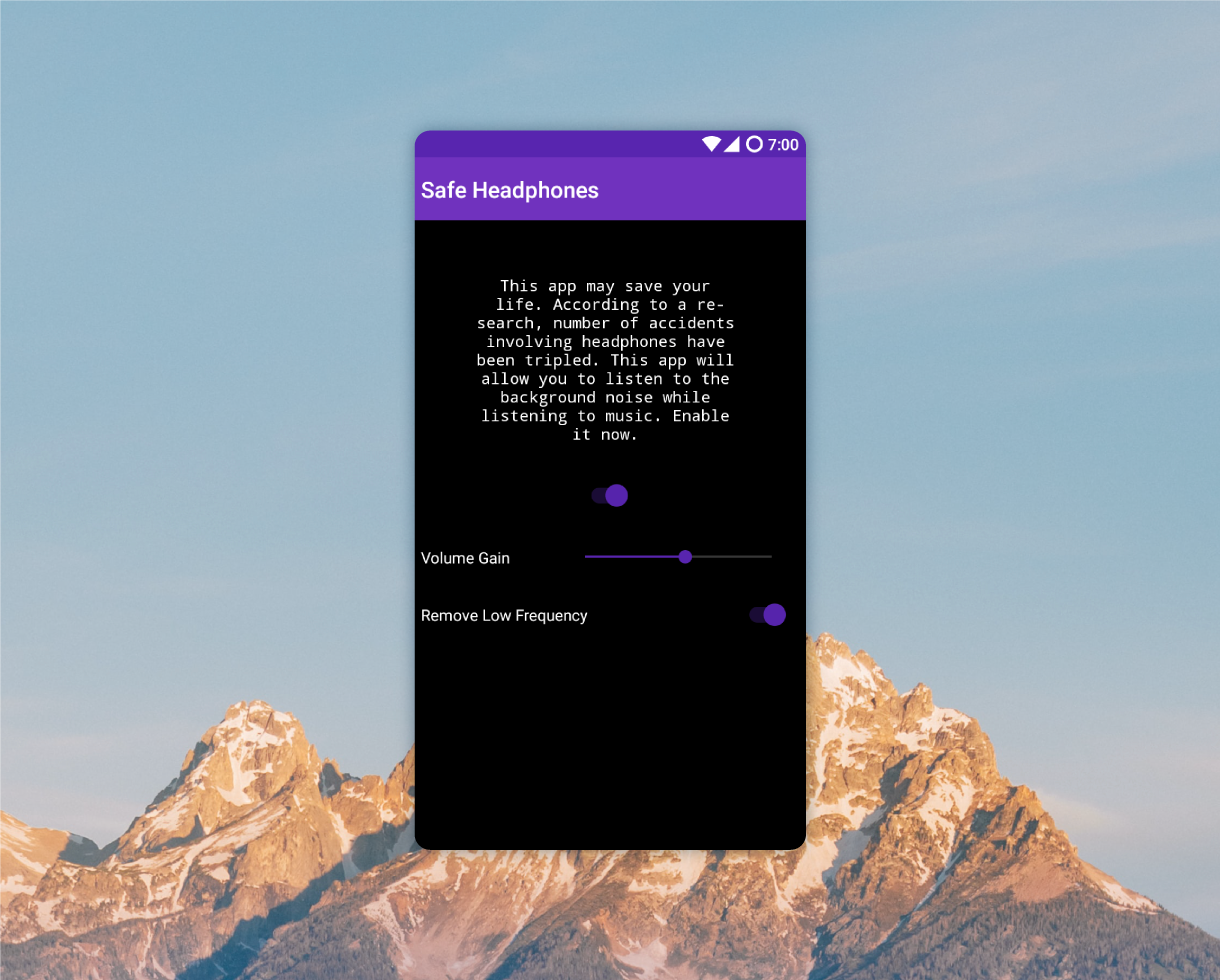 Secondly, you can use it to listen in on conversations. Admittedly, this could be used for nefarious purposes, but there are also legitimate uses. For example, you could use Safe Headphones while riding in the back seat of a car, to participate in a conversation with the people in the front seats. Now you can sit at the back seats in the lecture hall and perfectly hear the question if the professor asks you.
You can even use Safe Headphones as an alternative to a hearing aid. The app can improve your hearing ability to hear sounds more clearly and loudly.
Safe Headphones is free to install and use.
Noise Generator
Noise Generator is a little bit different than the other apps on our list. Strictly speaking, it's not a noise cancelling app at all. In fact, as its name implies, it's a noise generation app. But why would you want to actually generate noise? Turns out background noise can boost productivity. It can help you sleep, reduce stress, or help you focus. It's actually commonly-used in offices to help workers remain concentrated on their tasks.
But there are several other colors of noise. In addition to white noise, Noise Generator can also produce brown, pink, violet, or blue noise. Each of these colors can serve different purposes.
Brown noise has less "static" than white noise, and sounds more like a waterfall, with most of the sound in the bass frequencies. Pink noise is similar to brown noise, but with a little more activity in the high frequencies. Think of it as a waterfall with soft, high-pitched water droplets plinking away. Blue and violet noise are more concentrated in the high frequencies, with a more energetic, active sound.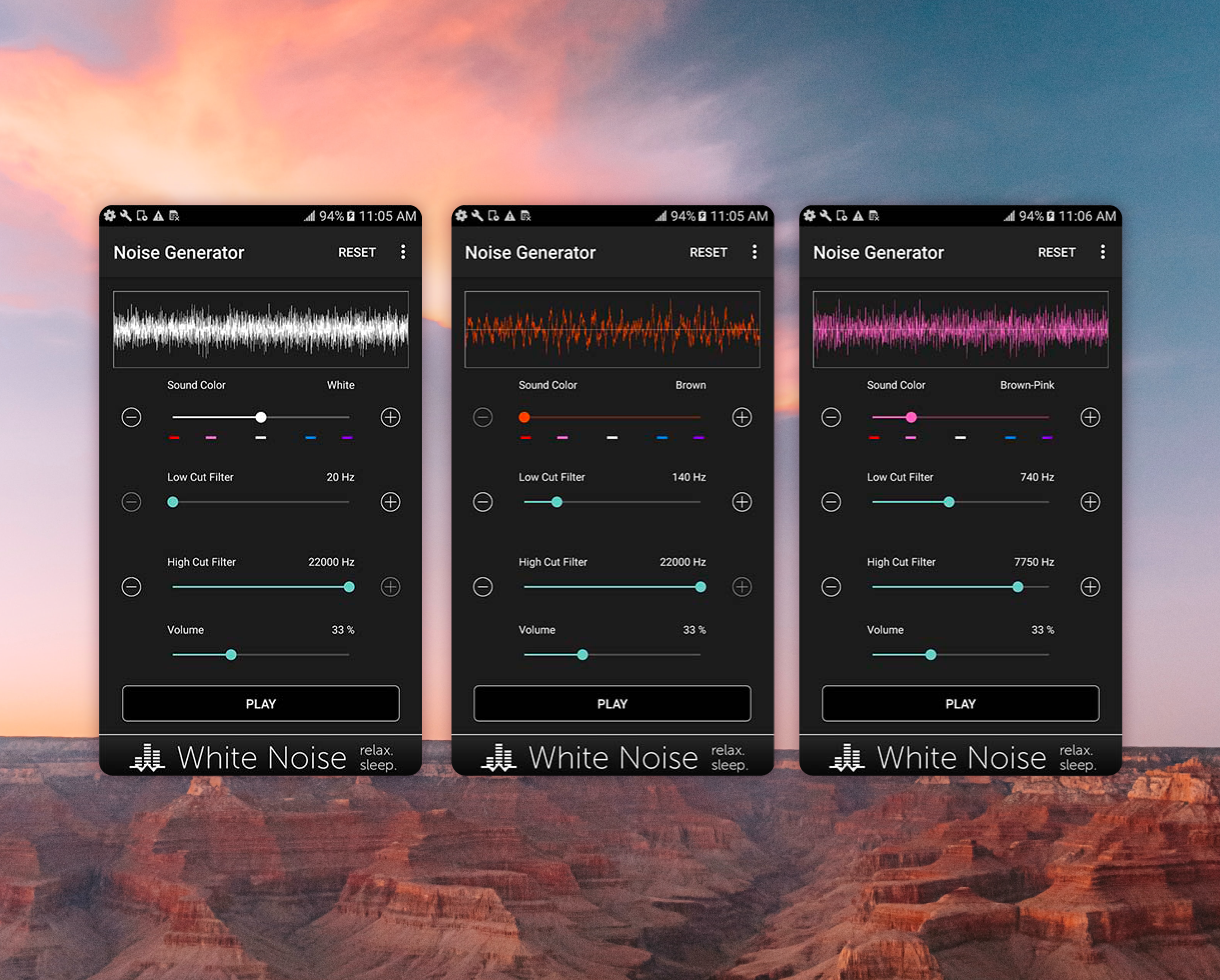 You can customize any of these sounds by using Noise Generator's high and low cutoff filters. All of these noises are generated dynamically, rather than recorded, which means Noise Generator doesn't take up a lot of storage on your device. At this time, Noise Generator is available on Android devices only. You can get it free of charge.
Best of Both Worlds: Android and iPhone Noise Cancelling Apps
myNoise
myNoise is an iOS alternative to Noise Generator, although it's available on Android as well. myNoise works like an old-school bedside noise generator. You pick a noise, and it will play until you stop the app. Depending on what you want, you can get access to a variety of sounds to help you sleep, focus, or even meditate.
Some of the available sounds include rain noise, spring walk, temple bells, and binaural beats. Rain is often used for sleep and meditation. Temple bells can also help with meditation and relaxation. Spring walk has sounds of rushing wind and twittering birds, which can help cheer you up on a rainy day. Temple bells is useful for meditation, as is the binaural beats sound. And this just scratches the surface of what myNoise has to offer.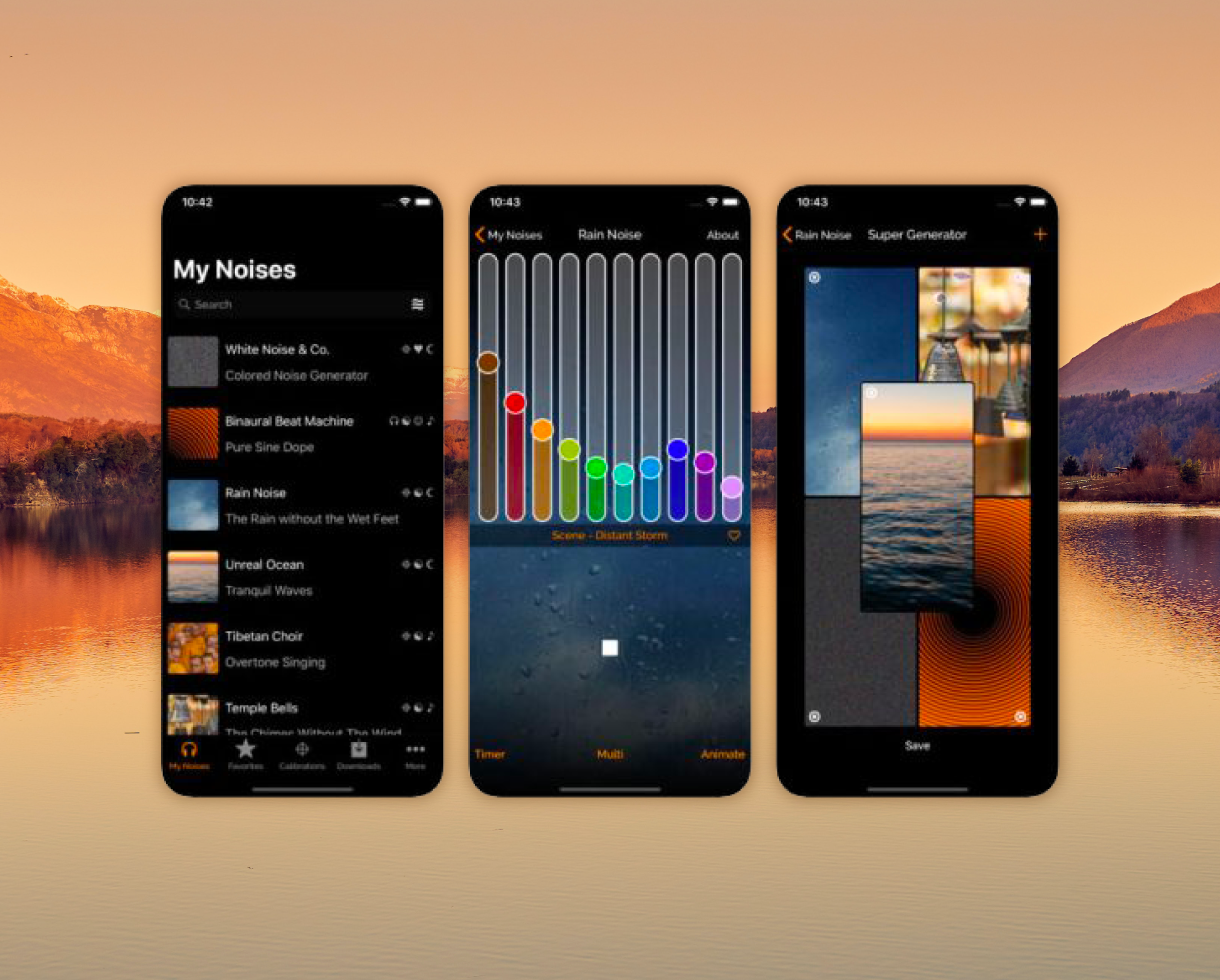 The app is free as well as ad-free. However, that "free" comes with a caveat: by default, myNoise only plays white noise. For most of people, that's going to be good enough. You can enjoy relaxation and improved focus without having to listen to an ad every time you start up the app.
If you want to have access to additional sounds, you'll have to pay a small fee. You can pay for each sound individually, or pay a bit more to get the entire myNoise catalog at a significant per-sound discount.
Want to know which sounds can help you focus? Read about top relaxing sounds to increase focus.
Parrot Zik
Parrot Zik is another noise cancelling app that's available both for Android and iOS users. The Parrot Zik app will automatically measure the level of noise around in your surroundings. If there's a low level of noise, all is good. But when noise spikes, the app will kick in, immediately cancelling out noises that could distract you from your music, audiobook, or phone call.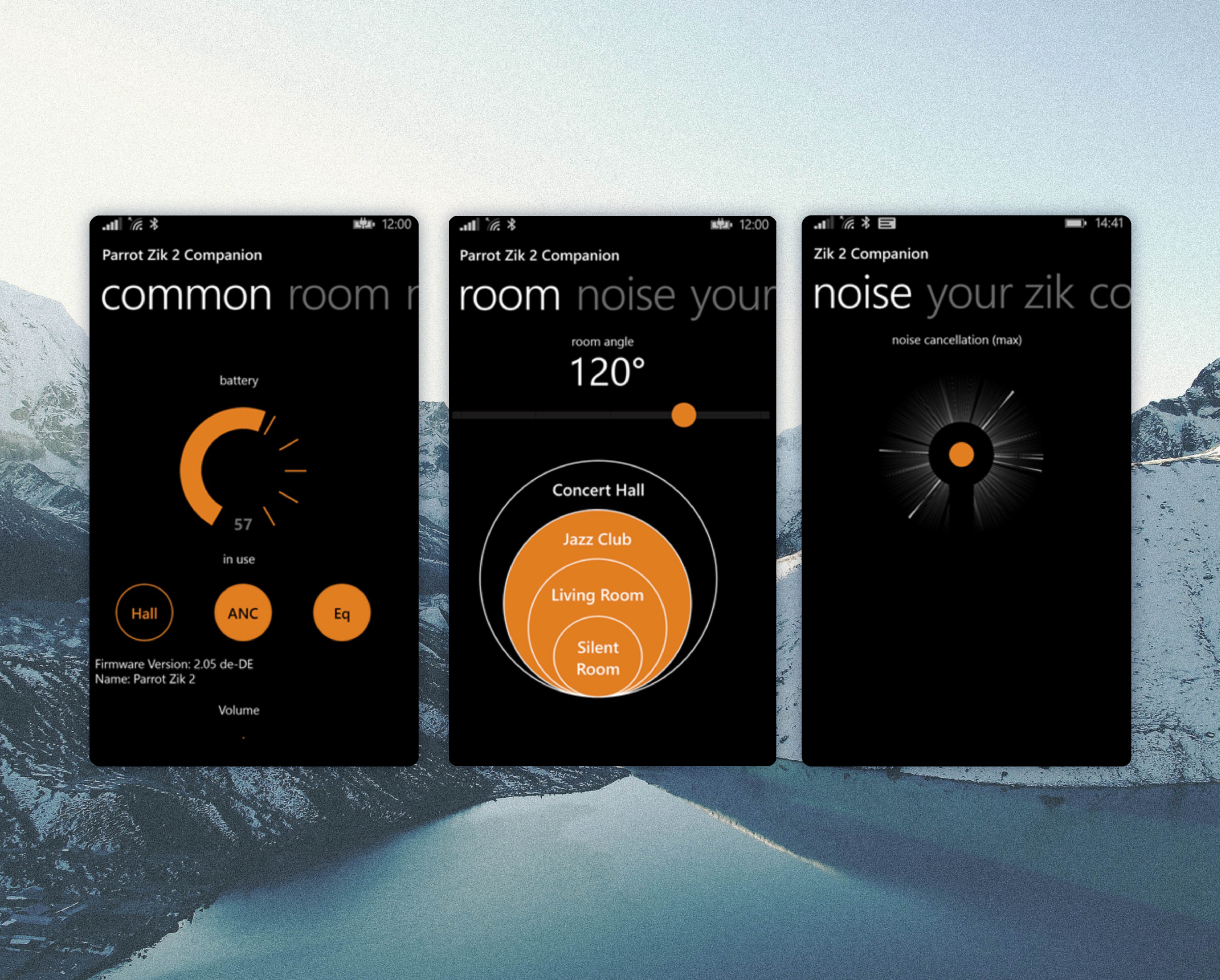 One neat feature of Parrot Zik is that the app will notify you when there's too much background noise for it to work effectively. By default, your phone will vibrate when this happens. If you don't want any notifications, you can turn this function off in Parrot Zik's settings.
The app is free both for Android and iOS users.
UrbanDenoiser
UrbanDenoiser is primarily designed for music, but it's also perfectly well-suited for teleconferencing. When you're listening, it offers automatic noise compensation. As background noise goes up, it will mask specific frequencies, as well as automatically adjust the volume to compensate. This ensures that your perceived volume will be the same, regardless of the background noise. It also has several built-in algorithms that you can choose from.
If you have trouble hearing higher or lower frequencies, for example, you can choose an algorithm that will compensate. For music lovers, UrbanDenoiser even has a bass booster, which can be customized to various EQ profiles.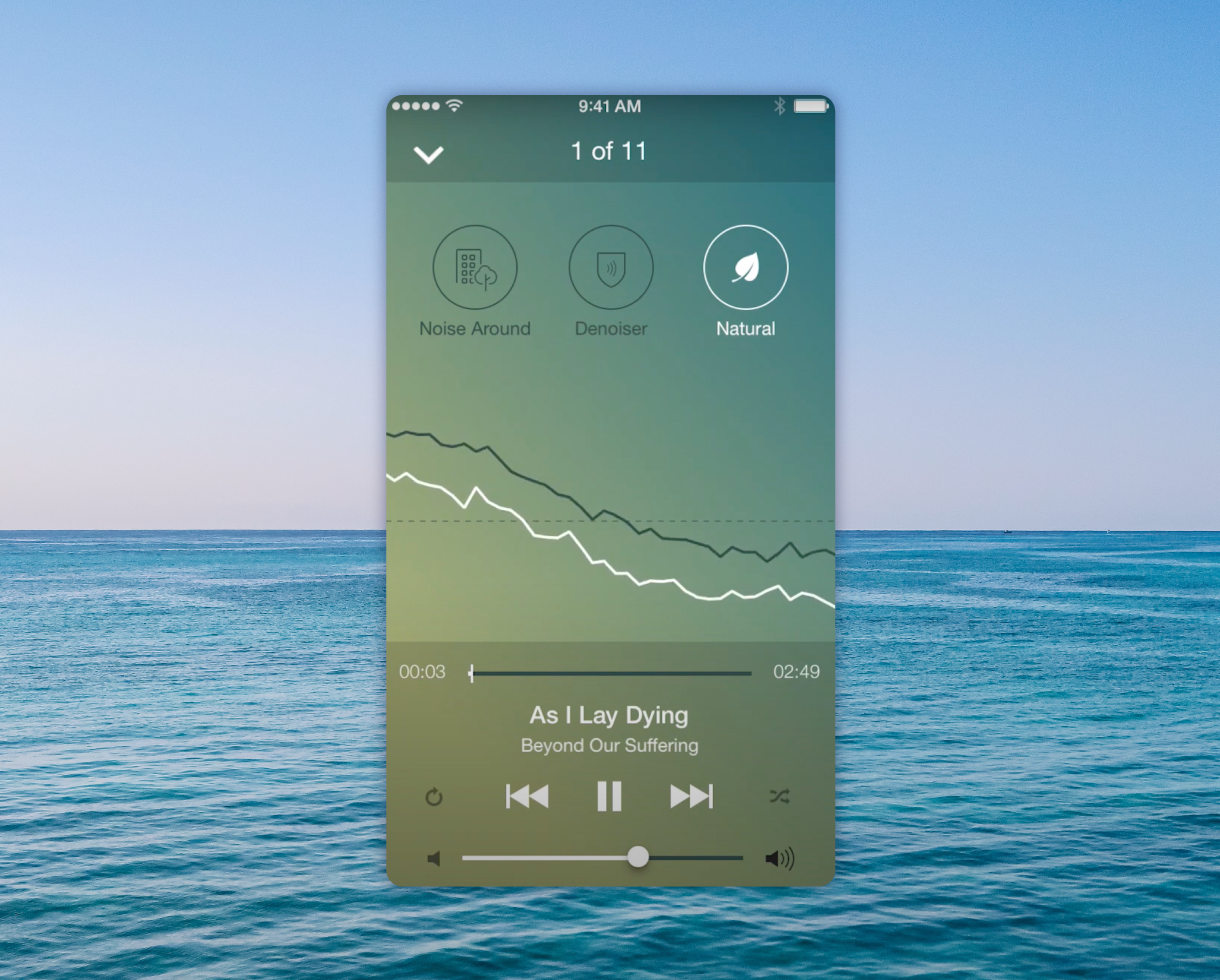 In addition to blocking noise, it also has a "surrounding sound" mode that can be activated at will. This mode allows you to hear more ambient noise, which can improve your situational awareness.
UrbanDenoiser is available for Android, iOS, and Windows Mobile, so it will work with just about any smartphone.
It's also free. As with most free apps, though, there's a downside: it's ad-supported, so you'll have to deal with a bit of advertising every time you launch the app. Still, that's not a huge deal, considering what you get.
Noise Wall
Noise Wall is available both on Android and iOS. It's a traditional noise cancelling app, but it has a couple of extra features that make it worth a second look. By default, it simply compensates for ambient noise by cancelling out distractions. Jet engines, crowd noise, and traffic will all fade into the background when you're using the default mode.
But what about the extra features?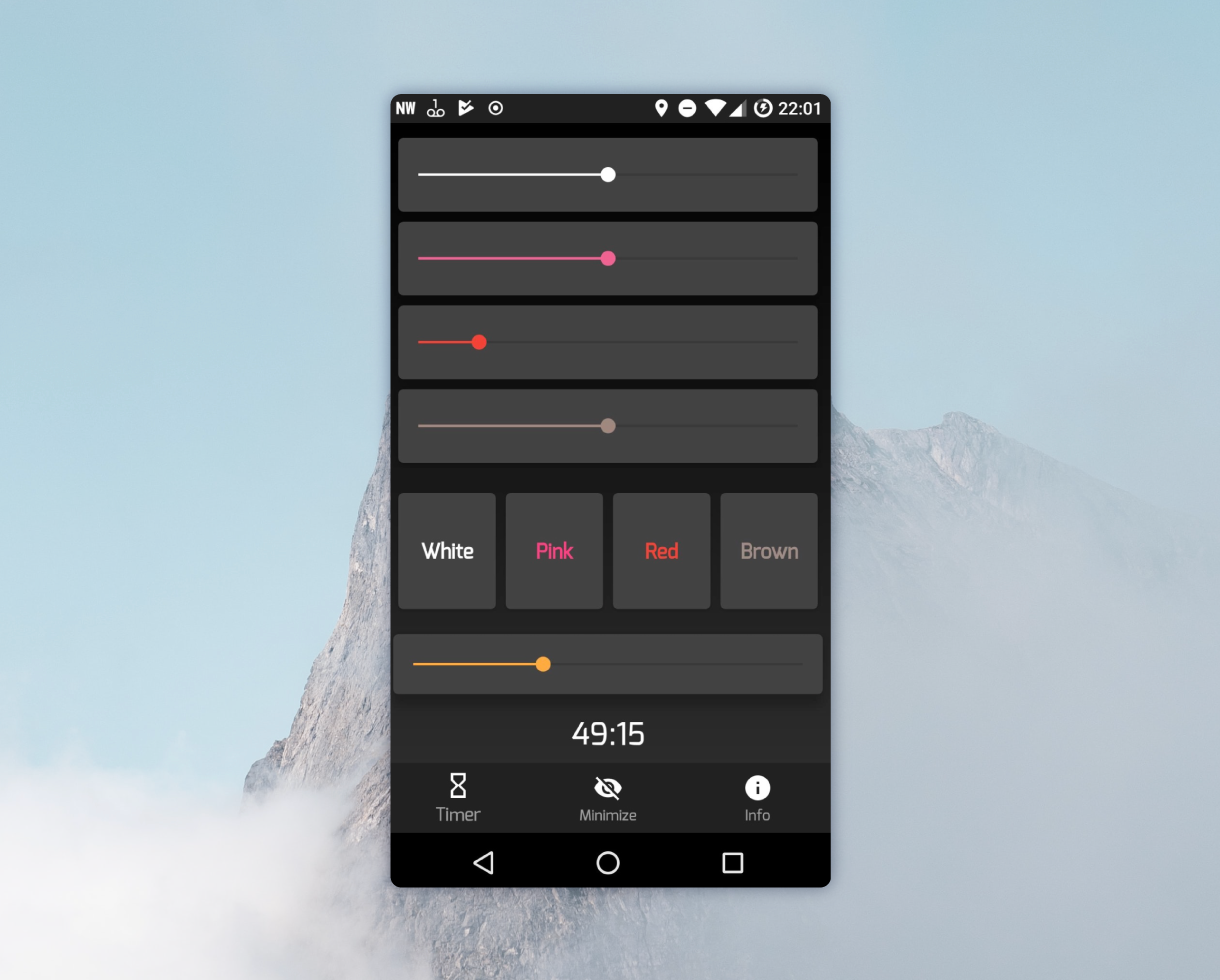 First off, Noise Wall can dynamically adjust your volume based on background noise. Rather than simply cancelling out the noise, it will actually turn the volume up if background noise is louder, or down if you're in a quiet location.
Noise Wall also has a transparency mode. In this mode, you simply tap a button, and outside noise will actually get sent through your earbuds. This is a great feature for quick social interactions. You can listen to music while you're standing in line at the grocery store, then use transparency mode to interact with the cashier.
Noise Wall is free to install, however it has some in-app purchases. The Pro version costs $1.93 for Android users.
Best Android and iPhone Noise Cancelling Apps in 2021
These are just 10 of the best Android and iPhone noise cancelling apps available out there in 2021. Which one is the best for you? It mainly depends on why you want to use a noise cancelling app and what the most important features are for you. But one thing is certain: having an Android or iPhone noise cancelling app will save you time and make your calls sound professional.
Which ones do you use? Share them with us on Twitter.
Looking for noise cancelling apps on Mac or PC?
Read more about the 5 best noise cancelling apps for Mac.

Read more about the 5 best noise cancelling apps for Windows.