Are you looking for a noise cancelling app for Mac? Here is tried-and-tested selection of the 5 best apps available for Mac and iOS.
Much like everything else, team communication applications are still far from perfect. One of their biggest drawbacks and challenges that individuals and teams need to overcome is the issue of background noise. Noise cancelling technology is far from being a new invention, but we're finally getting a good look at the demands for these tools in our daily activities. 
Even the smallest amount of background noise has a negative impact on your concentration and the quality of your calls. These unwanted noises make it challenging to properly hear and understand one another. This results in loads of misunderstandings during team calls or poor-sounding audio for podcasts and videos.
In this guide, we're going over our tried-and-tested selection of the 5 best active noise cancellation apps currently available for Mac and iOS.
But first, let's have a quick look over the factors you need to consider before relying on a noise cancelling app for your meetings and recordings:
Operating system availability:

Some might not be available for Mac users and there's even mobile apps you can only use with an iOS system. Before analyzing a noise cancelling app's features, do a double check to see if you can get it on a MacBook.

Noise cancelling accuracy:

Most tools claim to reduce (or supress) background noises. However, this means they lower the volume of noisy sounds when they should be blocking them completely.

Use cases:

Generally, noise cancelling apps for Mac are created either for live streaming or for post-recording noise editing. If you want to use the app to cancel noises both during meetings and recordings, look for a versatile tool that works on both levels or one that lets you remove noises in real-time.
[demo-new]
Features:

Besides noise reduction, you might want extra features like room and acoustic echo removal, sound quality improvement, and even reporting on your meeting time.

Ease of use and learning curve:

Some noise cancelling apps work by asking you to pre-record sound snippets you want to remove. This requires extra work to prepare the library of sounds while other apps cancel noises automatically using AI or audio volume-related settings.
1. Krisp – best for remote workers, podcasters and teams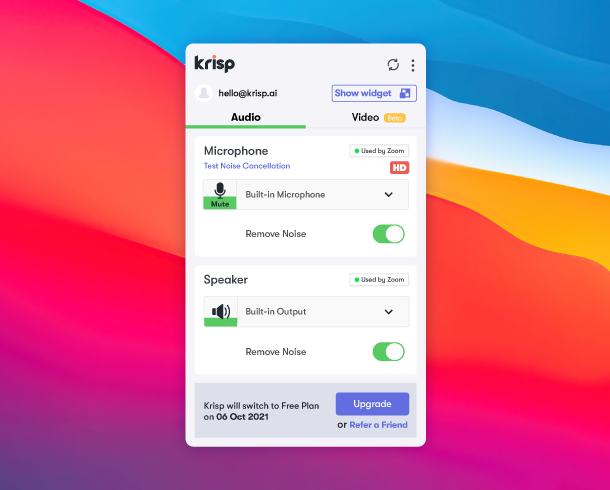 Krisp is a noise cancelling app that takes away all of the background sounds during calls and recordings in real-time for both ends of the conversation.
You can connect it to your preferred conferencing, messaging, recording, or streaming tool as long as it accepts Krisp as the audio input. When you're ready to use it, switch it on once and the app will automatically remove surrounding noises for everyone on the call. You can then use the Krisp widget before the start of the meeting to check the quality of your audio, removing the need to hold a test call ahead of time.
Behind the tool, there's a Deep Neural Network that's trained to remove background sounds and echo, leaving only the voice of the speaker closest to the microphone on the output. 
[demo-new]
2. Zoom and other video conferencing app with an integrated noise suppression functionality – best for quick use and no extra setup
With few noise cancelling apps for Mac out there, many video conferencing apps like Zoom or Microsoft Teams have built their own noise suppression features. This is a quick solution for individuals who don't want to use extra tools or need a one-time fix to their audio issues. 
In Zoom, for example, you only have to select the sound level you want to remove throughout a meeting. Pick from Low (faint noises), Medium (computer fan, pen tapping), and High noises (typing, barking). Just keep in mind that these integrated noise cancelling features don't completely remove distracting sounds because they don't rely on AI to spot all potential noises.
You can use the default noise suppression feature of your video conferencing tool for team meetings and one-on-ones. However, keep in mind this won't work for professional events, meetings, and recordings as they lack advanced features like HD voice rendering.
3. AudioFix: For Videos + Volume – best for audio and video recordings you already have
AudioFix: For Videos + Volume is a noise cancelling app for iOS that cancels background noise from any video or audio recording and memo. This app is a great choice if you're a regular iPad user and you need to improve the quality of your audio for recordings you already have. 
There's multiple filters for the tool, including Audio Smoother, Strong Hiss Removal, and Mild Wind Removal. These help you adapt the noise cancelling process to every recording but don't offer a completely clean final recording. Additionally, the app has some extra handy features that will help you edit your audio, like muting a sample of the recording or extracting sounds.
4. White Noise Lite – best for using your own recordings as ambient background sounds
While most noise cancelling apps give you access to a small library of ambient sounds you can use to cover up background noises, White Noise Lite lets you record your own. This free noise cancelling app for iOS is super easy to use and can help you relax, increase your focus at work, soothe headaches, and even mask tinnitus.
The app does come with a catalog of noises that induce and maintain your sleep and productivity, but it also allows you to record and enhance sound easily. The mixpad editor can be used by anyone so you can adjust the sound position, volume, sound variance, and pitch of every individual sound you want to add to your mix.
5. Sleep Pillow – best for keeping your health in check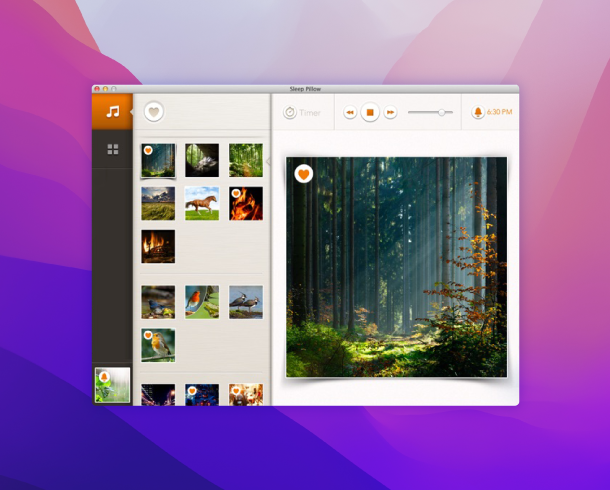 Sleep Pillow doesn't fully remove noises as it works by playing back high-quality ambient sounds on top of the background. These create an atmosphere well-suited for improving your quality of sleep and meditation time. This noise cancelling app's purpose doesn't end here as you can use it to boost your productivity by cancelling unwanted background noise at work.
Most current users praise this app's ability to drown out background noise, but a large chunk of users have reported that it feels somewhat limited. Note that the noise cancelling sounds used by Sleep Pillow are rather short in length. This means that it's easily noticeable whenever a loop restarts, something that can become a distraction in itself.
How does Krisp compare
More and more people are beginning to understand how drastic an impact background noise can have on productivity and concentration levels. We hope that this short list will aid you in your quest to eliminate pesky background noises and improve the quality of your work, sleep, or meditation sessions.
If you regularly use noise cancelling headphones during calls consider adding Krisp to your arsenal. This nifty noise cancelling app filters out pesky background noise at both ends, leading to a significant boost in the quality of your calls. It's also the most advanced noise cancelling app for Mac, allowing you to:
Record audio for podcasts, events, and videos in HD voice without requiring further edits

Remove room and acoustic echoes that can ruin a recording for good

Prevent misunderstandings during team calls as Krisp removes background sounds on both ends of a meeting with no manual input required

Use different tools simultaneously through the power saving mode that won't crash your MacBook

Get a better idea of how you're spending time in meetings and if you should reduce unnecessary calls to improve productivity 

P.S. If you're a Windows user, check out our list of noise cancellation apps for Windows.