Although Zoom is now a mainstream app with millions of worldwide users, it's far from being the perfect video conferencing tool out there. In fact, every Zoom alternative is suited for a specific type of user. Development teams, for instance, are likely going to prefer other solutions from their marketing or customer success colleagues.

Some of the cons of using Zoom include: 
Poor video quality [depends on your own webcam's quality too]

Availability only via a desktop app

Frequent audio and connection issues

Zoombombing

and other privacy issues

High costs when hosting webinars with a large number of attendees

Unpredictable cloud file sizes

Features like streaming or cloud recording only available with paid plans

Limited control over the chat
If you've read this far, it means you're considering switching to a Zoom alternative that can fix some of these issues. 
Here's our analysis of the best web conferencing options, their main use cases, and potential disadvantages to keep an eye on. Note that we've included only the alternatives to Zoom that are suited for use in a work environment.
Google Meet
– for all those times when the other tools fail
I've been using Google Meet every single time another tool lagged or had audio issues. It's easy to switch to this tool at any moment as you only need to send a link to your participants. As long as they have a Google account, they'll be able to access the meeting in a matter of seconds.
Google Meet comes with several interactive features you can also find in Zoom, such as polls, breakouts rooms, attendance reports, and more. However, keep in mind you'll only be able to use these with a paid subscription.
Features worth remembering:
For one-on-one meetings, you can use Google Meet for free for up to 24 hours.

Top security features like 2-step verification or encryption in transit and at rest are included with all plans.

Considering this Zoom alternative as an enterprise solution? The Google Workspace Enterprise plan comes with a full set of features complete with advanced privacy options and unlimited storage.

The tool is intuitive to use and integrates with your Google Calendar so you can use it for scheduling.
Cons:
The number of meeting participants is limited to 250 even with paid plans.

There's no support for sending multimedia files.

Connectivity can lag in meetings with large groups.
Notable tool:
Krisp
– for noise cancellation to maintain clear audio
You can't conduct clear meetings in a noisy environment. 
Background sounds disturb meetings making it difficult for your ideas to be clearly understood as well as for you to understand the people you're talking to. Chattering, dogs barking, children playing outside, or construction work can lead to misunderstandings and a lot of wasted time—just because you couldn't hear the details correctly.
With the extra costs needed to redo work or fix a mistake, noise cancellation is a justified core feature for any Zoom alternative. Zoom, Google Meet, Webex, and Microsoft Teams also have basic built-in background noise suppression options which lower the volume of the background sounds. However, these solutions don't identify all sounds and echoes so it's impossible for you to rely on them if you want to record your meetings or host a webinar.
Krisp provides superior noise cancellation for these tools. You can also add the Krisp solution on top of over 800+ other apps that don't have a similar integrated feature. Krisp uses a Deep Neural Network to distinguish more than 20k noises and echoes from 50k speakers. This makes for accurate noise removal on both ends of a meeting.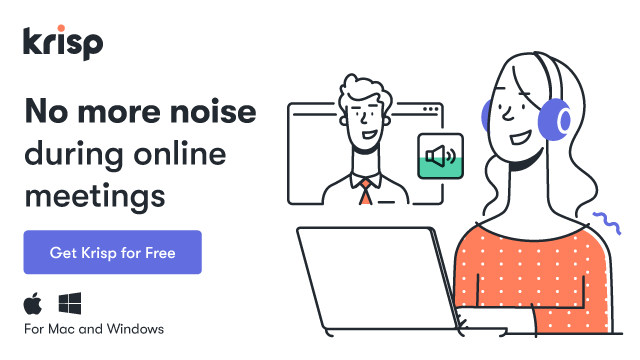 Jitsi Meet
– join a meeting immediately
This is one of the free alternatives to Zoom and Google Meet that allows you to send a meeting link anyone can join without connecting to another third-party app. The features of the app are limited due to its free nature. While you won't be able to host webinars or stream through this platform, it's just enough for one-on-one meetings or quick team calls.
To cover for the missing features, their Jitsi Videobridge solution allows engineers to create their own apps with video conferencing capabilities their teams need. Both the Jitsi Meet and access to their open-source projects are free of charge.
Features worth remembering:
Comes with a feature to let you remotely control another participant's desktop.

Supports HD video and audio.
Cons:
Privacy options are limited to end-to-end encryption, meeting passwords, and a lobby option.

You can't have more than 50 participants meeting at a time.
Zoho Meeting
– best for hosting webinars
This Zoom alternative is structured to highlight Users can access the meeting or webinars simply by clicking on the link you've shared with them. This solution is a fit for anyone who wants to organize webinars thanks to its integrations with Zoho CRM and Zoho Campaigns. These allow you to directly send campaigns to your CRM contacts. 
This said, the tool is also handy for promoting events, creating registration forms, and finding out more about participants. Classic Zoom features like polls or downloadable reports let you keep your audience engaged and follow up with them after a webinar.
Features worth remembering:
You don't need to install a separate app to use it.

Comes with strong security features you can rely on including their Lock Meetings function that allows you to choose every single participant and make sure no outsiders snoop on your meetings.

Integrates seamlessly with the rest of the Zoho stack like Zoho Bookings, Zoho Calendar, or Zoho Projects.

Meeting links can be embedded on a website for easier access or event registration.
Cons:
The free plan has limited features. For instance, you can only host webinars with up to 10 people.

Recording is only available with a paid plan.
Whereby
– for embeddable video meetings
Whereby is another Zoom alternative tool where no app install is needed to access a meeting. The app is user-friendly and the interface is a fun one complete with emojis for reactions and customizable backgrounds.
Their newest feature allows you to embed the video call just about anywhere. The look and feel of the displayed video are configurable so you can keep it minimalistic or add all features on top. This is super handy if you want to host a live online event and want to create an engaging landing page for it.
Features worth remembering:
Strong privacy features with the option to lock rooms and manually accept each participant.

Access is extra simple with custom rooms you can create and reuse it when needed.
Cons:
Whereby has one of the fewest features on this list when it comes to their free plan. There's no recording feature and the number of participants is limited to 4. Even with the paid Pro plan, recording and XL rooms require two separate add-ons so the costs can add up.

There's no custom subdomain option with any plan.
Microsoft Teams
– a Slack and Zoom alternative
Microsoft Teams is more of a Slack alternative as it provides all the features you need to collaborate with your team like chat boards, file sharing, and audio calls [Note: Zoom actually has these too if you head to the Chat feature at the top of the app.]. The video conferencing option is just an extra functionality. Nevertheless, hosting live events and webinars is still possible thanks to streaming, roles, and recording features. 
Microsoft Teams works both on a desktop app and directly within your web browser. This makes it convenient for you to invite external users to your meetings too. The tool is free for current Microsoft 365 users but the features depend on the plan you already have.
Features worth remembering:
It provides a complete set of features needed to keep all communication within a single platform.

Similar to Slack apps, Microsoft Teams also comes with hundreds of bots and

integrations with third-party tools

you're probably already using.

Availability in 53 languages across 181 markets.
Cons:
Although the privacy options are diverse, they are limited with the free version.
Cisco Webex
– best for telephony extensions
Cisco's Webex tool confirms the trend for video conferencing to be paired with other written messaging solutions. Its chat boards allow you to send messages and files to teams or individuals so you can keep all communication in a single place. Extra features like breakout rooms, virtual backgrounds, or meeting transcription ensure you won't miss Zoom.
Cisco's video call app offers very similar features to Zoom. Both apps are only available via a desktop app and provide advanced screen sharing options, whiteboards, and security features. Even the pricing plans are similar. Cisco's Webex, however, is better suited for teams looking to host webinars or make calls at an enterprise level.
Features worth remembering:
HD sound for

dozens of devices

which can also help you get that crisp video.

Advanced webinar features like attendance and attention tracking tools.

The Webex tool comes with three distinct products: Meet, Call, and Message. This means you can integrate your team communication app with other Cisco solutions so you can transform the app into your very own business phone service. 
Cons:
The free plan is limited to a single host and up to 50 minutes for the video call with no cloud recording, dial-in, or transcriptions [Zoom's free plan is similar though].
Yac
– to support asynchronous meetings
For those of you looking to quit meetings that take up the entire day, there's a solution: Yac. The tool replaces video meetings with audio snippets. Users can send these at any time to maintain collaboration even asynchronously. But Yac's features don't end here as you can also record your webcam or screen as you're sending these snippets.
Audio and video snippets work for groups and one-on-ones too. Plus, you get to see when someone has listened to your message or seen your clips. And it's all super cheap with paid plans currently at $3/month/user.
Features worth remembering:
Links can also be shared publicly or with external collaborators who are not part of your Yac teams.

The free plan comes with unlimited voice messages.
Cons:
You can only get the screen and cam recordings with the paid plan.

The video features are limited as there's no option to hold these in real-time or host live events.
Livestorm
– a complete solution for hosting live or on-demand events
Want to host regular live or on-demand events but would rather keep your own team's meetings quick? Livestorm is the right platform. With the Automated webinars features, you host events by playing a pre-recorded video or presentation and only answering the comments in real time. You can automate actions like when a webinar starts or ends as well as when you want a video to launch. Participants also receive automatic reminders and follow-ups you can use to boost the engagement rate.
Instant meetings, on the other hand, can be created in seconds. Team members or collaborators will be able to access them via the link you send with no app installs required. The Enterprise plan offers a complete list of security features and GDPR standards to back up your meetings, webinars, and recordings.
Features worth remembering:
A connectivity test lets users see if their mic and webcam work properly. This comes in handy if you're hosting a live event or plan to record a call.

The Events feature comes with a mini-CRM that lets you track attendees, see stats, send invites, and store your recordings.

Connects with over 1,000 apps.
Cons:
The free plan only allows for webinar sessions of maximum of 20 minutes and 10 participants so you can't use the tool for free to host regular events. Good news is that yearly plans are cheaper than other options like Zoom or Cisco's Webex.
This Zoom alternative comes with a Slack-like UI that reunites written and visual communication in one tool. Glip's interface makes switching between video and other team collaboration options easy. In addition to this, the strong organization capabilities let you store and filter recordings, files, notes, etc. You can even replace a basic task management tool through Glip.
Glip integrations are limited compared to Slack or Zoom but it can be a good fit if you're already a user of other RingCentral products. You can also switch between devices at any point during a meeting through a single click.
Features worth remembering:
Has collaborative document editing and PDF markup tools you can't get with other Zoom alternatives. Plus, it can be used to store and archive files.

Glip has one of the best free plans in terms of video length and participants as you can get up to 100 participants at once with no limit to the number of meetings. Glip also offers free features you'd have to pay for with Zoom like cloud recording or telephone dial-in.
Cons:
No fun emojis to use as reactions.

No streaming option.
GoToMeeting is a Zoom alternative that's strictly used for meetings. All plans come with HD video, screen sharing, unlimited meeting time, top security settings, enhanced audio options, and so much more. Since the tool is focused on creating a thorough meeting experience, higher-tier plans provide bonus functionalities like automatic transcription, co-organizers, or a smart ML-based assistant to automatically spot action items from a meeting.
For hosting public events, you'll want to check out their GoToWebinar solution instead. You can connect this as an add-on to your main GoToMeeting account.
Features worth remembering:
The tool provides after-meeting stats to get an overview at talk time by host or attendee. This lets you tweak your presentation skills or better organize your future meetings so everyone will get equal speaking time.

Regardless of the plan you choose, you'll get the same security features to ensure your privacy and keep meetings secured.

The app prioritizes remote or on-the-go workers who can access and contribute to meetings from their mobile apps. GoToMeeting connects to the GoToRoom tech stack which includes webcams, mics, and other hardware for HD and interruption-free office meetings. A mix of both solutions makes for the ideal hybrid meeting experience.
Cons:
Background noises can influence the quality of the audio.

There's no polling option but you can get these with the GoToTraining and GoToWebinar solutions.

No free plan available.
So how do you choose the best Zoom alternative?
With so many Zoom alternatives, I'm sure you already have two or three that have caught your attention. Here's a checklist of things to take into account based on your priorities and features you'd need:
– The size of your team and overall budget. Some tools are free for a lower number of users while for others costs can add up to thousands of dollars in a large or enterprise-level company.
– Your reasons for switching to a new tool. If you simply want to host your team meetings and one-on-ones occasionally, a basic free meetings tool will do. Once you start organizing live events and webinars, you'll need advanced capabilities. Noise-cancelling will help you provide high-quality audio and recording while a CRM lets you plan these events, invite people, and follow up to keep them engaged.
– The privacy and encryption features that are a must for your situation. Send your first important file via a tool and you bet you'll need SSL/128-bit AES encryption. Not to mention that a live event with attendees from Europe calls for a GDPR-compliant app.
So what's your next pick?