By now, you've likely heard horror stories about the rampant "Zoombombing" that happened at the start of the pandemic, where intruders crashed Zoom meetings and broadcast inappropriate content to attendees.
When preparing for online meetings, most of us think about agendas and lighting, but we really need to think about privacy too. Meetings, by their very nature, contain vital and private information that you don't want just anyone to see. Thankfully, there are steps you can take to ensure your team and data are protected.
Here are 15 ways you can ensure you don't become the next victim of a Zoombombing—as well as keep your data safe from prying eyes.
15 Tips to Protect Your Online Meeting Privacy
1. If you're joining the online meeting from home or a public space, wear a headset and ensure no unauthorized people can overhear you.
Don't be so concerned about anonymous Internet intruders that you overlook the people inside your own home. Whether they mean to or not, your spouse, children, or roommates might overhear your online meeting conversations that contain protected information.
This is especially true if you work in sectors like healthcare or financial services, where revealing certain protected information (even unwittingly) to outsiders might have legal consequences.

To prevent eavesdropping, be sure to wear a headset or earphones when you take calls. Additionally, make sure you are in a location where the people who live with you can't see your computer screen or overhear what you're talking about during work meetings.
2. Secure your conferencing app with a strong password.
Don't choose a password that's easy for someone to guess—that's an easy way to get hacked. Make sure the password to your Skype, Zoom, Teams, or other conferencing app is strong.
3.  Secure your meetings with a password too.
Yes, passwords seem like one extra, inconvenient step to gaining access to a meeting—and that's precisely the point. Add as many steps as possible to ensure only the right people get in. If your web conferencing app has a password-protected meetings feature, use it.
If you fail to secure your online meeting with a password, anyone who manages to get their hands on the meeting link will be able to get in.
Additionally, it's a good idea to change the password for each meeting, just in case one password gets compromised.
4. Safeguard your Personal Meeting ID.
Something I didn't even understand until recently: On Zoom, your Personal Meeting ID is essentially an ongoing meeting. If someone has your Personal Meeting ID, they can enter your meeting anytime. This is true for some other web conferencing apps, too, such as BlueJeans and GoToMeeting.
The most famous example of this faux pas is when UK Prime Minister Boris Johnson shared a screenshot on Twitter of a Zoom meeting in which his Personal Meeting ID was revealed. Thankfully, even if people did try to crash Johnson's Zoom meeting, they wouldn't have succeeded because his team had established a password. (See why passwords are crucial?)
5. Use a unique meeting link each time.
Your Personal Meeting ID should only be shared with people whom you trust and meet with regularly. Otherwise, your safest option is to generate a unique link for each meeting and only share it with invitees.
That way, if an old meeting link falls into the wrong hands a few days later, you don't have to worry because you won't be using it again.
6. Enable a virtual waiting room or lobby where you can screen people before admitting them to the meeting.
Some video conferencing apps have a feature that allows you to screen people before admitting them to the meeting. In Zoom, for example, this is called a "waiting room," and in Microsoft Teams and Skype for Business, it's a "lobby."
The great thing about these virtual rooms is that you can screen each person before allowing them to enter your meeting, and thus, keep any intruders out.
The best description I've found is from Zoom, describing its waiting room feature in a blog post: "It's almost like the velvet rope outside a nightclub, with you as the bouncer carefully monitoring who gets let in." 
Some web conferencing apps with a waiting room or lobby feature include:
Zoom

Microsoft Teams

Skype for Business

Webex

BlueJeans
7. Lock your online meetings.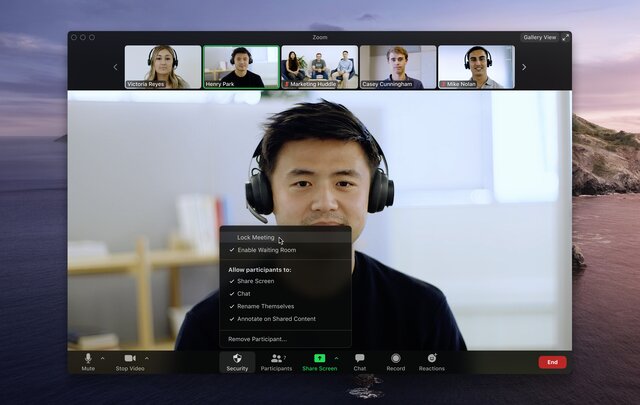 When you enter a room and don't want trespassers, you lock the door behind you, right? Do the same in your online meetings. Of course, this is only possible if your video conferencing app has a lock feature that, once enabled, prevents new people from entering your meeting.
Some web conferencing apps with the lock feature include:
Zoom

GoToMeeting

Webex

BlueJeans

UberConference
8. Ensure you're on a secure Wi-Fi network or use a VPN.
If you share a Wi-Fi network with your neighbors or are working from a coffee shop, really think twice about joining an online meeting without a VPN. On shared or public networks, anyone within range could potentially snoop on what you're doing on your laptop.
Some employers require their remote employees to always use a VPN (virtual private network) to secure their connection. Even if your company doesn't require a VPN, it's still a good idea. Just keep in mind that VPNs tend to slow down your Internet connection, so that could make a video meeting more challenging.
9. If you're going to record a meeting, make sure all attendees know ahead of time.
You need to let all attendees know that you're about to record a meeting and be sure to have their consent. Additionally, if a meeting is going to be recorded and shared afterward, people need to know so that they don't share information that people outside of the meeting are not supposed to know.
10. Be careful where you store online meeting recordings. 
When you record a meeting, it will likely contain information you wouldn't want the general public to see. Unfortunately for some companies, their private meetings were available online—without them knowing about it! 
According to The Washington Post, some Zoom video calls—including therapy sessions and meetings containing private financial statements and people's names and phone numbers—were found on the open Web.
These videos were uploaded to an online storage space and were not password-protected. So if you must record your online meetings, store them in a safe space secured with a hard-to-guess password.
11. Control who shares their screen during a meeting.
Your video conferencing app should allow you to control who can share their screens and files during a meeting. It's best to set the default settings to allow no one but the host to do these things. Only attendees who have alerted the host ahead of time that they need to present something should be allowed to share their screen or upload files. 
Otherwise, you run the risk of someone going rogue and sharing something irrelevant or inappropriate. If this happens, however, make sure you know ahead of time how to turn off an attendee's video or remove them from the meeting.
12. Issue work computers and mobile devices to your employees. 
If your company has the budget for it, consider issuing computers to your employees for them to use only for work. 
For example, banking requires strong security because of the sensitive data its employees handle daily. Because of this, many banks with work-from-home employees issued them work computers and mobile devices that are, of course, strictly for work use. 
The advantages of company-issued devices:
The company can ensure the computers or other devices are up to par security-wise.

The company's IT team can have more control over company-issued devices than personal ones.
13. Do not allow anyone to join before the meeting host.
Many video conferencing tools have a feature that allows people to join before the host, and you can toggle this on or off (Zoom and Webex, for example). It's best that you leave this feature off. If you turn it on, anyone can join the meeting and say or show anything before the meeting host has arrived. That has the real potential of going wrong quickly.
14. Require all meeting attendees to log in.
With some conferencing software, such as Zoom and Webex, you can enable a feature where all meeting attendees must sign in to a registered account before they can join the meeting. This helps you verify who they are.
15. Keep an eye on the participant list.
When you're hosting a virtual meeting with a lot of attendees, it's hard to keep track of everyone on-screen. When that happens, it can be easy for an intruder to slip by unnoticed at first. To prevent this, keep an eye on the participant list. Every video conferencing tool should have a space where you can see a list of everyone present at the meeting. If a name appears on the list, and you don't recognize them as someone you invited, do some digging, and if necessary, give them the boot.
Bonus tip: Use Krisp to maintain your privacy
Krisp is a noise-cancelling app that filters out background noises during your online meetings. It's built with privacy in mind, so all of audio processing happens on your device and no audio leaves it.
[new-demo]
What to Do If You Get Zoombombed
If you protect your meeting with a password and enable a virtual waiting room where you can screen guests, uninvited people should not be able to get into your online meetings. 
But, let's say somehow you still end up getting Zoombombed (yikes!). What should you do then?
Step 1: Kick out the intruder.
If anyone enters your video chat uninvited, remove the intruder from the meeting before things go too far. Make sure you're familiar with how to do this on whichever video conferencing app you're using.
Step 2: End the meeting for everyone.
If you're unable to remove the intruder or if they return, whoever is the host needs to end the meeting for everyone immediately. Most attendees will likely be too shocked to think to log off, so the host needs to go ahead and end the meeting.
Step 3: Use a different meeting link and access code.
When you and your team are able to recover, start the meeting again, but this time, with a different meeting link and access code.
Step 4: Alert your IT team.
Let your IT team know what happened as soon as possible. They need to investigate how the intruder was able to gain access to the meeting to prevent it from happening again.
So, What's the Best Web Conferencing App for Online Meeting Privacy?
The best software for you depends on your needs. But I took three web conferencing apps and ran them through the list of online meeting privacy standards I outlined above. Here's how they stack up:
Zoom
End-to-end encrypted? Yes
Allows password-protected meetings? Yes
Has a waiting room/lobby feature? Yes
Lets you lock meetings? Yes
Allows host to disable attendees' screen sharing? Yes
Lets you require attendees to log in? Yes
Lets you remove individual attendees? Yes
GoToMeeting
End-to-end encrypted? Yes
Allows password-protected meetings? Yes
Has a waiting room/lobby feature? No, not in the same sense as Zoom or the other apps. GoToMeeting does have a waiting room where attendees wait if you've locked a meeting. But once you unlock the meeting, all people present in the waiting room will automatically gain access to your meeting.
Lets you lock meetings? Yes
Allows host to disable attendees' screen sharing? Yes
Lets you require attendees to log in? No
Lets you remove individual attendees? Yes
Microsoft Teams
End-to-end encrypted? No
Allows password-protected meetings? No
Has a waiting room/lobby feature? Yes
Lets you lock meetings? No
Allows host to disable attendees' screen sharing? Yes
Lets you require attendees to log in? No
Lets you remove individual attendees? Yes
Despite its reputation due to Zoombombing, Zoom really has done a lot to bolster security in the past year. As you can see, it does meet all seven online meeting privacy standards listed in this article.
Of course, this list is not exhaustive. Please check with your company's IT department to determine the best web conferencing app for your team's needs.
Become a Pro at Online Meeting Privacy
Online meeting privacy should not be an afterthought. We live in a world where business is, by and large, conducted online. Think of all of the vital information that passes between you and your team that you wouldn't want competitors or the general public to gain unauthorized access to.
Arm yourself with these online meeting privacy tips, and you can be confident you've gone above and beyond to secure your conference calls and video chats.