Wondering how to turn on Google Meet noise cancellation and cancel out background noise in calls? Then follow this step-by-step guide.
The use of conferencing tools has increased dramatically as the pandemic forced millions to switch to remote work and distance learning. Along with the transition, the number of conference calls has exploded as it remained as one of the few communication options during social distancing.
Many conferencing companies started to think about improving the communication quality and began to add new innovative features to their apps. Along with Zoom and Microsoft, Google announced adding noise cancelling feature inside Google Meet.
If you are interested to learn how Google Meet noise cancellation works and how to cancel out background noise in calls with Meet, then keep reading.
What is Google Meet Noise Cancellation?
In April, Google announced rolling out their top 4 most requested features, among which was noise cancellation. The AI-powered noise cancellation automatically will remove background noise during your video calls.
Here's how the company described it:
"To help limit interruptions to your meeting, Meet can now intelligently filter out background distractions—like your dog barking or keystrokes as you take meeting notes."
As of now, Google is gradually rolling out the noise cancellation feature to its G Suite Enterprise, G Suite Enterprise for Education and G Suite Enterprise Essentials accounts. It is now reaching its Web client first, and will later come to mobile users.
How Google Meet Noise Cancellation Works?
Google Meet uses Artificial Intelligence to filter out background noise. Similar to speech recognition, which requires figuring out what is speech, noise reduction feature also rely on machine learning to be trained to understand what constitutes noise and human speech.
With this feature, Meet is said to be able to remove non-stationary noises, some examples of which are typing, closing a door, or the sounds of a nearby construction site. When noise canceling is on, Meet filters the noise from your audio input while letting your voice through.
How to Turn On Google Meet Noise Cancellation?
Google is rolling out this feature to Meet users gradually. If you're a G Suite enterprise customer, you can check the availability by going to the settings in Meet and and see if "Noise Cancellation" feature was added to your settings. 
If so, under the Audio tab, you should see an extra switch for Noise Cancellation between microphone and speakers selection settings.
Once this feature is available for you, it is turned on by default.
How to Turn Off Google Meet Noise Cancellation?
If you would like to let noise come through in your calls or are simply in a quiet setting and don't want denoising filters to be applied to your voice, you can turn it off. 
To do so,  you need to follow these two simple steps:
1. Open Settings from the top right corner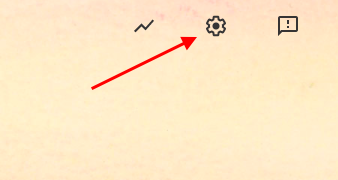 2. Turn off the toggle for Noise Cancellation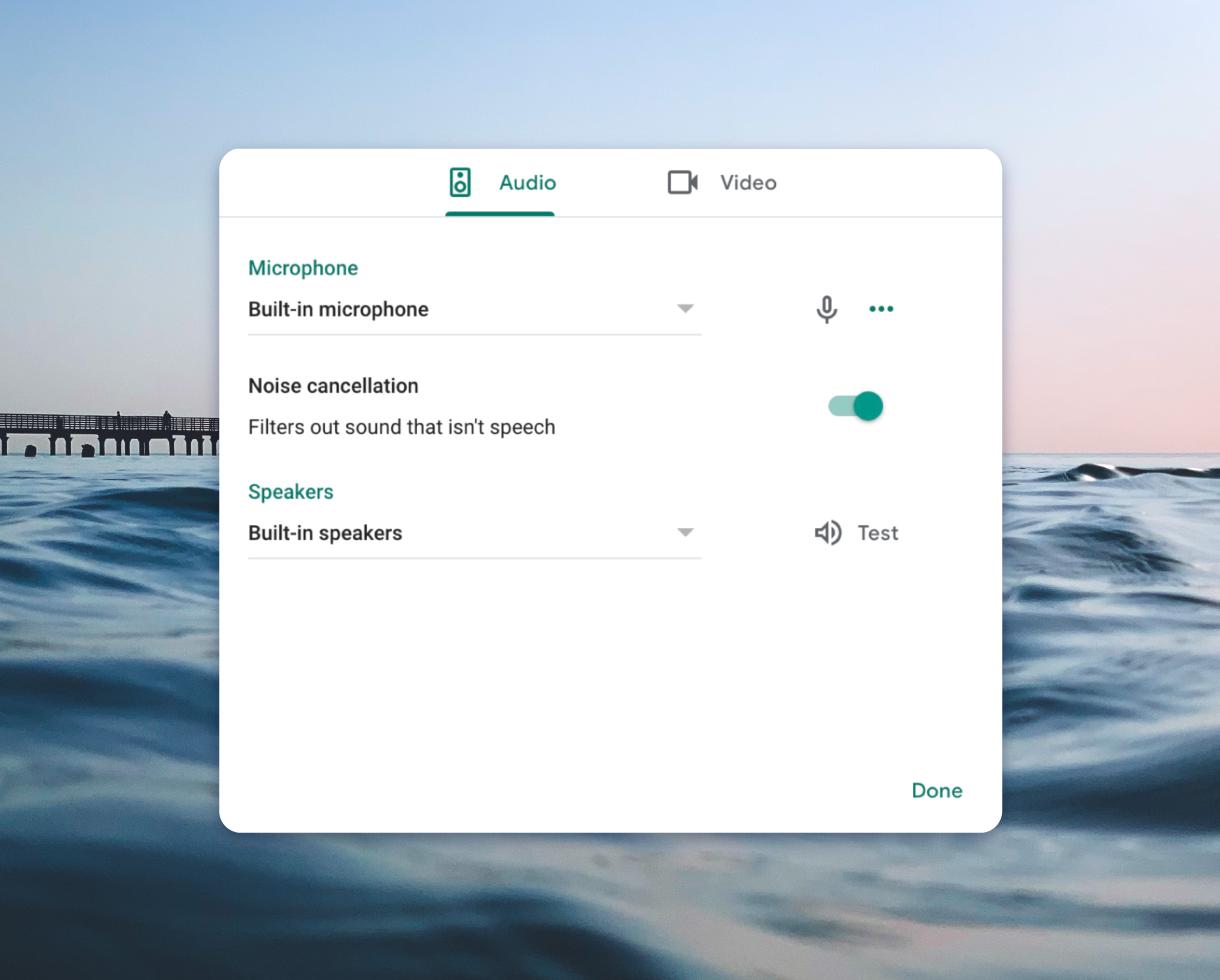 Alternative Way: How to Cancel Out Background Noise in Google Meet? 
Often you can find yourself in a situation when there is so much background noise that the built-in noise cancellation may not be enough. Or maybe, besides Google Meet, you use various conferencing and communication applications such as Zoom, Slack, WebEx, Loom and many others.  
In these cases, Krisp noise cancelling app is the best available alternative. 
What is Krisp?
Krisp is a noise cancelling app that works in real time and uses the power of AI to recognize and separate noises from human voices.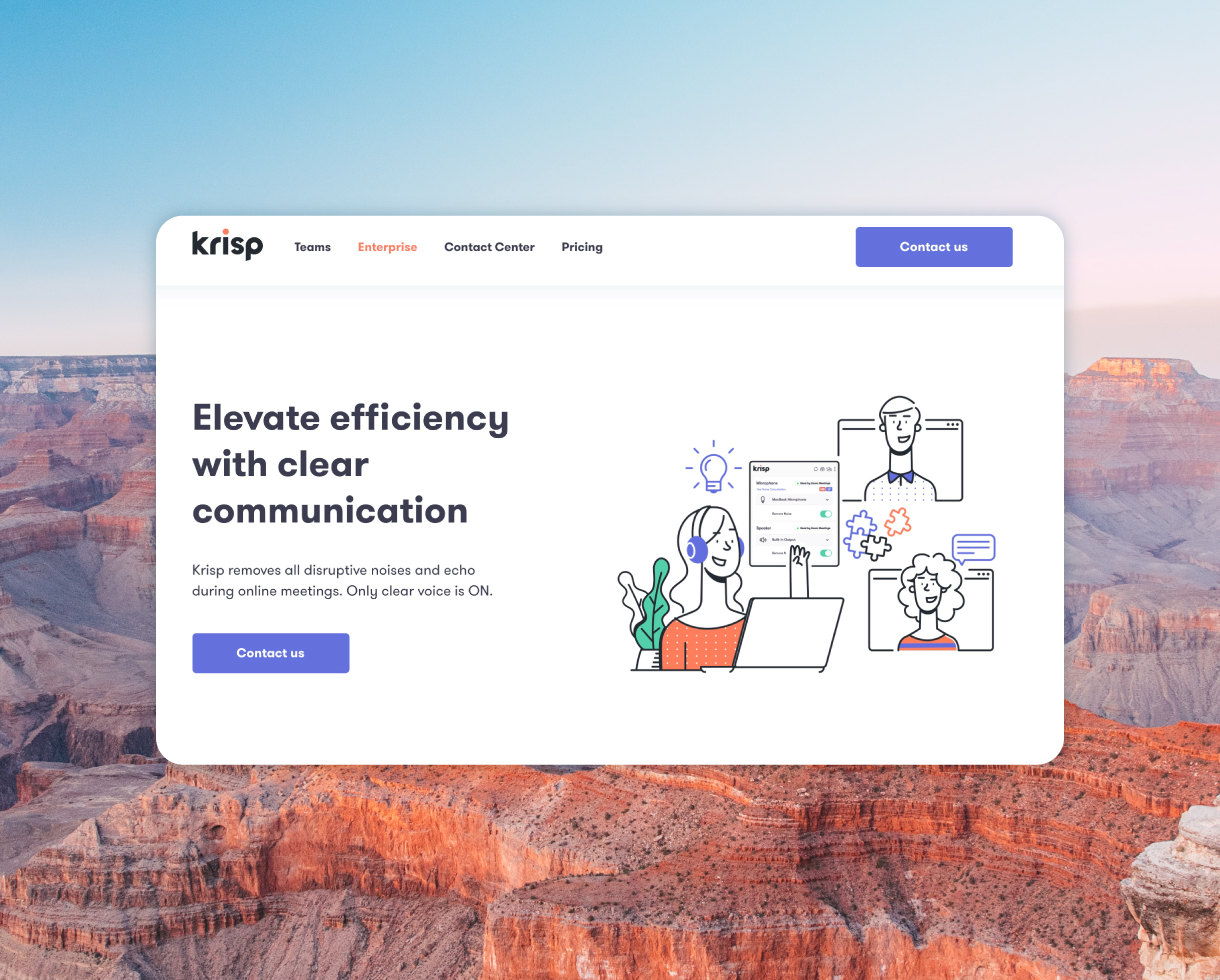 A major benefit of Krisp is that besides filtering out background noise on your side, it can also remove noise coming from other people on the call. So both you and other call participants can enjoy clear and professional conferencing experience without disruptive noise.
Plus, it works with any conferencing app, including Google Meet. Check out how it works in the demo below.
[demo-new]
How to Remove Noise in Google Meet with Krisp?
Here's how you can easily set up Krisp with Google Meet for improved noise cancellation.
1. Download Krisp app. It's available for Mac and Windows.
2. Follow the instructions to install Krisp on your device.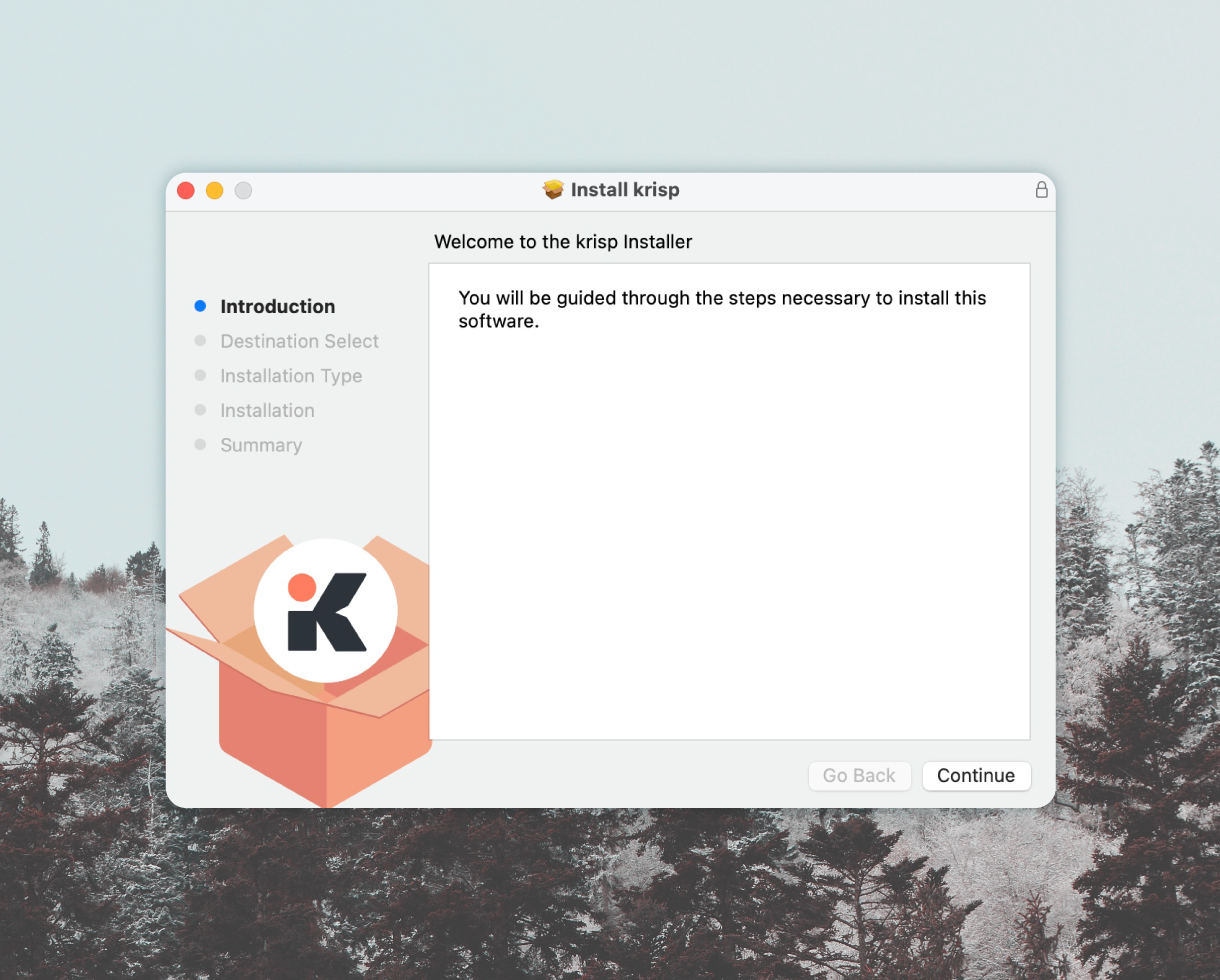 3. After this, open Google Meet, go to Settings and select the Audio tab.
4. From there, select Krisp as the Speaker and as the Microphone.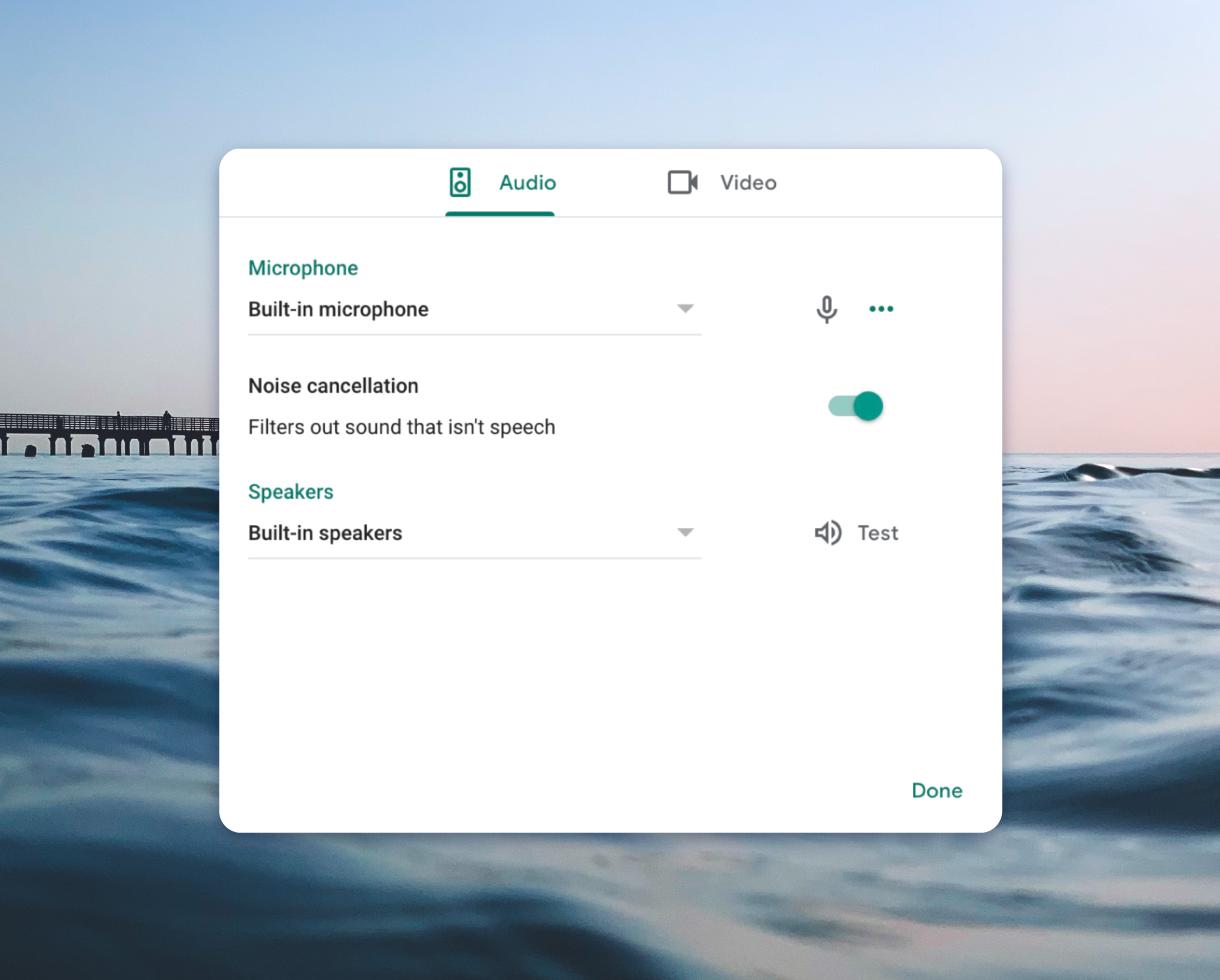 5. Now start your call with Meet and switch on the toggle in Krisp to remove noises.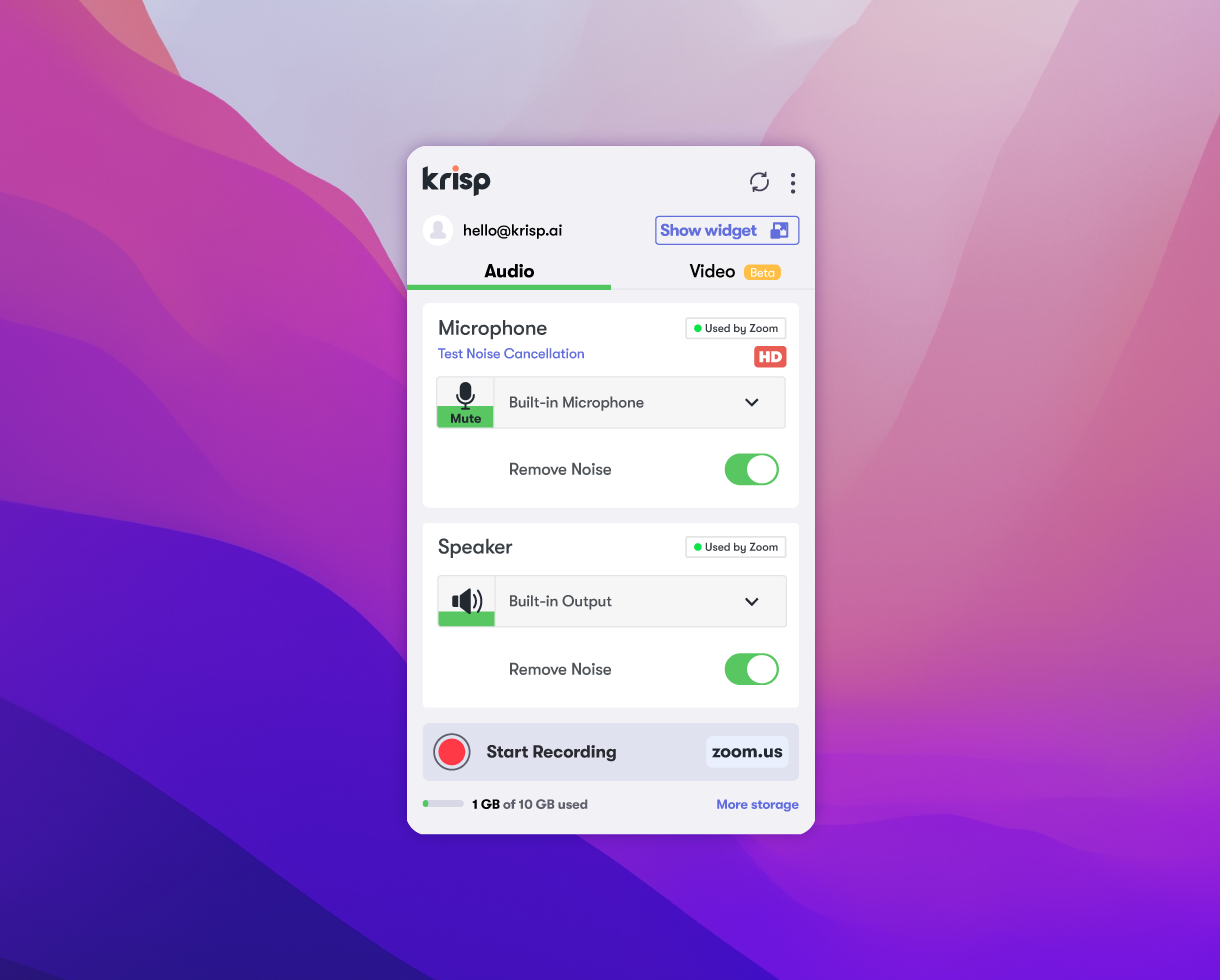 Easy as that! More productive and noise-free call is just a click away. Give Krisp a try during your next call with Google Meet and feel the difference for yourself. 
If you're a Mac user, here's a helpful video on how to set up Krisp with Google Meet on Mac.
And if you're Windows user, here's the tutorial on how to set up Krisp with Google Meet on Windows.