Amateur podcaster? Professional musician? Marketer who needs to do voiceovers for product videos? Whatever you're working on, if you're looking for the best voice recording software to use, you've come to the right place. With my background in radio news and voice-over work, I'll share advice from my personal experience as well as what I found after doing some research.
Below are the 15 best voice recording software options (free and paid) you'll find in 2021.
Best Voice Recording Software: Free Options
There are few reasons to pay for fancy voice recording software. For most uses, these free options work exceptionally well.
1.
GarageBand
Price: Free
Compatible with: macOS, iPadOS, and iOS
Features:
Sound library with drum beats, guitar and voice presets, and other instruments

Plug in your guitar or external mic

Layer multiple tracks

Effects such as compression and visual EQ
Beloved by musicians large and small, GarageBand turns your MacBook, iPhone, or iPad into a complete music production studio. If you're recording music of any kind, GarageBand is the app for you. But, of course, it can handle simple voice recordings too. It even comes with effects such as compression and visual EQ and voice presets so you can tweak the recording to your liking.
Plug in an external microphone, record into GarageBand, and edit the recording, all in the same place.
2.
Voice Memos
Price: Free
Compatible with: iOS and macOS
Features:
Record audio on your iPhone, iPad, Apple Watch, or Mac

Name files

Share audio files via AirDrop, text message, Facebook Messenger, and email

Basic editing features like trim, insert, and replace
Now, why on earth would I include Voice Memos, an app that comes pre-installed on every Apple device? Well, I'm a big fan of using the simplest tools that get the job done, and that's exactly what Voice Memos does.
Yes, it's free, and yes, it's simple. But it works. I use it for my voice-over work for clients, and the quality is good. Back in 2011, when I was still in journalism school and had gotten my first iPhone 4S, I used this app to record voiceovers for my radio class projects (instead of the fancy voice recorders they let us borrow)—and no one was the wiser. I didn't have an external mic; I just used the iPhone onboard mic. So let me tell you from experience: it works.
Because its editing features are limited to trimming audio and recording over it, Voice Memos is not what you're going to use for any fancy editing. For that, though, you have other options (some of them free), which we'll go over below.
3.
Windows Voice Recorder
Price: Free
Compatible with: Windows
Features:
Record audio

Mark important parts of audio as it's recording so you can revisit it later 

Autosave recordings in the Documents folder 

Share recordings with people and apps

Trim, rename, and delete recordings 
Now, my Windows users, I'm not leaving you out! Windows Voice Recorder comes built-in with many PCs and tablets. In a pinch, and so long as you don't need any fancy audio effects, this works well for recording your voice. 
4.
Google Recorder
Price: Free
Compatible with: Pixel phones (and accessible on the Web for Pixel users)
Features:
Record audio

Automatically transcribe audio files

Google Recorder automatically tags your audio files so you can easily search them 

Edit audio based on the transcription. All you have to do is delete the text you don't want, and Google Recorder knows to cut out those parts of the audio file.

Syncs to Google Recorder for web, where you can edit it on your computer

Share recordings on the web and short clips of them on social media
Researching all the convenient features of Google Recorder (like auto-transcription!) made me want to buy a Pixel phone. It's free and easy to use. If you're doing simple audio projects, such as recording voiceovers for your startup's marketing videos or transcribing interviews for an article, it works just fine.
5.
WavePad
Price: Free (for non-commercial use only)
Compatible with: Windows, Mac, iOS, and Android
Features:
Can be used with external microphone

Adjust mic sound level and more

Editing tools such as cut, copy, paste, compression, pitch shifting

Add effects such as echo, amplification, reverb, and noise reduction

Supports WAV, MP3, VOX, GSM, WMA, and more

Sound effect library
Though the interface is nothing special, WavePad comes with a suite of editing tools and sound effects for anyone who wants more advanced features to apply to their voice recordings. Please note that WavePad is free for non-commercial use only.
6.
Audacity
Price: Free
Compatible with: Windows, macOS, Linux
Features:
Can be used with external microphone

Record live audio, cut, copy, and mix sounds

Effects such as noise reduction, pitch, reverb, and tempo

Import sound files (WAV, AIFF, MP3, AU, FLAC and Ogg Vorbis files)
This no-frills, open-source audio editing and recording software has developed its own cult following. While it may lack the bells and whistles, it's free, easy to use, and gets the job done. Even when I worked at a radio station, this was our software of choice when editing soundbites and news stories. You can record audio directly to Audacity and edit inside of it too. It has trimming, noise reduction, fade in/out, echo, and more. You can also import audio files.
7.
Otter
Price: Free for up to 600 minutes a month 
Compatible with: Browser-based, iOS, Android
Features:
Real-time transcription

Live recording

Use of external mic is possible

Import audio files (AAC, MP3, M4A, WAV, WMA)
Of all the voice recording software on this list, I am most excited to talk about Otter. I wish I'd found this before! It's an app that records and automatically transcribes audio using AI. I tried it by recording myself speaking and watched in awe as it transcribed while I spoke. And it got every single word correct. It even tags your conversations with keywords so you can easily search for them later.
I can see this being a huge game-changer for journalists and podcasters. I used to have to transcribe interviews for feature stories I wrote. There wasn't any good AI transcriber on the market at the time, so I tediously listened to each interview and transcribed it myself. Otter would have saved me so much time.
And yes, you can use an external mic with Otter. The one thing Otter is not suitable for is editing audio. You can edit the transcript (text), but you cannot edit the audio in-app. For that, you'll need to use audio editing software.
8.
Ardour
Price: Free
Compatible with: Windows, macOS, Linux
Features:
Can record using an external mic

Editing tools such as cut, move, stretch, copy, paste, crossfade

Mixing tools such as mute, fader, EQ, sync
Ardour is a solid digital audio workstation that is open source and completely free. Its website says its core user group is audio engineers who want to "record, edit, mix and master audio and MIDI projects," but many podcasters use it to edit their shows as well.
9.
Zencastr
Price: Free for up to two guests and a max of 8 hours of recording per month (though Zencastr is generously offering unlimited guests and recording time for free during the pandemic)
Compatible with: Browser-based
Features:
Records a lossless 16-bit 48k WAV track

Easy as sending a link to each guest for a separate track

Live editing via a cloud-based Soundboard

Mix tracks in postproduction (noise reduction, loudness normalization, and more)
Boasting "studio quality sound," Zencastr is a go-to tool for podcasters. All you have to do is send a link to each guest, and it'll record a separate track live. You'll even have access to a Soundboard so you can insert audio clips and control volume as you go.
10.
ocenaudio
Price: Free
Compatible with: macOS, Windows, Linux
Features:
Real-time preview of audio effects

Multi-selection of audio file

Unlimited length and quantity of audio files

Spectrogram view 

Effects such as change pitch, amplify, normalize, reverb
Many people say that ocenaudio is a great Audacity alternative with a better-looking, easier-to-use UI. And because both options are free, why not install both and try them out to see which one you like best?
Best Voice Recording Software: Paid Options
Maybe you're willing to invest in paid voice recording software, especially if you need more robust features. If your audio file needs heavy production, such as a radio show or songs, these are the best voice recording and editing software options for you.
11.
Hindenburg Journalist
Price: $95; free 30-day trial
Compatible with: Windows and macOS
Features: 
Record voice and interviews

Import audio

Editing tools such as cut, copy, paste, replace, insert

Built-in equalization and compression

Automated levels

Publishing tool
While Hindenburg sells multiple audio software products, it bills its Journalist software as "for audio storytellers, home users & emerging podcasters." It's a multitrack audio editor that allows you to record uncompressed sound, plug in an external microphone, set markers during the interview, add sound and music, organize material in its unique clipboard, edit audio, and upload your podcast to Libsyn or Soundcloud.
12.
Adobe Audition
Price: $31.49/month; free trial available
Compatible with: Windows and macOS
Features:
More than 12,000 free sound effects

Record and adjust multiple tracks

Mix and master audio

Waveform display and spectral frequency display

Repair and restore audio using effects and filters
This premium digital audio workstation is widely used by radio and film industry professionals. Perhaps the most valuable feature of Adobe Audition is its powerful ability to repair and restore audio. So if you have audio that has a lot of noise or other flaws, this might be the tool for you.
13.
Avid Pro Tools
Price: Pro Tools is $299 for a 1-year subscription and has a free trial. There is also a free version called Pro Tools | First
Compatible with: Windows and macOS
Features:
Nondestructive editing

Track presets

MIDI editor

Input monitoring

Sound effects
Avid Pro Tools is mostly geared toward musicians and is used heavily in professional recording studios, but it's used by podcasters too. There's even a free version called Pro Tools | First that will probably meet your basic needs if you have an audio project you're working on but don't want to drop the big bucks for the premium version.
14.
Reaper
Price: $60 for a discounted license and $225 for a commercial license. You can get a 60-day free trial of the software.
Compatible with: Windows, macOS, Linux
Key features:
Record multiple tracks simultaneously

Editing tools such as trim, loop, time stretch, fade, pitch shift

Import audio
Used by amateurs and professionals alike, Reaper is a full-fledged digital audio workstation that allows you to record, arrange, edit, mix, and master songs and other recordings—all for a very affordable price compared to other DAWs (digital audio workstations). Some users do complain of its limited effects, but you can download additional ones externally if you'd like.
15.
FL Studio
Price: Starts at $99; a free trial is available (time unlimited)
Compatible with: Windows and macOS
Features:
Native instruments and effects

Piano roll 

Mixer

Thousands of presets
FL Studio is another DAW aimed at musicians. Its website states that many top DJs and producers got their start using FL Studio in their bedrooms. It offers a robust mixer that allows you to produce music to professional standards. You can also use it for things like podcast recordings.
The One Thing You Need to Complement Any Voice Recording Software: Noise Cancellation
Regardless of the voice recording software you use, you can easily boost the audio quality with a noise-cancelling app like Krisp. As long as the software allows external microphones, you can change the audio input settings to use Krisp to enhance your voice recording by automatically blocking out any noise in the background. Try it and hear what a difference it makes in your recordings!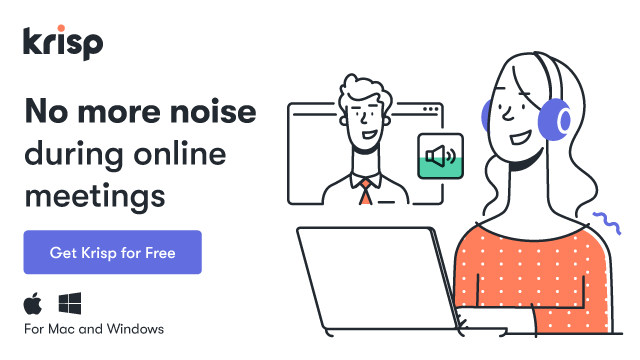 Which of These Voice Recording Software Options Is Best for Your Work?
As with any technology, the best voice recording software depends heavily on what you'll be using it for. If you're a sound engineer or professional musician, then yes, spending more money on a high-end digital audio workstation makes sense. But if you're, say, someone who's starting a podcast just for fun, go with one of the many free options that are available.
And remember, the voice recording software you use is only a piece of the puzzle when it comes to getting good audio. You also need to consider noise-cancelling software, the equipment you're using, and how your recording studio (even if it's your closet) is set up.
By paying attention to all the aspects of audio, you can ensure your recording sounds excellent.