Remote tools can certainly benefit anyone in their remote work journey. While remote workers and digital nomads do not have a traditional office workplace, they do need to have the ability to construct an effective portable office which will meet their weekly needs.
Luckily there are several remote tools and team collaboration tools which allow individuals to acquire the software needed for their mobile workstations.
With the proper work tools, remote workers can effectively and efficiently to complete their work from wherever they choose.
Remote work teams will also benefit from utilizing software, which is easy to ease, allows you to share with your co-workers, and is cost effective no matter the size of a given company.
The following list contains remote tools which I personally use as part of my mobile workplace.
These team collaboration tools will help remote workers, digital nomads, and team leaders communicate and build schedules for the various tasks they need to complete.
1. Krisp
TechCrunch details the functionality of the Krisp application, "…You run the app, and it modifies both the outgoing and incoming audio signals, with the normal noisy signal going in one end and a clean, voice-focused one coming out the other," the outlet begins.
"Everything happens on-device and with very short latency (around 15 milliseconds), so there's no cloud involved and nothing is ever sent to any server or even stored locally," they continued before detailing the most user-friendly aspect of the application.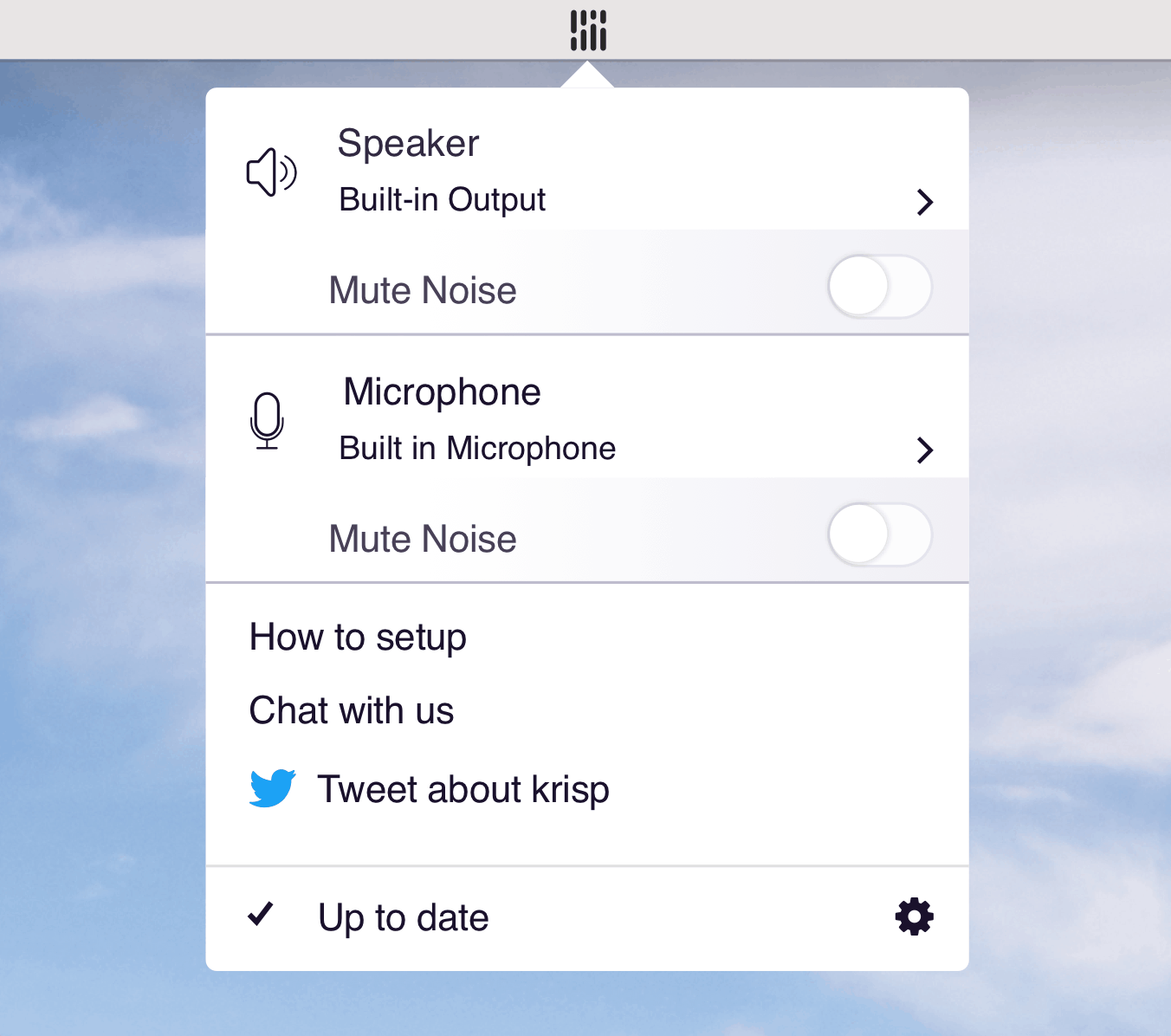 Another benefit of this approach is it doesn't need any special tweaking to work with, say, Skype instead of Webex. Because it works at the level of the OS's sound processing, whatever app you use just hears the Krisp-modified signal as if it were clean out of your mic.
All conferencing applications can be teamed with Krisp, a noise cancellation solution which mutes background noise during calls.
The software is easy to use, free to download, and will ensure conferences will run seamlessly for remote workers. Krisp is the perfect team collaboration tool for teams of all sizes.
2. Zoom
Zoom is the perfect software from one-on-one and larger team meetings. It's extremely easy for even technological novices to use.
A meeting can be joined by simply clicking a link sent to an e-mail account or mobile device. For purposes of being a useful team collaboration tool, there isn't much Zoom does not provide in the realm of audio and video conferencing.

The encryption also provides ease of mind if you are concerned with the integrity of proprietary information, and ensuring your conferences aren't infiltrated by outsiders.
For remote teams, Zoom is one of the best work tools currently available. It also makes for a great individual tool for freelancers who want the ability to have quick meetings with their clients.
It's nearly impossible to go wrong by utilizing Zoom in your remote workplace.
3. Trello
TechRadar describes Trello:
Trello provides tools to define projects and their requirements, and includes a digital dashboard where you can create, organize and prioritize actions.
The card system employed allows team members to interact and collaborate with each other on projects – users can add comments, links, files and photos to project cards.

While Trello is far from being fully featured software, it is an effective work tool for those who wish to organize a project. Groups of all sizes will find Trello useful, and it can be an effective part of a remote workers tool kit; even if they are a freelancer.
It may take several hours to learn how to use the software, yet the learning curve should not be too steep for most. Trello also has its own mobile applications for Android and iOS. One can also integrate Trello with Slack.
4. Slack
Slack has several qualities which make it an attractive tool for teams, including the ability for it to integrate with Trello. Slack is a large multi-purpose messaging forum programmed to work on Windows, Mac OS, Android, and iOS.
The software also allows large teams to create private rooms, assign others various privileges, and communicate between other team members with relative ease.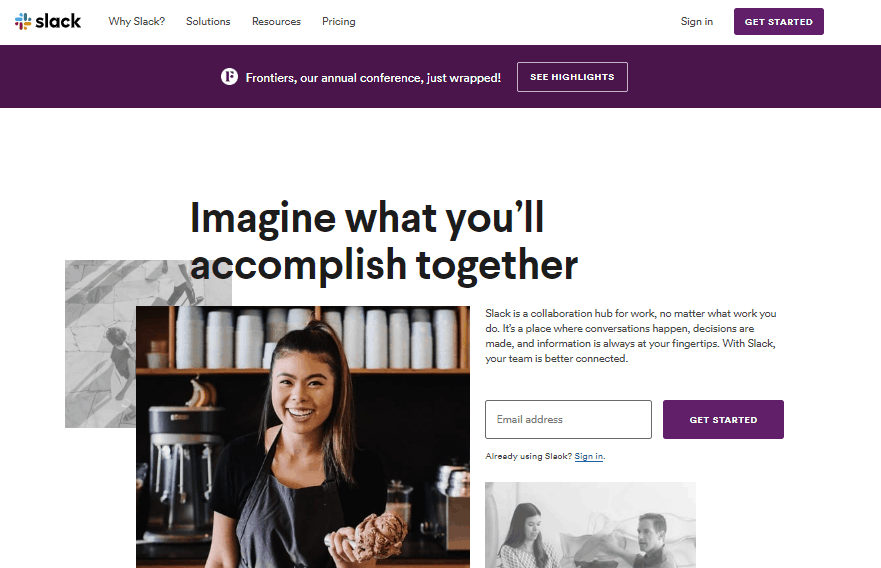 If members need to update files, a robust notification system, and the ability to quickly search through thousands of messages — Slack is a solution where each is possible.
Where Slack lacks is in its difficult learning curve, free versions limit both integrations and searching, and there isn't an audio or video option available.
However, combining Slack with Zoom and Trello will cover most team collaboration tool needs for remote workers from all walks of life. It's the perfect combo for having effective remote team working.
It's a great platform, especially for those who have someone internally who can train team members how to use its various features. Smaller teams and startups are likely to find Slack is the perfect application for them.
5. TeamUp
Teamup is a work tool solution which offers shared calendars for teams in order to make their organizing, scheduling, and communicators more efficient.
"I spent ages looking for a good shared calendar to manage events and holidays for a spread out team of people," stated Ben Taylor, founder of Home Working Club.
"I eventually opted for … Teamup. It gave me the ability to set up lots of different even categories, allowed staff to pull their choice of calendars into their own software using ICS feeds, and even comes with an app for iOS and Android," he continued.
Teamup offers calendars that are easy to use, can be organized by color, and is a remote work tool built specifically for teams.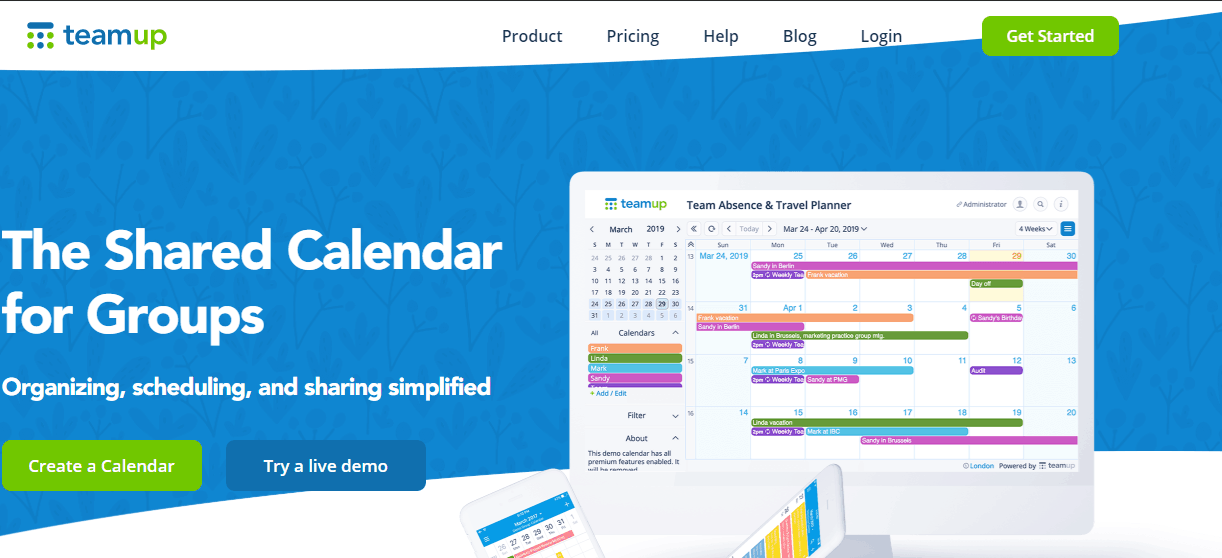 For groups in need of an extra step beyond what Trello offers, Teamup is the perfect software for their needs.
Remote workers and digital nomads who are working on long-term team orientated tasks will love the advanced organizational features Teamup offers. Security is also taken into consideration as calendars can only be accessed through secure URL's.
This list of five work remote work tools will make the job of freelancers, remote workers, and digital nomad jobs a lot easier.
When you work with quality tools you are able to focus on completing work in the most efficient way possible.