Whether your team is remote, hybrid, or in-person, conference call apps are a key part of any workplace—so it's crucial to choose the right one.
You want to find a conference call service that will operate smoothly and won't get in the way of the meeting. The best app will make you forget it's even there. It will function seamlessly at all times and will allow you to conduct a meeting with no interruptions. 
Which app should you choose for your next meeting? The answer depends on the needs of your team, and there are a lot of factors to consider. 
What To Consider When Choosing Conference Call Apps
What should you be looking for when it comes to choosing the perfect video conferencing app? There are many factors to consider – from the features the app offers to the compatibility to the integrations. 
There's no such thing as the perfect conference call app – your team just needs to decide on the right app for your needs. Here are some of the things to consider:
Cost:

The cost of your conferencing app will make a big difference. Some of the apps will be free or available for a very low monthly rate, but they may not include all the features you need.

Number of Participants:

Do you have a small remote team? Or do you need to be able to host large meetings with many participants?

Usability:

The right conferencing software will be incredibly easy for everyone on your team to use.

"Share My Screen":

Do your team members need to be able to share their screen on occasion? This feature makes it easy to show everyone else what you have been working on or give a presentation to explain something visually.

Security:

What are the security features of the conferencing app? These are important to consider as well so that you can ensure the security of your team.

Calendar Integrations:

Having a conferencing app that will sync with your calendar app makes planning meetings a lot easier. It will automatically create an event for the meeting and send out invitations to all participants – making sure no one is missing the important meeting.

Compatibility

: Of course, another key factor is whether or not the conference call apps are compatible with the equipment your team is using. If your team member isn't able to use the app because it is only for a Mac and they are on a PC, it probably won't work.

Noise Cancelling: This is a very important feature for your conferencing app to be able to support. A noise cancelling add-on app such as Krisp will allow you to filter out all distracting noise and have clear, easy-to-understand conversations even if there are barking dogs, street noise or coffee-shop chatter in the background. Get Krisp for Free
[demo-new]
These are just a few examples of the types of features and factors to consider when choosing the right conference call app for you. 
Prefer to watch? Check out our video about the best conference call apps.
14 Best Conference Call Apps for Team Meetings
There are several different options out there when it comes to conferencing apps. Each one has its own set of features and distinct pros and cons. Here are 10 of the most popular options on the market right now.
1. Zoom
Zoom is a cloud-based video and web conferencing software that is very well suited to online meetings. It is well suited to file sharing, group messaging, webinars and conference calls. 
It's a very reliable app – even if you don't have a great internet connection. You can record any call as a full-length video and also download a transcript of the in-meeting chat during the meeting. Besides, there's Zoom noise cancellation built into the app.
If you are mostly conducting one on one meetings, the free version of Zoom is more than suitable. It offers unlimited one-on-one meetings and group meetings of up to 40 minutes. 
Pros
Zoom offers high-quality audio and video, which makes video calling feel very immersive. 

The app integrates with calendar apps such as Google calendar, which will help you schedule meetings and coordinate participants. 

It's very easy to quickly share the Zoom link to join the video conference. 

The screen-sharing features of Zoom are excellent, and they make it easy to present to your team. 
Cons
When team members enter the conference call, they cannot see anything posted in the chat prior to their arrival. So, if anyone arrives late to the meeting, you have to catch them up on whatever was posted before. 

The Meeting Set-Up menu can be somewhat confusing and difficult to learn how to use. 

The free version of Zoom only allows meetings of up to 40 minutes. This is not practical if you want to be able to have a longer interaction. 
Price
The Free version of Zoom allows you to host unlimited one-to-one meetings. In group meetings, you can host up to 100 participants for up to 40 minutes. 
The Pro version of Zoom is $14.99 per month per host, making it great for small teams. It also includes features that allow you to record your meetings and share them with participants. 
If you want to have 10 or more hosts per account, you can opt for the Business version for $19.99 per month per host. This version also offers a lot more support and includes up to 300 participants. 
2. Skype
Skype has been on the scene for years and is another one of the most popular apps for conferencing. Also, Skype for Business has merged with Microsoft Teams, which is a communication platform that has similar features to Slack. 
Skype has a number of helpful features for video calls, allowing you to use instant messaging, make local and domestic calls to phones and conduct screen sharing. 
The instant messaging feature of Skype is quite useful. It allows you to leave a message for others that they will be able to read at a later date. You can even record voice messages. 
Pros
Skype is great for calling phones at a very affordable rate. You can even reroute calls, set up three-party calls and more. 

There are cute emojis available to use in the texting features, which can make conversations more fun and casual. 
Cons
Sometimes the video can lag on Skype, even when you have a good connection. 

Skype doesn't have the capability to allow for call recordings. If you want to have recordings of your meetings, you'll need to use a third-party Skype recording software. 
Price
Skype for Business is now built into Microsoft Teams. So, if you simply want to use the free features, you can download Skype. As long as you keep your calls and messaging between fellow Skype users, you won't pay a penny for the service. If you use the app to call a mobile or a landline service phone, it will cost a small per-minute fee. 
3. Slack
Slack is a very useful app for communicating with your team, and it also features video-conferencing capabilities that allow you to share information and collaborate easily. 
The app includes a number of useful functions, including screen sharing options and so much more. It's incredibly easy to start a Slack call – you can go from communicating via messages to starting a video call with the click of a button. 
In order to do this, you have to turn on the Calls feature for your team. Only the Team Owner or the Admin can do this by going to the Team Settings page and clicking "Enable Calls for This Team." 
Pros
Slack has an excellent search feature that allows you to search through previous conversations and find what you are looking for quickly and easily. 

If you have the Standard, Plus or Enterprise Grid plan, you can easily invite others to join in with a call that has already started. 
Cons
Sometimes the multiple channels available on Slack can be somewhat confusing and overwhelming. 

The Calls feature only supports one-on-one calls or group calls for up to 15 participants in channels and group DMs for paid teams on the Standard Plan and above. 
Price
Slack has a Standard Plan that is designed for small and medium-sized businesses. It is $6.67 USD per person per month with yearly billing – or $8 USD per person per month when billed monthly. This plan includes unlimited messages, group video calls and unlimited apps. 
There's also a Plus option for large businesses or those needing advanced administration tools. It is $12.50 USD per person per month when billed yearly or $15 per person per month when billed monthly. 
There's also an Enterprise Grid version for very large businesses or those in strictly-regulated industries. Pricing is available on request.  
4. Google Meet
Google Meet is the professional video conference call service provided as part of Google's G suite. It is reliable, intuitive and easy to use. Anyone with a Google Account can quickly create an online meeting with up to 100 participants and host for free for up to 60 minutes per meeting. There are paid options available for longer meetings with more participants. 
Google Meet is quite versatile and will allow users to join pre-scheduled meetings from Calendar events, as well as dialing in from their phones. 
Pros
The app integrates seamlessly with Gmail and Google Calendar, making it easy to schedule meetings. 

The screen-sharing function is simple and easy to use. 

Since the price includes all the features of GSuite, this app offers great value for money. 
Cons
The desktop version of the app is not as seamless and easy to use as the mobile application. 

The 60-minute time limit for the free version is likely not enough time for most longer meetings. 
Price
If you are already a Gmail user, all you have to do is sign in to your existing Google Account to use Google Meet for free. 
If you want to use the Business Version, you can sign up for a G Suite Account. At the moment there is a promotion offering GSuite Essentials for free through September 30th. After that, starting from October 1st 2020, it is $10 USD per active user per month. 
The G-Suite Essentials Business version offers 300 hours of meetings for up to 150 meeting participants. There's also a 24-hour support line if you need it. 
5. BlueJeans
BlueJeans is another option for secure video-conferencing for your workforce. It provides cloud-based meetings and large interactive events that are simple, secure and easy to scale. The HD video and audio within this app are powered by Dolby Voice, which means it is exceptionally clear. 
The app is quite robust, with features including recording, screen-sharing, polling, Q&A and text chat. It is even possible to integrate it with an intelligent transcription app so you can have clear notes recorded from your every meeting. 
Pros
BlueJeans integrates seamlessly with some of the most popular productivity, messaging and scheduling tools such as Microsoft Teams, Slack, Trello, Splunk and more. This means you can easily join the meeting from any of these other apps with one touch. 

The app has a "safe driving" mode to use while on the road for distraction-free meetings. 

Video meetings are encrypted by default, offering excellent security. 
Cons
The client software has a heavy interface that can take quite some time to install. 

It doesn't always run as quickly as other competitors such as Zoom or Cisco Webex. 

There are not as many customization options for the user interface. 
Price
The BlueJeans standard option allows you to host up to 50 participants, as well as unlimited 1:1 meetings, for $9.99 per host per month. You'll have access to 5 hours of recording, as well as smart meeting features. 
The BlueJeans Pro option offers up to 75 participants and 25 hours of meeting recordings for $13.99 per host per month. It also features integrations with sales apps such as Zoho and Gong, as well as Workstream Collaboration and Integration features for Slack and Microsoft Teams. 
Read next: How to Cancel Background Noise in BlueJeans
6. GoToMeeting
Another popular choice when it comes to conferencing apps is GoTo Meeting. The main benefits of this particular app are affordability, ease of use, user flexibility, and great security. 
GoTo Meeting makes it very easy for meeting presenters to set up an event, as well as for participants to join. That's because you get a personal online meeting room with a customizable URL, making joining as easy as clicking a link.
The app even offers a drawing feature that allows you to highlight important thoughts on the screen. There's also a transcriptions feature that is surprisingly accurate and will allow you to keep notes and records of meetings for when you want to refer back to what was said. 
Pros
The app will easily integrate with Outlook in order to send meeting invites as calendar appointments. 

This app allows for very easy sharing of documents in real-time. 

It's quite easy to record the meeting and share it with others who may have missed it. 
Cons
The GoToMeeting screen on mobile is not ideal, as it is difficult to see the other attendees. 

The control panel can get in the way of viewing the screen. You can close it, but then you lose the ability to see chats and other information. 
Price
GoToMeeting offers a Professional Plan for only $12 per organizer per month, which includes up to 150 participants, HD video, screen sharing, Web Audio and a lot more. 
Besides, there is also a Business Plan, which costs $16 per organizer per month and allows up to 250 participants and extra features like Unlimited Cloud Recording, Transcription, Drawing Tools, Note Taking and Keyboard and Mouse Sharing.  
Pricing for the Enterprise Plan, which allows up to 250 participants and can be used to host webinars, is available upon request. 
7. Cisco WebEx
WebEx, created by Cisco Systems, is one of the most commonly used online meeting tools in the world. It is a robust software that includes many features and works on Mac, Windows, smartphones and tablets. 
The app makes it incredibly easy to both create and join meetings. There's only one button to push, and everything magically works.  Hosts can invite attendees to a meeting via email, instant message or even chat – with no download necessary. 
Pros
The calendar integration with Microsoft Outlook is very convenient. 

The app offers high-quality audio and video, so you can be heard and seen loud and clear. 
Cons
The recordings of meetings are only available for five days. If you fail to download them, you will have lost the recording forever. 

Only a host can choose to record the meeting, which could be a restriction. 
Price
Cisco WebEx offers a free 30-day trial, with up to 200 participants and unlimited HD video meetings. This includes screen-sharing and a personal meeting room. 
There's no official information online about the pricing of Cisco WebEx. The pricing page of their website simply asks customers to contact them for more information. 
Cisco WebEx Pricing mentioned elsewhere on the web states that the Starter Plan costs $13.50 per host per month, the Plus plan costs $17.95 per host per month, and the Business Plan costs $26.95 per host per month. (However, this information is not from the official website, so it may be incorrect or outdated.)
Find out how to remove background noises from your calls in WebEx
8. RingCentral
Another great video conferencing app, RingCentral offers all the features you need – including messaging, integrated video conferencing and screen sharing. 
This app is very agile and allows you to connect to the meeting via any device – and even switch live meetings between your phone or desktop with one tap. 
RingCentral is also known for its security features. It is built with externally verified controls and certified by McAfee, HiTrust CSF and more. 
Pros
RingCentral boasts 99.999% uptime, which is incredibly high and means there is very little chance of the app crashing. 

The app also features the ability to start meetings directly from GSuite and Office 365. 
Cons
Some users have mentioned getting spam calls to their RingCentral number. 

It can be somewhat difficult to figure out how to configure the different groups. 
Price
The pricing plans at RingCentral are outlined here. They feature an essentials plan for $19.99 per user per month, which includes up to 20 users. The Standard Plan includes everything in Essentials Plus for $24.99, plus no limits on the number of users and business phone numbers in over 100 countries. 
There's also a Premium Plan option that includes everything in Standard Plus, plus automatic call recording, advanced call handling and more for $34.99 per month. 
10. Whereby
Similar to GoTo Meeting, Whereby's beauty lies in how easy it is to join a meeting by clicking a link—no login or downloads required. This link is known as your personal meeting room, and you get to customize the URL and add your branding to the room. It keeps things secure by allowing you to "lock" the door to your online meeting room, so unwanted attendees cannot barge in while you're hosting a meeting. Guests must "knock" to be allowed into the meeting.
Whereby has virtual whiteboards from Miro so you can brainstorm during calls, live emoji reactions to boost engagement, and Breakout Groups for discussions and workshops. It also integrates with YouTube, Trello, Outlook, and Slack.
Pros
It's easy for attendees to join a meeting by clicking your personal meeting room link—no installs or logins required.

Keep meetings secure by locking the door to your online meeting room and requiring guests to knock.

Customize a subdomain for your business.

Meeting room customization, breakout rooms, live emoji reactions, virtual whiteboarding
Cons
On the Free and Pro plans, you can only see 12 participants at one time.

On the Free plan, group meetings can last only up to 45 minutes. You must upgrade to get unlimited time in group meetings.
Price
Whereby's Free plan allows for one host, one room URL, up to 100 participants, and unlimited one-on-one meetings. Upgrade to the Pro plan for $6.99/month (paid monthly) to access three room URLs, no time limits on group meetings, unlimited recording, and custom branding. For $9.99/month (paid monthly), you can get Business features such as hosting up to 200 attendees, unlimited room URLs, and priority support.
11. Mibo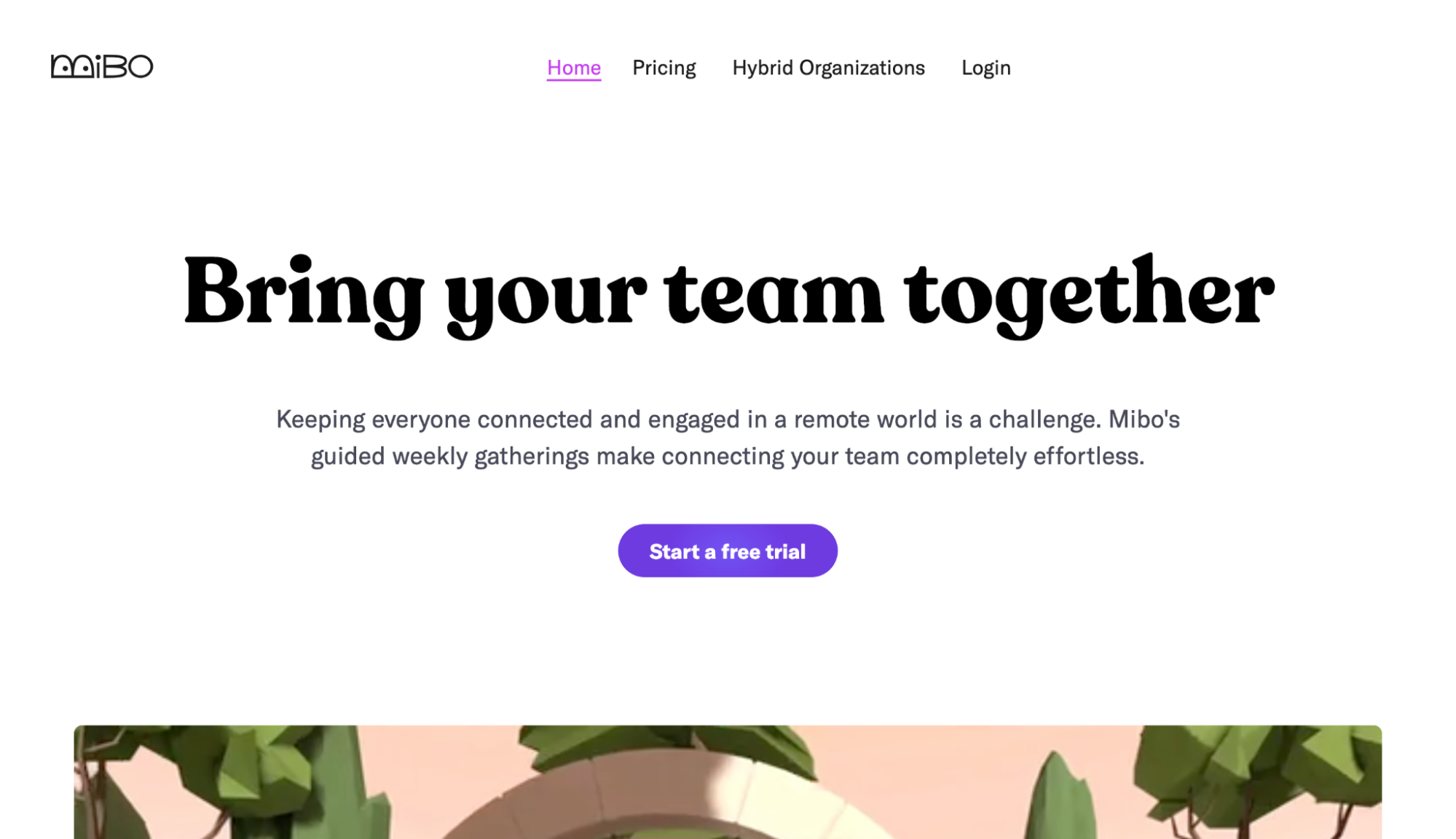 Mibo is a fun video conferencing app with a twist: It allows your attendees to interact in virtual reality with avatars that can move around and interact with a virtual space. You can use it for regular meetings or, even better, for team bonding activities with remote team members. Mibo even offers guided meetings, which give you activities to do with Mibo to facilitate team bonding. 
Pros
Mibo's differentiator is that it creates an online world in which meeting attendees can move around and interact with each other and the virtual environment, sort of like a video game.

Fully GDPR compliant, and video and audio are not stored

Meetings are accessible via a link, so no installation is required.
Cons
Because it's so interactive, it can be harder to get used to at first.

There is no free plan.

The number of attendees you can have in one meeting is comparatively low, with a maximum of 25.
Price
Mibo offers a free trial without requiring a credit card. Its most basic plan, Starter, begins at €39 and includes a 24/7 team space for up to eight people and €3 per month per additional user. 
12. Microsoft Teams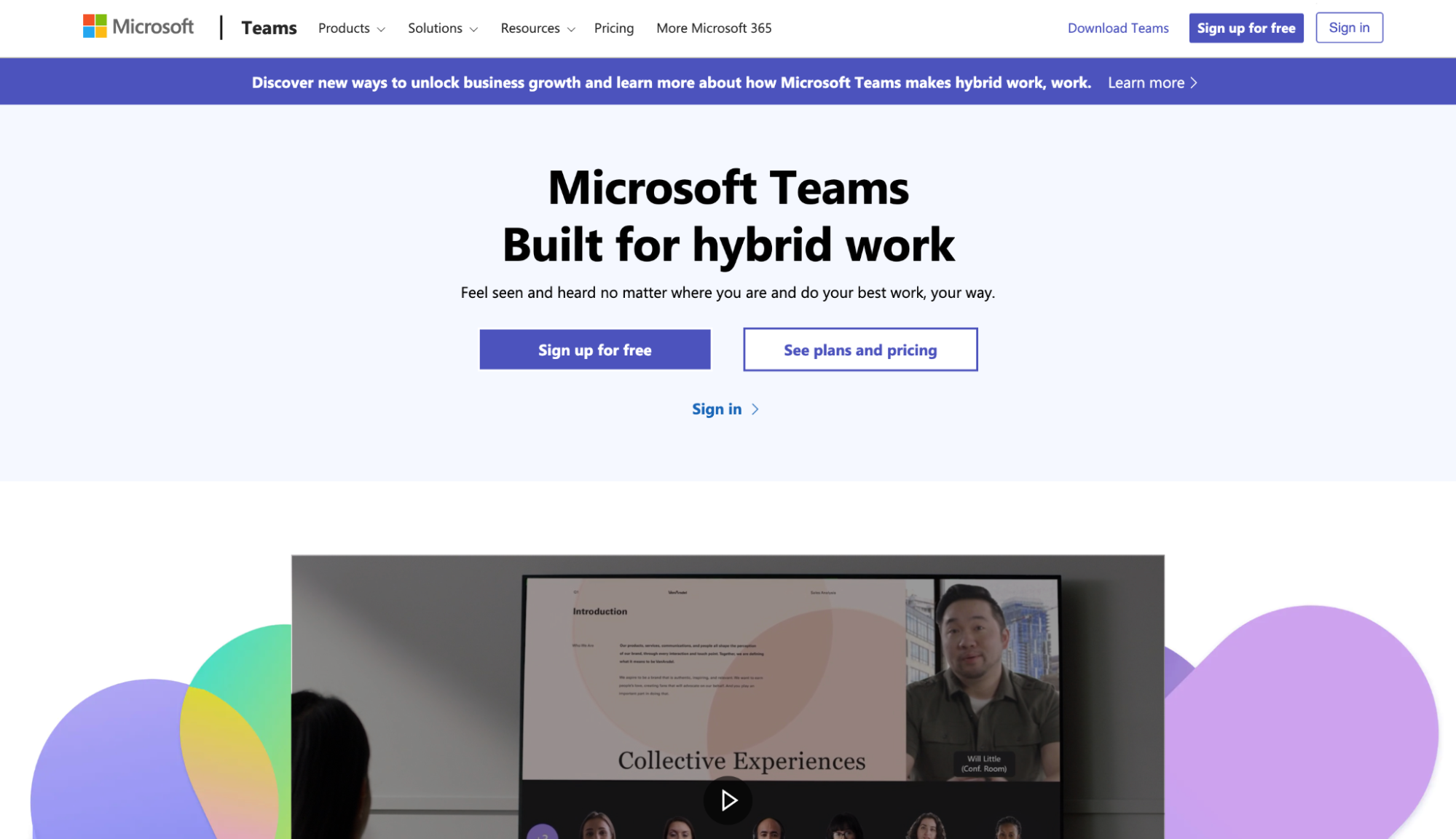 Microsoft Teams has become the conference call app of choice for many organizations, in many cases edging out the seemingly ubiquitous Zoom. It stands out with features like together mode, which makes it look as though your meeting attendees are virtually in the same space. It also integrates with the entire Office suite, such as Excel, PowerPoint, and Word, so you can collaborate during virtual meetings. Another differentiator? Teams has a free plan that allows group meetings up to 60 minutes—20 minutes longer than Zoom's free offering.
Pros
Microsoft Teams is well-established and widely used, so it has a solid reputation, and many people are accustomed to using it.

It allows for one-hour-long group meetings for free, which is 20 minutes longer than Zoom's free offering.

Teams integrates with the Office suite of apps, which is useful if you're already using apps such as Word, PowerPoint, and Excel.
Cons
Unlike Zoom, Teams isn't set up to support animated virtual backgrounds (although there may be some workarounds you can find on the internet).

Some users complain about slow loading times for files and a poor search experience.
Price
Microsoft Teams has a free plan that lets you host one-to-one meetings for up to 30 hours and group meetings for up to one hour. The free plan also allows 100 attendees per meeting. For $4/user/month (paid annually), you can get unlimited group meetings up to 30 hours and up to 300 attendees per meeting.
13. Jitsi Meet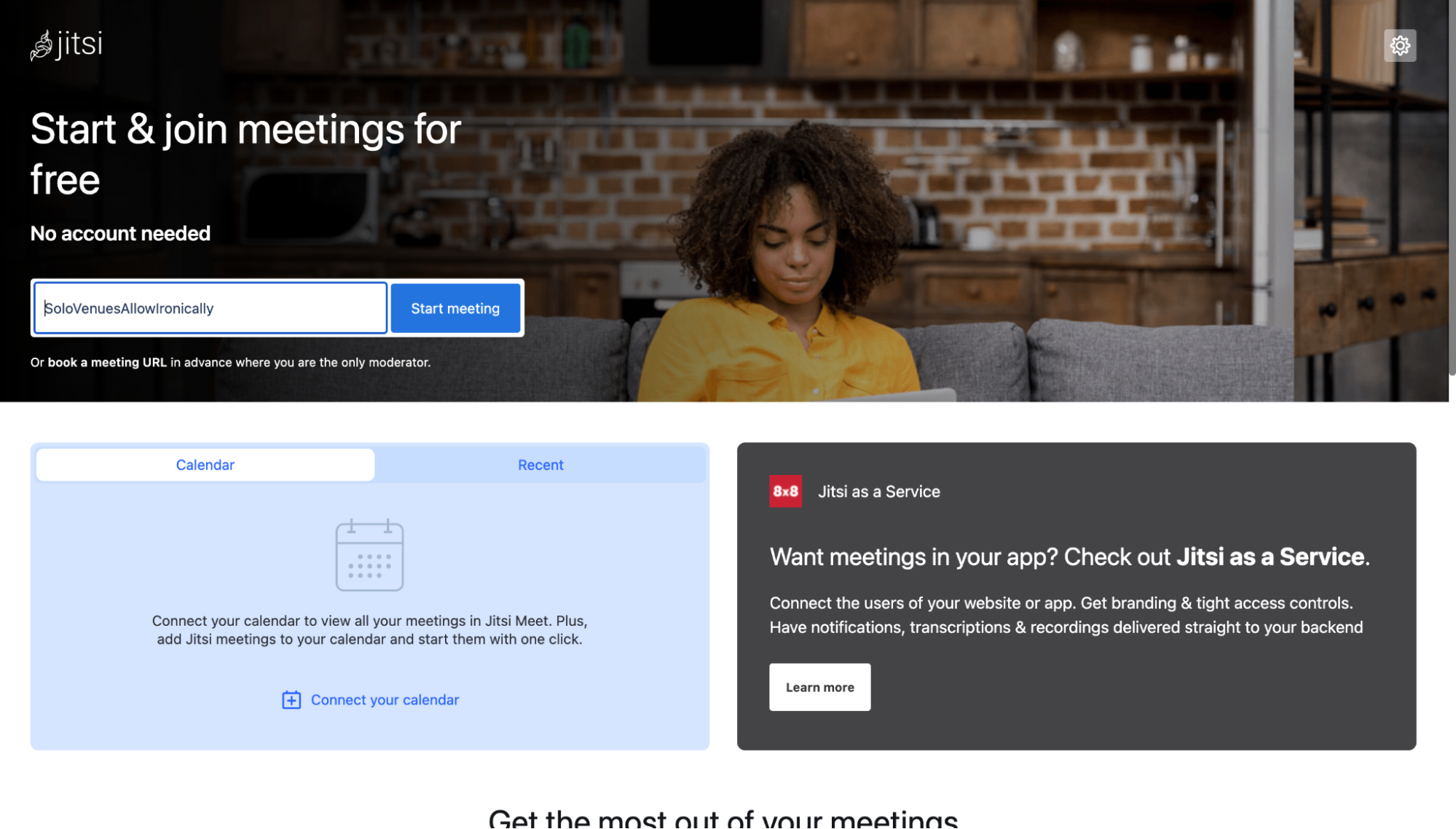 If you haven't heard of Jitsi Meet, you're not alone. It feels like a hidden gem, as it's the only conference call app on this list that is 100% free. Jitsi Meet is an open-source project, and as such, it doesn't cost you any money to use it, but the user experience is a tad confusing since it's geared toward technical people who want to modify or customize the app.
That's okay, though, because it's actually quite simple to get started. If you go to meet.jit.si, you can launch a meeting directly from your browser without installing anything or creating an account. You can even create your own meeting URL. Once you've joined the meeting, you'll find a surprisingly vast array of features, such as a chat box, polls, screen sharing, ability to virtually raise a hand, and security options. In the security settings, you can enable a Lobby so that a moderator must formally approve of a participant before they can enter a room, and you can even turn on end-to-end encryption (which, you should note, is still "experimental").
Jitsi also allows you to enable noise suppression, but reports on how well it works are variable. A better option is to use Jitsi Meet for hosting conference calls and then installing a dedicated noise-cancellation app like Krisp to ensure that background noises are removed and your audio comes through clearly.
Jitsi Meet honestly has the potential to completely replace better-known conference call apps—and it's free.
Pros
100% free and open source

Robust features such as polls, screen sharing, and virtual backgrounds

No requirement to install anything or create an account

Ability to create custom URLs for meetings

Security options, such as end-to-end encryption
Cons
Not as well-known or familiar  as other apps on this list

The user experience can be confusing
Price
Jitsi Meet is completely free.
14. Zoho Meeting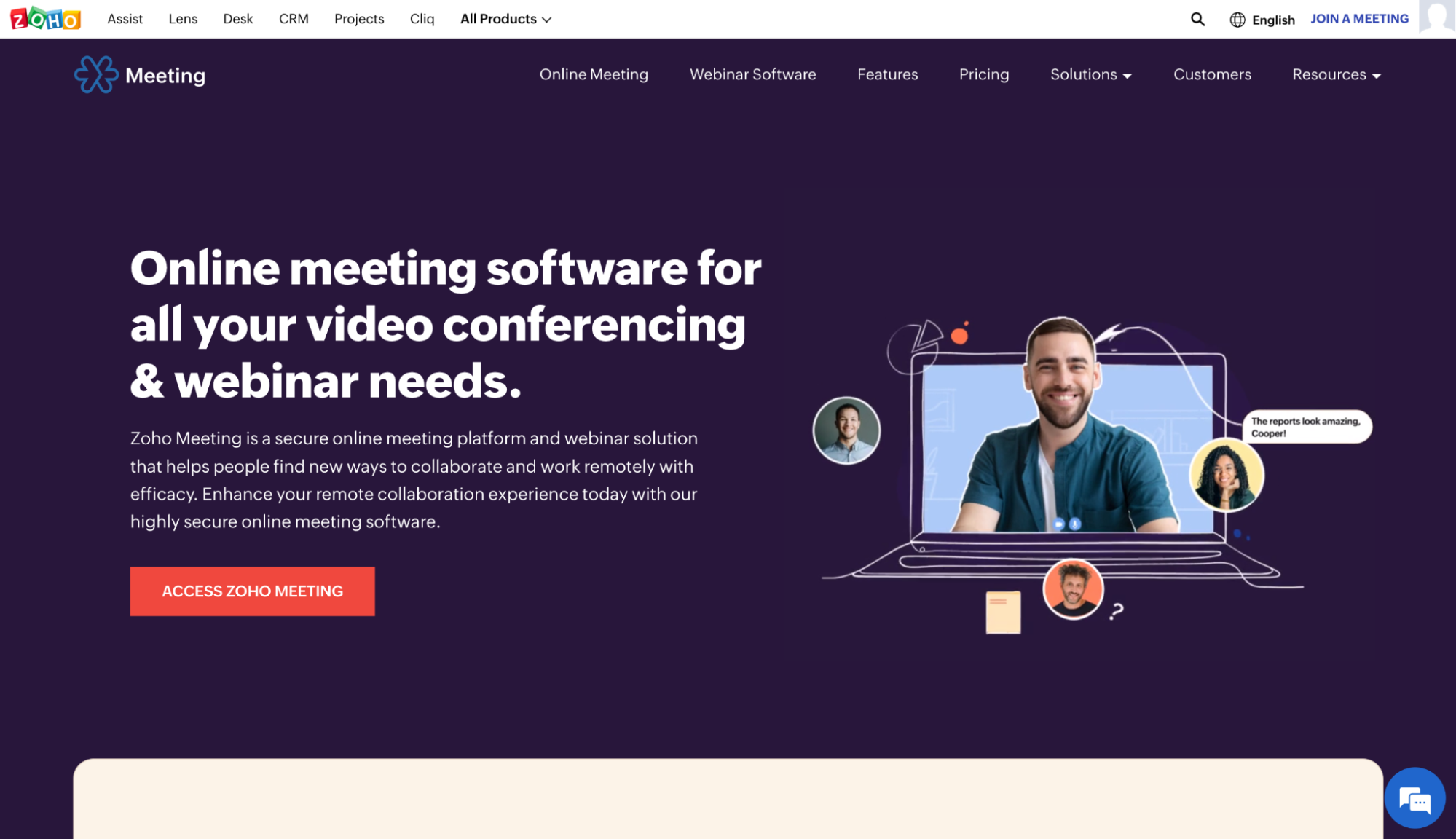 Zoho Meeting is a particularly attractive conference call app for teams already using the Zoho CRM platform. It allows you to instantly host virtual meetings from directly within your CRM to nurture leads and communicate with customers. Zoho Meeting has solid features for boosting meeting engagement, including audience polls, Q&As, and hand-raising. And for those concerned about online meeting privacy, Zoho Meeting allows hosts to lock meetings, remove unwanted attendees, and receive ring notifications when someone enters and exits a call. 
Pros
Well-suited for teams that are already using Zoho CRM

Zoho Meeting is included in the price of the Zoho One subscription, so you can get a CRM and help desk software (and more!) in one pricing plan.
Cons
The virtual backgrounds feature can be a little wonky at first, and the line between your face and the background is not as clean as other apps, such as Zoom.

The desktop app is a little sluggish.
Price
There is a free plan that allows up to 100 attendees for up to 60 minutes. Paid plans start at $3 per host per month (billed annually) for 10 participants and increase in price from there depending on the max number of attendees you'd like to be able to have. If you purchase the Zoho One subscription, you get all the Zoho apps (including Zoho Meeting) for $37 per employee per month (billed annually).
What's Most Important To Your Team?
A video meeting can be a great way to communicate with your team and be productive. In order to ensure that your conferences are as efficient as possible, it's important to choose the right app to suit your team. 
Remember – there's no one perfect video conferencing app. There's only the app that works best for you.