Whether you've decided to stay as a remote team or switch to a hybrid office model, virtual team celebration events must become a part of your routine. From birthdays to small team achievements or new launches, celebrating wins and special moments for remote teams will ensure your employees feel appreciated for their work efforts.
Beyond this, virtual team celebration can:
Cultivate a strong

team culture

Attract new talent and retain existent one

Boost employee morale

Improve overall employees happiness

Give your team a chance to break free from their regular schedule

Keep your team aware of their results and eager to obtain more

Form stronger bonds between individuals
So how will you organize your own remote team celebrations?
In this list of virtual team celebration ideas we're having a look at how other companies are recognizing their workers and celebrating milestones in their personal and professional lives. 
Icebreaker sessions to recognize small and personal achievements on a daily basis
As many as 40% of employees state they'd put more care and effort into their work if they received recognition more often. Not yearly, not monthly. Employees want to be appreciated for every achievement they get even if that happens on a regular basis. But in reality, only 1 in 3 employees feel that they get the recognition they deserve whenever they go beyond expectations.
So a systematic virtual team celebration idea is to incorporate celebrations and appreciation moments into your day-to-day schedule. One suggestion is to start every meeting or workday with an icebreaker session. You can also hold these via a Slack channel of your choice to speed things up.
Take 5 minutes to thank your team, celebrate yesterday's hard work, or just say "Happy Birthday!" to a colleague. To get your whole team on board, have a different employee take the mic for the day. 
This will allow everyone to say what they're thankful for, show which teammates they appreciate, and create their own fun icebreaker session formats. Talk about what went well for a past project and where things could have been improved. 
Don't limit virtual celebratory icebreakers to work though. Got an employee who's always happy to help others? Praise them. Have someone who's able to motivate others when things seem grim? Thank them too.
Virtual happy hours and cocktail parties
In a classic office setting, you'd take your team for lunch or bring lots of goodies to the office. Remotely, virtual happy hours are events no employee can say no to. You can eat lunch together, grab a glass of wine, watch a movie, tour someone's house, or just play a game like "Name that song" or the classic "Never have I ever". Get your team to bring in their own ideas in order to keep each virtual fun meeting unique.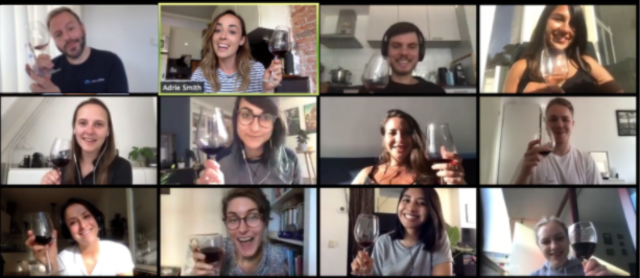 An insider's look at one of the happy hours on the Recruitee team
Keep these happy hours regular. Once a week will do for most small and medium teams. If you've got more than 15-20 team members though, you'll want to have separate get-togethers and rotate the participants. This will give attendees enough time to get to know each other and build trust—a vital contributor to team cohesion and performance.
With new restrictions in place, even if you're getting your team to come in for 2 out of 5 days, they will rarely get to spend time together on non-work matters. The classic Zoom call comes to the rescue for your virtual party ideas. If you want to do things a bit differently, try a service like Team Building, Let's Roam, or Brightful to break free from the same platform where your professional meetings are held.
Board game night for the die hard fans
Office game night is now online. And that's good news. There are hundreds of award-winning games you wouldn't be able to play in the office.
So how do you pick the perfect "board" game?
Have your employees recommend one or choose the ones that will test their teamwork and strategic skills. Tabletopia lets you play most physical board games virtually. Settlers of Catan, Codenames, Do you know me?, and Clue are all common choices to introduce the "non-gamers" on your team too.
But why not take advantage of this opportunity to go for an escape room or scavenger hunt instead?
The FinanceBuzz team got creative and found an escape room via Airbnb Online Experiences. The platform started providing loads of one-of-a-kind experiences your team members have probably never had a chance to go through. Not to mention you can get cultural introductions and virtual tours that feel just like a trip.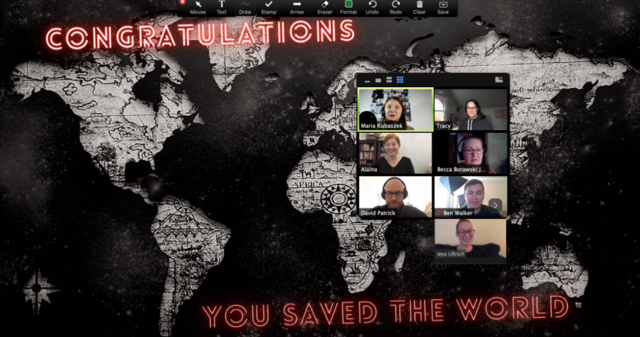 The FinanceBuzz taking game night to the virtual realm
Organize an online trip to replace your annual team building retreats
If you overdid it with the Airbnb experiences though, you can always organize virtual team retreats. Plan one just like you would for a real getaway and note down the purpose of each day from having fun like never before to learning new things.
A retreat can be as simple as dedicating every day of the week to a different activity or team-building game:
Monday – Celebrating Team Wins

Tuesday – Favorite Hobby Showcase

Wednesday – Online Activity Class

Thursday – Team Building Games

Friday – Awards and Gifts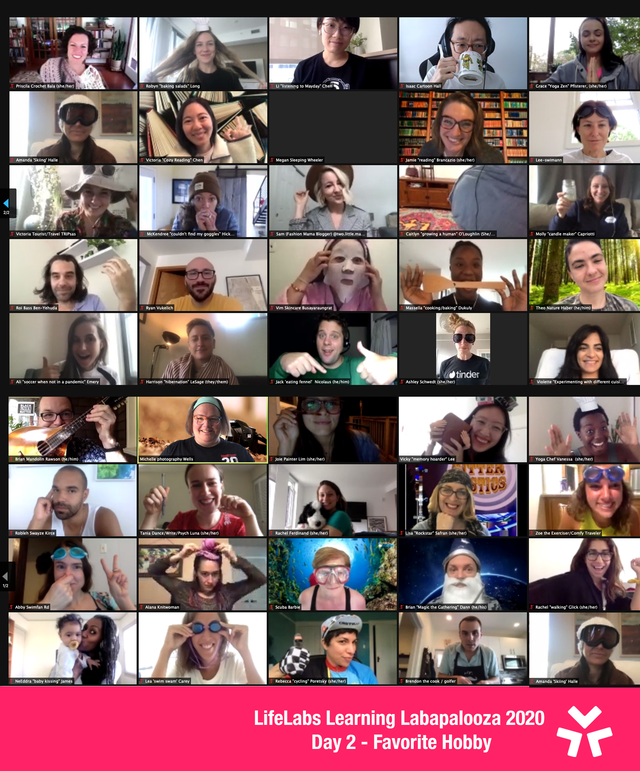 The LifeLabs Learning virtual retreat
But you can actually get out of the house virtually too. Take a mysterious tour, stroll through a national park, or grab a front seat at an online concert. My favorite activity? Virtual museum trips. 
Prepare a highlight reel or presentation to look back at past results
One virtual celebration idea for work that will help you put your team's complete activity into perspective is showcasing achievements within a presentation. Image slideshows, slide decks you can share on social media to display wins publicly, or crafting a complex comic strip to look back at all the small or big triumphs. 
For some inspiration that's bound to leave you without words, check out what the folks at Champlain College are doing. They have a page dedicated to these shout outs where anyone can drop by and thank their teammates. You can use their efforts to influence yours too and encourage team members to craft their own posts or social updates where they can thank one another.
Example of posts you can use as shout outs include:
Congratulations to Claire and John for hitting their monthly quota early. They've been with us since we launched our first product and are now sharing their experience from day one with you. Check out what they love about their role.

Rami, thank you for organizing a virtual Christmas party and costume competition we won't forget! You've made your year better so we're not missing out on our usual office activities. Thank you for being part of our team!

Shout out to Jared—our UX designer who's always first at work be it in the office or on Slack. He's also full of ideas and incredibly inspirational to all of us. Got any questions for him?
As with any employee appreciation opportunity, you'd better bet your team doesn't want to see only the company's results. They want an up-close look at how their performance has improved, whom they helped, and other tiny earnings like "Best at coming up with ideas on the sport" or "Craziest suggestions of the year".
Virtual gifts and surprise parties to celebrate birthdays
You probably gave these before too, but this time make sure they'll remember your gift. Send useful things by talking to a person's at-work friends or tapping into the power of your own employee surveys. 
Lacking gift ideas? There's thousands of options like:
Snack boxes

Fitness equipment or small gadgets

That new stainless steel pan or warm blanket they've been looking to get

Gift cards, concert tickets, or subscriptions

Anything to support one of their hobbies

Something for their pets or kids

Classic designer sweaters or jackets to stay away from plain corporate branded apparel

Charitable donations
Alternatively, organize a party by sending all attendees a care package with fun props and tasty snacks or drinks beforehand. Birthdays are a must to celebrate [even if someone's birthday falls during the weekend]. Random celebrations though will come as a true surprise so opt for a "just because" gift every now and then.
Gifts for Omnipresent team members
Create a team gratitude list for regular features
People love seeing their names next to huge achievements. Especially if the list is something they can share publicly. Praise someone daily on your communication channel or create a separate post to share on your company's social channel accounts. 
Some companies who rely on their team culture for attracting and retaining talent also let their team members write posts on their blog like the Asana team does. Have them talk a bit about their own achievements as well as how they've contributed to the organization's growth.
Important note here: This tactic shouldn't be a stand-alone virtual team celebration idea. Pair it with other strategies in this list for the best results. Gratification goes well beyond simply attaching a name to a result as employees will be looking forward to a reward that's equal to their worth.
Talent and creativity contests to break the routine
To bring out the creative side of your team, opt for a contest as a virtual celebration idea for your employees. 
Try a thematic and leave room for employees to get as inventive as they can. From dressing up to recording a fun video or displaying their talents. A simple photo contest where people can share pics of their workspace, crafts, or dogs works too. Maintain an uplifted mood with an ugly sweater or craziest dance contest they will remember for years to come.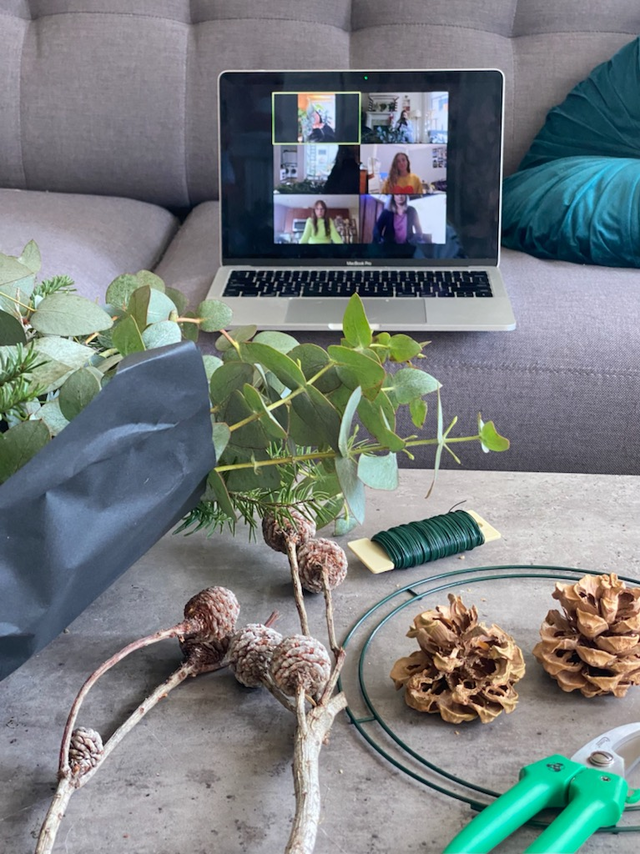 Crafts contest for the Entire Productions team
Keep boredom away by celebrating unexpected days
Everyone knows when Christmas is, but did you know that October 1st is Escape Room Day? Your employees probably don't either so this is a clear chance for you to surprise them with an activity.
Other fun online celebration ideas such as these are:
World Penguin Day – April 25

th

International Burger Day – May 28

th

World Kindness Day – November 13

th

World Mental Health Day – October 10

th

Programmers' Day – September 13

th

World Art Day – April 15

th

World Emoji Day – July 17

th

International Day of Sport for Development and Peace – April 6

th
Such special holidays are a good opportunity for you to celebrate diverse cultures and origins on your team. You can send everyone their favorite cinnamon roll for Kanelbullens dag (Cinnamon Bun Day) or a Christmas Cake like they eat in Japan for Christmas.
Where to start with these team celebration ideas?
Before turning your team celebration ideas into reality, clearly define which achievements and events are worth celebrating with a dedicated event. If you opt solely for birthdays, life events, and large company milestones, you'll need to choose a larger event like a party or online trip. For small wins, give shoutouts and add them to a fun celebratory reel.

Have a direct purpose for each event. Common goals you should strive for are helping the team bond, making individuals feel connected and a little less lonely, as well as educating them on fun matters and cultural facts.

For online meetups, use

Krisp

to block out any background noises. This way, your teammates can perform their best song or hold their stand-up show without any distractions.
Change up the activities every now and then and experiment with your team celebration ideas. Ask your team for feedback and ideas for celebrating milestones remotely in the future.
Don't forget to bookmark this article and get back to it for some inspiration. You can add these virtual team celebration ideas in a poll and get your team to vote on the ones they like most.