With managers focused on ensuring that all tools and processes work perfectly when their team is remote, far too many aspects get left behind even if they're just as vital. Including the importance of a strong remote team culture.
As many as 90.2%(1) of employees consider team culture to be an important factor when it comes to ensuring productivity at work. The same Nulab study concluded that 35.3% consider good company culture to be more significant than factors such as pay or other benefits.
Some of the biggest challenges of remote work have always been keeping the team connected and engaged. But these seemingly "superior" problems stem from a deep-rooted issue: they fail to maintain or adapt their team culture. Missing out on establishing strong policies on how you want your team culture to develop when working remotely can wreak havoc in a company that's already too busy with all of the other business processes.
In this guide, we'll have an up-close look at how you can handle the challenges of working remotely to ensure a lasting remote team culture while making sure no one is left out of the picture.
Why is a remote team culture so important?
Having a well-established workplace culture implies setting a list of values and opinions that all employees can agree with and later promote themselves.
All of these habits and policies are acquired in time from the company's interaction with its clients as well as every single way in which the team gets to be a part of society, contributing to a common cause, and making a change based on an overarching goal. 
When working within an office setting, it's much easier to acquire these values. Employees interact with each other on a day-to-day basis, taking part in common events and exchanging beliefs. Switching to the remote work lifestyle entails a strong and sudden distancing when it comes to all of these aspects.
This distance is exactly why you need to re-focus on creating a strong team culture remotely.
Creating culture in remote teams provides the opportunity to:
Ensure high employee happiness and wellness levels

Retain top talent and reduce hiring and training costs that would result from losing your existing employees

Maintain team loyalty and engagement by giving them an incentive to deliver their best work

Improve the

productivity

and performance of your workers through increased accountability which extra important for remote employees who get minimal supervision

Attract highly-skilled professionals who want to be a part of a memorable team culture that can allow them to grow and feel fulfilled

Solve potential communication problems by promoting transparency and strong communication blueprints
The 6-point roadmap to building a strong remote team culture 
Culture building is not a skill you can learn from a book. Every team is different and a company's values are often singular with no other model to simply mimic. 
This leaves managers with a single path: experimenting while following a list of best practices they can adapt to their own demands.
The following 6-step roadmap will show you the exact priorities you should have when building a remarkable team culture. Use these as a guide but remember to bring your own touch.
Establish or update a company mission statement that includes remote work.
A mission statement clarifies your company values and defines what goals make you different from other brands and competitors. In general, mission statements focus on highlighting your position on the market, how you can help your clients, and even how the company treats its employees.
But whether you're a fully-distributed team or had to switch to working remotely for the year, you'll need to incorporate remote work aspects into this mission statement. The latter will help guide your team's workflow as well as your employer branding efforts.
To give you an example of a remote work culture that stays true to the company mission statement, we'll have a look at Buffer.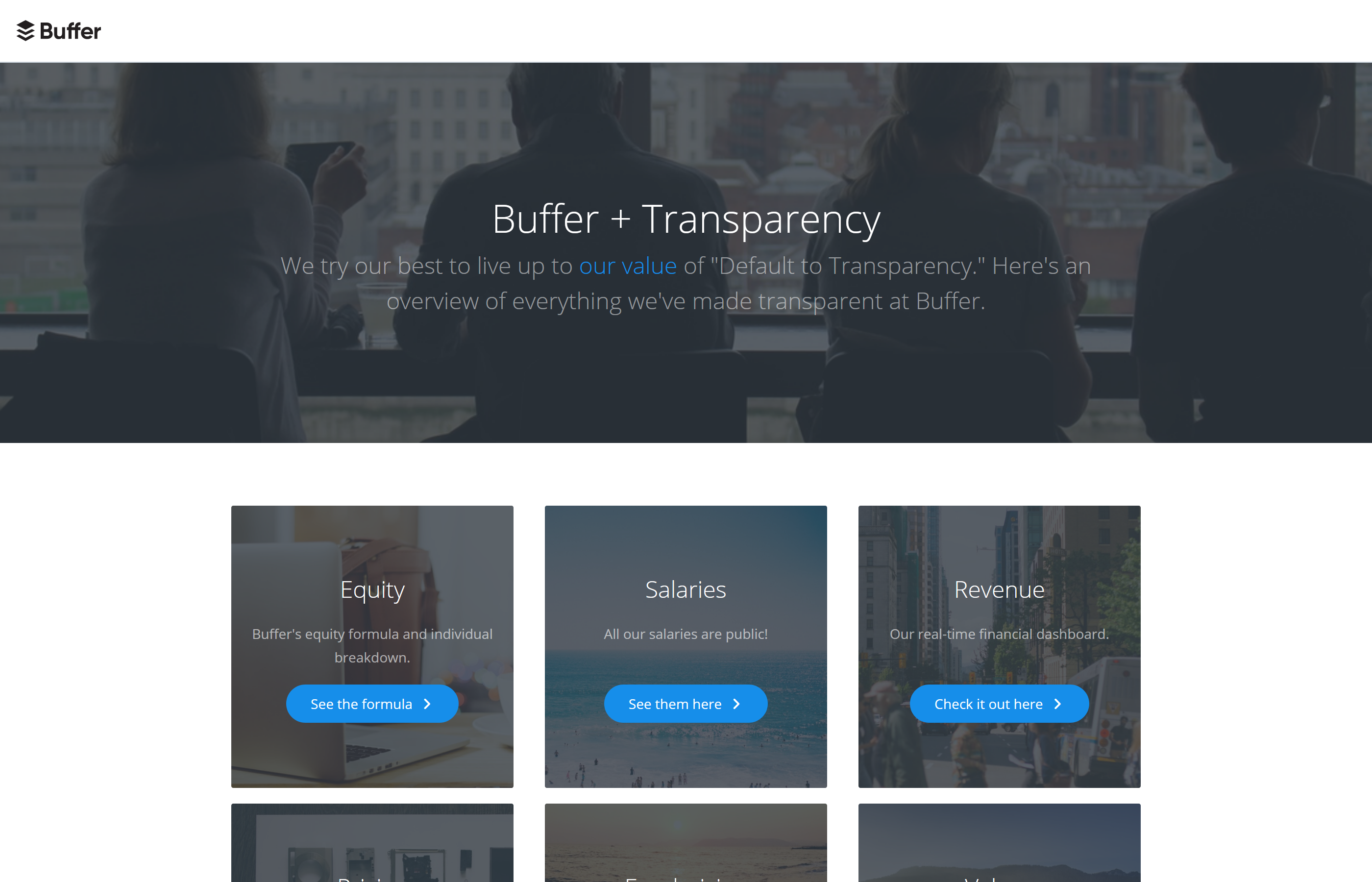 Their core value is transparency. They build trust by making all salaries public, offering insights into their revenue, and even showing customers where every cent of the price they pay goes. Beyond customers, it's their team that benefits from an increased trust in the company which has allowed the Buffer team to boast a 94% retention rate(2).
Having such set values helps you choose the right team members from the very beginning and ensure lower turnover rates in the long run. Not to mention that happy employees contribute to the brand's promotion attempts and help bring in new team members.
You can then turn to your team to showcase your mission publicly, turning your company into a top-of-mind example of great work culture. If you've been working remotely for a while but haven't incorporated highly-respected principles for remote work like transparency, equity, proactivity, or clarity, it's time to reconsider the values of your mission and make it a part of your business.
Ensure a lasting remote team culture by setting an appropriate communication etiquette.
Next, make improvements when it comes to both external and internal communication. To do this within a remote culture, ask for your team's feedback so everyone can share how they'd like the collaboration process to change.
Write all ideas down and turn them into actionable actions. For instance, if a lack of task details has led to misunderstanding in the past and employees having to go over the same activity multiple times, make it a rule for each task description to contain specific details. 
To keep all this info in one place and avoid losing files in between messages, choose a single project management software or team collaboration tool where all task-related discussions should be held.
Are some of your team members finding it difficult to keep up with what you're saying during meetings because of the background noises? Try a tool like Krisp to remove both your and their background chatter and ensure the clarity of all meetings.
[demo-new]
Write all communication policies in a document. This way, everyone can access it if they're ever unsure whom to turn to for help, what channels they can use for collaboration, or where they can find a file.
Your duty as a manager is getting every single person to share their challenges so no problems are left unresolved. In turn, this will keep employees more engaged and prevent frequent errors on tasks that would otherwise result from poor communication.
Make one-on-one meetings and asynchronous communication a priority with remote teams.
These two communication methods do wonders in a remote setting like never before. 
One-on-one meetings in particular allow you to talk to every single one of your employees and get their honest feedback. 75% of managers (3) are already using one-on-one meetings to discuss growth and development opportunities. 
But above all else, they're a perfect opportunity to regularly check in with your employees. No more interruptions or lack of time preventing them from sharing their true thoughts. This lets you act upon their feedback in a timely manner, helping you ensure their needs are met and raising their overall happiness at work. 
What nobody tells you about remote work remains the importance of asynchronous communication. Despite managers obsessing over keeping things in real-time, it's just not possible to bring in team members from different time zones to work for the same 8-hour time span.
For this reason, you'll want to steer clear from getting used to dealing with issues in real-time and implement best practices and tools for handling tasks and communication in an async manner. Here's where the same exact collaboration policies mentioned above come into play to keep conversations clear and detailed even when a colleague gets to read a message hours after it was sent.
Offer performance-based praise and recognition to your remote employees.
Finding out if an employee is pleased with the level of recognition they receive is more difficult than getting any other type of insights in the absence of an anonymous employee engagement survey. With 7% of remote workers (4) citing staying motivated as their #1 challenge and only one-third of employees (5) receiving the recognition they deserve, there's always some more room left for praise in any company.
You don't have to go to extreme lengths to do this. Most companies turn to their core values to offer recognition based on these. Recognition opportunities are all around us:
Zappos builds company-worker trust by allowing its employees to self-manage their work by getting limited supervision that allows them to showcase their full creativity at their own pace.
Chobani uses Bonusly to allow employees to thank one another through points they can later donate to a charity of their choice.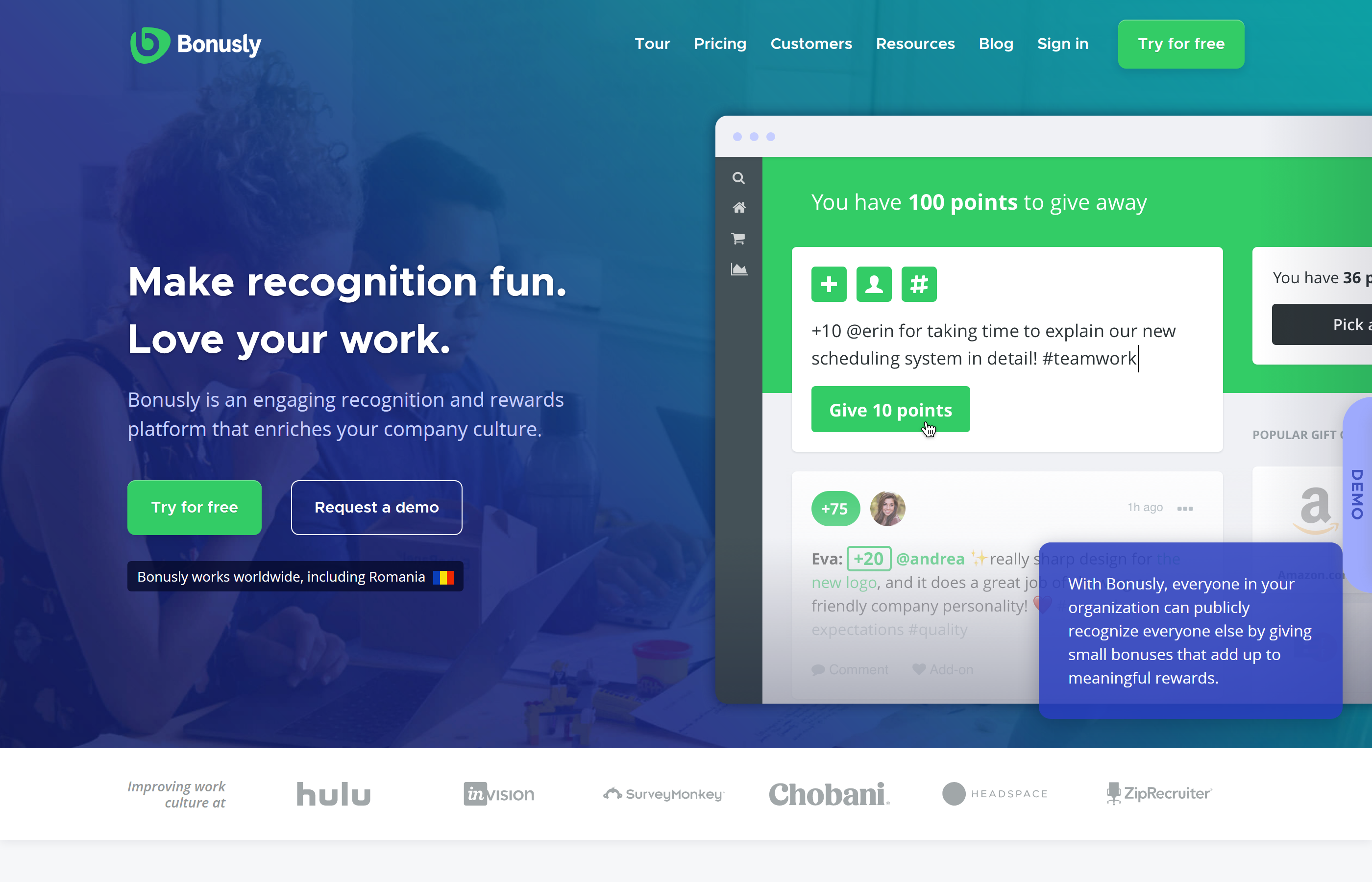 Patagonia rewards their employees daily by prioritizing their wellness and encouraging them to take time off whenever needed.
HubSpot's engineering team uses 15Five to promote peer recognition and help employees feel accomplished for every goal they reach, no matter how small.
Glaukos keeps their rewards packages competitive by giving employees who've been with the team for over 5 years perks such as free flying lessons, family vacations, language courses, and other chances to chase their dreams.
Create new opportunities to bring your distributed teams together.
Never meeting face-to-face won't ever provide the same connection within the team. To keep employees bonded, come up with a series of events you can afford to hold on a regular basis.
Besides the regular daily meetings or fun cooler chats you can have before them, here's a list of ideas you can implement:
Have your team share regular fun facts about them, daily pics, or updates on hobbies and interests they've picked up

Create clubs so employees with common interests can share the same experience

Hold special events or

team building game

days via

video chat

during holidays or even to celebrate a colleague's birthday or company anniversary 

Use a tool like

Donut

to connect team members from different departments so they can get to know each other better over a virtual coffee or lunch meeting

Organize workations or get-togethers at least twice/year so your team can occasionally work from the same place

Facilitate team collaboration by bringing employees who live close to each other in the same setting for a fun yet productive getaways

Send employees with similar interests on volunteering trips, conferences, or trainings 
Get the onboarding and training process right to maintain a strong remote team culture from day one.
All clear with existing employees, but what about your new hires?
Good remote team culture is imposed from the first contact a new hire gets with the company. That's why it's easier to choose new team members who are a fit for your work culture from the start rather than forcing values onto a person who can't accept them.
Pay extra care to how new workers understand the team's culture and beliefs because they don't get to start with the same level of contact as ex-office employees. Establish a list of goals for their first 3 months and include getting to know everyone in the team as a priority. Make sure you also introduce them to the entire company so they won't feel like they're not welcomed in a group that's already been together for years.
Another option is for you to set up a mentorship program so new hires can have at least one person to turn to for help. The essential role of a mentor remains to offer unbiased feedback and guide mentees to further develop their skills. Hidden qualities and know-how can be spotted early on so new employees can later take on tasks they enjoy and are best at. Finally, check in with them regularly and get them to be a core part of any team building activities and fun meetings.
Where to start creating a strong culture in your remote team?
The first step is to envision how your ideal remote team culture looks like. 
Is there any other company you're inspired by? 
Can your employees suggest a future direction? 
Do you have any broad business goals you could reach by changing your values?
Turn to your team for help to start developing trust as a foundation for your workplace culture. After all, solid remote workplace culture is built upon its people. That's why transparency should be a part of every single company's list of core standards.
See how your employees interact, what their interests are, what work they'd be willing to do out of pure passion, and if there's any way in which you can differentiate your team and brand from the others. Maybe you were one of the first companies to rely solely on asynchronous communication or you have a one-of-a-kind cause you're already contributing too to some extent.
Stay intentional and aim for a genuine approach before you decide to go towards one particular direction. A fake remote culture won't get you the buy-in you're looking for as opposed to displaying a fresh image that doesn't simply repeat a boring list of values everyone is trying to stick to.
---

References:
(1) https://nulab.com/blog/startups/comparing-company-cultures-across-work-situations/
(2) https://buffer.com/resources/employee-tenure/
(3) https://soapboxhq.com/state-of-one-on-ones-report
(4) https://lp.buffer.com/state-of-remote-work-2020
(5) https://www.tinypulse.com/hubfs/EE%20Report%202019.pdf