When your agents work from home and are distributed globally, virtual call center software can make or break your business. Late replies, noise complaints, or simply not assigning the right person for the ticket are common challenges call centers encounter.
Here's what to look for when searching for contact centers solutions, along with a list of the best virtual call center software you can find in 2022.
But first, what are the benefits of using call center tools?
Benefits of Virtual Call Center Solutions
Using the right virtual call center software yields endless benefits to companies that implement them correctly, including:
Reinforce brand loyalty

– A better client experience leads to more return customers. The faster agents can fix their problems, the more likely customers are to leave with a positive perception of your brand.

Improved agent productivity

– Better call quality makes for highly efficient calls where agents are able to solve customer issues faster and boost customer satisfaction.

Higher business growth

– Eliminate distractions from your calls adds confidence and trust during customer interactions. This means your customer service experience will become a powerful element in retaining customers and scaling your business.

Fewer noise complaints

– Once you're able to reduce or remove distractions from both ends of a call, you'll get clearer customer conversations without the hassle of back-and-forths or miscommunication.

Reduced costs

– Call centers normally needed a wide range of equipment for managing data, tacking calls, and handling tickets. But these days, such cumbersome solutions which required regular costly upgrades and additions are no longer needed. You can run all of your call center operations with the help of specialized software. Without having to purchase any extra equipment.
Now that you've got a good grasp of why these tools matter, let's help you decide what you need to prioritize for your tool stack.
What to Look for in Virtual Call Center Software
The core functionalities that make for a perfect call center software are:
VoIP/Cloud-Based Calling

–

Voice over Internet Protocol (VoIP)

, or cloud-based calling, is the backbone of a virtual call center. Being free from landlines means your agents can make and take calls from anywhere so long as they have an Internet connection.

CRM Integration/Customer Data

– When a customer calls in, you want to ensure your agent has all the relevant data so the customer doesn't have to repeat what they've said before. This can be achieved by working with virtual call center solutions that integrates with an existing CRM like Salesforce or one that internally tracks and stores customer data. This makes it easier for your agents to quickly get up to speed on previous customer interactions as they work to find the best solution.

Surveys

– Post-call surveys can gauge customer satisfaction with your agent's support. 

Call recording

– Of course, your call center software needs to be able to record calls for user training purposes and quality assurance.

Scripts

– Scripting allows agents to know just what to say at the right time. Most virtual call center software options have built-in agent scripting; others may only have that capability if you install an app.

Call monitoring

– Call monitoring allows managers to listen in on live calls, without the agent or caller knowing, for training purposes and to ensure quality.

Call whispering

– Call whispering allows managers to speak discreetly to the agent, without the caller knowing, to help them provide the best service possible.

Call barging

– Call barging allows managers to join a call and speak to both the agent and the caller. This helps the manager rescue a phone call that's going poorly, especially if the agent is inexperienced.

Call masking

– Another important feature for virtual call centers, call masking allows you to control how your number shows up when you call a customer. You'll want a local number so you can increase the chance that the customer will answer. 
The App Every Virtual Call Center Software Needs: Krisp for Noise Cancellation
Working in a virtual call center creates unique noise challenges for work-from-home employees. Because your agents are not in a controlled environment (the office), there can be a cacophony of disruptive sounds that ruin a customer call.
One of the easiest ways to prevent background noise is to use noise-cancellation technology. Krisp is a noise-cancelling app that integrates with any virtual call center software you choose for your employees. It's easy to install and works silently in the background, identifying unwanted noise and eliminating it.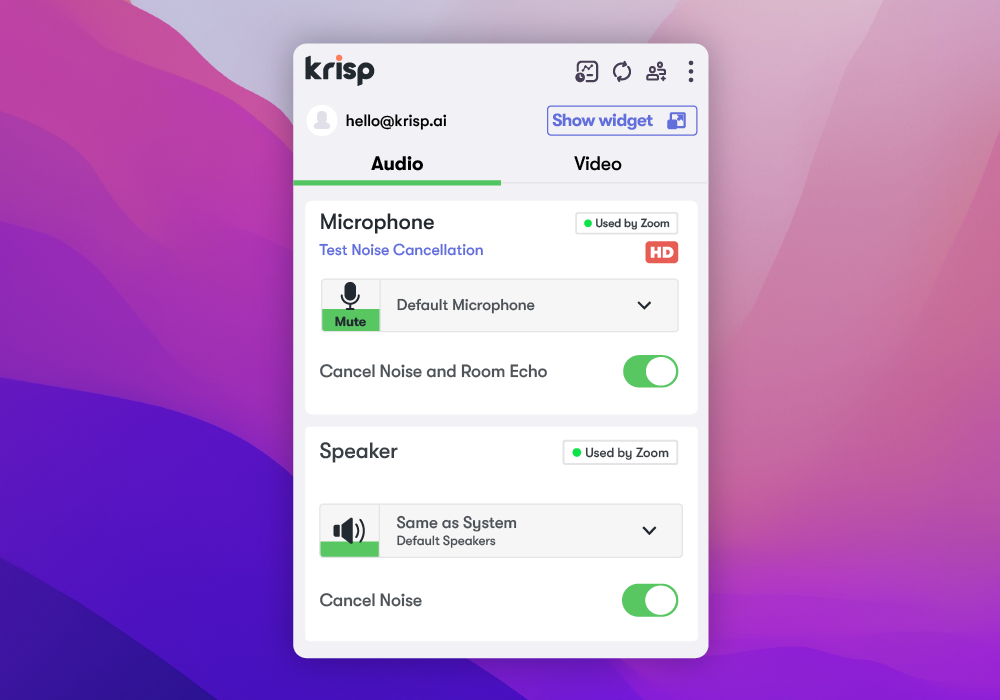 Noise cancellation tools are needed in call centers as they help you considerably improve customer experience in real-time. Imagine decreasing your average ticket handle time, increasing CSAT, and massively dropping noise complaints. All this is possible by simply turning to noise cancellation systems which help you prevent misunderstandings and speed up customer support without skimping on the quality of your services.
Opt for a tool like Krisp to take advantage of extra features like echo cancellation and automatic removal of surrounding voices that don't belong to the main speaker. All of these make for high-quality audio on both ends of a call. The future Note Taking and Sentiment Analysis will also help you improve the way you handle customer service without the need for extra tools.
While noise cancelling solutions are a must for every call center, you'll want to consider some other software to help you manage call recordings, monitoring. 
[demo-new]
Top 8 Virtual Call Center Software in 2022
1. Genesys
https://www.youtube.com/watch?v=m4ZcS2UriOU&ab_channel=Genesys
If you want a well-established software option with a solid reputation, Genesys might be the right option for you. Founded in 1990, Genesys bills itself as the leading all-in-one contact center software. It serves more than 2,700 organizations in 80+ countries and boasts a 99.999% uptime. This is ideal whether you run your support continuously or solely during business hours.
This tool is best suited for customer experience companies and call centers from mid-sized to large businesses. You'll want to pick this option if you're looking to speed up customer communication across various networks, including classic phone support, social media, website forms, and live chatting.
Key Features
Allows you to use native or third-party AI chatbots

Predictive routing

Voicebots

Inbound and outbound calls

Call recording

Call queuing

Call monitoring

Call whispering

Call barging

Managers can monitor any in-progress interaction, from calls to emails

Robust customer data that you can organize, search, and create reports for in the dashboard

Allows you to customize scripts

Integrates with hundreds of apps, including Salesforce

Unlimited chat and email routing

SMS and messaging apps routing

Voicemail

Screen recording

Platform APIs 
Notable Cons
Several users report the app is prone to errors and outages as well as slow support times

Price policies aren't flexible and scalable.

More complex to use than other similar solutions.
Pricing
Genesys Cloud CX 1 pricing starts at $75/month or $0.68/hour.
2. Zendesk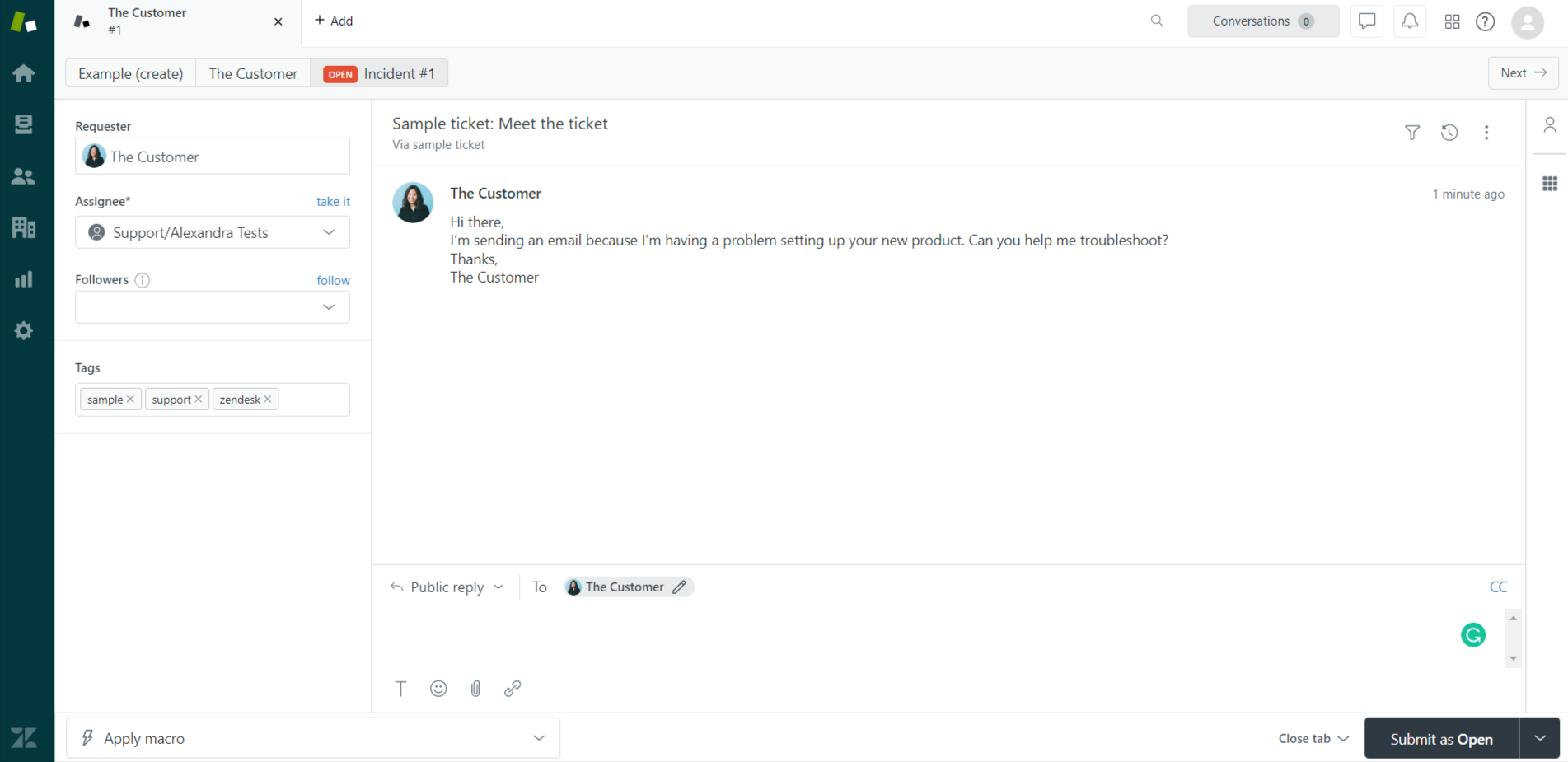 Already a leader in helpdesk software, Zendesk provides its own cloud-based voice solution for call centers. Its VoIP technology is linked to its ticketing system, allowing agents to provide personalized, seamless support by tracking open cases.
Zendesk is an all-rounder as it can be used by businesses of all sizes. So if you've just launched your own call center, this is a good pick that scales as you grow. It's also one of the tools with the most integrations in this list so it adapts to your current tech. This solution also boasts its ability to integrate with over 90 telephony providers. Alternatively, you can actually use Zendesk as a standalone telephony provider.
Key Features
Real-time reporting

Real-time monitoring

Call recording

Support tickets

Automatic ticket creation for each call

Call queuing

Call monitoring

Built-in VoIP and integration capabilities with 90+ telephony providers

Centralized communication: calls, voicemails, texts, emails, chat, and social messaging in one space

App directory lets you customize with add-ons like advanced call transcription

IVR routing, group routing, overflow, and after-hours routing

Customers can request callbacks instead of waiting on hold

Script capabilities via Zingtree.com and Agent Scripting App

AI-powered chatbot
Notable Cons
Official training time is needed in order to use Zendesk appropriately. Trainings and certificates are available on their website.

Users are frequently unhappy with the actual customer support Zendesk provides. 24/7 support costs extra.

Technical setup is needed.

Can be costly if you want to take advantage of all features. The agent-based pricing model also adds up to the final cost.
Pricing
Zendesk Suite pricing starts at $49 per agent/month (billed annually). They offer a free 14-day trial, but there's no free plan.
3. Freshdesk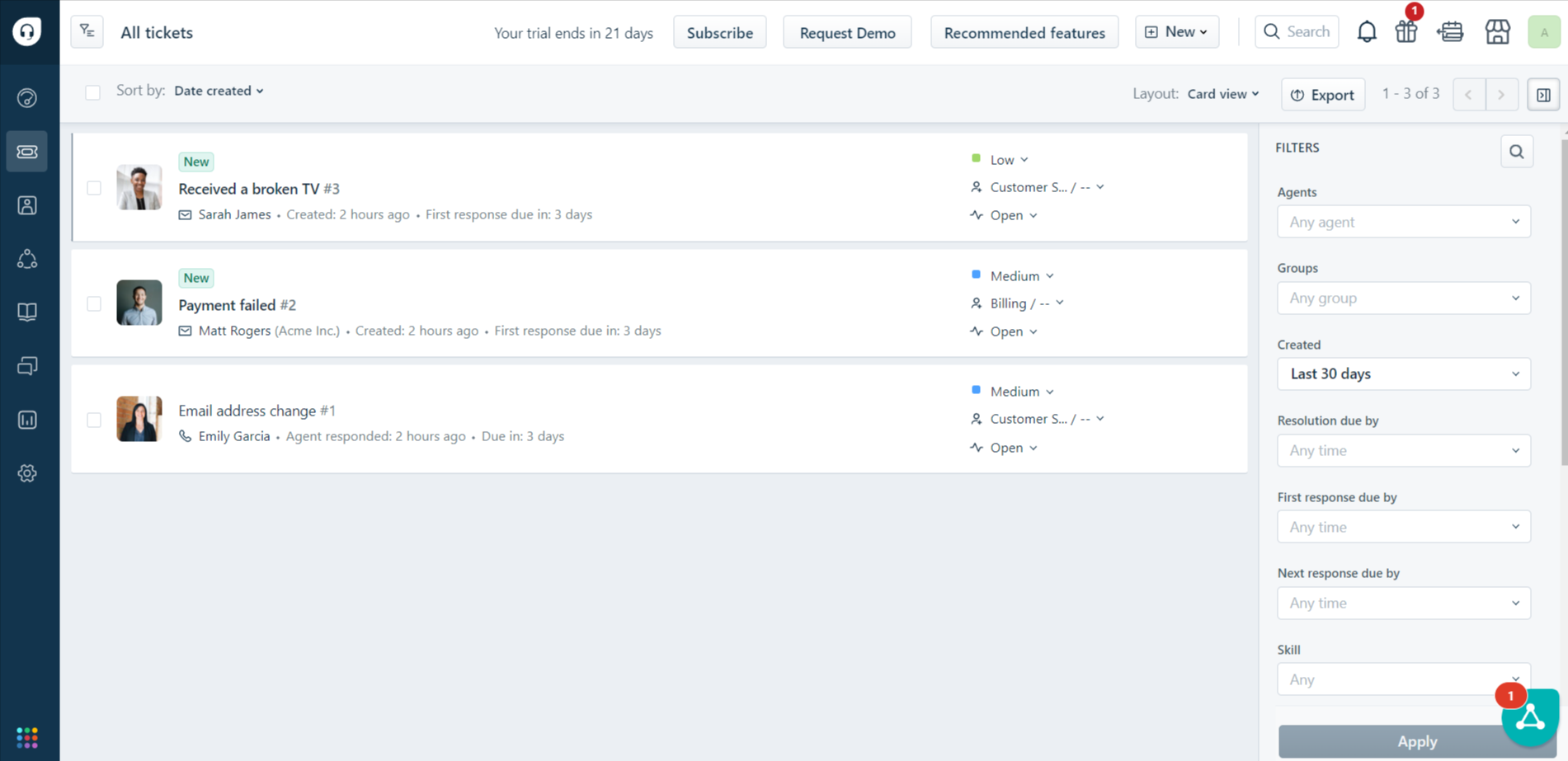 Freshdesk is another helpdesk software that links its ticketing system with its built-in phone software, Freshcaller. It also leverages AI technology to provide real-time guidance to employees talking to customers.
This tool provides its own telephony solution (VoIP phone system) so you can manage both inbound and outbound calls on one single platform. It's better suited for businesses looking to buy a global contact center at an affordable price (as opposed to smaller or medium-sized organizations).
Key Features
Call monitoring

IVR routing and business-hours routing

Convert calls into tickets

Make calls from within Freshdesk via Freshcaller

Call masking allows you to buy a local number in over 40 countries

Call recording

Queuing

Support tickets

Custom reports

Dashboard that monitors tickets, trends, and groups

Customer satisfaction surveys

Agent scripting

Provide support via chat messaging, email, phone calls, an AI-powered chatbot, social media, WhatsApp

AI-powered Agent Assist provides guidance to agents to help them improve their customer service

Agent scripting is available via apps in AppConnect
Notable Cons
Official training time is needed to use Freshdesk correctly.

The search functionality needs to be extended.

The tool can get pricey if you're looking for advanced reporting features.

Integrations are lacking so keep his in mind if you want a platform that goes well with your current tools.
Pricing
To get phone call capabilities, you'll need to purchase a Freshdesk Omnichannel subscription. This starts at $29/agent/month (when billed monthly). Freshdesk offers a free 21-day trial.
4. Talkdesk
https://www.youtube.com/watch?v=498Hld9w_p4&ab_channel=Talkdesk 
Talkdesk CX Cloud is the call center software offered in Talkdesk's suite of customer service products. It takes advantage of AI to help customers find answers before even reaching your agents and also uses AI-powered recommendations to guide virtual agents in real-time.
This solution works best if you're looking to reach and respond to customers in a contextualized way. That means you can talk to customers right where they are, on their preferred communication channels. The result? Improved customer experience because you're able to quickly respond to inquiries, no matter the network.
Key Features
Click to place calls directly from the helpdesk, CRM, e-commerce platform, or website

Voicemail transcription, notifications, and metrics

Automatic call distributor (ACD)

IVR system

Forward calls to mobile phones or landlines

Integrates with Zendesk, Salesforce, Shopify, and more

Support ticketing system

Call monitoring

Call barging 

Call queuing

Call recording

Talkdesk Live is a dashboard that lets you track performance in real-time

Talkdesk Explore provides custom reports and dashboards

Local caller ID 

Customer surveys
Notable Cons
Users report occasional bugs and connection errors that could impact support response time.

No free trial or free version available.

Consulting and integration services come at a premium cost.

Some features like the "Pause Recording" functionality need improvement.
Pricing
Pricing for Talkdesk depends on agent subscription, phone numbers, and call minutes. The prices are not published on their website, but generally, plans start at $65/seat/month.
5. Aircall
https://www.youtube.com/watch?v=OVu0l27q1N4&ab_channel=Aircall 
Many call center employees rave about the user experience of this relatively new all-in-one solution. Founded in 2014, Aircall boasts all the basics of virtual call center software and then some. It connects to more than 60 apps and integrations.
Note that Aircall is a favorite for retail, e-commerce brands, and IT companies that need classic call center features like voicemail and call queuing alongside extensive functionalities you can get via Aircall's integrations. In fact, this is one of the few tools that connects to most e-commerce platforms so you can have a complete view of your clients' shopping journey.
Key Features
Set business hours for when you can receive calls

Voicemail

Call routing

Get toll-free numbers with local area codes as well as international numbers in 100+ countries

IVR directory

Warm transfer lets team members check in with each other before transferring an in-progress call

Call queuing

Ring groups

Callers can request callbacks

Call recording

Forward calls to a mobile device

Call center analytics

Live feed

Call monitoring

Call whispering lets you speak to teammates on a live call without the customer hearing 

Integrates with Salesforce, Zendesk, HubSpot, Intercom, and more
Notable Cons
Current users report slow and inefficient onboarding alongside lots of downtime.

Aircall reviewers also mention that support is slow or distant. 

There are no collaboration capabilities like team messaging or document sharing.

It's missing video conferencing features. 
Pricing
An Aircall subscription starts at $30/user/month. Note there's a 3-user minimum to consider. Aircall offers a free 7-day trial.
6. CloudTalk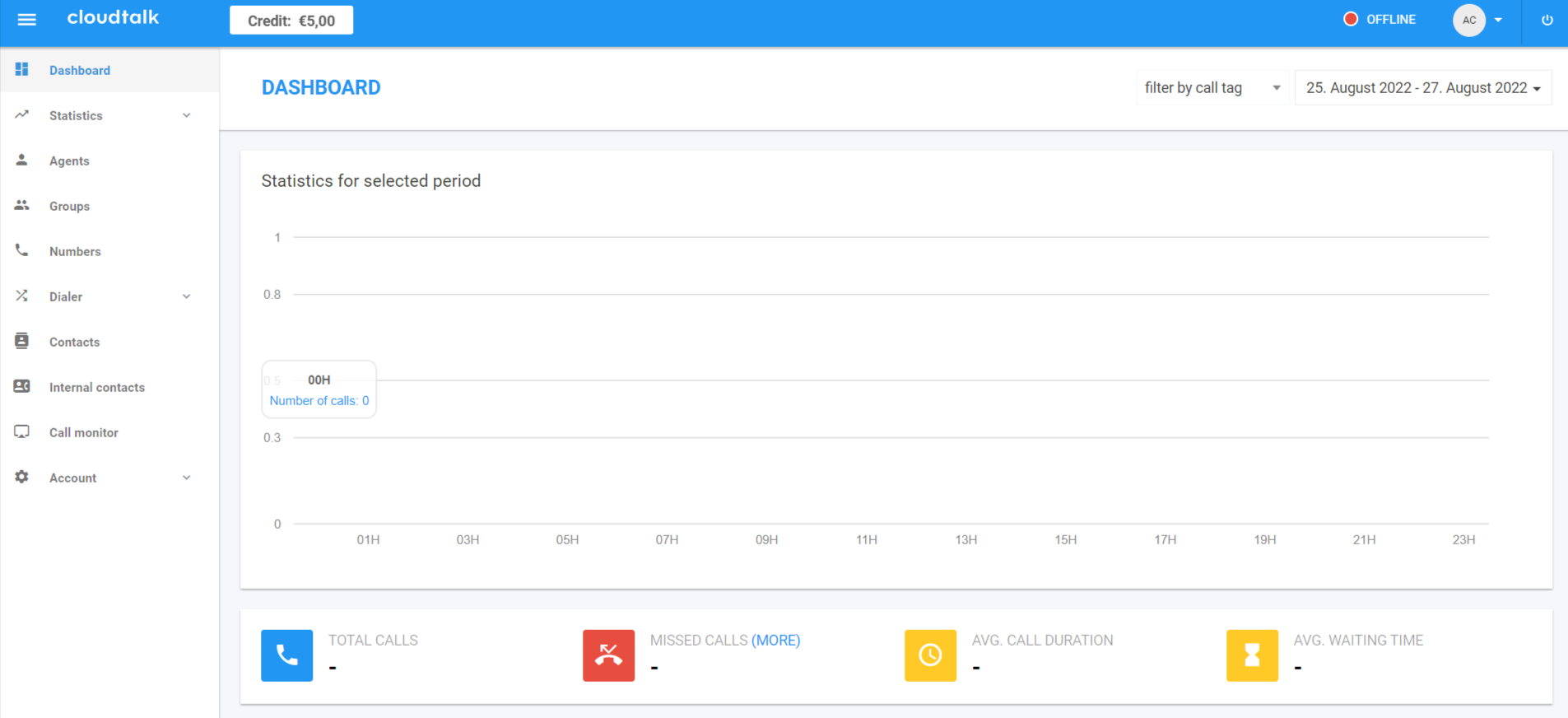 Used by DHL, Glovo, and Mercedes-Benz, CloudTalk is a remote call center software that powers more than 2,500 call centers and phone systems. It integrates with all the big players, such as Salesforce, HubSpot, and Zendesk.
Its functionalities and current companies using the tool make it an optimal choice for multinational logistics companies, car manufacturing organizations, and similar others. Notably, CloudTalk also has a smooth onboarding process which means your team won't need as much training as with the other solutions on this list. 
Key Features
Sentiment analytics (available upon request)

Call queuing

Call recording

Call masking

Call forwarding

Voicemail

Number porting

Toll-free numbers and international numbers from more than 140 countries

Set business hours for when you're available to take calls

SMS/text messages

Automated Call Distribution (ACD)

IVR menu

Skills-based routing

Ring groups

Customers can request callbacks

Warm transfer lets you discreetly speak to another agent before transferring the caller

Customer history data

Call monitoring

Call whispering

Call barging
Notable Cons
If you want the outbound calling functionality, you'll need to get a Custom plan which comes at an extra higher cost.

There's no phone support with Starter or Essential plans. The Starter plan also doesn't include text messaging.

There's no refund policy or money-back guarantee.

No multimedia messaging (MMS) available.
Pricing
CloudTalk subscriptions start at $25/month (billed monthly). They offer a free 14-day trial on any plan but there's no free plan.
7. Five9
https://www.youtube.com/watch?v=AB5Xb2C37Vk&ab_channel=Five9 
Founded in 2001, Five9 is a well-established cloud contact center software with more than 2,000 customers across the globe. Most notably, Five9 was acquired by Zoom in July 2021, so keep an eye out for how their platform may change due to this.
You should use this software if you're running a call center in the restaurants, retailers, or other professional services space. The tool merges voice and text messaging, email, social, and video, so it's yet another good choice if you want to manage multiple channels from a single place.
Key Features
99.994% uptime in the last 12 months

Agent scripting

Call center data importing lets you import call lists and contacts

Personalized dashboards to monitor stats in real-time

Call recording

Call monitoring

Call whispering

Call barging

Speech recognition and text to speech

Toll-free numbers

Voicemail

Customers can request callbacks
Notable Cons
User reviews mention occasional crashes as well as poor call quality that impacts their clients' experience.

Pricing isn't transparent as the costs aren't listed on the website. There's also no feature comparison list to help you decide which product is truly right for you.

Missing lead generation tools.
Pricing
Five9 does not publish prices on its website. You must request a quote. There are no free trials advertised either.
8. Dialpad Contact Center
https://www.youtube.com/watch?v=McAVGIFG3_M&ab_channel=Dialpad 
Dialpad Contact Center has real-time AI-powered assistance, providing suggestions to your contact center agents while they're on a call. Dialpad boasts an impressive client list of more than 70,000 companies, including Uber, HubSpot, and Stripe.
If you're looking for a tool with artificial intelligence (AI) capabilities to improve caller experience, this is the platform for you. Dialpad will also suit smaller businesses looking for a virtual business phone system.
Key Features
Omnichannel interactions

AI-powered assistance in real-time

Customer insights

Call center analytics

Call queuing

Call recording

Call monitoring

Call barging

IVR system

Integrations

Customer satisfaction surveys

International numbers 

Voicemail

Real-time dashboards

Customers can request callbacks
Notable Cons
As per Dialpad user reviews, occasional bugs make the system unusable and can delay support.

You'll need to purchase the Enterprise plan to get extra extensions. The same plan is the only one that will get you 100% uptime Service Level Agreement (SLA), which is a must if you want to offer 24/7 support.
Pricing
Dialpad does not publish its Contact Center software pricing. You must request a quote, but keep in mind you'll need a minimum number of users for every plan so you might end up paying more just to get certain features. Dialpad offers a free 14-day trial for its Pro subscription. A credit card is required for the trial though.
So, Which Virtual Call Center Software Will You Choose?
As you can see, there's no shortage of virtual call center software options out there. 
Many of them offer free trials, so you can take them for a test drive to ensure they're the right fit for your remote team. With the right contact center solution and a solid noise-cancellation app, your call center will be poised for explosive growth and happy customers.
Don't forget you can pair any of the tools above with Krisp to achieve clear audio quality, prevent noise complaints, and improve your client experience.
[demo-new]
Frequently Asked Questions
What Is Virtual Contact Center Software?
Moving away from a traditional call center and onsite contact centers, this type of cloud-based software allows agents to handle inquiries, complaints, and help requests for callers, no matter where they are. Innovative features and native integrations come together to help virtual call center agents handle center operations faster and with lower costs than within physical call centers. Using a call center solution provider like this you'll no longer need to rely on an outdated business phone system or basic features alone.
What Is the Cost of a Virtual Call Center Software?
The rate you pay for a virtual contact center software depends on the number of agent seats you'll need as well as the exact features you want. Start from a base price and work your way through must-have functionalities, additional minutes, and add-on features. Most solutions offer a free trial but very few have a free plan. In fact, most features you'll need for a call center are always part of paid subscriptions.
How Many Times Should You Test Virtual Call Center Apps?
List your business requirements and start by trying these apps for both incoming calls and outbound ones. Don't forget to test it from both desktop and mobile devices alongside giving the pre-built integrations a test run. Some trials limit the caller minutes you have available, so keep this in mind when prioritizing testing.