If there's one thing that's become synonymous with Covid-19 – whether for good or bad – it is remote work. While the 'Work-From-Home' (WFH) concept has been frowned upon for decades, businesses world over are now surviving – and thriving – on it. Here's what the data tells us:
Essential for business continuity:

According to Gartner,

"88% of the organizations, worldwide, made it mandatory or encouraged their employees to work from home after COVID-19 was declared a pandemic."

Expansion and adoption at lightning speed:

As per Global Workplace Analytics, remote work has witnessed a skyrocketing growth in the US, having risen by 173% between 2005 and 2018.

Widely-accepted and preferred by employees

: Finally, remote work finds many takers among employees, with 90% of them ready to recommend working remotely to a friend.
Clearly, remote work is gaining traction. That said, its potential remains untapped, which enterprises are beginning to realize. At this point, it's only natural to wonder: What are its benefits? A fair question.
Why Remote Work: A Snapshot of its Benefits 
Higher productivity among employees

: This one's a no-brainer. People don't end up wasting time commuting and can use the 'saved' time to focus on actual work. Plus, you can definitely say goodbye to those office gossip sessions and coffee breaks, which lead to unnecessary distractions. Research by CoSo Cloud claims that 77% of remote employees are productive while working from home. Additionally, according to research by Stanford University:
Telecommuters can experience a productivity boost equivalent to a full day's work per week.
Increased savings for both the employee as well as the organization

:

According to

CoSo Cloud, 30% of remote workers end up saving as much as $5,240 in a year. Moreover, companies can enjoy savings amounting to $11,000 annually for each employee that works remotely half-time as per estimates by Global Workplace Analytics.

Reduced stress due to flexible scheduling

: Perhaps the biggest advantage of WFH is that people, in general, are less stressed because they get to work around their

own

schedule. In fact, data predicts that

"

80%

of telecommuters experience less work-related stress."

Lower employee churn rate:

Since employees feel that they have a better work-life balance and experience higher levels of work satisfaction, the employee attrition rates automatically reduce, as does sick leaves. According to Owl Labs,

"

U.S. companies that allow remote working have a 25% lower employee turnover rate."
The Challenges of Managing Remote Teams 
Moving over to the 'darker' side, let's look at the top pain-points of managing a remote team:
6 Proven Ways to Effectively Manage Remote Customer Service Team 
"74% of companies plan to shift some of their employees to remote working permanently." – Gartner's CFO Survey
1. Use Cloud-based project management tools for better collaboration.
If your team is geographically-dispersed, consider investing in a robust project management tool which can help streamline your workflow process and bring everyone on the same page (or in this case, the screen):
This provides greater visibility into everyone's progress and keeps all the stakeholders involved in a project/task's performance. Furthermore, your team can access all the necessary information from a centralized place, which allows them to pick up customer conversations in real-time and with the right context. All in all, for end-to-end collaboration, project management software is a must. 
2. Embrace intuitive automation tools such as chatbots for a more streamlined workflow and faster customer query resolution.
Let's face it. Without the right automation tools and technologies, your customer service team is going to struggle, and your customer's complaint tickets are going to pile up. This is where chatbots truly shine. Intelligent bots can take off some of the CX team's workload by tackling the routine and repetitive tasks instantly and effectively: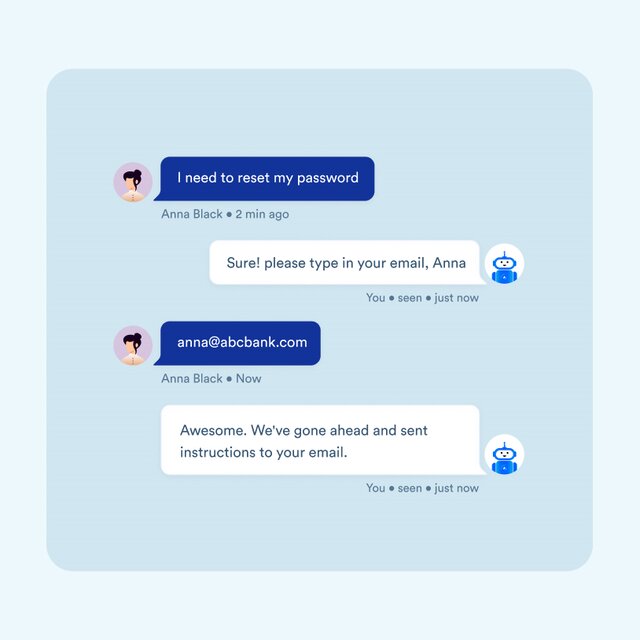 This allows your live agents to look after disgruntled customers and strategically work towards enhancing their customer experience – feats that a chatbot cannot achieve (yet). On the other hand, chatbots can address customer queries 24×7, during weekends and weekdays, at 2 am or 4 pm, and without taking coffee breaks. These bots don't tire or take sick leaves. Moreover, they're less prone to errors and don't get biased when dealing with a customer. 
3. Use video chat for greater employee engagement and for enhanced customer support.
"In April 2020, Zoom reported that it had surpassed 300 million daily participants." 
As a CX leader, if you wish to boost interaction and engagement among your team members, you need to push your employees to be on 'video' during team meetings and brainstorming sessions. It's human nature for people to be more attentive on video than audio as they're more conscious of the fact that someone is 'watching' (quite literally).
The same theory applies to the customer's viewpoint. When addressing customer queries, it helps to get onto video chat to instill great trust among your customers. In fact, it's the closest experience you can achieve next to in-person customer experience. The moment your customer can put a face to the voice on the other end, the more confident they'll feel about getting their issues resolved at a faster pace and in a more effective manner.
Handy tip: To make your video calls more effective, use a noise cancelling tool like Krisp to remove outbound background noise from agents and inbound noise from the customers.
4. Have longer one-on-one meetings.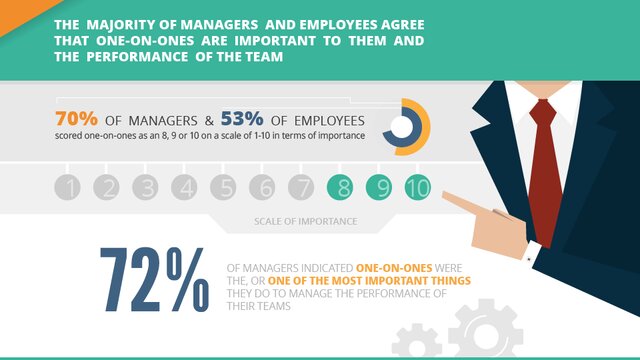 When it comes to remote team meetings, not everyone will be super vocal or willing to share private concerns. This is why holding a weekly or bi-weekly one-on-one virtual meeting with every team member helps. Make sure to limit your meeting to about 10-15 minutes and don't talk shop all the way through. Sometimes, a change of topic that's not work-related helps connect with your team members better and build a healthy rapport.
Lastly, when it comes to the main agenda of the meeting, let your employee speak more and ask them to talk about any challenges they're facing. You can summarize the proposed solutions and employee 'wins' in an email to boost morale and help keep your team members on track:
Handy tip: If you see that a certain employee isn't too participative during team calls, set up a one-on-one with them first.
5. Keep your team engaged with clear performance metrics.
"50% of CX professionals say they are unsatisfied with their organization's ability to quantify the impact of #customerexperience on business KPIs like revenue, churn & lifetime value."
Truth be told, remote work is all about building a culture of ownership and accountability. This can only be made possible if your team members are educated about the various performance metrics in place that takes into account three key factors: productivity, quality, and performance. 
Here's why you need to be crystal-clear when setting up the individual as well as the team goals and quantify everything to the extent possible. Setting the right expectations is half the job done. More importantly, it motivates the employees to do better and gives them a clear sense of direction.
6. Keep your knowledge base updated.
Every customer-facing team should have handy guidebooks available for access at any given point in time. From training manuals to how-to videos, your team should have a ready repository of time-critical customer-centric knowledge base that can be accessed on collaboration platforms such as Slack:
Since changes need to be made to the manual in real-time (think: documenting customer interactions, updating scripts with respect to different seasons, holidays, etc., communicating changes in shipping policy, etc.) and on a consistent basis, using cloud-based software is a wise choice. 
In a Nutshell
"73% of teams will have remote workers by 2028." – Upwork
Remote work is clearly redefining workspaces, work cultures, leadership mindset, and of course, inter-team dynamics. In fact, remote working is finally demonstrating a sky-rocketing upward trend, with advantages such as lowered costs, higher productivity, and team diversification being the major contributors. There is no doubt that remote working is poised to become perhaps, the hundredth version of a 'new normal.' 
That said, the challenges it brings to the table cannot be ignored – especially when it comes to customer-facing industries that thrive on rock-solid CX support. So, to counteract the issues and work within a healthy (and remote) ecosystem, here's a quick wrap up of the top-strategies that we recommend:
Use cloud-based project management tools to facilitate better collaboration.

Enable intelligent automation tools such as chatbots for a more streamlined workflow and faster customer query resolution.

Use video chat for greater employee engagement and enhanced customer support. 

Have longer one-on-one meetings to boost employee morale.

Keep your team engaged with clear performance metrics.

Keep your knowledge base updated.
Think we've missed out on useful remote work hacks and tips? Share your thoughts on social media & don't forget to tag us. We're all ears.