Now that team communication has moved entirely to the digital world we've all found ourselves using new team communication apps. No news here. But did you know there's no tool out there that provides all the features we need to do collaboration right?
Basic business needs that facilitate collaboration among teams include holding video calls, meeting planning, and removing any distractions. All of these add up to the complex process of communication as we all know it. One in which we're required to work both in real-time and asynchronously, tackling new challenges and changes every day. 
The rise of remote work has brought more people face-to-face with a new reality many are getting accustomed to. As many as 75% of workers said they would like to work remotely in the future too even if it's just an occasional perk. This being said, it's clear for us to understand why all companies need to embrace the benefits of team communication apps that are designed to meet these demands.
Several team communication apps have been around for decades, learning human behavior and catering to their needs. Others are recent introductions that help teams cope with current issues in ways we've never seen before.
Here are 12 of the best team communication apps to consider adding to your tech stack:
Team Communication Apps
Krisp
– noise-cancelling for all communication apps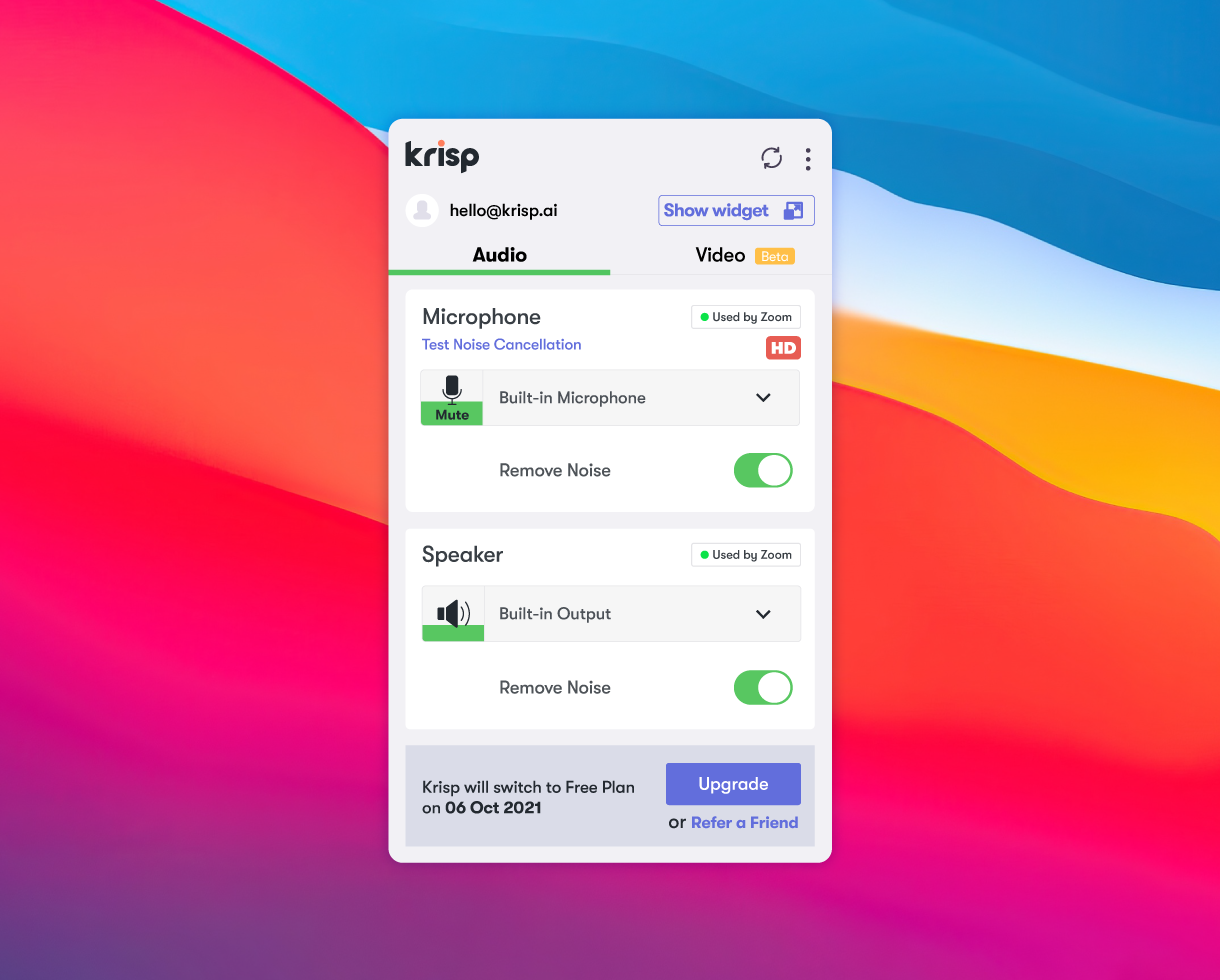 To keep people connected, voice calls remain a vital part of any team communication process. But what happens when things go wrong? Background noises can distract both the speaker and listener. This keeps work unprofessional and doesn't leave much room for the team to clarify things. I'm sure you've all had a conversation where you felt like the only one not understanding anything. Or maybe you had an important meeting but your office was just bustling with noise.
These are all issues that Krisp, a noise-cancelling app, helps teams face. No more muting and unmuting to distract everyone. Virtually no noise to cover those super important notes. Plus, a considerably better audio quality, whether you're in a meeting or just recording a video note to offer feedback to your colleagues.
[demo-new]
Pros
Easy setup for any team member so they can use it right away

Free plan that's ideal for teams who aren't yet fully distributed

Able to cancel all background noises
Cons
The unlimited options are only available with paid plans
Cost:
A free plan is available for over 800+ team communication apps, limited to a set number of free noise cancellation minutes per day depending on your account type. Paid plan comes with an unlimited noise cancellation and includes all features. Head to the pricing page to learn more.
ProofHub
– project planning software for remote teams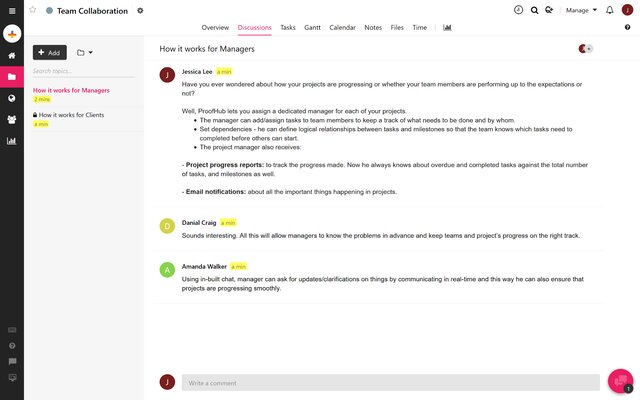 If you're looking for a single place to run your workplace team communication and project planning from, ProofHub is a tool that can replace your multiple current solutions. This app for team collaboration is a good choice especially for design agencies thanks to its proofing features and file versioning. 
The tool makes it easy even for non-technical team members to use thanks to its intuitive and modern design. There's also an option for managers to create request forms and have them published publicly so that any client request is automatically turned into a task in ProofHub.
Pros
Time tracking features

Advanced task management options

Proofing tool for the review and feedback process
Cons
Limited integrations with other apps
Cost:
Paid plans start at $45/month for all users while the unlimited plan costs $89/month.
Loom
– record feedback and instructions via screen sharing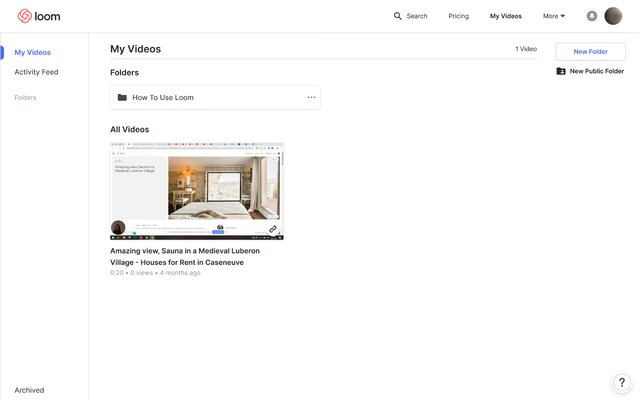 If your team is tired of having to call up a meeting for any kind of small feedback, Loom will save the day. This screen sharing tool can be used for literally anything from creating instructional videos for your clients to sharing quick feedback on your colleague's work and even code reviews.
Pros
Super easy to use

Available on multiple devices and operating systems

Lots of exporting options and integrations to choose from so you can use Loom with your other tools for collaboration
Cons
Unlimited options only available with paid subscriptions
Cost:
A free plan is available for individual users while paid plans start at $4/user/month.
Google Meet
– simple meetings without the fluff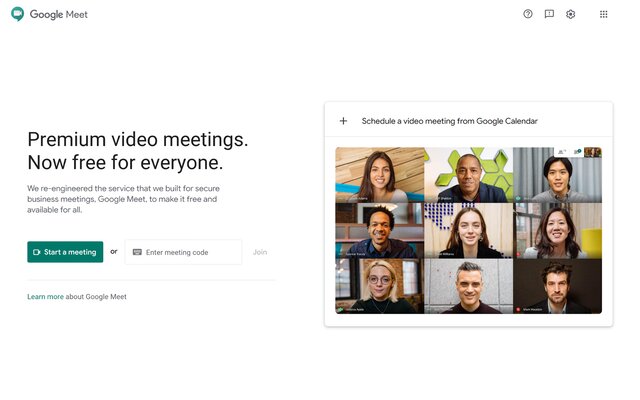 You might have noticed a recent pop-up in your Gmail account that leads you straight to starting a meeting on Google Meet. This team communication app has been around since 2017 but has seen an increase in users after the boom of remote work as it's one of the easiest to use video communication services out there. It allows you to easily get into any team call using your Google account as well as schedule video meetings using Google Calendar.
Pros
Easy setup and use

Fast integration with other Google apps

The free plan will provide just enough time for most meetings you might need in a work from home system
Cons
Limited extra options you'd otherwise find with common video conferencing tools

Only available in Google Chrome
Cost:
Free for meetings up to 1 hour. Paid plans start at $10/user/month.
Calendly
– schedule meetings without back-and-forths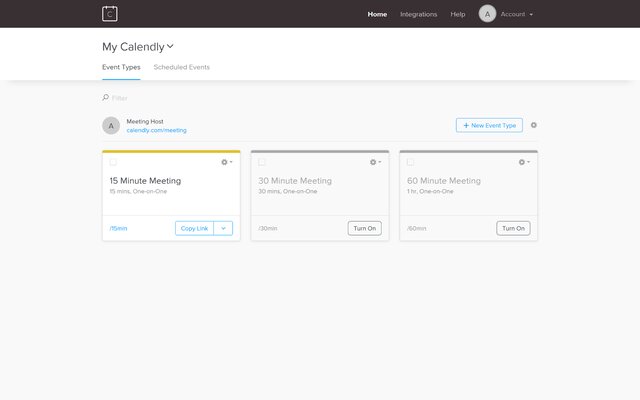 Calendly is a scheduling software that many of you have probably come across before. The tool is so popular that there's a high chance you might have already received a calendar link from a client, recruiter, or even your consultants. You get access to a few time slots to choose a time when you'd be available for a meeting. The main reason you'd want to use this tool [besides the reduced cost[ is that it literally acts like an assistant who is able to remember all of your meetings and schedule out new ones in your place.
Pros
Integrates with other calendar options so it's easy to sync your available dates and hours

Invite links can be customized

Notifications are automatically sent to your email

You can schedule unlimited events with all plans
Cons
No personalization possibilities with the free option
Cost:
The free plan will do for most users while paid options [starting at $8/user/month] bring in a few extra features such as multiple calendar connections or the ability to remove the Calendly branding.
Fleep
– smarter messaging to keep team check-ins organized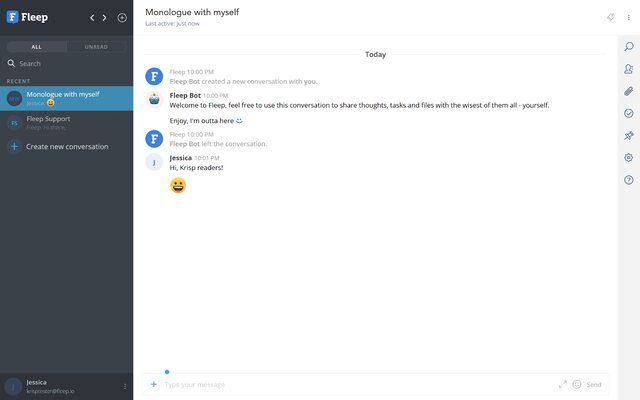 With so many new people getting to test Slack, they've also started to find issues of all kinds. Fleep is an alternative to Slack which acts more or less similar to an email inbox's interface, making it extra easy for people to start using on a regular basis. While this team communication tool is not as popular, the reasons why people opt for Fleep as one of the best team chat apps instead is the native task management feature. Additionally, the indicators that show you when people have seen your message make for more effective and delay-free communication.
Pros
Easy to get accustomed to and can be set up in seconds

The free plan is not restricted to a set number of users

Multiple integrations to choose from
Cons
Unlimited options available only with paid plans

No native video calling feature
Cost:
There's a free plan and the paid ones start at a mere €5/user/month.
Groove
– customer service without confusion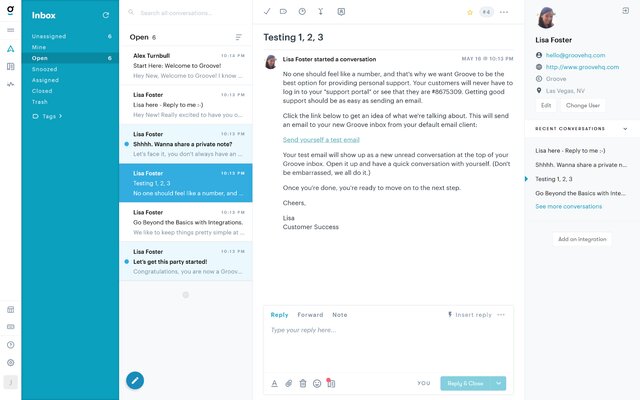 Find it hard to keep up with client messages and distribute them among your team? If you need a more advanced tool that's a mix of Slack and email, give Groove a try. What's genius about the tool is that it works both as a team collaboration tool and a customer service app, allowing you to take care of all customer requests without clashing with your colleagues. You can even create your Knowledge Base from Groove so there's no need for you to turn to yet another tool for this.
Pros
Advanced features such as reporting, statuses, and collision detection to prevent double replies

Multiple integrations to choose from

Rules and automation
Cons
Cost:
Paid plans start at $9/user/month but, wait for it, with the current offer you get 4 months for free with all paid options.
Donut
– Slack app to help you team bond
The first use you'll find for Donut is to onboard new hires. Share all the info they need to get started and connect them with a colleague from day 1. Team bonds can also be strengthened through Donut as it pairs colleagues from different teams to get to know each other over a cup of coffee, virtually or in real life. Perfect for raising your employee retention levels and keeping your team happy.
Pros
Multiple uses throughout all team communication stages

Easy to use and integrate into your daily collaboration activities
Cons
Cost:
A free plan is available for small teams. Paid options start at $49/month.
Join.me
– complete video conferencing features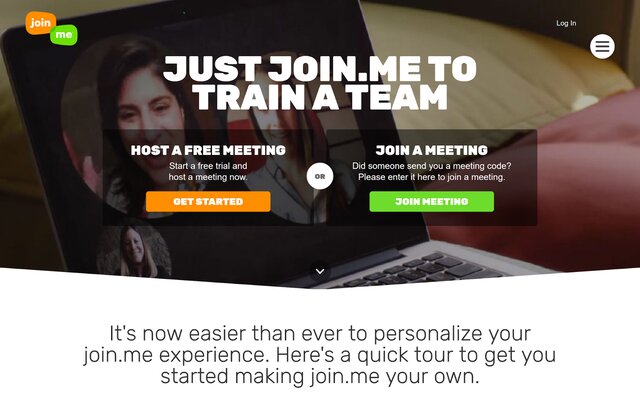 Join.me is a simple-to-use Zoom alternative where anyone can customize their meeting URLs, record meetings, and even make international calls. This team communication tool also allows screen sharing and even sending files so you can use it for collaborating with your colleagues whether that's for company-wide meetings or one-on-ones.
Pros
Easy to use features, particularly the screen sharing option

Meeting backgrounds you can change

Customizable URLs to share with meeting participants
Cons
Cost:
Plans for this team communication software start at $10/user/month.
Milanote
– a visual note-taking app to handle creative projects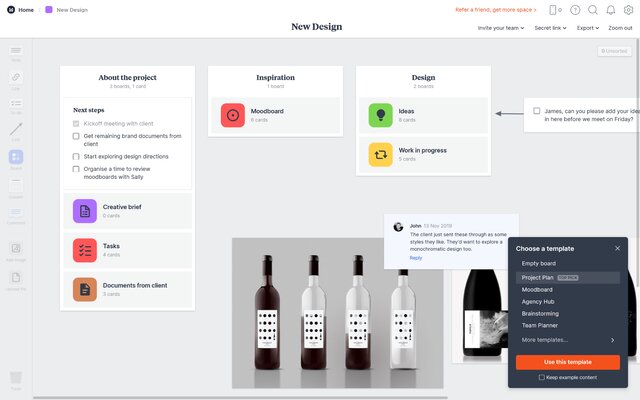 Milanote initially appears to be another note-taking tool similar to the more familiar Evernote. The difference is that it targets mainly creatives and allows them to use Milanote as a visual replacement for common project management tools. Complete with to-do lists, project templates, and file storage. This being said, the interface of the tool makes it extra simple for anyone to use through drag-and-drop actions that will reduce admin time considerably.
Pros
A free plan is available allowing you to share unlimited boards

Easy to use and export

Multiple device availability
Cons
Certain features including the unlimited storage and the search option across different boards are only available with the paid plan
Cost:
The team communication app can be used for free while the paid option costs $9.99/user/month when billed annually.
Discord
– gaming community platform tech companies are actually using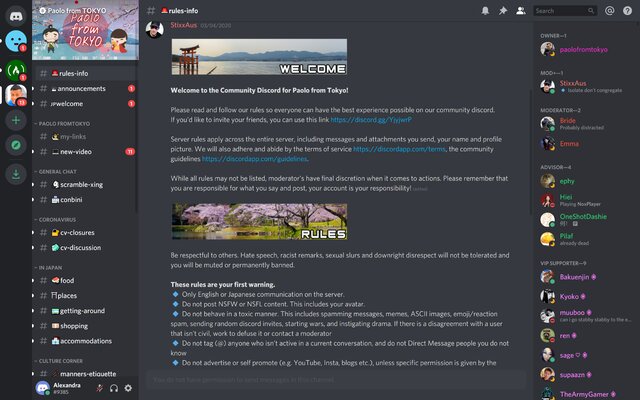 Just like Slack, Discord has been used both for building communities and maintaining small team chats. The difference is that Discord set out primarily with a focus on building communities and bringing in larger numbers of people to one chatting place. Nevertheless, the reliability and security options of the platform have made it a fun choice for smaller teams as well. Despite a difference in concepts, the tool does come with essential team communication features such as voice and video calls and screen sharing. 
Discord wins huge bonus points thanks to how easy it is for users to switch from one community to another without having to reconnect multiple times. Best part? There's no limit to viewing your past messages like Slack has so you won't have to argue with your colleagues on what's been discussed months ago.
Pros
Fun use experienced

Top security features

Available on different devices

No need to pay to view your message history
Cons
Sending large files is limited for the paid plan
Cost:
Use it for free or opt for the Nitro plan [$9.99/month] if you want fun customization options.
Yac
– voice messaging to replace meetings
Let's face it. Sometimes typing every detail you need to tell to a colleague is tiring and time-consuming. But we don't always have time for one more meeting. Especially when teams are distributed all over the world. 
Yac was created to reduce the need for meetings and make discussions more effective through voice messaging. Simply put, this is what the app does: it allows employees to send short voice recordings instead of typing everything. Plus, you can also record the screen for better explainer videos. There's just no way you could miss any info through Yac since there's no possibility for you to skim through the messages.
Pros
The free plan will be just enough for small teams

Simple to use with a clean design

Screen sharing feature

Available on different devices so you can offer feedback on the go
Cons
No audio calls or real-time chat support
Cost:
The tool provides unlimited messages and users for free but if you'll need group messaging and integrations you need to go for the $5/user/month plan.
How to choose the best team communication apps for your needs
Now that you've got an overlook at all the communication tools you need to consider, we're moving on to the hardest part: deciding which team collaboration apps to actually add to your tech stack. Using all of the ones above is clearly not a friendly option for your budget and team organization. Instead, think of using just 2-3.
What your team's requirements are when it comes to collaborating with no issues
The most important aspect to consider when choosing an app for team communication is what your employee's needs are. Any team will have to use a tool that allows employees to organize their tasks and messages. Remotely, things change a bit. You're also looking at a mandatory video conferencing feature along with any extra options to keep team members productive. That can be anything from noise cancelling, changing video call backgrounds, or time tracking.
How the team communication app fits in with your current tool stack
An intermediary step is to consider the rest of the tools you've already been using. Particularly the ones you don't want to replace. If you're sold on Slack and don't consider an alternative, look for the options that integrate effectively with current software. Krisp and Donut are just two of the examples that can improve overall productivity and employee engagement when paired together.
Multiple device support and brilliant UX
Larger teams that have teams scattered across the globe, working from an office or even a beach will also want to check the availability of the tool on multiple platforms. Ease of use is another key factor to test before choosing your next tool. The good news is that all of the tools in our list should be simple to use even for people who have no technical knowledge or just prefer highly-visual apps.
Remote work calling for extra digital security
Believe it or not, most data breaches in a typical office setup have come from a company's employees. With remote work though, we're all becoming more vulnerable to external attacks and many employees are not trained to handle these. To maintain online privacy, choose a tool that offers security features such as two-factor authentication and not allowing users to create simple passwords. With video calls posing a real threat to employee's personal privacy, you'll need to start considering background images, noise-cancelling apps, and more varied meeting permissions as serious solutions.
Do take everything above into consideration to ensure a complete and secure team communication experience. Remote or not, an employee collaboration app is among the first tools to add to your stack even before you start doing any work. So take the time to test out these tools with 5+ team members. Review them together so everyone in the team can bring in their suggestions as to what features they'd love to see.