When looking for tools to create your podcast, it can be a minefield trying to find the best quality apps and software to improve your production quality. Perhaps you're new to becoming a podcaster, or maybe you've hosted a professional podcast for a while and want to upgrade your software and tools.
Where do you find the best intro music? What's the best way to cancel background noise? How can you find the right podcast tools and resources to produce the most engaging, exciting content?
Look no further. We bring you the lowdown of the top ten best podcasting tools that will help you make your podcast production completely FIRE.
Podcast tools and resources
#1 Professional Microphone
This super-slick Marantz mic not only looks good on your desk, but it does the trick if you're looking for effective podcast tools for podcasters. It's affordable, has a desktop stand and has a shock mount, as well as an XLR cable.
The directional cardioid mic capsule reduces ambient noise, and it's high sensitivity and low signal to noise ratio means it picks up only the sounds you want to hear. Crisp quality, at a good price.
#2 Quality Headphones 
Headphones are a must when you're recording a podcast, because you need to be picking up every single tiny detail, especially if you're wanting your podcast to be the slickest, most impressive quality.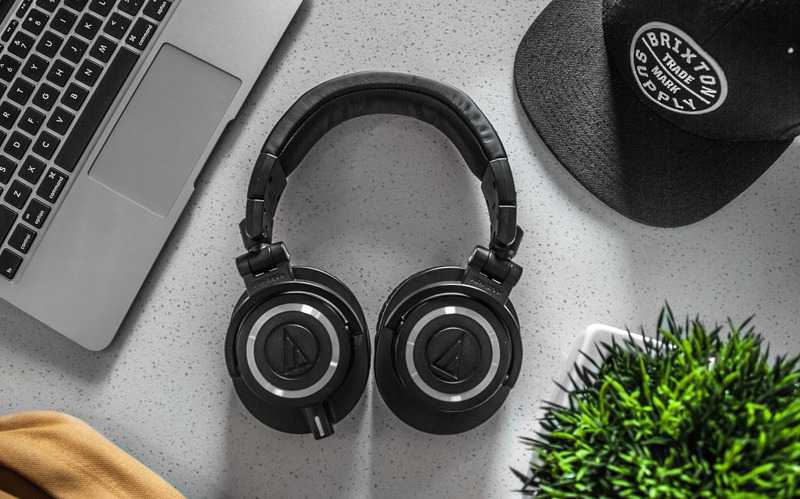 These beautiful Sennheiser grey headphones have lightweight aluminum voice coils, acoustic silk, and high power neodynamium magnets. The best thing about these are that they're lightweight, and so even if you're sitting recording a podcast for hours on end, your head will still be comfortable.
#3  Audio interface 
Having an audio interface as a podcaster means you can control various audio levels as your show is recorded. This can be valuable if, for example, you have several guests in your studio and they're engaging in a debate. You want to make sure that they each get heard, but at the same time don't want to pick up the other person if they're sitting there shuffling some papers whilst the other person speaks.
The Behringer is a must for any audiophile, and is compatible with popular recording software including Avid pro tools, Ableton live, and Steinberg cubase. If you're on a budget this audio interface is perfect at just £29.99 – you can just plug it into your PC or Mac and start recording.
#4  Microphone cable
A cable is a handy tool in the podcasters tool box because it can be used for any wi-fi issues and as a back up at live events when a podcast is being recorded. No matter how good your microphone is, you always need to think about backups – often you won't be able to rearrange this time to record again! So prepare for every eventuality by keeping a microphone cable in your list of podcast tools.
This 6ft cable is the perfect length for a podcaster – not too long to carry and robust enough to last you the length of your podcasting career.
#5 Portable recorder
So what if you're recording your podcast on the move, and conducting interviews? You need a robust, heavy duty portable recorder, like this Zoom H6. It's amazing for  things like live podcast recording as well as studio-quality music production. The portable H6 offers six tracks of simultaneous recording and four mic/line inputs. 
What's more, it has an internal storage of a whopping 128GB, so you can rest assured that all of your podcast recordings will be easily stored.
#6 Podcast Mixer
If you want professional quality, it's wise to add a studio mixer to your list of podcast tools. With it's built in EQ, the Sabian sound kit will allow you to create outstanding quality audio. Perhaps you want your audio to perfectly fade out, or you'd like to create your own intro music. 
Using a mixer is a must-have podcast tool for podcasters who want to take their podcast to the next level. Yes, it's a little more pricey than the average podcast tool, but it's one that will show your listeners that you represent high quality.
#7 Microphone shock mount 
When you're a podcaster, you know that a whole host of things can interrupt your podcast. The dog barking, the unexpected cough, the nudge of the mic… a shock mount is a good way to mitigate some of these mishaps.
It protects your mic so you're less likely to knock it, spray saliva on it, or worse still – drop it and damage it. Armed with a pop filter, it has a U-shaped double net layer structure, foam layer, metal net to keep it nice and secure.
Made of high quality metal and high elasticity rope, the shock mount is designed in such a way to make the microphone more convenient to install and prevent the microphone from falling.
#8 Isolation shield
If you're in an area that's a little noisy (think planes flying overhead or noise from lawn mowers outside), it might be wise to invest in an isolation shield for recording your podcast. This Neewer shield is lightweight and portable, meaning you can easily carry it from room to room should you need to change locations.
Any podcast tool worth its salt should be made of premium materials, because you don't want any unnecessary noise creeping in. This shield has an ABS plastic cover, high density noise-absorbing acoustic foam and a metal-made tripod to make it durable and stable.
#9 Royalty free music
Whatever industry you're in, nothing can compete with a cool intro. Audiojungle has tons of royalty free music, starting from as little as $1. Your podcast listeners will start to think of your brand whenever they hear that sound, so it's important to get it right.
The good thing about this website is that you can try before you buy, listening to hundreds of different sounds that might be well-placed for your podcast.
Make sure any music you buy or license is royalty free. A big mistake you can make as a podcaster is to get music that isn't commercially licensed, which may mean you have to re-edit all of your podcast shows – and nobody wants that!
#10 Noise-cancelling software 
Lastly, we couldn't finish this article without letting you know of one of the BEST podcast tools for podcasters out there – Krisp. Of course, we *may* be a little bit biased, but if you're looking for studio-like audio quality that impresses even the most seasoned of podcast listeners, get your hands on our app.
Krisp is an AI-powered noise cancelling app that mutes background noise in real-time calls, making your remote meetings and podcast recordings super-crisp anytime and anywhere.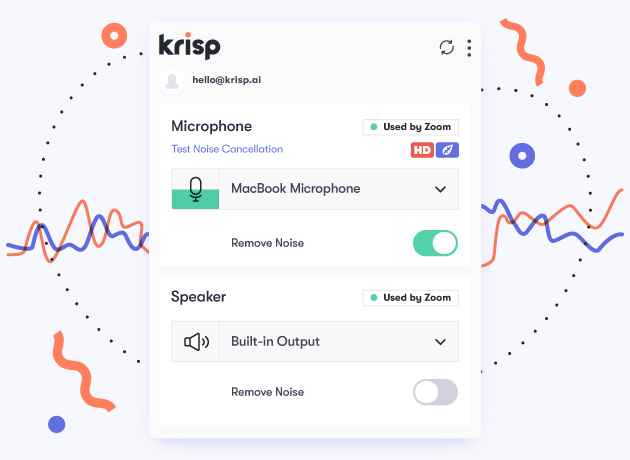 Yup, no need for elaborate soundproofing materials or fancy mics. Or the need to buy expensive recording equipment or spend time on post-production to remove noise with plugins. Additionally, it's useful for conducting remote podcast interviews, as it works with almost any communication app (Zoom, Meet, etc). A cost-effective option if you want professional quality.
Podcasting tools for success
So there you have it. Whether you're brand new to podcasting or a seasoned professional, these podcast tools will have you delivering smooth, crisp, and engaging audio to your audience of listeners.
You don't need to have a huge budget to have a high quality podcast – just some fantastic podcast tools in your repertoire, which means your show has the best chance of becoming a success.