The big day is finally here!
Through all this time we have learned a lot from your feedback about Krisp, and we thought of more ways to make the app more enjoyable and useful for you. Thanks to your endless love and support, we finally made sure you get the most out of Krisp!

Krisp for Windows is featured on Product Hunt! Come show us some love 🙂
After a lot of sleepless nights our ultimate noise cancelling app is now available for both Mac and Windows. And that's not the only thing – we have more surprises packed and ready for you to open it. By the way, we have a cool new interface for Krisp for Mac!
Loving it? Let's check out the most important news of the day:
Krisp for Windows is Now Available!
We are officially launching our Krisp app for Windows.
It works the same way as Krisp for Mac, which means you get to remove background noise during your calls without any effort. Of course, the app's noise cancellation is bi-directional, which means that it removes both incoming and outgoing noise on both ends of the call.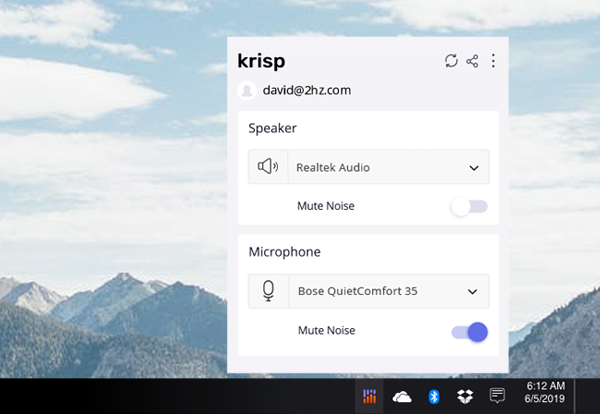 You can speak and listen without noise while in a call with your friends, business partners or digital nomad buddies at anytime from anywhere!
The coolest part is that Krisp for Mac & Windows works with:
Any communications app that allows you to change the audio settings

Any headset or headphones of your choice

Any microphone & speaker, both wired and wireless
We want to make sure your calling experience is fully enhanced, pleasurable and productive and we can't wait for you to give Krisp for Windows a try!
Now that we got this covered, let's see what other exciting new features we have come up with thanks to you!
Krisp for Individuals & Teams
We want to make sure everyone benefits from Krisp, and we tailored free and paid plans separately both for individuals and teams. Stay tuned until the end though, we have a generous friend referral program you definitely wanna check out!
Krisp for Individuals
Krisp for Individuals can work great for all of the remote workers, extreme vagabonds & digital nomads, location independent pals and freelancers out there. This is your best pick for urgent remote conferencing while traveling, or a business call from a noisy coffeeshop or coworking space.
Now if you want to remove noise on your side as well, you will have to upgrade to Krisp Premium. Learn more about Krisp pricing plans and enjoy noiseless calls from both ends.
Krisp for Teams
Krisp for Teams will save the day for all the small teams, enterprises and call centers who communicate with customers and have remote conferences on a daily basis. It also offers Central management for team members and billing.
First, register with your business email and create your admin account, then share Krisp with all of your coworkers and you're all set to remove the noise from your calls. By the way, you can manage the entire workspace as an admin and edit the user list whenever you need. 
This will help you enhance internal communication between the teams, increase the productivity of the calls as well as the overall customer experience.

As always, you can mute other call participants' noise in the call free of charge. You can upgrade to the Krisp Premium version and mute noise going from you as well. 
You can remove both incoming and outgoing noises together with your team, so check out the available pricing plans for teams. 
Krisp Referral Program
We believe that sharing is caring, and it would be great for everyone to have noise-free calls at anytime. We have thought of ways to make Krisp available for both you and your friends, so that all of you can benefit with better calls.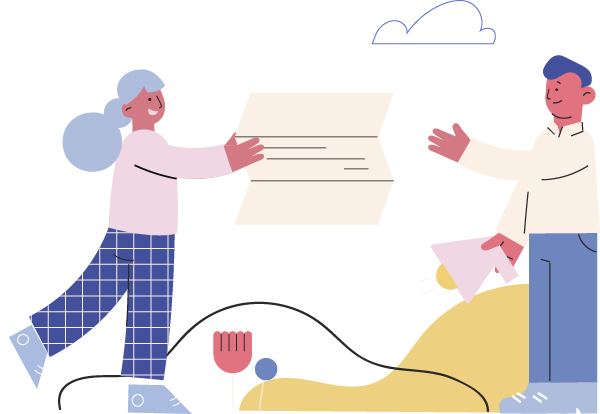 All you have to do is spread the word and share our nifty noise cancelling app with them and you'll get free access to Krisp for up to a year!
Let's break down how this works for all the plans.
Krisp for Individuals:
If you invite friends with a personal link provided by us, you will acquire credits that will let you extend your free trial of using Krisp.
In case you share Krisp with only one friend, you'll get the following trial extension:

While if you share it with 2 friends, you can enjoy the app for way longer:


Krisp for Teams:
You have to make sure that you register with a corporate email to be able to send our invite link to your coworkers.
Once you do, invite your entire team with the same corporate email within the first 7 days of your registration and you can use Krisp together for up to 6 months! How cool is that?
That's all the exciting news we've got for you thus far! So what are you waiting for? Visit us at krisp.ai and make your magic Krisp work! We are looking forward to hearing your feedback and keep improving Krisp 🙂
We are thankful for all the support you have shown us and we wouldn't have grown this big without you. Join us in our journey with Krisp and let's fight the noise together!