It's time to reveal some big news that we've been tirelessly working on over the past few months. 
At Krisp, our ultimate goal is to help you have noiseless and productive calls whenever you are. Especially now, when most of you work remotely from home and background noise can be really distracting. 
We always thought it would be great to have a Krisp Extension in addition to the desktop version. While you could use Krisp for Desktop with Google Chrome, you had to play with the settings both in Krisp and Google Chrome, and this brought a lot of inconveniences.
Until recently, this was the only feasible solution as building noise cancelling extension for a browser wasn't technologically possible for a number of reasons. Google Chrome didn't have audio filters and running a big real-time machine learning model inside the browser seemed impossible.
Well, giving up wasn't an option for us and our team has worked tirelessly to bring this idea to life. We've learned new non-trivial technologies, solved really complex problems and made a lot of experiments. As a result, we've developed a special model which is 10 times lighter, faster and works in real time inside the extension.
So, we're finally ready to present you with this truly innovative solution.

Why you should try Krisp for Chrome:
With Krisp Chrome Extension you can now enjoy noise-free conference calls directly in your Chrome browser with a single button! No more hassle with the settings, selection of microphones and speakers — just one click and background noise is gone.
Speak without noise
You can remove the background noise going from you to other participants during the call by simply clicking on one button. We made it pretty big this time 😉 
Use with any web conferencing app
The extension works in any app that you can make calls within Google Chrome. It supports Google Hangouts, Google Meet, Bluejeans, UberConference, Webex, GoToMeeting, Facebook Messenger, Whereby, Zendesk, Talkdesk, Slack Web, Zoom Web, and many others. 
Enjoy hassle-free experience
It's super easy to install Krisp's extension and get it going. You no longer need to play with the settings inside Chrome to set it up, just install the extension and let it do the rest for you. 
Use with any headphones & microphones
You can set up and use Krisp with any microphones and external headsets, both wired and wireless.
Harness the power of AI
Underneath Krisp's Chrome Extension is the world's best AI-powered noise-canceling technology. With some magic, we adapted it to work inside the browser extension environment while being ten times lighter, faster and performing quality noise cancellation in real-time. 
How to set up Krisp for Chrome:
Step 1 – Add Krisp for Chrome extension from Chrome Web Store.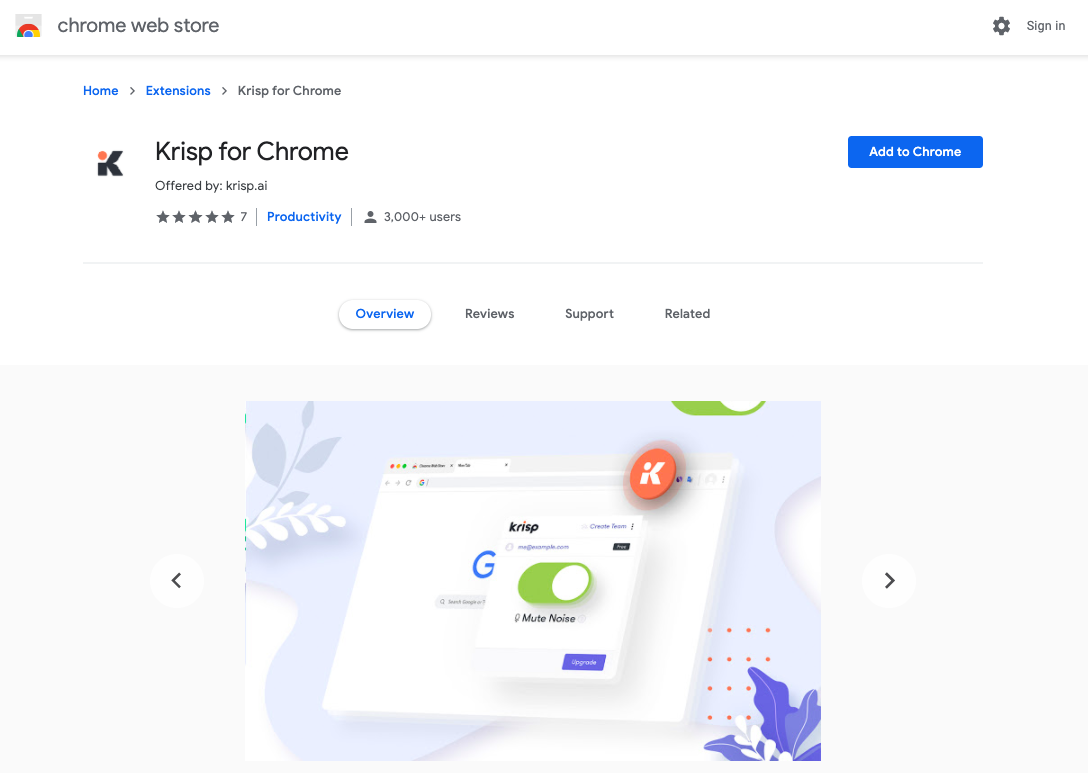 Step 2 – Sign in to your Krisp account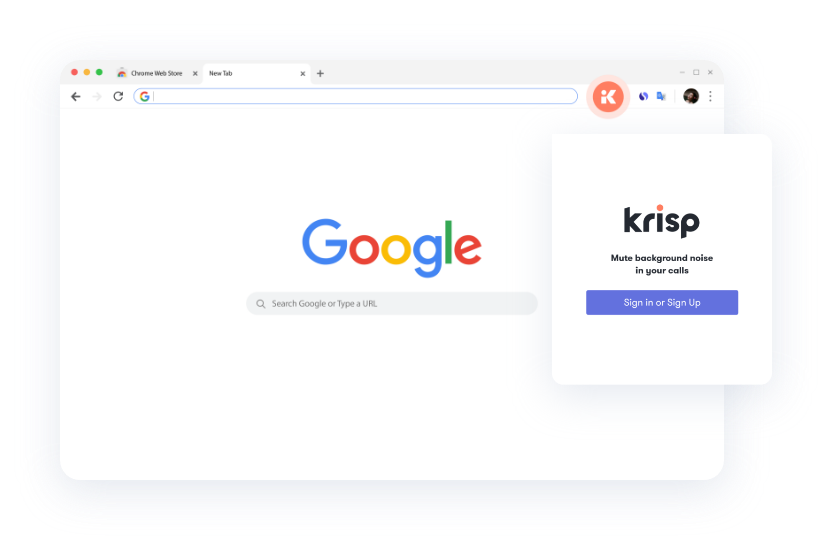 Step 3 – Turn on Krisp's noise-cancelling button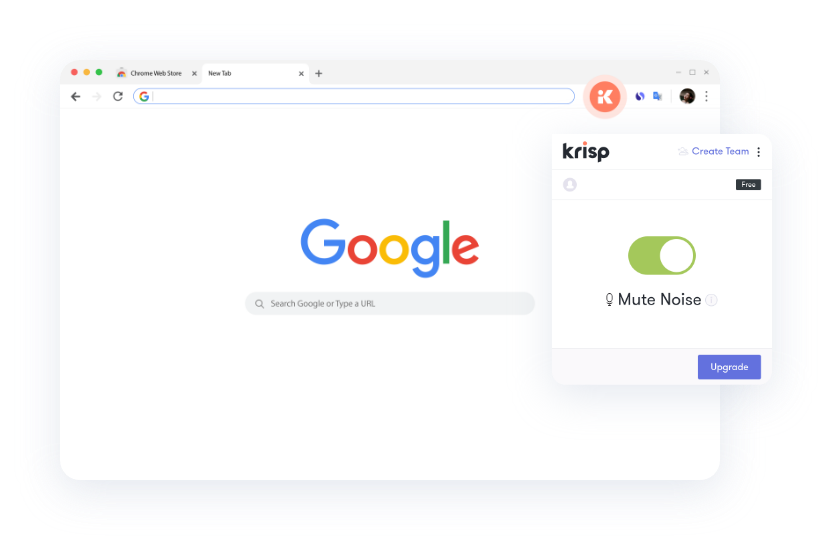 And enjoy your noise-free conference calls! You can use Krisp for free 120 minutes per week.
Easy as that! Now there's no excuse for background noise! 😉
Making productive and noiseless calls on the web has never been easier than now. All you need is the Krisp Chrome extension and you're set.
How excited are you to have Krisp for Chrome? Tweet at us and let us know what you think!
P.S. Krisp is also available as an app for Mac, Windows and mobile dialer for iOS.