Ever feel like your team is not actively engaged in an audio conference? Or you've asked participants a question only to be faced with silence for half a minute? A lack of engagement is just one of the common audio conferencing problems you're bound to face during calls with your employees, colleagues, clients, and stakeholders. 
We've previously highlighted when you'd prefer using an audio conference over a video one. Yet, despite their widespread accessibility and apparent ease of use, there's quite a few common audio conferencing problems you could bump into.
Here's how to fix them!
Check your equipment before the start of a call to prevent misunderstandings
Don't assume everything's going to work the right way because you had another meeting the previous day. Each tool has its specific settings that might impact the way audio is rendered. 
So test out your microphone at least 10 minutes before the start of an audio conference. This will give you enough time to troubleshoot any potential issues. You can also briefly record your speech to see if you're sitting too close or too far from the mic. 
Your mic or speaker volume could be too low during the call. This commonly leads to misunderstandings and loads of other back-and-forths needed to clarify a topic since you couldn't properly hear a participant.
Prevent audio conference background noises and echoes through Krisp
Your neighbor's dogs don't seem to stop barking whenever you're on a call? Got no soundproofed room to kill that echo during conferences? 
Background sounds are huge distractors, impacting our ability to concentrate and stay engaged. That's why you'll often have conference participants straying away from a subject, fidgeting around, or thinking about what they're going to do later that day.
Krisp removes all background noises and echoes during live audio conferences so the audio quality stays clear. This comes in handy if you want to record your audio call and share it with team members who couldn't attend or post it up on YouTube. In fact, the tool's HD voice feature makes for a final recording that mimics professional studio ones — with no post-production editing needed.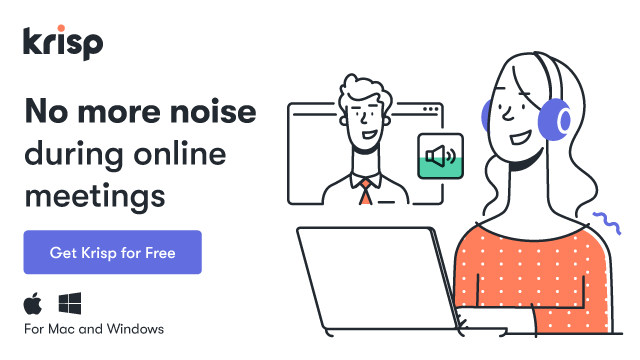 Extra tip: Use a headset and avoid using speakerphones so other participants won't have problems hearing you because of the unbearable echoes or buzzing sounds.
Fix other audio quality issues on time
Whether you're looking to impress company stakeholders or put a top-notch recording of the call out there, better recording tech will most likely fix the audio quality issue.
Here's a good selection of starting equipment that won't break the bank:
Blue Yeti USB Mic – a great solution if you want to record your conferences

FIFINE K669 – one of the best-rated mics under $50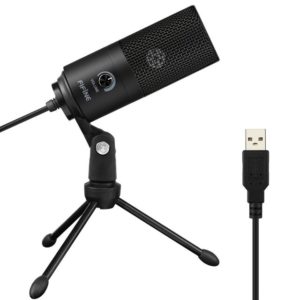 MV5 Digital Condenser Microphone – if you need a smaller mic to carry around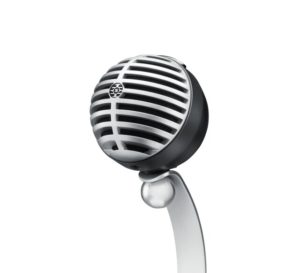 Neewer USB Microphone Kit – complete set for multi-purpose use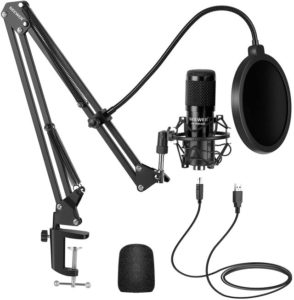 If you're using Krisp, you won't need the most expensive mic on the market as the tool will improve and maintain the quality of your voice. To avoid distracting "p" and "b" sounds, add a pop filter screen to whatever microphone you already have. Drop an eye over our essential audio recording guide for more pro tips.
Pro tip: Maintain the right distance from your mic. Sit no closer than 3 inches when in a call and try to keep the same distance throughout the entire conference, especially if you're recording.
For improved audio quality, keep your software updated. The majority of audio conferencing platforms push out regular updates that will improve the performance of a conference, some of them being focused on audio quality too. This prevents delays to the start of a meeting because a participant hadn't updated the app on their end.
Truth is some conferencing tools offer better audio quality than others. So it's a good idea to test multiple options internally. Users of the most popular solution, Zoom, often notice the audio quality isn't the best in addition to regular lags. 
LoopUp, on the other hand, was built to provide high-quality remote meetings at an enterprise level. Other options like StartMeeting, Dialpad UberConference, and Fuze offer HD audio quality by default. However, remember there's no standard for defining the quality of a conference's audio so it will still differ from one tool to another.
Know when it's appropriate to mute yourself
Audio quality is another audio conferencing problem that can be improved by muting participants who are not speaking. 
So a must-have feature for your next audio conferencing solution is the mute button users can activate when they're done with their speech. Staying on mute when you're not sharing your thoughts prevents unwanted buzzing and background sounds from interrupting others or entirely covering what they're saying.
As a host, you'll want a tool with strong conference moderation options. These include being able to ask participants to mute themselves, blocking spammy or rude participants, or providing closed captioning.
Regularly using Zoom? Check out our complete guide to becoming a pro at moderating and muting Zoom calls.
Try on-hold music and other tricks to keep people engaged as they wait for the conference to start
In a non-visual setting, the casual talk you'd have at the start of a meeting is harder to maintain. For an audio conference, you can keep participants on hold by finding ways of keeping them engaged. 
A good solution is to choose a fun jam to get them ready for the meeting. Get your team to contribute to a playlist or take inspiration from existing Spotify playlists for pre-meeting time. You can host your playlists anywhere (e.g. YouTube, SoundCloud, etc.) or have them play in the background before the start while everyone's still on mute. Spotify has a Group Session feature that lets you send a playlist or podcast to your team so they can listen to it at the same time. Talk about fun collaboration!
You can send a poll or ask a question you'll later discuss during the conference. All this means you've done your duty to get familiar with new participants or better know your team, their interests, and their struggles.
In fact, pre-conference time is perfect to share the goal of a call and introduce each speaker. This is particularly helpful in the absence of video as it will help call participants meet new team members or speakers and ask the right questions later on. 
For small conferences, you can attribute roles to each indeed. Someone could keep track of time while another person could be responsible for making sure no one is left out of the conversation. Having small tasks throughout an audio meeting helps attendees stay focused on every single thing that's being said.
Ditch neverending audio calls for on-point meetings
If you want to share an update, calling a new conference isn't the best idea. You can replace status updates or simple Q&As with written conversations via email, your preferred team communication tool, or record your queries using a tool like Yac — a good idea if you promote asynchronous collaboration.
For all other conference purposes, maintain a clear structure you won't stay away from. That's why all audio conferences need to have a moderator who can:
Prioritize discussion topics

Prevent late-comers from disrupting the conversation

Decide who can speak next and how much time they have

Make sure every participant contributes to the call
Be wary of potential situations that could lead you to waste time and prolong a meeting unnecessarily:
Not setting time limits for the audio conference's sections

Not sharing a meeting agenda and expectations prior to the meeting, leaving participants unprepared for the feedback they should offer

Forgetting to remind participants to check their tech and update their software beforehand or not helping with audio conferencing troubleshooting

Digressing from the main topic of a meeting and starting to talk about non-work related topics outside of their dedicated time

Not having prepared enough materials or done the complete research prior to a call

Losing nearly

10 minutes

every time you don't set up the meeting before its start

Going into way too many details when assigning tasks during a meeting [Provide these to every individual after the call.]
Keep audio delays at bay
Another common audio conferencing problem is caused by delays and glitches that make a conversation unintelligible. 
Talk with your Internet provider to purchase higher upload speeds and fix the consistency of connection, especially when handling multiple downloads at the same time. Just like you test your equipment prior to the audio conference you can run a Wi-Fi speed test and pause all other downloads or browser tabs that could be slowing down your connection.
If you're working from home, you can ask your family to refrain from using the Wi-Fi and stick to their mobile data plans until the end of a call.
Final points to always keep in mind
And that's it! This is how you can fix all audio conferencing problems while also keeping participants engaged. 
On top of these, hold video conferences instead of audio ones whenever possible. Non-verbal cues such as facial expressions or gestures provide a huge helping hand in understanding a person's current mood and even figuring out more difficult concepts they're trying to explain. 
Plus, you can see if someone's speaking but they're still on mute so you can save them from having to go through everything once more time. Viewing a person's body language shows you if someone's fidgeting, having a side conversation, or losing their focus so you'll know when it's time to bring them back into the discussion.
Lastly, don't overdo it! Limit how many audio conferences you can hold on a weekly basis so your team or stakeholders won't be spending half of their time (or more) in these. When audio or video calls aren't a must, replace them with a written Slack channel or thread in your team's project management tool.
Note that over the past few months, remote teams have been participating in more meetings than ever before. However, the time they spend in a meeting has considerably decreased. Breaking a day into multiple meetings will only distract your employees so keep all information for one daily or weekly meeting.