Apple took their AirPods game to the next level when they launched their AirPods Pro. 
These headphones boast a number of critical features that are absent in their predecessor. Features like noise cancellation, sweat and water resistance, ear tips that come in different sizes, a slightly bigger carrying case that opens on the longer side, Lightning to USB-C cable, and much more.
But among all of these new functionalities, their noise-cancelling feature makes working and enjoying life with no background chattering accessible anywhere, whether you're at home, work, or on the go.
Next, we're having a look at how the AirPods Pro work and where they fail to meet all noise-cancelling needs.
Apple AirPods Pro features that make them ideal for work
The Pros fit more ears
I'm no stranger to having earbuds fall out of my ears all the time. And this could be your reality too. Whenever you do any strenuous activity, you begin to feel your AirPods coming loose and starting to fall out. 
While building the new Apple noise cancelling AirPods Pro, they took the struggles of people like us into consideration. The Pros come with small, medium, and large ear tips which can be switched depending on the user. Each of these is designed to provide a snug fit and a tight seal. 
Do you need to wear them while working out? No problem. The Pros are sweat and water resistant. Apple threw in "vents" in the new mix, so that when noise cancelling is on, you won't get the feeling that your head is under pressure (the feeling you get when your head is submerged in water.) The vents help to reduce wind noise significantly when you're on a voice call.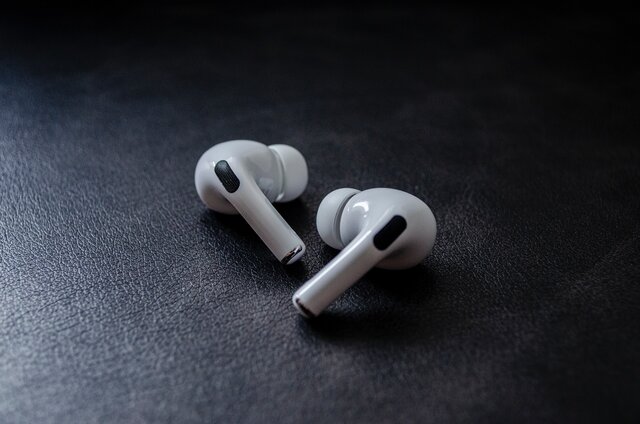 Their sound quality trumps that of standard Apple AirPods 
As far as sound quality is concerned the AirPods Pros beats the standard version. Listen to audio with the Pros and the first thing you'll notice is an improvement in the bass performance. This is because the Pros come with ear tips that make better seals with the ears. 
If for any reason, you decide to switch off noise cancellation you'll still get top-notch sound quality without having to turn up the volume really high to drown out the surrounding noise. 
The second reason the Pros have better sound quality is that Apple added a feature called Adaptive EQ [equalizer]. 
Remember Apple's HomePod and its spatial awareness that analyzes a room and adjusts its sound output to suit the structure of the room?
Adaptive EQ works the same way.
It uses one of the microphones inside the Pros to adjust low and mid frequencies of any audio based on the anatomy of your ear. This provides a unique listening experience since it's customized for you. This feature stays on as long as the noise cancellation is working. So once you switch to the transparency mode you can tell the difference almost immediately.
If you've been using the standard AirPods before and you loved the way it sounded then get ready to be wowed by the Pro. If you're looking for something heavy-duty with sound bleeding out to the surrounding then you might want to keep looking, Apple isn't there just yet.
The speed and ease with which the AirPods Pro connect to an iPhone is unmatched
All you need to do is flip open the AirPods' lid and bring it close to your iPhone. Your phone detects the noise-cancelling AirPods and a setup dialog box will appear on your screen. Hit connect and the phone will walk you through the setup process. After an initial setup, your iPhone will be able to connect automatically whenever you open the lid.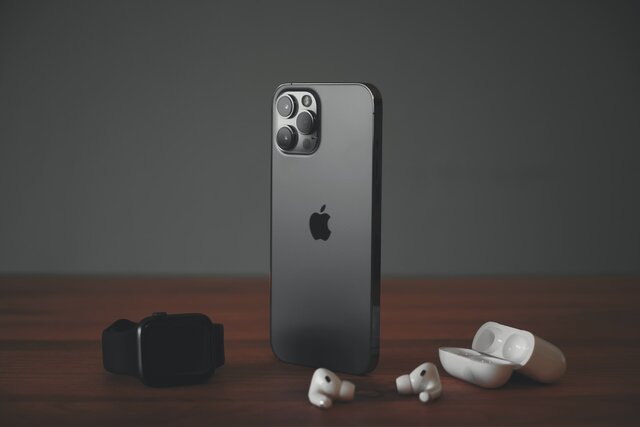 Apple puts a new spin on noise cancellation 
Before the Pros were released, one of the most annoying things about the standard AirPods is that in a noisy environment you'd have to turn up the volume to "hopefully" drown out the background chatter.
With the new feature release, users found the noise cancelling to work well enough to filter out surrounding noises. And they don't have to crank up the volume anymore. 
How did Apple redefine noise cancellation? – How the AirPods Pro noise-cancelling feature works
Apple uses their custom active noise cancelling technology for the AirPods Pro. The system is equipped with two microphones, an inward-facing mic and an outward-facing one. The outward-facing mic analyzes and detects noise coming from the outside so that the system can generate an anti-noise waveform to cancel it. The inward-facing mic listens for and cancels any noise that escapes from the external mic before it gets through to your ears.
Apple claims that its software allows noise reduction to be continuously adjusted at 200 times/second. This is made possible by their new H1 chip technology. Still, there's no headphone set that can entirely remove surrounding noises as all technologies focus on lowering background sounds instead.
This noise cancellation is an upgrade from Apple's Powerbeats Pro as the latter features noise isolation rather than cancellation.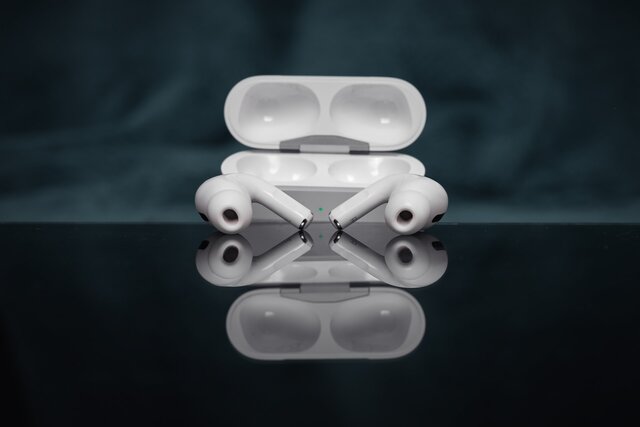 The transparency mode offers the best of both worlds
There will be times when despite wearing your noise-cancelling AirPods and listening to audio entertainment you'll also need to listen to what's going on in your immediate surrounding: announcements at an airport, car horns if you're taking a walk on a slightly busy road with cars coming behind you every now and then…
The noise-cancelling AirPods allow you to quickly switch to transparency mode if you want to be aware of what's going on around you. 
There are two ways to switch between the active noise reduction mode and the transparency one. 
Long press (squeeze and hold) the touch button on the stem of either earbud until it switches on.

Make the switch directly from the control center of your iPhone or iPad.
Why you need a pair of headphones to block out the noise
Current users seem to be pleased with the level of noise cancelling these Apple AirPods offer. This makes them an ideal choice for any professional who's working either from home or from the office and looking to get some quiet time to focus on their work. Simply put, you'll be able to work from anywhere whether it's a crowded coffee shop, a busy office, or a bustling home.
On one hand, background disruptors can harm productivity leading to unmotivated employees who will struggle to rack their brains just to finish a task. 
But noise can have more serious long-term consequences, taking a toll on workers' health. Studies show that thousands of people suffer from work-related hearing issues every single year. These problems are common in industries such as energy extraction, manufacturing, or construction. Keep in mind the Apple AirPods Pro aren't suited for work in a similar environment so you'll need to look for heavy-duty earphones instead.
If you will, the Pros work best for professionals who are looking to use them both for an office job and for personal purposes like unwinding or traveling. Their water-resistance makes them ideal for working out and some even use them while running. Be aware though: their fitted ear tips still don't guarantee you won't lose them. Plus, despite their transparency mode, they're not safe to use with any kind of traffic nearby. If you're an Android user looking for effective voice isolation Android, there are noise-canceling apps available that can enhance your audio experience in noisy environments.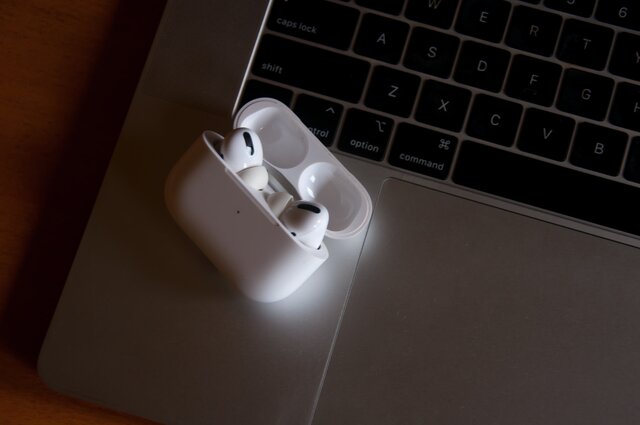 What about surrounding noises that can disturb a meeting?
But the Apple AirPods Pro doesn't cancel out noise for others as well. That's where Krisp comes in to automatically remove background chattering, dog barking, and other noises on both ends of the conversation — all in real-time. 
[demo-new]
This means you can hold team meetings, host a webinar, or live stream with clear sounds and no interruptions. Your team won't hear your dogs bark and they'll be able to fully understand what you're saying so no further misunderstandings will affect your collaboration. Similarly, you can remove unwanted noise from other speakers so you don't get distracted by them and miss out on information.
Here's Krisp in action:
The HD voice and echo cancellation functionalities make it a perfect fit for podcasters. 
You won't need a studio-like setting to record your podcasts or video interviews and you're saving on loads of time you'd otherwise need to spend editing your audio quality. Everything works in a low-power mode too so you can spare your CPU and save your battery's power, regardless of how many apps you have on.
You can connect the noise-cancelling app to any third-party tool that accepts Krisp as the audio input [like Adobe Audition or Audacity] or use it with your favorite video call tool.
Are the Apple AirPods Pro worth your $249?
With features such as noise cancellation; transparency; sweat and water resistance; ear tips of various sizes for increased comfort and better seal; and improved features like superior sound quality and seamless pairing with iOS devices; the Pros seems to be the best option for most professionals.
In simple terms, as an iPhone user nothing beats the AirPods and the best of them at the moment is the AirPods Pro with active noise cancellation.
But do the Apple noise cancelling AirPods Pro live up to the hype? 
They certainly do, but keep in mind they're limited to blocking out noise for you. Use Krisp with your recording or video conferencing tools instead if you want to completely remove background sounds in real-time.