Choosing the tech stack for your first podcast sure can be a hassle, right?
We're going over 11+ podcast tools we've tested for you, each for a slightly different use case. Note you won't need all of these. Three apps will be enough for recording and editing:

A tool for recording and editing.

A solution to keep your audio clear.

A platform to create sound effects or music for your intro section, commercial breaks, or ending and call-to-action.
You can follow this with extra software for hosting your podcast or promoting it to your network.
But first…
What to consider when creating your podcasting tech stack
To help you sort through this list and choose the ones that match your requirements, here's a brief list of points to pay attention to when you're trying the podcast software yourself:
What features you need

If you want a tool to help with both recording and editing

What your budget's limits are

What device you're going to use to record the podcasts

If you want the apps to have a quick learning curve or are willing to take the time to learn a feature-heavy app

What the user reviews say in terms of usability and functionality for both the host and guest
Let's get to the list of the best podcast software to try out! We've tested and ordered these so each tool will have a unique purpose or suit a separate type of user.
Audacity
– your podcast recording best friend, for free
This is a common choice among podcasters thanks to its free plan that offers all the editing features you might need at the start. The open-source podcasting platform isn't the most user-friendly one though but this is because of its complexity.
Core Audacity features you'll find helpful include the Silence Finder that lets you split recordings into shorter tracks without manually deleting silence time or Synch-Lock Tracks for multitrack editing. The tool also comes with sound effects like echo or distortion so you can use it to later edit your audio for diverse purposes.
Platforms: Mac, Windows
Krisp
– to maintain clear audio recordings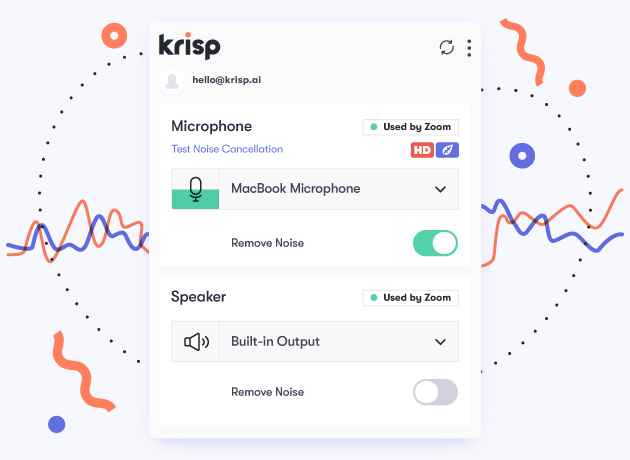 Ever dreamed of skipping post-recording audio tweaking? You can now simply record your podcasts or interviews with Krisp turned on and it will automatically block all background noises. The extra HD voice and room/acoustic echo removal features make for clear sounds — just like recording in a professional studio.
The noise-cancelling tool works with any third-party app that allows adding Krisp as the audio input. All you have to do next is cut your audio snippets, sync them, and you're done.
Platforms: Mac, Windows
GarageBand
– for that intro jam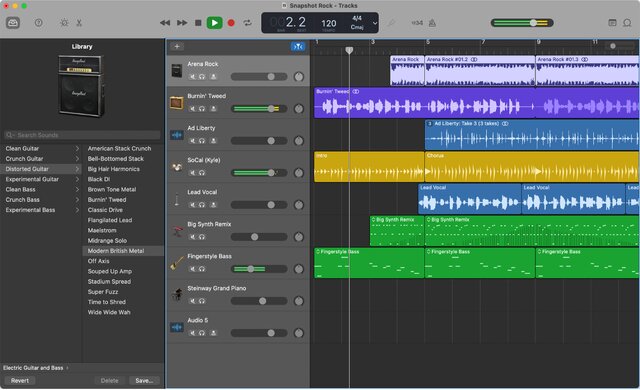 If you have a Mac, you already have this music creation app installed on your device. The tool is free to use and actually has a mobile app (unlike Audacity) you can use to record sounds on the go. 
Its main use is for creating music though. While not as extensive as a professional music production tool, GarageBand is perfect for first-time podcasters who need to record a memorable intro song, background jams, or create their own sound effects.
Platforms: Mac, iOS
Zencastr
– user-friendly podcast recording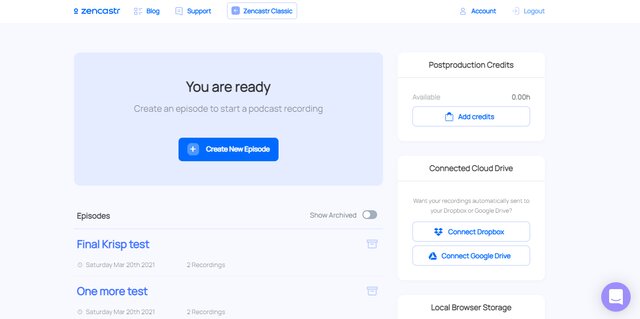 This podcast software takes literally no time to learn as its super intuitive interface makes it easy to understand what each feature does. This makes it the perfect choice if you want to invite multiple people to join the podcast recording. 
There's also a smart pop-up that lets you know if all sound and video checks have been done before you start recording. Both audio and video recording options are offered along with basic audio file editing options.
Platforms: Your Chrome or Firefox web browser
Auphonic
– for advanced post-production sound editing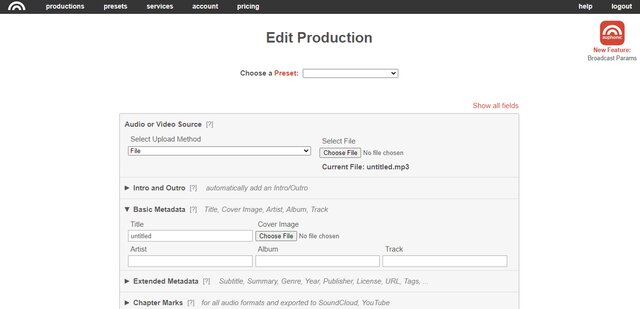 Not happy with Audacity's editing capabilities? Bring your audio into Auphonic to balance the speaker level and restore audio. The tool is free to use for up to two hours but Auphonic is only designed for post-production. 
If you need to keep your voice clear for live events or even during the actual podcast recording, you'll need Krisp which works in real-time. So with Krisp you don't need to do the extra step because you record clean audio as you go.
Platforms: Your browser
Hindenburg Journalist
– record interviews even on the go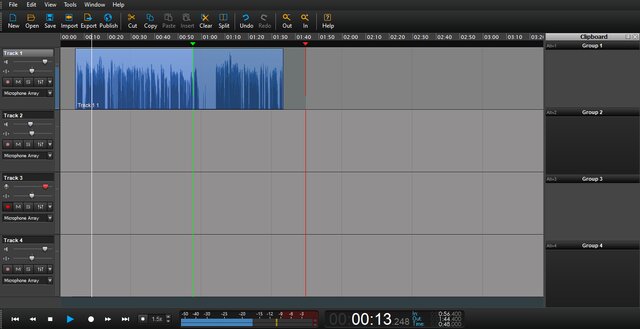 The Hindenburg Journalist is a podcast recording software that's only a fit for beginners if you're planning on using it to record interviews on the go. If you only need to record on the field, get the Hindenburg Field Recorder mobile app but keep in mind the cost for this is separate from the main Hindenburg Journalist product. 
Most advanced features are part of the Pro version of the tool which provides automated sound levels and VoIP call recording. In fact, it's the Pro plan that's marketed as being better suited for podcasters thanks to its post-production capabilities of editing multiple tracks. This advanced product also supports online call recording from apps like Skype or FaceTime.
Platforms: Mac, Windows, iOS
Adobe Audition
– podcast editing software you can also use for professional music creation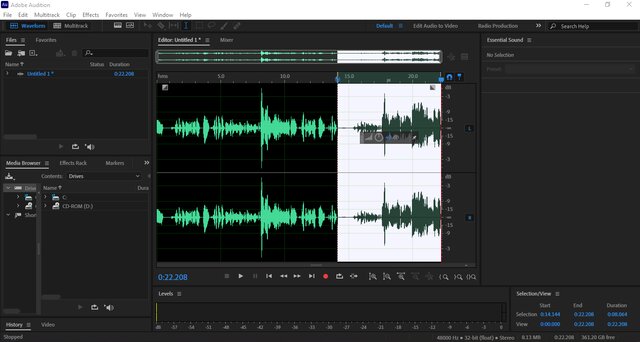 I specifically enjoyed how seamlessly the audio recording in Adobe Audition integrates with the editing options as you can literally edit as you record. You can design sound effects, sync different audio files, and clean up your recordings on these.
This is an Audacity and GarageBand alternative you might already have access to if you've purchased a full Creative Cloud subscription. This tool will be handier than other choices for people who also want to create videos for their podcasts or YouTube channel.
Platforms: Mac, Windows
Logic Pro X
– for the Mac user who needs to produce that bop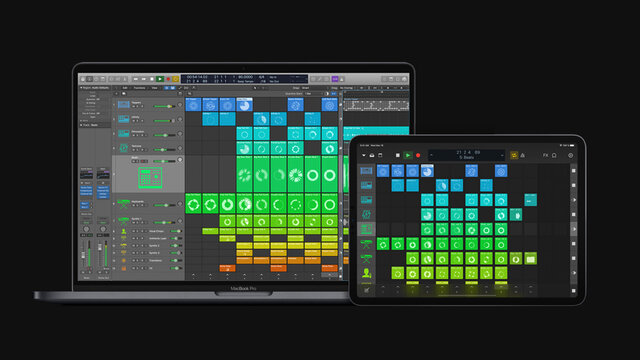 Looking for an advanced version of GarageBand? Enter Logic Pro X. This audio-editing tool comes with all the nitty-gritty of sound. The interface is similar to the GarageBand one so you can move files from one tool to another and continue editing them.
Still, you might find the tool's not exactly the best fit for podcasting since it's so advanced. The sole use you'll have from Logic Pro X is when recording intro and ad music or sound effects for your podcast. But, hey, at least you can get as creative as possible with them.
Platforms: Mac, iOS
Riverside.fm
– because you'll need video too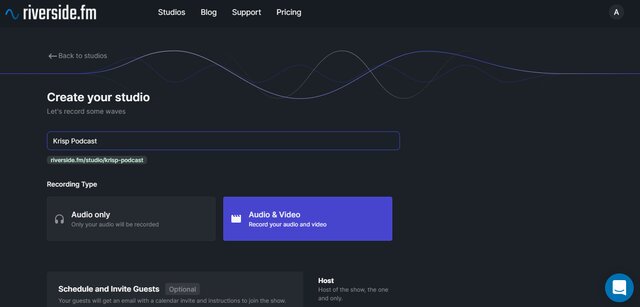 Riverside.fm acts as a common studio room where you can invite all of your podcasts guests and record audio independently. Provided both you and your guests have the right tech stack, you'll be able to record 4K videos so you'll no longer have to worry about the quality of the recording. But the handiest functionality is that it actually uploads the recording as you're hosting the podcast. So once you're done, downloading everything takes just a couple of seconds.
The Magic Editor feature takes you through a step-by-step editing option without the complicated interface. This editor also comes with basic options to filter background noise and equalize your audio — only available in post-production.
Platforms: In the web browser
Note: SquadCast and the Zencastr podcasting tool I already mentioned as alternatives. All of them are super intuitive and ensure that any guest will be able to seamlessly connect to the online recording studio with their devices in check.
Buzzsprout
– because you'll need hosting (and stats)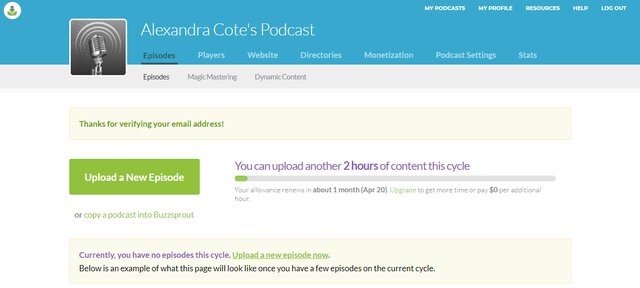 Often, the most complicated part of a podcaster's life is actually knowing what to do with the final audio file. Buzzsprout helps you host your podcast and get it listed in your preferred directories. Let it do its job for a couple of weeks and you'll end up with solid insights into what apps and devices listeners use or their demographic profile.
You know those podcast players that podcasts add in their blog posts? Yes, many of them are created using Buzzsprout so you can improve accessibility. Plus, there's a built-in transcription integration you'll surely find helpful if you want to provide a complete user experience, regardless of the platform.
Platforms: In the web browser
Bonus:
Wavve
– short audio snippets for social media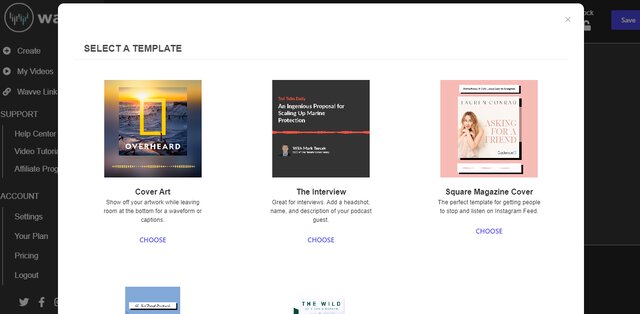 No listeners, no podcast. That's why we're adding Wavve as a must-have tool for promoting your podcast. I'm sure you're already familiar with those Instagram posts you can play for a preview of an upcoming episode. That's Wavve at its best.
This platform makes it easy for you to share an otherwise large audio file by breaking it into smaller chunks. And it's super fun to use as you play with different templates and animations. If your listeners prefer distinct platforms, you can use the Wavve Link option to create one landing page with all possible link options for them to choose from.
Platforms: In the web browser
Back to you!
Now that we've gone over all of these options you probably have a rough idea of what you need. Want to handle multiple tracks and sync them easily? A single tool like Adobe Audition will do the trick. Need to connect with guests and maintain HD sounds? Pair Krisp with podcast software like Riverside. 
What are your favorite podcast editing and recording software options? Are you using any podcast apps we haven't reviewed yet?