So you've got the perfect podcast idea, your tech stack in check, but… where are you going to host your podcast? 
Before choosing a hosting platform for your podcast, consider all the specific features they offer that will let you improve the experience you offer to subscribers. The right host can help you grow your audience, create a strong branding. and reduce administrative time. 
Not to mention that having people download a podcast from the same server would only crash your own website. So enter podcast hosting tools — your go-to solution for storing and delivering audio files.
Next, we're looking over the 12 best podcast hosting platforms. 
We've analyzed the most common picks and looked at their core and secondary features, upload volume, compliance, storage options, monetization capabilities, usability, features for marketing, and other integrations.
1. Buzzsprout – the easiest-to-use podcast hosting platform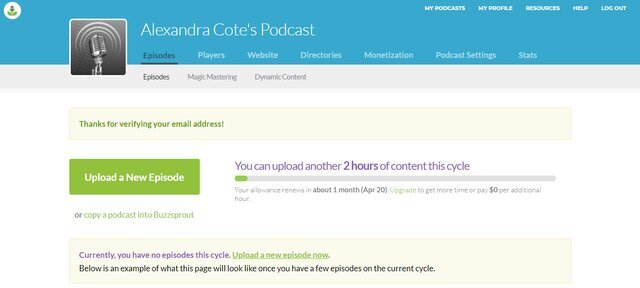 Buzzsprout allows you to host a podcast and automatically get it live in your preferred directories. Need to decide how your podcast will evolve in the future? In time [you'll need around 90 days], you can make use of their insights that let you know what apps or devices listeners commonly use based on their demographic profile. But the tool is so easy to use because of the episode listing process: just upload your audio file and consider it done.
Buzzsprout even lets you create your own website for displaying the podcast and embed audio players within blog posts. The custom transcription integration facilitates creating a thorough user experience, no matter what platform they choose.
Pricing and bandwidth: Starts at $12/month for a maximum of 3 hours/month. Unlimited storage included.
2. Podbean – best free package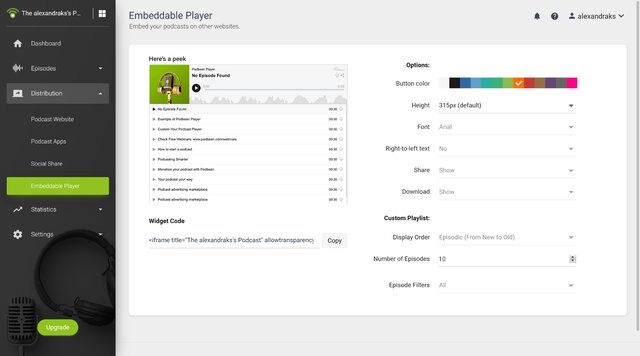 Publishing, management, and podcast analytics in a free platform? Start with Podbean. The best part of this solution is that it lets you monetize your podcast through their own advertising system.
Another reason why this is a good pick for beginners is that it's super simple to use, requiring just a couple of minutes to get used to the interface and know where every feature is. Like Buzzsprout, this podcasting hosting platform comes with a feature to create your website, embed an episode, and lots of integrations.
Pricing and bandwidth: Podbean offers a great starting package for beginners which lets you upload a maximum of 5 hours and 100GB monthly for free.
3. Podigee – for teams and multiple collaborators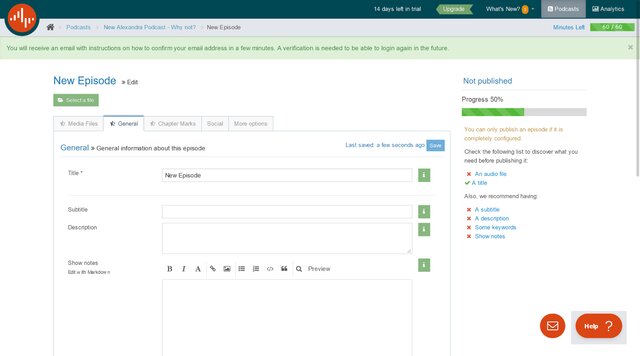 Podigee provides customizable workflows, data reporting, APIs, team accounts, and strong data privacy. This makes it an ideal choice for both small businesses and enterprises who want to collaboratively distribute and track their podcasts. Monetization and web player included.
The tool does come with an audio enhancement functionality but this strictly optimizes your episodes for your podcast platforms. To actually remove background noises, echoes, and maintain an HD voice quality that mimics that of a studio production, use an app like Krisp while you're recording instead.
Pricing and bandwidth: Plans start at $13/month but these are fit only for hobbyists or individuals. You're looking at $29/month with a plan that allows at least two collaborators. No storage limits in all cases.
4. Blubrry – podcast hosting for WordPress users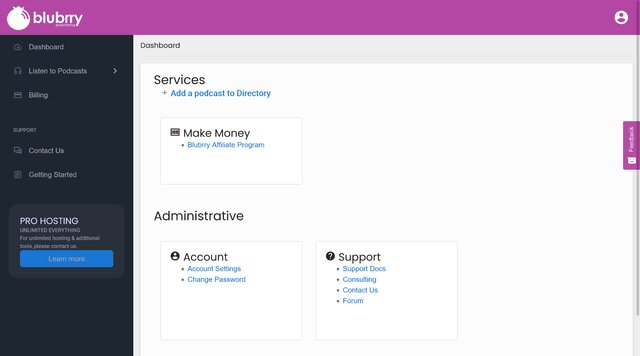 Looking to monetize your podcast? Blubrry owns an Interactive Advertising Bureau certification that makes it easier for you to look for sponsorships since you comply with all podcast measurement regulations. This means they provide some of the best statistics from the platforms in this list and you can use these for professional podcasts.
All plans come with a free WordPress website. Their PowerPress Plugin lets you directly connect your WordPress website so you can embed podcast episodes, start gathering audience stats, and more from your website. 
Pricing and bandwidth: The pricing is distributed according to which app you need. Hosting starts at $12 and 100MB storage/month. The basic statistics feature is free but detailed ones will cost an extra $5.
5. Castos – another alternative to managing your podcast from within WordPress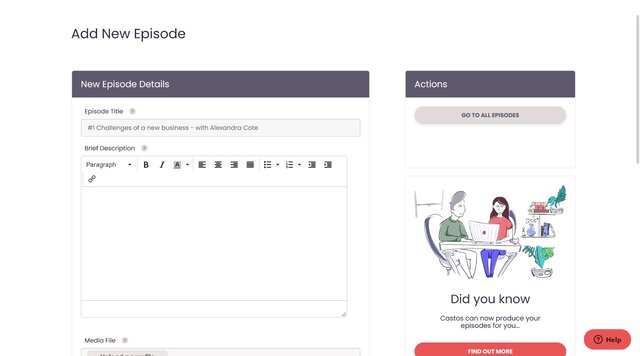 Castos provides a WordPress plugin that lets you sync episodes from WordPress to Castos. You'll prefer Castos over Blubbry if you want to host or manage multiple podcasts from one account. With Castos you only have to pay once for the hosting services and you can manage several podcasts under the same tool.
Castos also has an integrated pay-as-you-go transcription feature. The word-for-word transcript of the episodes will cost you an extra $0.10/minute. There's an extra service for podcast editing if you want to delegate this work to their production team and save time. 
Pricing and bandwidth: Starts at $19/month for up to 100 private subscribers.
6. SoundCloud – be where everyone already is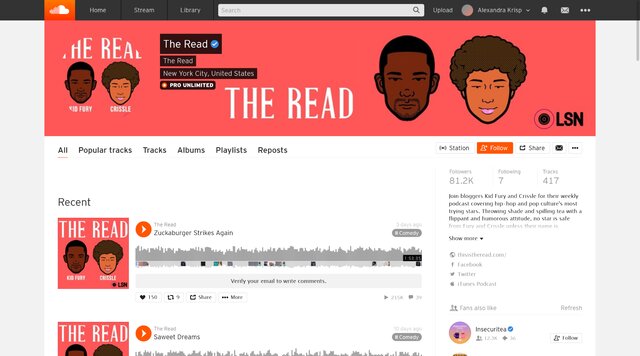 Already familiar with this platform? Perfect. Uploading a podcast episode is just as easy as adding any sound track. Using SoundCloud gives you direct access to millions of existing users that this website already has. You've probably seen their player quite a lot as it has a specific feature that lets users comment directly on the audio's time stamps.
Pricing and bandwidth: Free for up to 3 hours, but keep in mind that all single sound file sizes are limited to 4GB.
7. Simplecast – smooth podcast migration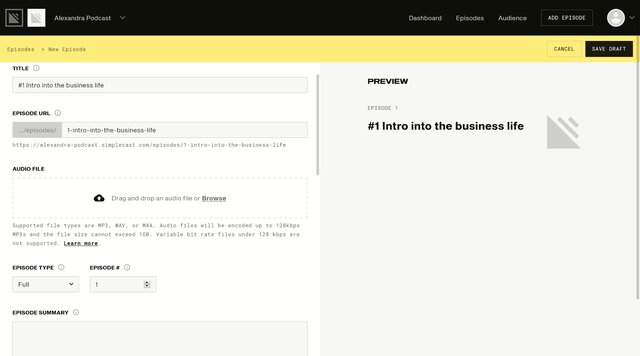 If you want to change your podcast hosting provider, Simplecast's onboarding makes it extra simple to bring your show to a new platform. This has made it a top platform choice for huge brands like Nike, Twitter, McAfee, Medium, and Harvard University.
Besides this, the other features are similar to the rest of the podcast hosting platforms in this list: analytics, social sharing, web player, etc. The option to create episode templates makes moving an episode from post-production to your audience a nearly instant process. With one click, your podcast will be distributed to platforms like Apple Podcasts, Spotify, Stitcher, Google Podcasts, and more.
Pricing and bandwidth: Their cheapest plan starts at $15/month with unlimited storage which makes it an ideal choice for beginners with a limited budget who don't want to give up on any feature.
8. Anchor – because showcasing your podcast on Spotify is a must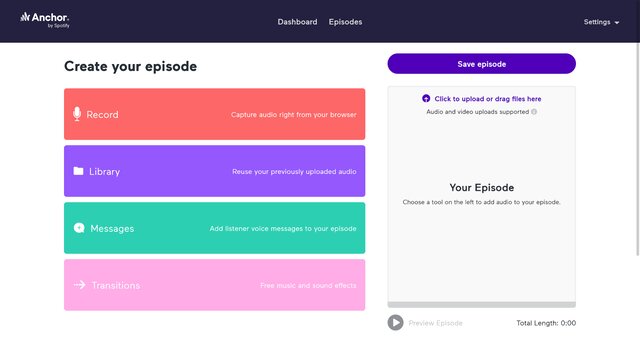 Let's face it. Most successful podcasts are on Spotify — the number one app people prefer when it comes to listening to a podcast. So Spotify's own Anchor podcasting platform facilitates smooth podcast integration and optimization. But don't worry: your podcast will be automatically submitted to other directories like Apple Podcasts or Castbox.
Anchor supports various monetization options including ads and a button for monthly donations. The best part of this hosting platform is that it comes with recording and editing options so there's no excuse for you to postpone your podcast project.
Pricing and bandwidth: Free podcast hosting for everyone.
9. ZenCast – a complete podcasting suite for an ad-free experience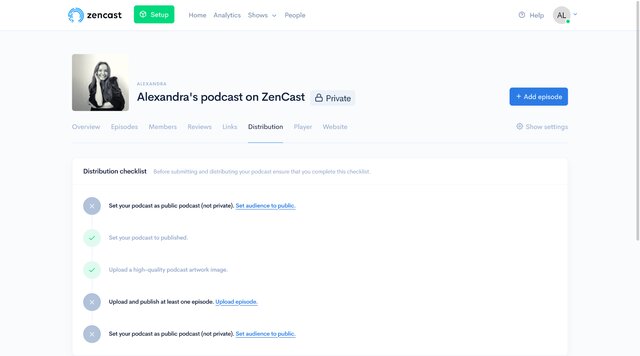 ZenCast has a smooth onboarding and podcast creation process that lets you choose whether you want a public or private podcast straight away. Note that switching from another host to ZenCast is also easy so you can bring all episodes, artwork, and show notes.
The template for creating show notes comes in handy for first-time podcast hosts. If you're just launching a podcast, ZenCast proves a cheap alternative if you need a complete set of features with no creative limits or ads surrounding the player to distract from your own podcast.
Pricing and bandwidth: Starts at $12/month for one podcast. No bandwidth limit.
10. PodOmatic – take your podcasts from recording to publishing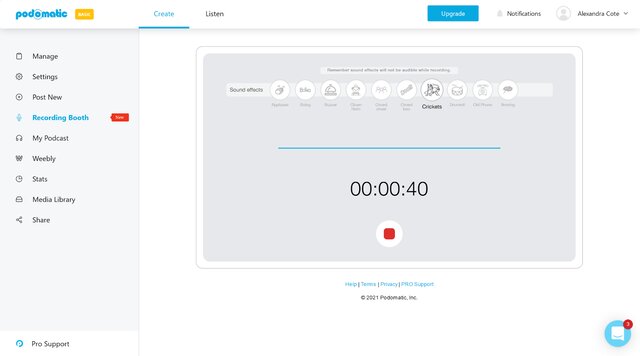 PodOmatic has an integrated podcast recording tool complete with fun audio effects and basic editing you can use for a hobby podcast project. Their partnership with Patreon, Popcorn, and What for? Apparel lets you get paid in various ways for your content.
Other features like analytics or one-click distribution are included while for creating your podcast website you can connect PodOmatic to Weebly.
Pricing and bandwidth: Free with 15GB/month. Keep in mind that the paid version has its limits.
11. Podcast.co – visual podcasts to impress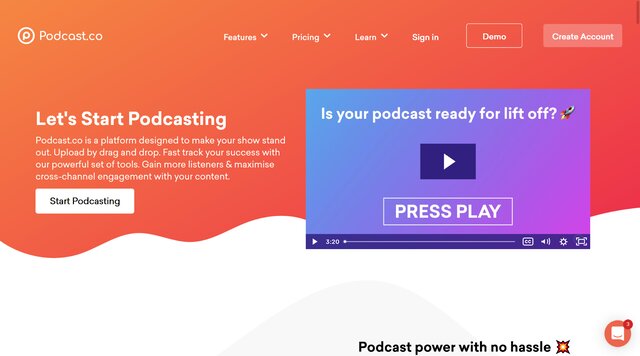 Unlimited episodes? Check. Custom podcast page and embeddable player? Check. Auto transcription? Check. Donations option? Check.
Podcast.co has a ton of features that let you distribute your podcast to the right audience and keep track of the stats. What stands out is their options to turn episodes into videos with audiograms. Now don't expect full-fledged videos just yet. Think more animated captions and branded visuals to get people's attention whenever they're scrolling through a directory or social media.
Pricing and bandwidth: Hosting starts at $29/month for one show only. NO bandwidth limit.
12. Resonate – delegate your podcast production work for professional recordings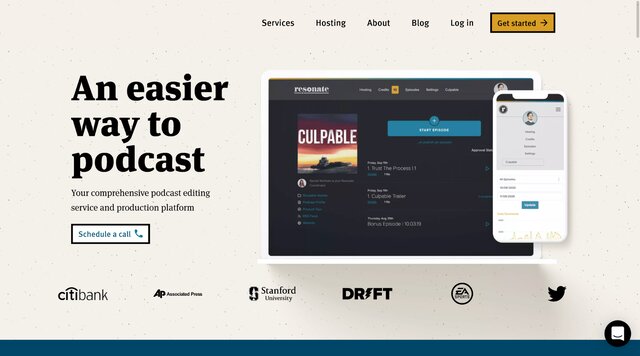 While the Resonate hosting platform can be used separately, you can consider pairing it with the studio's audio and video production services. Drift, EA Sports, and Citibank already use this service for their own podcasts. Features included are similar to other podcast hosting platforms, including a custom podcast website, embed player, detailed analytics, etc.
There are loads of secondary services you might need for a professional podcast recording: voiceover audio, marketing strategy, bumper music, video transcription, even getting an expert producer's review.
Pricing and bandwidth: Hosting starts at $25/month with no storage or downloads limits.
Back to you!
Choose 2-3 of the podcast hosting options on this list and compare them through a free trial. All of the tools we've presented have demos you can request so you'll get a complete look at the platform's capabilities.
Barely launching your first podcast? Go over our best tips for recording a podcast to ensure everything is on point before you publish your episodes.