The best thing about screen recording tools is that there are so many ways to use them. From creating YouTube videos, tutorials, product demos for your prospects, and courses for your students or employees, and you can even rely on some to support your articles with GIFs.
Nowadays there are online meeting apps that offer a range of features to enhance your virtual meetings, from screen sharing to real-time collaboration, ensuring productive and efficient communication with your team.
With most screen recording apps you can record everything you do on screen (or on a section of your screen). Some tools also allow you to edit the recording, turn it into a full-fledged presentation or course, and even stream it. On top of this, you'll want to consider the complexity of the app, available assets libraries, collaboration options, and integrations with tools you're already using.
We've tested 12 of the best screen recording apps for Mac, Chrome, and Windows to help you decide which one is best suited for your needs. But first, let's have a look at the general points to keep in mind.
Tips for choosing a screen recording app
When making your initial list of best screen recording software, go through these steps:
Decide which features you need.

Divide these into must-have and nice-to-have features.

Opt for multi-platform tools

if you have a large team or just need the tool to be available anywhere. Once you're on a tight budget, also pay attention to how many users you can add to one plan.

Give the trial version a test

before making the purchase. Note that some tools won't allow you to test all features for free so reach out to their customer support team to see if they can offer a demo.

Don't worry too much about sound editing options

. You can use

Krisp noise cancelling app

to remove background noise and echoes on your recordings.  Along with its HD voice feature, it will ensure your recordings sound just like studio ones,— without requiring post-production sound quality editing. You can also use Krisp to cancel noises during your remote meetings on Zoom, Google Meet, and more.
[demo-new]
Best screen recording apps for Mac
1. Camtasia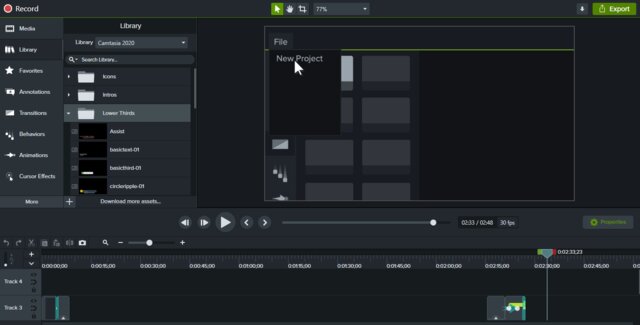 Camtasia is your first go-to screen recording editor tool. With Camtasia, you can record virtually anything on your computer screen whether it be websites, software, video calls, or presentations.
It has a built-in editor so you won't need to export your videos to another software for editing. For new users who are afraid of slow learning curves, Camtasia provides clear and easy-to-understand tutorial videos that take you through everything you need to get started.
Platforms: Windows, Mac, iOS
Pricing: $249.99 one-time fee.
Why you need it:
Camtasia comes with advanced screen recording and presenting features, even allowing you to add interactive quizzes to your videos. There's also a built-in assets library you can use for intros, backgrounds, icons, etc.
Where it lacks:
It's one of the most expensive choices on this list but the price is motivated by its complexity. So while you won't have to worry about missing features, it's not a fit if you don't regularly use it.
2. CloudApp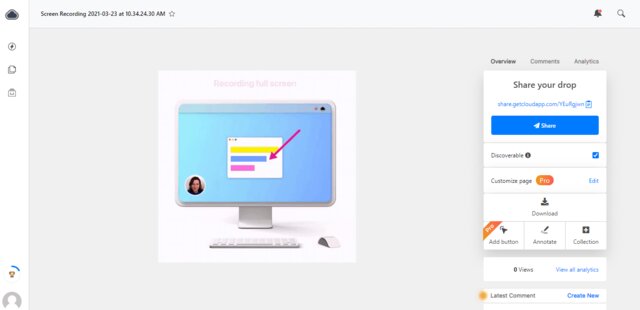 CloudApp provides end-to-end visual communication with its screen recording, GIF creating, and screenshot capturing product.
Its screen recording feature offers quick controls to enable full-screen recording, audio-only, or webcam-enabled recordings. When you finish your screen recording, a link is made available for you to instantly share in Slack, Google Suite, Asana, Trello, or anywhere else you collaborate with your co-workers.
Platforms: Windows, Mac, iOS, Chrome
Pricing: Paid plans start at $9.95/user/month.
Why you need it:
It's a quick solution if you need to create GIFs often. There's also lots of handy extra features you can use (video annotations, advanced analytics, do-not-disturb mode, etc.) so you don't need other third-party tools.
Where it lacks:
Limited free plan that only allows 90 seconds/recording.
3. FonePaw Screen Recorder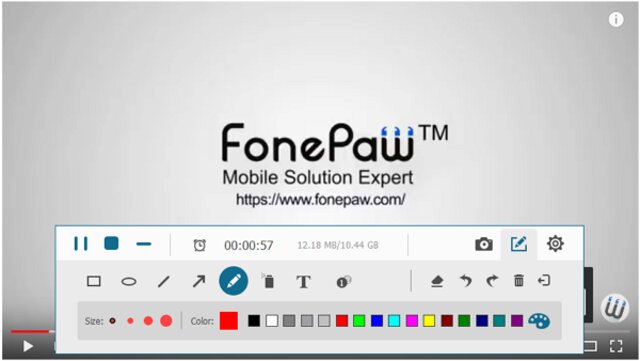 FonePaw Screen Recorder is a powerful screencasting software for Windows and Mac computer. It has all the features that you may need in capturing a high-quality video clip of your actions on computer screen, which can be used in many cases, like gameplay, online meeting, and live stream recoding.
It allows you to simultaneously record with microphone and system sounds, add annotation to the recording, clip the recordings, export as multiple formats, etc. Task Schedule and Set record length features also make recording easier.
Platforms: Windows, Mac
Pricing: 
Trial Version: Free; 

Paid plans start at $29.95/year.
Why you need it:
FonePaw Screen Recorder provides 3 minutes for free trial version without watermark. Moreover, all recording features and settings are easy for users, even the beginners. 
Where it lacks:
It doesn't provide more advanced features for editing the recordings.
4. DemoCreator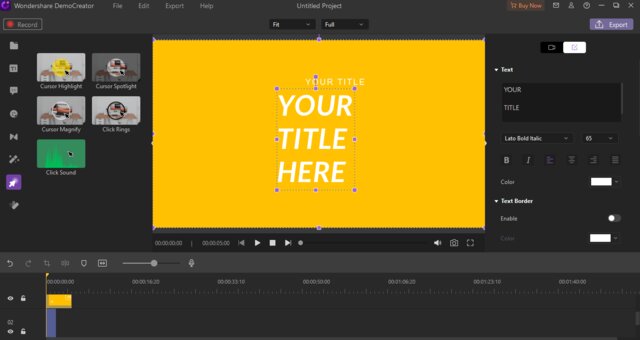 Need a quick solution to record and edit demos, tutorials, presentations, and games? Wondershare's DemoCreator was created primarily for use in a professional setting for showcasing expertise and creating how-to tutorials or demos. Hence the name. 
The editing options are extensive, allowing you to add cursor sounds, create text animations, position your webcam footage anywhere within the recording, and much more. All of this comes within a modern UI you'll sure enjoy using.
Platforms: Windows, Mac
Pricing: Starts at $32.99/year.
Why you need it:
DemoCreator's onboarding takes you through what each feature does so you'll be able to use the software as soon as you enter it for the first time.
Where it lacks:
The existing library of elements is limited but you can import your own media files.
5. Snagit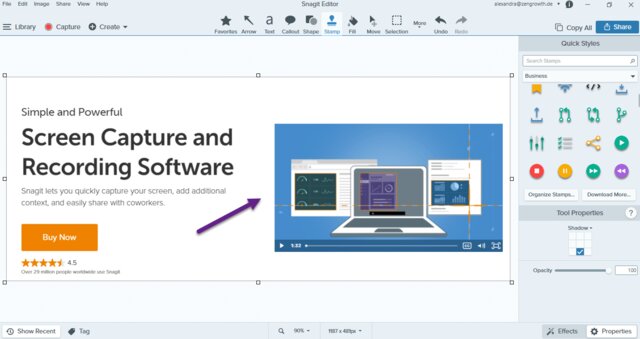 Struggling to take full-page screenshots that extend below the fold? Snagit is by far the best choice for this. Even if you need video recordings.
You can create full screenshots of landing pages, emails, websites, and more in literally seconds. There's also quite a few editing options to turn to after, including stamps, arrows, and more tools and effects. Note that when you first open the editor you won't see all of these in the editing bar. Go to Image on the top bar to select which features you need displayed.
Platforms: Mac, Windows
Pricing: Paid plans start at $49.99/user for a one-time fee.
Why you need it:
There are loads of effects and tools you can use by default for any type of screenshot you need.
Where it lacks:
It's not exactly the easiest tool to learn as there are multiple ways of taking the same screenshot format. They recently introduced a tutorial you'll go through when you want to take your first screenshot to help with this.
6. Adobe Captivate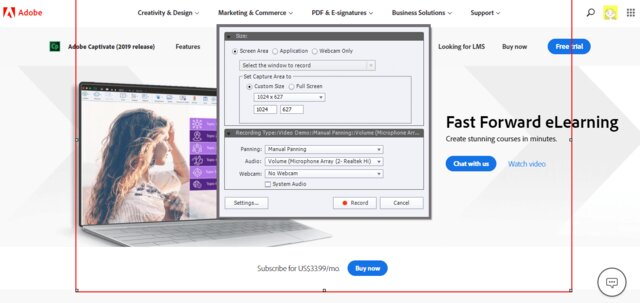 Adobe Captivate is a screen recording app for Mac and Windows that was designed for e-learning. In fact, it's more of a video/course creation tool you can use for online tutoring. Companies also use it to create compliance and soft-skills courses for their employees through interactive slides and videos. 
The best part? You can create multi-module branched courses and use out-of-box assets for supporting learner interaction and quizzing. I recommend going through the free webinars and the Adobe Captivate Certification Program beforehand to make sure you're using the tool to its full capacity.
Platforms: Mac, Windows
Pricing: Starts at $33.99/month/subscription or you can buy an unlimited license for $1,299.
Why you need it: 
Includes features you won't find with other tools like converting PowerPoint presentations into videos and even setting up VR walkthroughs and mobile-ready courses.
Where it lacks:
The download process is super slow compared to the other options on this list so it shouldn't be your first choice if you need to use the tool over the next hour.
Best screen recording tools for Chrome
7. Loom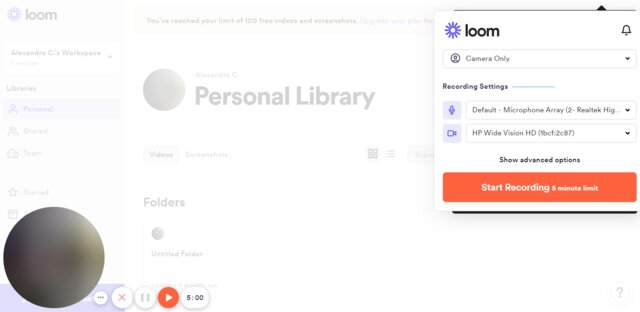 Loom is one of the few screen recording tools that allow you to pause/resume recording whenever you desire. When you finish recording your video, you can export it to Loom's cloud storage where all users have unlimited video storage. If you're the type that creates a lot of customer support videos, you won't have to worry about memory space.
Loom also allows you to trim away unnecessary video segments from the beginning, middle, or end of the recording. When you're done recording and editing there's an incorporated slack feature that allows you to share your video links to specific groups right from your Loom dashboard.
Platforms: Windows, Mac, iOS, Android, Chrome
Pricing: Paid plans start at $8/creator/month.
Why you need it:
Requires virtually no learning time and the screen recording feature works on all devices.
Where it lacks:
The free version is limited to five minutes/recording so there's not much use to Loom in a professional context.
8. Screencastify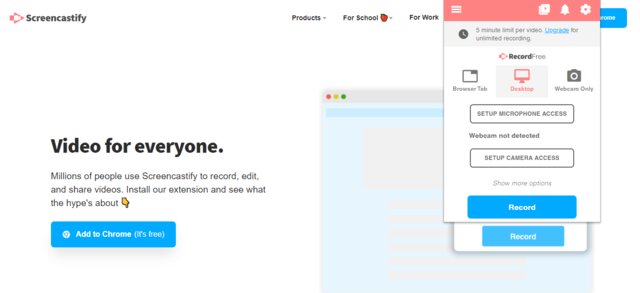 For Screencastify you don't need to download any software, only a lightweight Google chrome extension, that you can domicile on your browser.
If you're looking for something with an easy learning curve and a clean interface then you're in luck because you can set everything up in one to two minutes.
Screencastify does all of the basics: it records your screen and allows you to record yourself via the webcam while at it. Kind of like Loom.
Platforms: Chrome
Pricing: Paid plans start at $49/month.
Why you need it:
Very simple to use even when compared to other screen recording apps..
Where it lacks:
The pricing gets quite complicated. On one hand, the free version can be used only for up to five minutes of recording time. Also, the tool's pricing is divided into three categories (Record, Edit, Submit) and you need to purchase these independently.
9. Droplr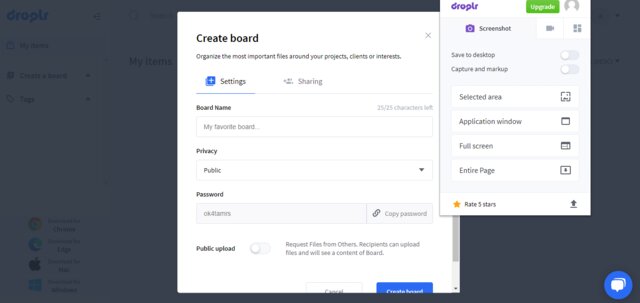 Droplr works similarly to the other Chrome extensions in our list of best screen recording apps. The interface is also similar but the very first feature that stands out is the option to capture the entire page. Similar to Snagit.
There's also basic image editing options so you can add text, highlights, emojis, and more.
Platforms: Chrome, Mac, Windows, Chromebook, Edge, iOS
Pricing: Paid plans start at $7/month/user.
Why you need it:
Easy to use even without prior training.
Where it lacks:
This screen recording extension has one of the shortest free trials, standing at just seven days.
Best screen recording software for Windows
10. EaseUS RecExperts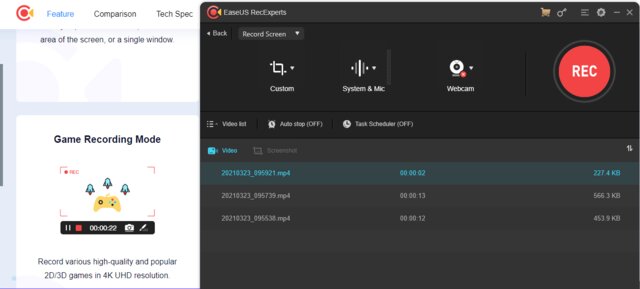 EaseUS RecExperts is a multi-purpose screen recording software that records anything happening on your Windows PC with ease. It can record your screen, audio, webcam, and gameplay. 
You can use it to build tutorials, lectures, product demonstrations and guides, thanks to its real-time annotation feature. Additionally, it is also a good choice for recording Zoom meetings, presentations, live stream and many more.
It also supports scheduled recording. Simply set the start time, duration, and other recording parameters, then let EaseUS RecExperts do the rest.
Platforms: Windows, Mac
Pricing: You can opt for monthly plans which start at $19.95 or a one-time license at $69.95.
Why you need it:
The tool's a good choice for beginners who aren't looking for complicated dashboards and editing tools.
Where it lacks:
The editing features are limited as you'll have to purchase a separate product to edit them with advanced options.
11. Apowersoft Unlimited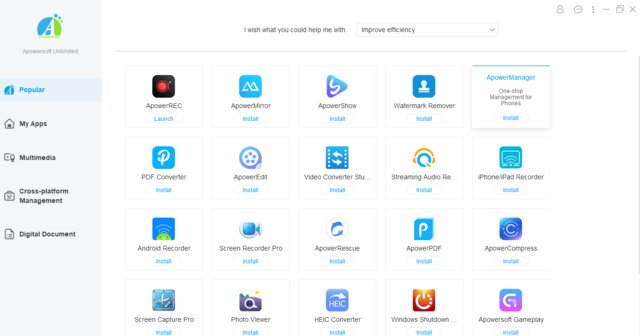 In addition to recording your PC screen, Apowersoft Unlimited can also capture videos of your mobile screen, that's of course if you buy the unlimited package.
Both phone screen recorder apps (Android and iOs) provide settings such as, resolution control, camera configuration, frame rate selection, and bit-rate throttling. These settings aren't found in other apps that record phone screens.
Platforms: Windows, Mac, Android, iOS
Pricing: Starting at $59.95/year.
Why you need it:
The package comes with a subscription to all the 17 Apowersoft apps and they can all be launched from a single dashboard.
Where it lacks:
Its built-in editor isn't the best, but you'll definitely be able to tweak things like brightness, contrast, and saturation.
12. Movavi Screen Recorder Studio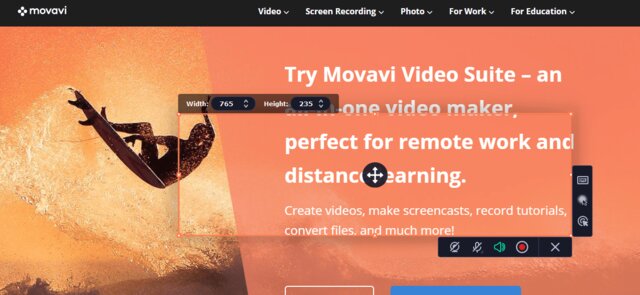 Movavi Screen Recorder Studio is another screen recording app with a pretty intuitive interface that's easy for new users to figure out. And it does all the things that most screen recording apps do.
However, one thing that sets it apart from the competition is that it supports scheduled captures. 
With this tool, you can record video calls, webinars or live streams even if you're away from your computer and by clicking the clock icon you can set the duration you want the app to record for, this tells the program to automatically stop recording after a specified amount of time.
Platforms: Windows, Mac
Pricing: Starting at $49.95/year.
Why you need it:
Where it lacks:
The Movavi Screen Recorder tool doesn't offer video editing options independently. For this, you'll have to purchase their Video Editor software.
13. OBS Studio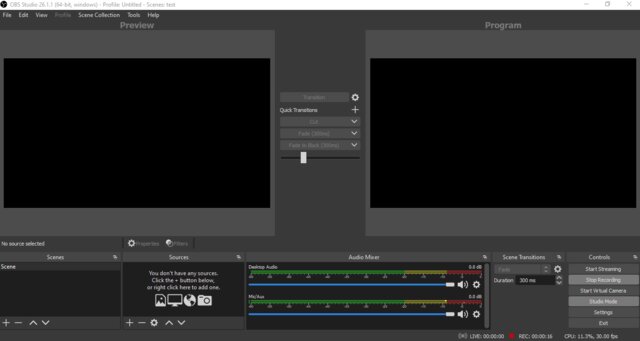 Have a favorite streamer? They're probably using OBS Studio. This is the best free screen recorder that even facilitates live streaming — directly from the desktop app. 
The screen recording software comes with transitions and scene actions you can use on your recordings. OBS Studio has thousands of users worldwide who regularly contribute to adding new resources to the community. You can also use their API to create your own functionalities or integrations.
Platforms: Windows, Mac, Linux
Pricing: Free.
Pros: 
Despite the fact there's no cost involved, the tool's features are advanced, allowing for multiple scene recording and high-performance audio mixing.
Where it lacks:
The outdated UI makes it difficult for new users to get used to the tool.
Tip: Check out how to remove background noise in OBS.
Wrapping up
Ever used any of these apps before? Now it's your turn, please share your best screen recording software choice and experiences with these tools (whether good or bad).
Also are there any really fantastic screen recorder apps you think I left out? If yes, please hit the comments section.
Bonus: Would you like to know how to have more productive conference calls? Read more in our conference call etiquette guide. And don't forget to give a try to Krisp for noise-free meeting experience.