As we head into Q2 of 2021, many of us still find ourselves working from home (for better or for worse). Listening to podcasts can be a fun break from the mundane of the day-to-day, and what's more, it can be a great resource for optimizing our work and maximizing our productivity.
Remote workers face unique challenges outside of the office. So I did some research and curated the best podcasts for remote workers. Whether you're an employee or an entrepreneur, these shows will help you level up this year. Enjoy!
1. WorkLife with Adam Grant
Organizational psychologist Adam Grant is the voice behind this TED podcast, which talks about the science behind getting the most out of work. He covers topics such as overcoming procrastination, bouncing back from rejection, and preventing workplace burnout.

Must-listen episode: "How Science Can Fix Remote Work" You've probably seen the viral photo of the boss who got stuck as a potato in a Zoom meeting. In this episode, Adam Grant opens with an interview with the famous "potato boss" to humorously highlight the unique difficulties of online collaboration (especially during a pandemic). Then, he brings in other people to talk about the science behind effective remote work. 
2. IRL
Though not specifically about remote work, IRL is a Mozilla podcast that explores the fascinating inner workings of the Internet and how its usage affects us (which is related to working remotely, right?). With wit, humor, and geekery, IRL touches on topics like cybersecurity, privacy, and online trolls.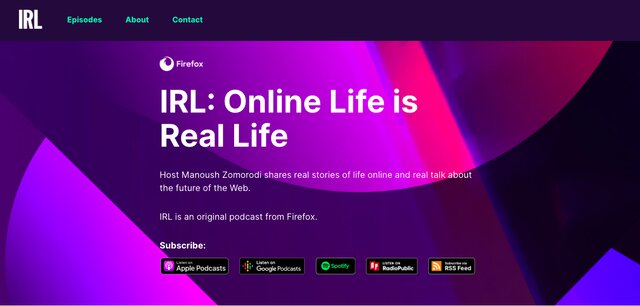 Must-listen episode: "All Your Data Are Belong to Us" Sure, we all know that privacy is important, but do we have a true understanding of just how much personal data we're giving away online? In this episode, find out how one stranger was able to uncover sensitive information about host Veronica Belmont—down to her favorite alcoholic drinks, her brother's name, and every place she's ever lived—simply by Googling.
3. Dear HBR
In the style of classic advice columns, Harvard Business Review editors and co-hosts answer listener questions about navigating the complications and frustrations of the modern-day workplace.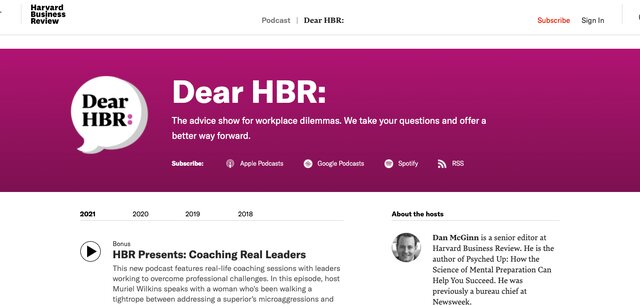 Must-listen episode: "Remote Feedback" This episode from November 2020 brings in employee performance researcher Marcus Buckingham to shed some light on how to give virtual feedback without burning bridges.
4. Women at Work
Another podcast from Harvard Business Review, Women at Work discusses the distinct challenges women face in the office. From gender discrimination to maternity leave to racial justice, these podcast hosts and HBR staffers don't shy away from the tough topics.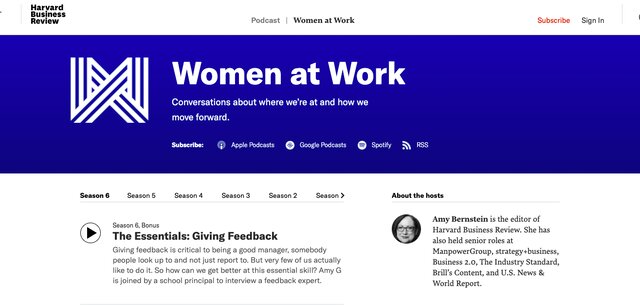 Must-listen episode: "Welcome Back to Remote Work, New Moms" In a vulnerable conversation, the hosts talk to colleague and mom Erica about what it's like returning to (remote) work after being on maternity leave. They talk about research showing that when it comes to women's participation in the workforce—we're back to 1988 levels. And with moms having to attend Zoom calls while their children are in the next room, the pandemic has exacerbated an existing problem.
5. Black Tech Unplugged
Host Deena McKay amplifies the voices of Black employees in the tech space, sharing stories of success and failure in an industry that underrepresents people of color. She tackles topics such as racial inequality and diversity efforts.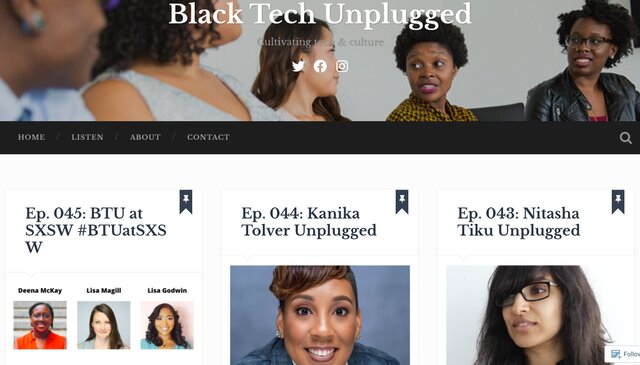 Must-listen episode: "When Leaning In Goes Wrong: Yassmin Abdel-Magied Unplugged" In this interview with writer, broadcaster, and social advocate Yassmin Abdel-Magied, learn about the ways Black women in tech cope with being "the only one" in the office. 
6. The Remote Show
Produced by We Work Remotely, which dubs itself as "the world's largest remote work community," The Remote Show interviews CEOs, founders, and employees of remote companies to provide tips on staying productive and cohesive in an office-free workplace.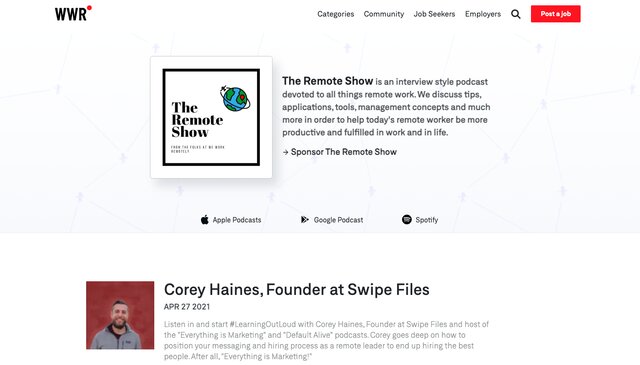 Must-listen episode: "Joel Gascoigne, Co-Founder and CEO of Buffer." Buffer is well-known in the remote work community as one of the first (and most transparent) small companies with a fully remote and distributed team. In this episode, Joe takes you behind the scenes of how Buffer got its start, why they decided to go 100% office-free, and how they handle the challenges of collaborating across time zones.
7. How I Built This
Hosted by award-winning journalist Guy Raz, NPR's How I Built This sits down with the founders of some of the world's most popular companies and dissects their success. Learn how Shake Shack started as a hot dog cart, how Virgin began as a record store, and how Lonely Planet was born out of an overland trip from England to Australia. It's like opening up a clockface to see all its moving parts. Fascinating stuff, especially if you're building an entrepreneurial empire.

Must-listen episode: "How I Built Resilience: John Zimmer of Lyft." This episode was recorded in September 2020—six months into the COVID-19 pandemic. Lyft founder John Zimmer reveals, with refreshing vulnerability, the struggles he faced with instituting layoffs and establishing safety precautions for both drivers and riders during this global pandemic.
8. Niche Pursuits
Spencer Haws is a leading authority on making money through niche websites. Whether you want to get into link building, learn more about Google AdSense, or flip sites, this is the podcast for you. One of the most valuable things about this podcast is that he often interviews successful niche site founders and does case studies that reveal exact numbers.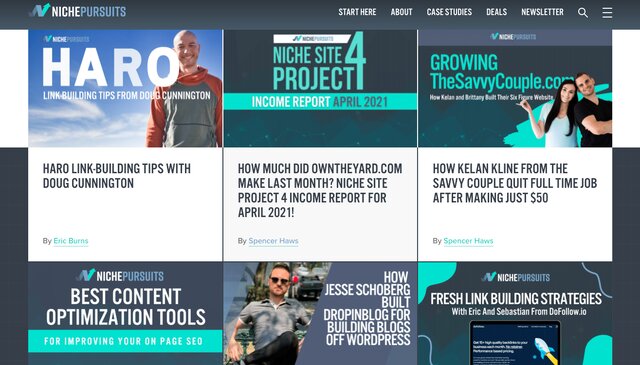 Must-listen episode: "How Ron Stefanski Went From Professor to $18,000 Per Month With His Niche Website" This inspiring interview showcases Ron Stefanski, a professor who used his skills to build a niche website that brought in $18,000 of additional monthly income at the time of recording (November 2019). It's a great example of how you can start a remote side hustle even while keeping your full-time job.
9. Make Money Blogging with Digital Nomad Wannabe 
Sharon Gourlay is a professional blogger who has built and sold multiple online businesses and is my go-to expert for all things blog monetization. In this podcast, she gets into the nitty-gritty of what it takes to build, scale, and sell blogs. She really knows her stuff and is a valuable resource for anyone interested in working remotely by starting their own online business.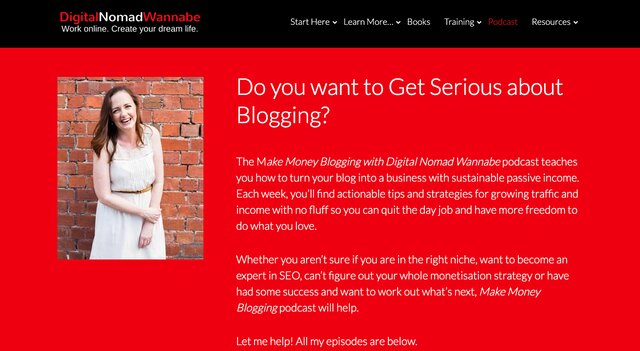 Must-listen episode: "Why I Start Multiple Blogs (And You Should Too)" If you've been thinking about starting a blog to make money, this is a great episode to start with. Sharon talks about why creating and selling multiple blogs has been a safety net—especially during a pandemic. It's a short but sweet podcast packed with information for beginners.
10. Empire Flippers
This show is a must-listen for anyone interested in investing in website businesses, particularly content, ecommerce, SaaS, and Amazon FBA. The hosts are the founders of Empire Flippers, a broker that buys and sells websites. They talk about the pros and cons of buying versus building website businesses, how to sell your website, how to monetize a website, and what you should do after an exit.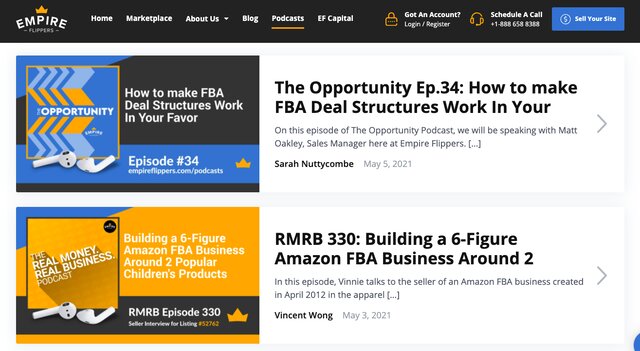 Must-listen episode: "CPA Mario Lucibello on Buying and Selling Online Businesses" Find out the financial implications of buying and selling an online business, including how to minimize the tax burden, from a CPA who understands this industry. This is extremely valuable information for anyone thinking of flipping sites or investing in them.
11. Digital Nomad Cafe
If you've ever wanted to start an online business or land a remote job so you can travel the world, this is the podcast for you. Host Adam Finan has been working remotely for Shopify Plus since 2017 and interviews fellow remote professionals to give advice on things like building passive income streams, teaching English online, and using LinkedIn to find clients.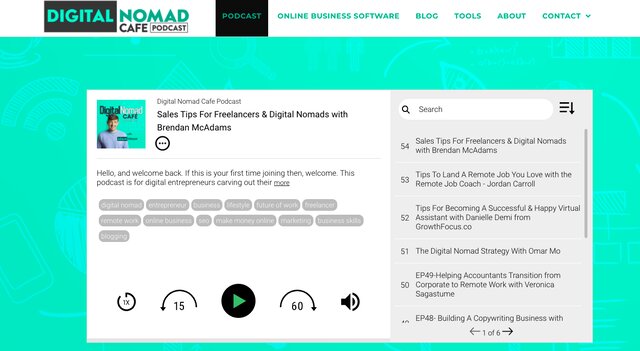 Must-listen episode: "Shaping The Future Of Remote Work with Iwo Szapar" Iwo Szapar is the CEO and co-founder of Remote-how, which offers consulting and advisory services to companies of all sizes that want to go remote the right way. In this episode, he shares how to stand out when competing for a remote job, how to build an online presence, and why work-life blend is better than work-life balance.
12. Tropical MBA
Launched in 2009, Tropical MBA has had millions of downloads in over 100 countries. This podcast focuses on finding personal freedom through starting a location-independent business. The hosts, Dan and Ian, speak from experience as they themselves started an online business that achieved a multi-seven-figure exit.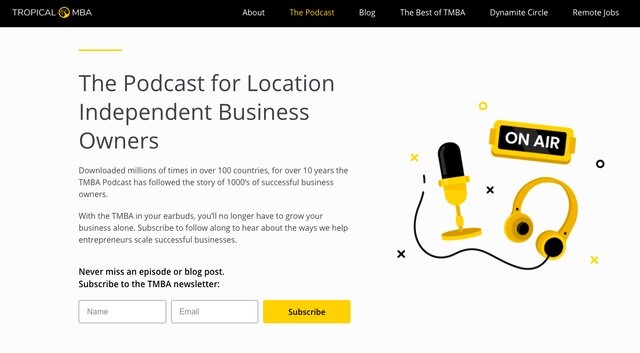 Must-listen episode: "How to Get a Great Remote Job" Brendan Tully, CEO and founder of Robotmedia, joins the podcast to talk about what he looks for when reviewing candidate resumes, how to make your resume stand out, and other tips for landing the remote job of your dreams.
13. The Work From Home Show
Show hosts Naresh Vissa and Adam Schroeder are both founders of media businesses and have been working from home for several years. They'll teach you how to stay productive and balance life and work while working from home. They tackle subjects such as keeping your marriage healthy, making the transition from the office to the house, and eating healthy when your home is your office.
Must-listen episode: "How to Transition From Your Desk Office to Your Home Office" If you're still struggling to establish boundaries while working from home, you'll find comfort and practical advice in this episode. The hosts talk about how to be fully present to your loved ones, how to deal with strain on your marriage, and how to work from home even with small kids around.
14. Building Remotely
Host Sondre Rasch is the CEO and co-founder of SafetyWing, an insurance company for nomads built by a team of remote, distributed nomads. He uses his expertise to ask smart questions of remote professionals to get to the core of what makes remote work successful.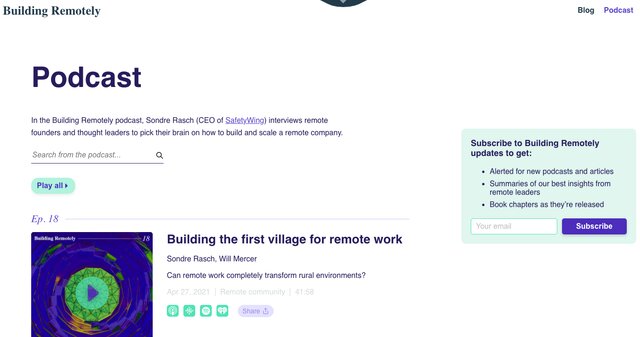 Must-listen episode: "Cultivating and scaling culture remotely with Darcy Boles from TaxJar" Even if your team doesn't work in an office, you still have a company culture—and it matters. In this episode, Darcy Boles from TaxJar (which has made Forbes' list of America's Best Startup Employers) goes beyond ping pong tables and beer to reveal what culture really means and how you can cultivate it even on a remote team. Best quote from the show? "Remote doesn't kill culture—it reveals it very quickly."
15. Building Remote Teams
A must-have resource for founders and managers of remote teams, this podcast teaches you how to successfully pull off a hybrid office model, how to stay productive while working from home, and even how to leverage virtual reality to do better remote work. The Building Remote Teams host, Jevin, has managed a 50-person remote team since 2010 and can share plenty of first-hand experience.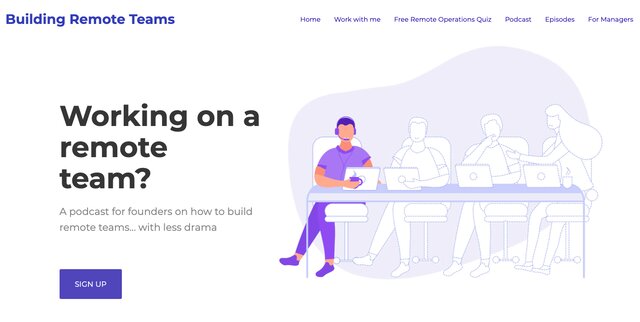 Must-listen episode: "Time tracking your remote team" One of the biggest hurdles for companies that want or need to go remote is a lack of trust in their employees to remain productive while working from home. In this episode, Liam Martin, co-founder of time-tracking tool Time Doctor, debunks that myth. He talks about what they found when companies used Time Doctor to compare working in-office versus working from home and even goes over how to negotiate with your employer to let you work remotely permanently.
16. Brave New Workforce
Born from the ashes of the pandemic, Brave New Workforce is a project that launched in June 2020 to lead the way with expert opinion as we adjust to the "new normal" of remote work. The hosts, Trip O'Dell, Anna Codina, and Larry Cornett, bring decades of Silicon Valley and Big Tech expertise to the table.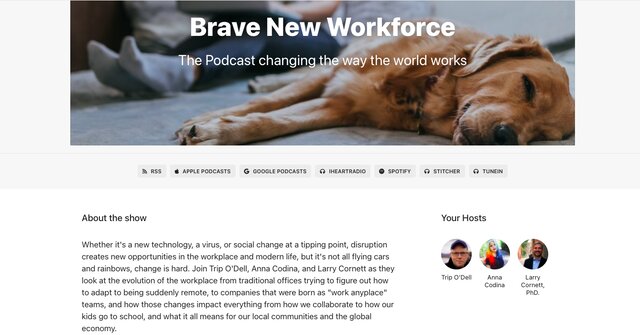 Must-listen episode: "Thinking Bigger: What's Next For Brave New Workforce in 2021" The hosts sit down and give their predictions for the future of work, especially for 2021. With intelligent insights and a dash of humor, they go over recent trends in tech and remote work during the pandemic and what they mean for what comes next.
Which of These Best Podcasts for Remote Workers Will You Listen to Next?
While reading this list of best podcasts for remote workers, you likely felt drawn to one in particular. Give my recommended must-listen episode a try. Who knows? You just might find that piece of advice that helps you launch your online business or boost your on-the-job productivity.