Most would think that active over-ear noise cancelling headphones are solely designed to make your music easier to hear in noisy spots like a busy coffee shop, office, or on your commute home via public transport.
However, the truth is that noise cancellation also serves another nifty purpose – it can make your world just that little bit more peaceful!
Just like anything tech-related, there are myriad options out there where noise-cancelling headphones are concerned. Everyone is sure to have their own preferences, whether that be in-ear, over-ear, or on-ear – and that's before we even get onto colours, shapes and brand loyalty!
Following on from our previous articles on active noise-cancelling headphones, this time we will take a look at three over-ear active noise cancelling headphones from different price ranges for you to consider…
Sony H.ear On 2 WH-H900N
Sound quality: 8/10
Noise-cancelling ability: 9/10
Battery life: 28 hours
Comfort level: 9/10
Bluetooth: Yes
Price: ~$280
Thoughts:
I would certainly recommend the Sony H.ear On 2 WH-H900N because they look great, sound excellent, are very effectively at reduce ambient noise, and function perfectly well in either wired or wireless mode.
For the geeks among us, Sony went for a pair of 39.9mm neodymium drivers in these headphones, and the Bluetooth technology inside uses LDAC support to deliver hi-res streaming for your audio pleasure.
Audiophiles will be pleased with the welcome option of customising your audio playback settings even more using free app that comes with the headphones.
These noise-cancelling headphones are also super user-friendly. An easy example of this are the handy touch controls found on the side of the ear-cups that allow you to answer phone calls, make playback changes, and also activate your phone's digital assistant – all of this pretty much eliminates the need to ever take them off!
Overall: 8/10
Bose QuietComfort 35 II
Sound quality: 8/10
Noise-cancelling ability: 9/10
Battery life: 20 hours
Comfort level: 8/10
Bluetooth: Yes
Price: ~$350
Thoughts:
Yet another excellent offering by Bose. The renowned brand took the already top notch QC35 noise-cancelling headphones, and updated them with the ability to control Google Assistant.
As you would expect from a Bose offering, these over-ear headphones look the part (albeit a tad bland in design, but we're here for the sound, and noise-cancelling qualities more than anything, right?), and certainly sound it too!
Class-leading active noise cancellation comes as standard with the higher-end Bose models, and they are extremely comfortable to wear to boot.
For the tech-savvy, you can use the Bose Connect app to adjust the level of noise cancellation, enable music sharing, manage Bluetooth connections, and access software updates.
There is also the Google Assistant integration, which works a treat on either Android or iOS, and provides a similar experience to using a Google Home.
The headphones will also read back your notifications, such features are nice to have but are certainly not the reasons as to why you should be buying a set of noise-cancelling headphones.
All-in-all, these are pretty expensive, but you know what to expect with Bose – quality. If you have $350 bunting a hole in your pocket, and are in the market for some active over-ear noise-cancelling headphones, you can't go much wrong with a set of these cans!
Overall:
9/10
Soundcore Space NC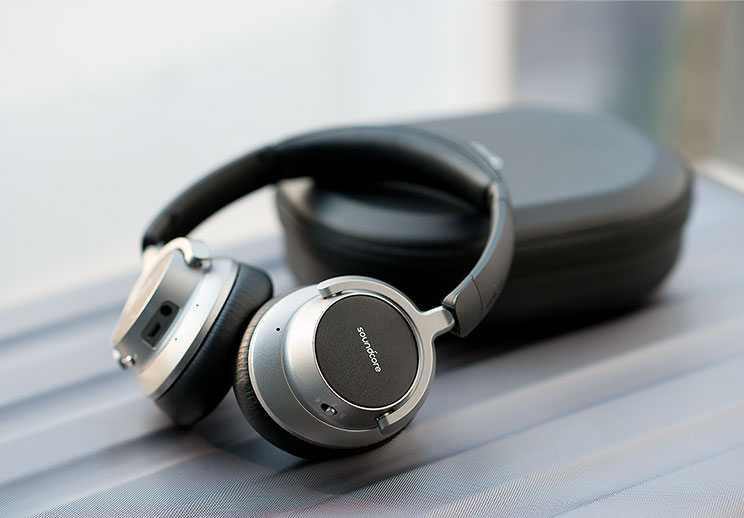 Sound quality: 8/10

Noise-cancelling ability: 8/10

Battery life: 20 hours

Bluetooth: Yes

Comfort level: 7/10

Price: ~$90
Thoughts:
Here's one for those of you with less of a budget to blow on your new set of over-ear active noise-cancelling headphones. Sure, these cans are cheaper than the other two, but don't let that deter you – they are packed full of audio replicating, and ambient noise-blocking goodness.
Sound-wise you can expect to hear excellent detail in your music, and the Space NC's hybrid active noise cancellation "studies" ambient noise around you, in its bid to reduce low-frequency sounds by up to 93% (or so the makers boast).
The over-ear touch-pad gives you fantastic control of your listening experience, instantly responding to your commands, and allowing you to adjust the music and volume without ever reaching for your phone.
The folding design and included carry case are also nice touches, meaning they can be easily stored away once your are home, or finally at your desk after a long commute.
To round up, if you are looking to treat someone to a pair of noise-cancelling headphones, or find yourself in need of a pair, but don't want to spend mega bucks on acquiring a set – look no further than the Soundcore Space NC.
Overall:
8/10
FINALLY…
As mentioned in the introduction, every set of noise-cancelling headphones you will find on the market come with different plusses, minuses, extras, and prices.
After weighing up the pros and cons of each, the Bose QuietComfort 35 II just about sneak it over the Sony H.ear On 2 WH-H900N. That's not to say that the "budget" Soundcore Space NC are that far behind, they are an excellent set of over-ear noise-cancelling headphones – a real bargain for the price.
If, having read this article (and our previous ones) you are still finding it tough to make your mind up, be sure to have a gander at our handy ultimate noise cancellation headphones guide. If you have any further questions, don't hesitate to drop us a line in the comments – we're here to help!
We wish you all the best in choosing your new set of over-ear active noise cancelling headphones! What do you think of our picks? Let us know in the comments which ones you would like to try, and why? If you have any recommendations for others, please let us know in the comments…