Here's a list we put together of all the best free applications for Mac, for anyone ranging from the new Mac user to the die-hard Mac fans or just about anyone looking to expand the functionality on their device.
These apps are guaranteed to make your Mac even better.
Krisp
Krisp is probably the best Mac app for removing background noise from your video calls and voice calls. It removes the noise from both sides of the call, allowing you to speak and listen clearly without moving anywhere else or looking for quiet rooms.
It works with over 800 conferencing apps and any headphones of your choice.
Duet
Sometimes you have so much work to do, that, working on just one screen will make your progress painfully slow. That's why some workplaces provide employees a second monitor to extend their screens and make them work faster and more efficiently.
Duet is a mac app that can help you achieve just that, without buying a new monitor, simply download the app and connect your iPad or iPhone to your Mac using one of Apple's cables and you're set.
Franz
The world of messaging apps is a pretty fast-paced one. You probably have a lot of them–WhatsApp, Slack, Facebook Messenger, Telegram, WeChat, Skype, Google Hangouts, and lots more– and you're constantly receiving a barrage of messages from every single one them, so much so that you find it hard to keep up and some important messages are beginning to fall through the cracks.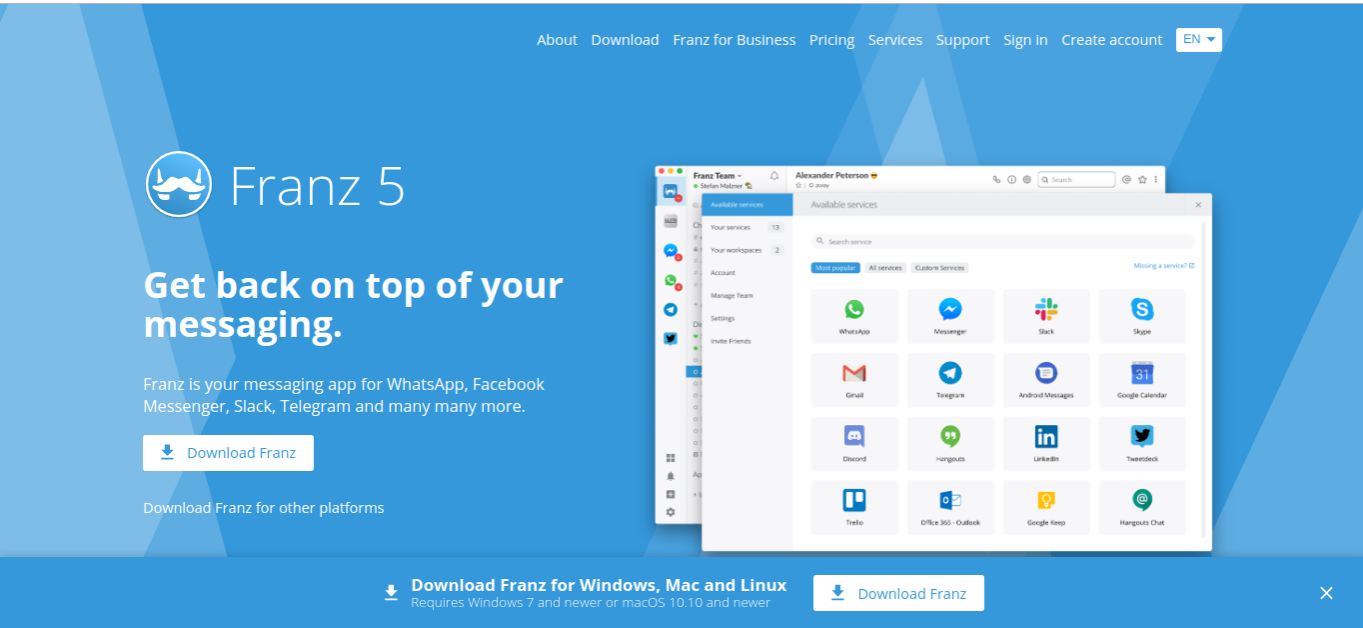 Franz is an app that helps Mac users combine all of their messaging apps in one places ensuring that they don't lose important messages.
Microsoft Office 365
Some years ago, before you could use Microsoft office on a Mac you had to go through a complicated set of steps and even when you got it to work, you had to worry about keeping the version you have updated. Hence it used to be a hassle, so much so, that most people abandoned it altogether.
Well good news: You can now use tools like Microsoft Word, Powerpoint, Excel, and others without having to go through the torture of yesteryears. Mac app store has released a Microsoft Office 365 which you can download and update easily.  
Facetime
As they say: A picture is worth more than a thousand words. Well I'd like to add that if it's a picture-in-motion it's probably worth about a billion words and trust me there are a gazillion reasons why you might need to make a one-on-one video call.
And with Facetime on among other free applications for Mac, it's even better since you can use group FaceTime to chat with as much as 32 people at once.
Code Runner
Whether you are an experienced, battle-tested developer or a greenhorn who's new to coding Coderunner is the app for you.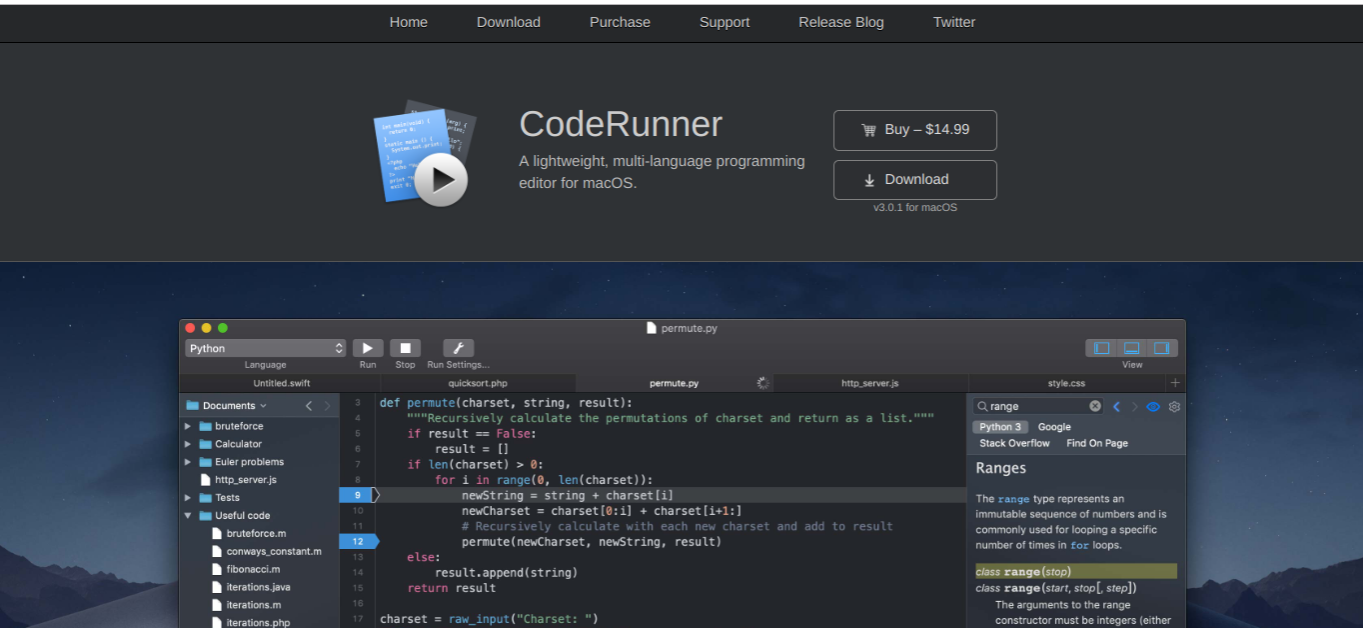 It's a Mac OS app that allows you to Write code and run it instantly in about 25 programming languages such as: AppleScript, C, C++, C#, Go, Haskell, HTML/CSS, Java, JavaScript, JQUery, Kotlin, LaTeX, Lua, Markdown, Node.js, Objective-C/C++, Perl, PHP, Python, Ruby, Rust, Shell
Script, Swift, TypeScript, and other user-added languages.
Parallels Desktop
This app allows you to run any other operating system on your Mac, why would anyone want to do that? For starters, there are some programs and apps that will only run on a certain operating system and not the other, and that's a hassle for most people.
But with Parallels Desktop, your Mac can run Chrome OS, Windows 10, Linux, and even Android. It does so by creating separate windows and allowing multiple OS to run simultaneously.
Bartender 3
Bartender is an app for people who use a lot of apps on their Mac, this app helps you to declutter your desktop screen by allowing you to choose which apps appear on your menu bar and which doesn't since not all apps need to be constantly visible in the menu bar.
Amphetamine
Amphetamine is a human medicine, among its wide range of uses, is that it serves as a stimulant, just like coffee but many times more powerful. 
It works on your Mac much the same way coffee works on the body it keeps your mac from entering sleep mode or going on auto-dim. It's best for watching live streams, videos or just about any other activity where you won't touch the keyboard or mouse for a long time.
Google Chrome
Safari has absolutely nothing on the Google browser– Google Chrome. Chrome is one of the fastest browsers available today.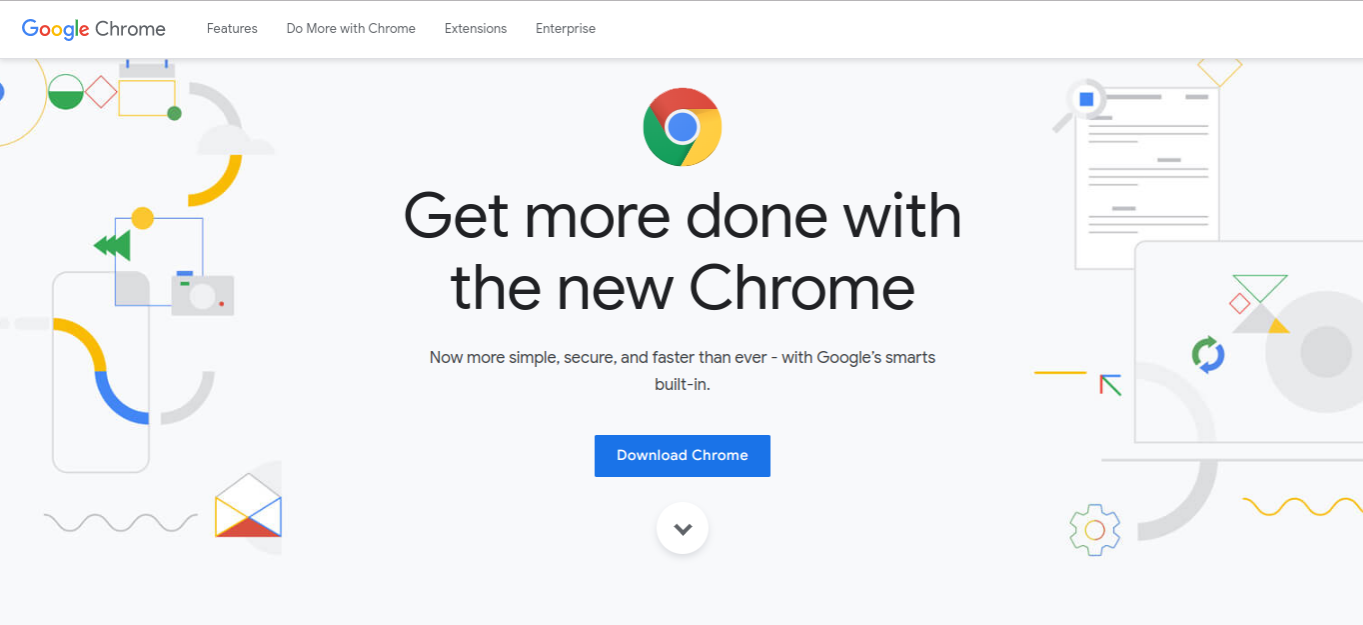 With its fantastic ability to automatically sync all your information such as browser history, recent searches, bookmarks, open tabs, and more, across multiple computers and devices.
It makes absolutely sure you are able to pick up where you left off.
Google Drive
Google drive is quite popular, so chances are you already know about it, what you might not know however is even without the internet that you can work on your documents, spreadsheets, and presentations offline
With Google's desktop app you can quickly and easily access your files, you also get a dedicated folder where you can sync at least 15GB of your data for free. 
Magnet
This is an app created exclusively for the multi-taskers. Those that usually have a lot of windows open at any given time. Magnet allows you to declutter your screen by snapping the windows into organized tiles and placing them side by side until they form a neat tile of windows on your screen. Drag a window to any corner of the screen and it'll shrink itself to a reasonable size and stay in that corner. 
With Magnet, you can end up fitting up to 6 windows on your screen if you want. 

Unclutter
To access this app you only need to swipe down from the top of your screen. It serves as an easily accessible place to store all your quick notes, recent files, and clipboard information. It helps declutter your desktop and keep your stuff in one place.
Evernote
Evernote is probably one of the best note-taking apps you can lay hands on today. It has a pretty intuitive user interface and it syncs with just about any web-based service you can think of.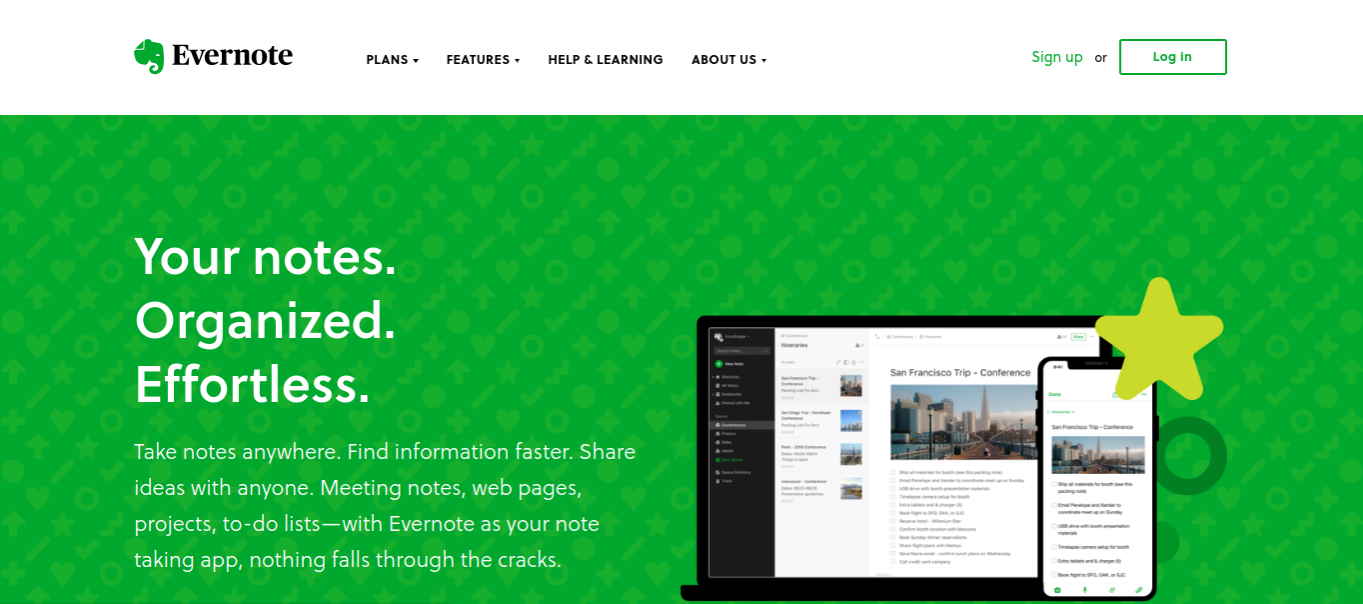 And due to its popularity, it comes with a lot of browser extensions and add-ons.
Fantastical 2
This app is truly fantastic, it is perhaps the best calendar app for the Mac OS. It's a full-screen calendar that is beautiful and practical.
And it's pretty easy to use, to create a reminder you only have to type in "Dinner at Quatros with the group on Friday at 8:00 p.m" and the app takes it from there and schedules it with a reminder.
Pixelmator
Even though there are a lot of photo-editing apps for the Mac OS. Pixelmator is unarguably one of the best. It prides itself with a boatload of powerful editing and enhancement features and in terms of speed of getting things done, it's one of the fastest among its peers.
Pocket
This is another Mac app that lives up to its name, it allows users to "pocket" interesting articles, webpages, ads, videos, etc so they can view them later. It also comes with a very intuitive user interface and offline accessibility.
PDF Expert
In case you didn't get the memo, PDFs have come to stay, in keeping with the spirit of that memo, PDF Expert is a Mac OS app, that lets you fill out PDFs be they forms or just documents. You also get to annotate, edit and sign them on the go. And because it's compatible with apple's handoff feature, you can switch between devices and still be able to pick up where you left off.
Parcel
Are you the type that does most of their shopping online and is constantly expecting a package in the mail? If yes, Parcel was created for you. With this app, you can promptly access tracking information for about 300 delivery services, including industry giants like UPS, USPS, FedEx, DHL, TNT, LaserShip, Aramex, OnTrac, China Post, SingPost and more. With this app, you can also locate your package on the map or manage your deliveries.
VLC
There's hardly a multimedia player that beats VLC in both speed and file compatibility. This free, open source app supports just about any media file you throw at it ranging from ASF to WAV and anything in between. 
Slack
This app allows you and your team no matter how small, to bring communication and collaboration into one place so that you can all work faster and more efficiently.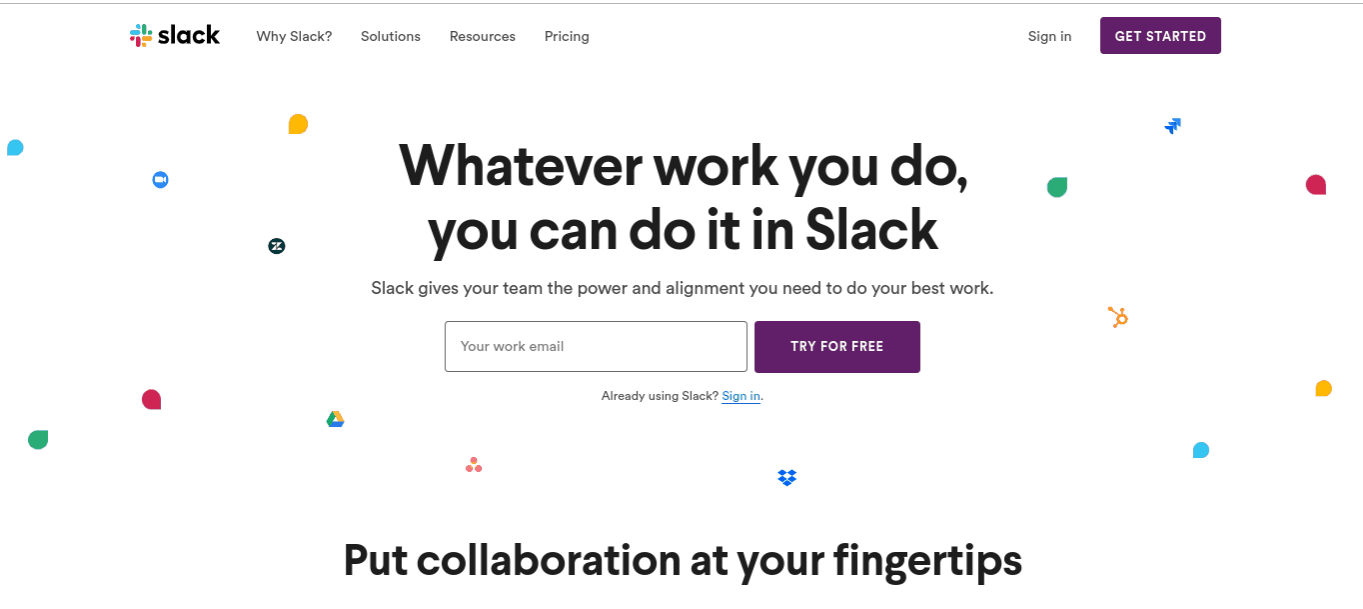 It also syncs across devices enabling you to use it on multiple devices and still be able to pick up where you left off.
Unarchiver
Sometimes data come in zipped and inaccessible and it's not our fault, Unarchiver was created to solve that problem, it's a small and easy to use app that helps you to unarchive many different kinds of archive files. With this app, you'll open common formats such as Zip, RAR (including v5), 7-zip, Tar, Gzip, and Bzip2. You'll also be able to open a lot of older formats, such as StuffIt, DiskDoubler, LZH, ARJ, and ARC. 
Dropbox
Dropbox is an excellent cloud storage service and unarguably one of the best in the market. This app makes it easy to store your files and folders. It also gives you access to your stored files on the go and across multiple devices.
Once you sign up you'll receive at least 2gb of free storage
LittleSnitch 4
This is, in essence, a security app, because "as soon as you're connected to the Internet, applications can potentially send whatever they want to wherever they want. Most often they do this to your benefit. But sometimes, like in case of tracking software, trojans or other malware, they don't."
Little snitch as the name implies snitches on all these connections to the internet and lets you decide which one you want to block or spare.
1Password
Do you hate having to remember every single password for each account you have? This app was created with you in mind, it serves as a password manager and allows you to save all your passwords in a secure vault which you can access via one master password.

Conclusion
Are there any particularly amazing apps you feel we've left out in our roundup? We'd love to hear from you, please let us know in the comments.
Read next:
Best Mac Apps for all the Mac Lovers
25 Best Productivity Apps for Mac in 2021