It's vital to be familiar with these tips for telecommuting while discovering how to find remote work. After all, despite remote works statistics that show growth, other companies have famously tried remote work and failed.
Since other remote work companies are successful, it's not remote work that is to blame. Some companies can benefit from telecommuting, while others won't be a good fit for a variety of reasons.
If you aren't in the right remote job, your remote work experience is likely to reflect that. All of the telecommuting tips in the world won't be able to solve that problem.
There are multiple ways how to find remote work, but these four tips for telecommuting will help you narrow down the successful telecommuting jobs at companies that uniquely fit you.
1. Tip for Telecommuting: Love What You Do
It might sound obvious, but one of the most useful tips for succeeding in your work from home jobs is to pick something that you enjoy – not just tolerate.
In most remote jobs, your job performance while telecommuting is connected to how to find remote work that's right for you. You'll give your best performance when you're doing something that makes you excited. 
The best remote jobs of 2020 or the best company to work for remotely depends on you and your preferences. It's better to find a job that creates an environment you love. 
Keep in mind that there will naturally be some pros and cons to remote work at any company. For example, when you're used to seeing colleagues in an office every day, it's easy for loneliness to set in as you find yourself always telecommuting from home. It can be hard to bond with teammates online in the same way that you would around the water cooler.
With each con, consider its silver lining. For example, do you often find yourself needing intense periods of deep focus to do your best work? You might miss the absence of the office atmosphere, but find that you prefer it because of your increased output.
You'll need to consider these advantages and disadvantages of remote work carefully while creating the ideal telecommuting situation for yourself.
2. Find Remote Work Positions That You Love
Since it's so important to love what you do, all the teleworking tips in the world can only help so much if you're not a master at how to find remote work jobs.
If you already have a job that allows you to telecommute (and you love it), skip ahead to the next tip. Otherwise, keep reading for tips for telecommuting job.
Remote Jobs Terminology – It's Not All the Same Thing
When visiting a jobs site looking for telecommute work, you'll encounter a wide variety of remote work-related terms. It can be hard to understand the differences between terms like distributed teams, telecommuting, teleworking, working from home, working remotely, and even digital nomads.
However, these terms can mean very different things. It's essential to understand the distinctions before looking for a telecommuting job.
Are you already working remotely? If you enjoy it, have you considered trying these other options as a way to improve your lifestyle?
Remote Workers (Includes Everybody)
A simple remote work definition could be any work done outside the employer's office. However, this can be implemented in very different ways, making it difficult to summarize or judge the merits of "remote work" with a single definition.
When planning how to find remote work, it's essential to keep your ideal situation in mind. It'll drastically affect your experience.
Distributed Teams (Companies with Remote Teams but Not Necessarily Remote Jobs)
"Distributed teams" means that teams are remote working with each other. However, the members of those teams aren't necessarily working fully remote jobs.  
For example, a single team's members could be physically collaborating in an office space. Some team members may be working from home full-time, while others might only be teleworking on certain days.
Teleworking (Employees Somewhere Outside of Office)
Teleworking means that an employee is working from outside of the office, at least some of the time. However, this doesn't necessarily mean they're working from home online.
For example, teleworking could include working from a coworking space, on-site client projects, your employer's branch office, or anywhere else that isn't the primary office.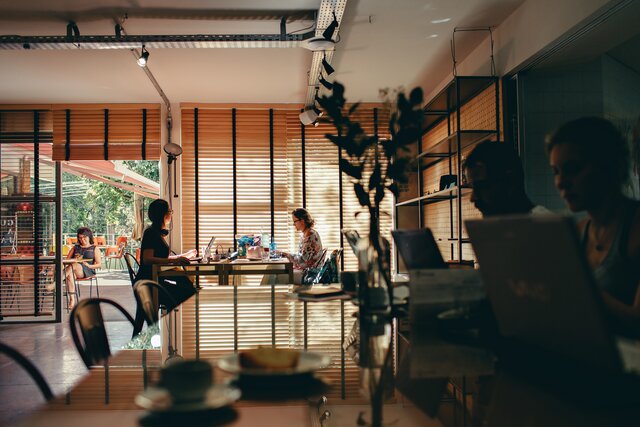 While considering your criteria for how to find remote work, it's essential to keep this distinction while looking for remote jobs hiring.
Telecommuting (Popular During COVID Pandemic Stay-at-home Orders)
Telecommuting is a form of teleworking, but without the commute. For example, telecommuters aren't regularly commuting to a coworking space. Most often, this person will be working from their physical home location. Otherwise, they would automatically be commuting, even if it's not to the traditional office.
Even though they are working from home, that doesn't mean they have to work from the couch. There are plenty of creative ways to build a home office, including outdoor garden offices.
A telecommuter could also be working from several different locations – for example, if they frequently live for several weeks in different places.
Digital Nomads (Often with Flexible Freelance Jobs)
A unique form of a telecommuter is the digital nomad. These remote workers use their location independence to travel while working, which means they can work at remote jobs anywhere in the world.
Getting this physical freedom is often a driving factor in how to find remote work. It often limits the remote jobs online that work for the digital nomad. For example, someone working in remote jobs worldwide usually requires more flexibility around work hours and time zones.
How to Find Remote Work Online (Without Leaving Your House)
Once you've got the terminology under your belt, the next step in how to find remote work is to take action on websites offering work from home.
Finding Real Work From Home Jobs Hiring on Websites
One popular site is Flexjobs (free trial available). What kind of jobs are listed on FlexJobs? Almost any remote work career you can imagine. If you're looking at FlexJobs, part-time commute is also an option – making these job sites a great way how to find part-time remote work.
Fortunately, when compared to Flexjobs, remote work sites tend to offer the same features. These filters and offers on work from home websites make it simple to build your list of work from home companies that fit with your remote office preferences.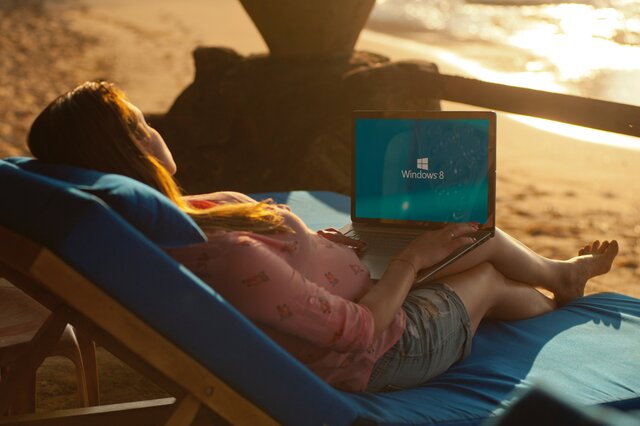 Don't forget the terminology. It's crucial whether you're looking for entry-level remote jobs like remote data entry jobs or top-paying remote jobs (a remote developer salary in the best remote tech jobs can be quite comfortable). 
For example, is a once-a-week telework schedule better for you? Be sure to search for "work from home jobs near me." 
Do you want the digital nomad's level of (sometimes chaotic) freedom? You'll have the best luck by hunting for specific digital nomad job boards.
For example, when looking at Flexjobs, careers that are flexible often include administrative, writing, data entry, editing, and technology sector jobs. These same careers apply even if you're figuring out how to find remote jobs on Indeed, how to search for work from home jobs on LinkedIn, or browsing JustRemote.
How to Find Remote Work on Social Media (Should You Bother?)
While there are plenty of work from home websites, don't forget the job search on LinkedIn (and other social media platforms). 
These underrated work from home platforms can be a useful tool in your bag of tricks for how to find remote work. They emphasize human connection and aren't the first place many remote job-hunters head to, leading to the occasional undiscovered gem.
While LinkedIn online jobs can be harder to discover and land, the human networking aspect sometimes offers opportunities or negotiations that would be difficult to uncover in traditional work at home websites.
3. Stay Visible (Companies Can Forget Remote Employees)
When you're in a traditional office, you're hard to forget. You're present at meetings, interacting with managers and colleagues, and making an impression.
However, this can change when you're working remotely. Without taking conscious effort to stay visible, it's easy to become forgotten. You'll pay for the lightened workload by being overlooked for advancement and miss crucial networking opportunities that could advance your career.
This lack of exposure can be more of a concern while telecommuting with a company where colleagues are in a traditional office, but you're working fully remote. Given this, one tip for telecommuting is to pay attention to how to find remote work. Fully remote companies are more likely to have built a culture where remote employees stay visible.
Already have a telecommuting job, and want to keep it? Another way to stay visible is through top-notch remote communication.
4. Communicate Like Your Jobs Depend on It
One of the most significant drawbacks of remote work can be the difficulties of communicating. Many business leaders insist that things "move faster" when a team is physically co-located.
However, telecommuting doesn't mean that communication is impossible – but it does take more effort. There are plenty of tools available to facilitate remote communication. Still, it takes more than a software installation to build your skills.
During your search for how to find remote work, be sure to pay attention to any hints in the job description. During emails or interviews, examine how the company communicates remotely. Do they seem skilled at it, or do they look like they haven't read these tips for remote communication?
As you become more familiar with remote communication tools, stay conscious of which ones to use for specific tasks.
For example, do you need a response in the next few days with a clear communication trail? Email might suffice.

Is there a group discussion or brainstorming that needs to happen, some parts in real-time, possibly over several days? Maybe a tool with multiple chat channels like Slack is the best remote communication tool.

Is it a quick question that's not particularly time-sensitive? An instant message might be appropriate – but it might distract the recipient, leading to a loss in productivity.

Do you need an answer right this second? Is that more important than your communication partner's productivity? Try a phone call.

Perhaps it's just a more complicated communication that requires more visual aids. Consider sending a pre-recorded video.

Could the discussion appear critical or cause negative emotions in the recipient? A live video call might be best so that the viewer can see your body language, hear your voice tone, and feel that you listened to their comments.
You'll want to use Krisp to improve the quality of your voice and video calls by stopping the background noise that makes it hard to hear clearly.
Another critical skill in remote communication is saying enough to communicate the required context – without saying too much. 
Here's an example: when a group of people are around the table, all parts of the conversation generally make sense. This clarity is because there is continuously a context in place – the topic of discussion.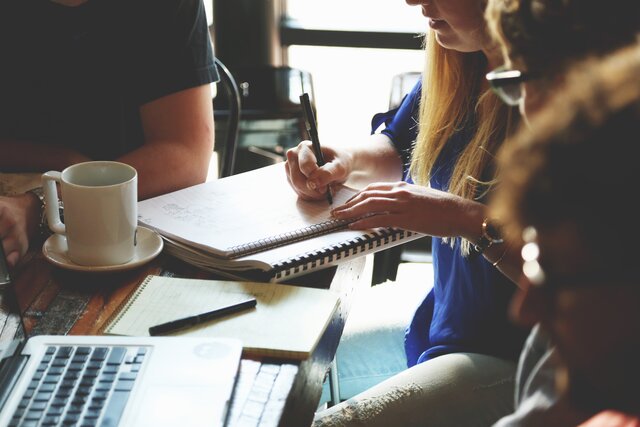 When communicating online, most forms of communication are an interruption. Combine this jarring distraction with lack of context (the person you're speaking with was most likely not thinking about the same topic or even privy to the same information as you) – and confusion ensues.
Rather than expecting our communication partner to dig through emails and chat channels to understand what we're referring to, it's best to include all relevant details in the first message. 
Taking time to provide all vital information upfront reduces wasting time in back-and-forth conversations that can span days. It helps both parties understand each other's questions and answers.
Ready to Find a (Better) Telecommuting Position?
Lists of telecommuting tips often gloss over the most important tip: how to find remote work that makes you the happiest. The happiest remote workers use their job's unique characteristics to help them create their ideal lifestyle. 
While getting started on remote work, use these four foundational tips for telecommuting to understand how to narrow down your ideal telecommuting work environment.