If you manage or work in a call center, you probably know call center agents use increasingly sophisticated headsets. Therefore, the call center headset that may work well for one agent, might not meet the needs of another agent. And let's face it.
Today, both physical and virtual call centers need the best headsets on the market to keep employees and customers happy. 
This makes it crucial for your organization to explore your options so you can choose the best model for your call center agents. Also, in a busy, packed call center with an open office floor plan, too much background chatter and noise could be distracting and downright annoying. 
An excellent headset for call centers helps minimize distractions and often features a microphone to capture clean audio for uninterrupted and long conversations. But sometimes, you need extra helper tools to provide the right audio quality. More on this below.
Time to discover our top call center headset recommendations that won't ever fail you.
Why Having the Right Headsets Is Important For Call Centers
The best call center headset for your agents can be a crucial factor in improving their effectiveness, performance, and productivity. We know that call centers can be notoriously loud, which can disrupt effective communication over the call.  
Keep in mind that even if there are just a few people in one room, talking over one another is likely to be a serious issue when dealing with customers. If uncomfortable or unwieldy headsets distract your call center representatives or they cannot listen or communicate clearly during calls, their productivity and efficiency will suffer. 
In contrast, call center headsets with excellent sound and microphone clarity and that fit comfortably can make multitasking much more manageable during calls. And this will lead to more satisfied customers, as they will get their questions and queries answered without delay.
Criteria for Choosing Headsets for Your Own Call Center
Durability 
As headsets are essential for the successful and seamless operation of your call center, durability and quality are essential considerations that you cannot overlook. 
Keep in mind that headsets that break easily can reduce call center efficiency, and increase frustration among your call center agents and employees. This is why you should look for reliable solutions made of top-quality materials, like surgical steel, to get the best results.
Noise Cancelation 
You should consider noise-canceling headsets for your call center. This is because they help suppress any outside noise and prevent your conversation with customers being interrupted. 
These headsets will enable you to listen to your customers at low volumes on average, which will potentially preserve your hearing. Isn't that great!
The right noise-canceling headphones for your office do not only passively block sounds by providing an effective physical barrier, as you will get with either all in-ear or over-ear headphones. 
In fact, they use technology in order to add an extra layer of ANC (active noise canceling) that is particularly invaluable in call centers and anywhere with constant noise at low ranges.
High-quality active noise cancelation usually comes at a premium price, which is usually offered by the likes of notable industry titans, such as Sony, Bose, and Sennheiser. However, the good news is that your call center can use a software solution, like Krisp, to improve communication clarity by muting background noise. 
[demo-new]
You can pair the app with any headsets for call center. It easily integrates with call center telephony platforms and works seamlessly with any headsets and microphones. On top of blocking out unwanted noises, Krisp also cancels echoes and removes voices which don't belong to the main speaker.
Comfort
Note that headset comfort is equally as important as durability. Bear this in mind when choosing a headset for your employees.
You probably know that your call center agents work long hours, and the headset is one of their most important tools. So, they have to feel motivated and inspired when talking with callers. This is why a heavy, or clumsy headset is the last thing your employees need. 
The best headsets for call centers are comfortable enough for extended periods of use.  Almost all best headsets for call center agents will have comfortable ear cushions; also, it could be an excellent idea to have lightweight and padded headbands. 
This way, you can avoid exerting added pressure on the top of the head. So, look for light materials and ergonomic features when choosing call center headsets.
Design and Technology
This is another key consideration. A well-designed and robust headset should have the latest audio technology. The headset should also have innovative features, making it simple to set up, use, and upgrade. 
The good news is that there are several types of headsets for call centers – from single and dual earpieces to behind-the-ear or over-the-head earpieces. 
A majority of call centers use dual earpieces. This is because it helps ensure the best audio quality for both the employee and the caller. You should look for vendors that have a wide variety of styles and designs to choose from. Keep in mind that premium features which are guaranteed to help you provide a smooth customer experience come at higher costs most of the time.
Our Picks for the Best Call Center Headsets
Short on time? Watch our video on the best call center headsets instead.
1. Jabra Biz 2400 II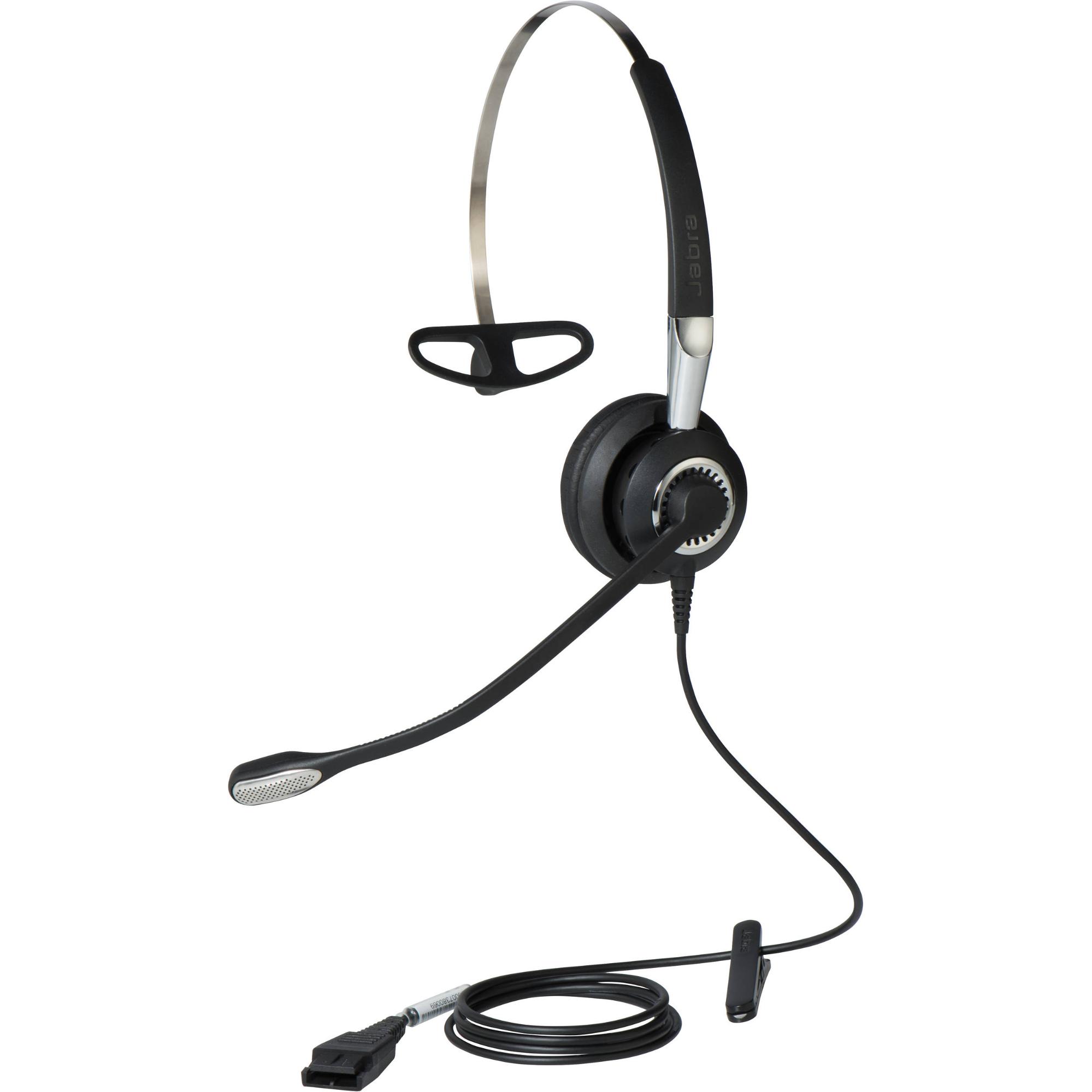 Best for: Getting the most useful features at a decent price point
The Jabra Biz is an excellent headset as it offers intuitive controls, HD voice clarity, and a 360 swiveling boom mic. This version of the company's most popular headset is easily one of the best stereo headsets for your call center. The Biz 2400 II by Jabra features a USB connection, a noise cancelation microphone, and intuitive call controls that your agents will like. 
Featuring HD voice technology and simple controls, the Biz 2400 is excellent for listening to customers. The mic also lowers the sounds of background noises while their HD Voice technology ensures agents will clearly hear customers' voices. Extra features like the Air Shock mic filters and PeakStop™ technology improve sound, reducing pops and crackles while protecting users' hearing.
The intuitive call controls on this product include an answer and end call button, as well as two programmable buttons. The Jabra Biz 2400 has everything your agent could want in his or her call center headset.
Price Range – $150 to $200
2. Sennheiser CC 550 IP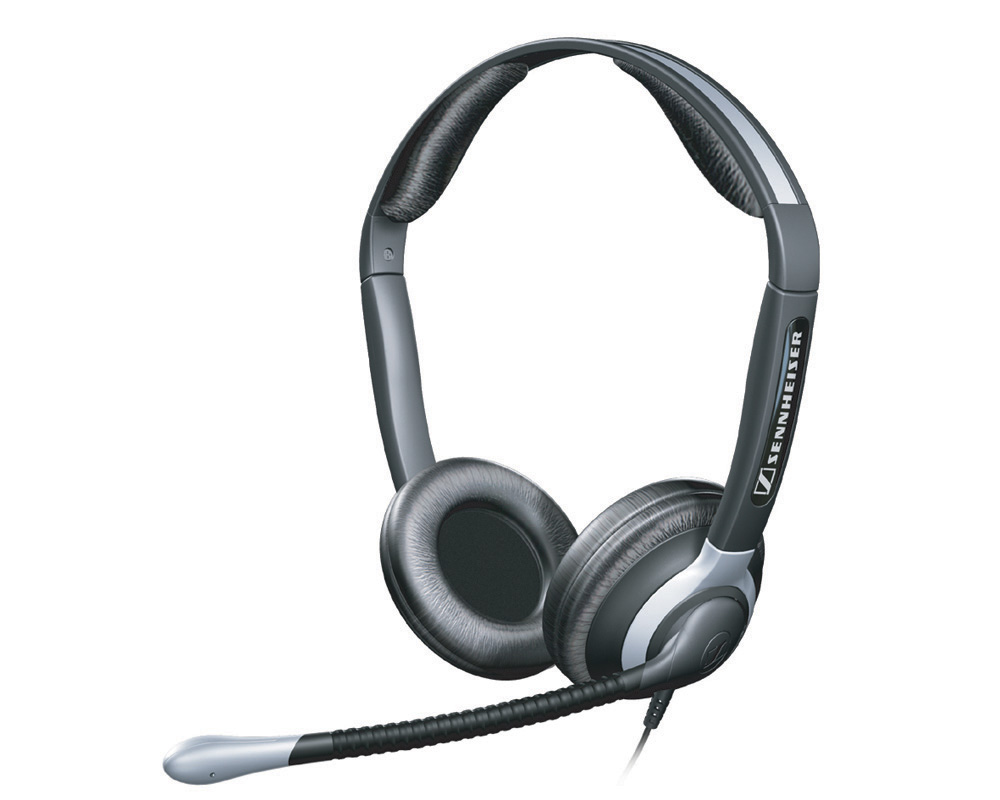 Best for: Noise and echo reduction [works best paired with Krisp]
The CC 550 IP headset by Sennheiser offers incredible sound and voice clarity, which makes it an excellent option for customer service reps and call center agents. These Sennheiser headsets use background noise canceling and a USB connection to allow employees to concentrate on their work.  
And that is not all; its noise reduction feature can eliminate audio interference. This headset is impressive as it can reduce the echo. Also, the product uses ActiveGard technology to protect the headset from acoustic shock and sound surges. 
The CC 550 IP also comes with a two-year warranty and offers more comfort with large and durable earpads that can distribute pressure. Nevertheless, this headset is highly durable so it will suits different kinds of call centers and use cases.
Price Range – $150 to $180
3. Plantronics Voyager Focus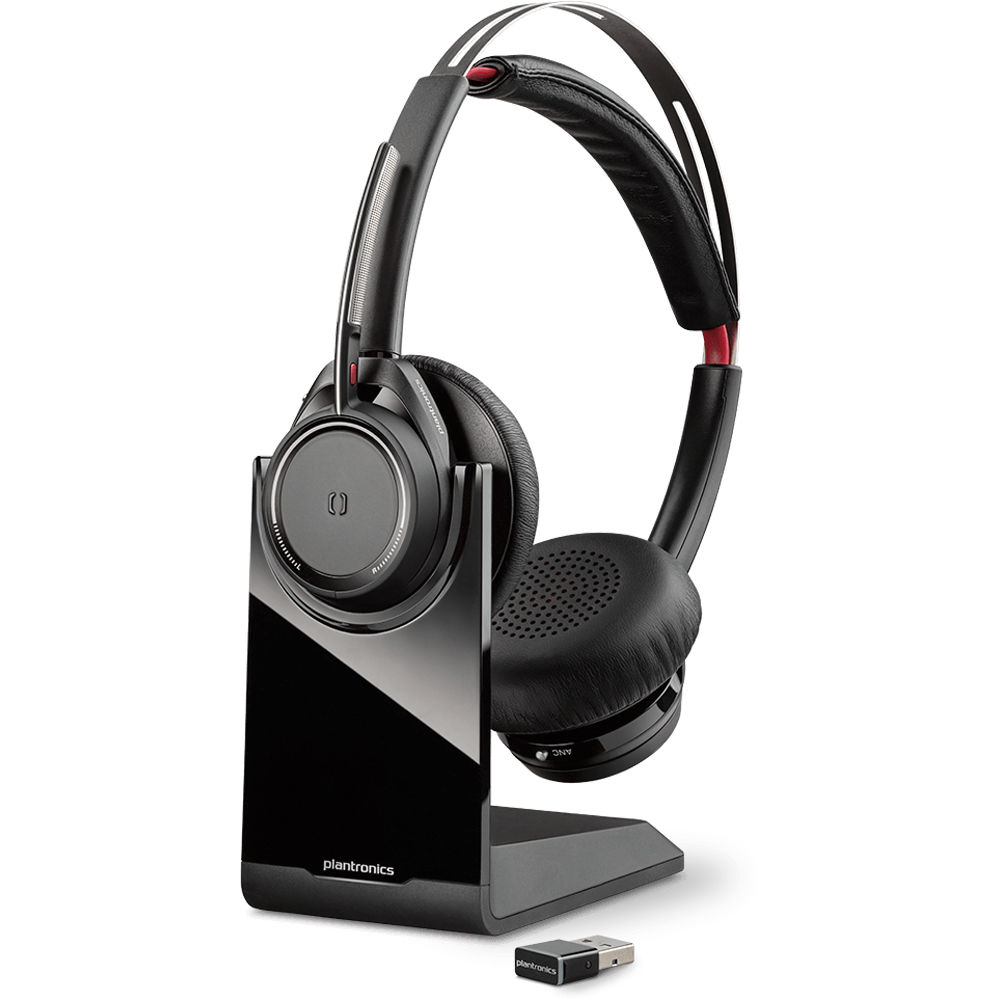 Best for: Call centers that rely on deskphones [Also, best monaural by far.]
The Voyager Focus UC by Plantronics is a stereo headset that has active noise canceling technology. The soft and comfy memory foam ear cushions will feel comfortable, and your agents can them wear all day. 
Also, while most headsets often come with just one microphone, this headset has three. Complete with a noise reduction and mute button. The mics also cancel ambient noise in loud and noisy environments and can effectively capture voices for clear calls. 
The Voyager Focus UC wireless headset has an excellent roaming range of up to 250 feet (no cables) for employees who like to pace while on phone calls. For extra efficiency, the headset's monaural configuration leaves agents hands-free so they can send emails, fix issues in real-time, or answer an urgent inquiry while taking calls.
Thanks to its 64-bit encryption and DECT™ Security Certification, this is one of the safest choices in our list if security and privacy is a top concern.
Price Range – $150 to $180
4. Logitech H650e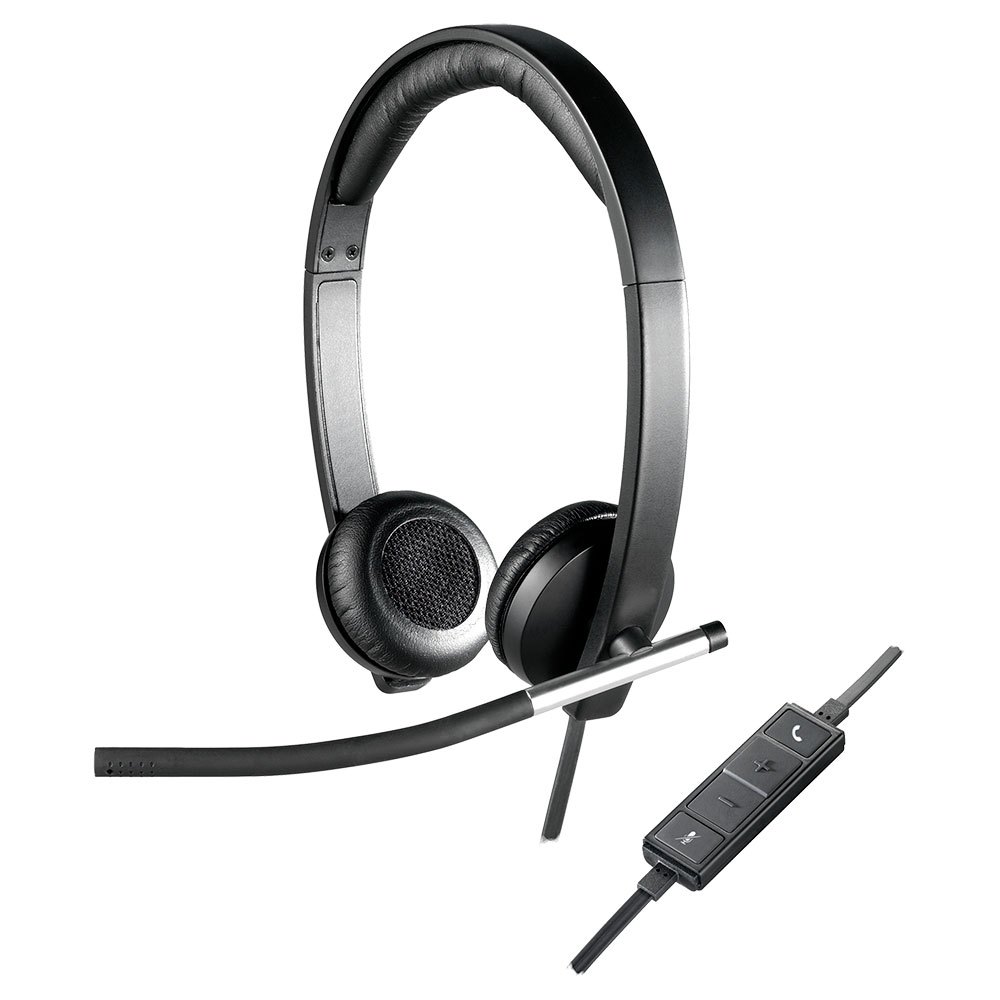 Best for: Busy call centers
Want a tool that's been vetted by certified video conferencing software like Zoom, ​​Cisco Jabber, or Skype for Business?
The Logitech H650e is a remarkable headset for call centers, and it will give you plenty of features without costing a fortune. If you are purchasing headsets for a large customer-facing team, then Logitech's wireless headset is great as it offers a high-quality option at a very low price.
The Logitech H650e is ideal for busy call centers that tend to get noisy. The microphone also has built-in noise canceling and the latest echo-canceling features, making your call center associates' voices sound clear and crisp to customers. No active noise canceling included though.
Price Range – $70 to $100
5. Jabra Pro 9450 Midi-Boom Headset System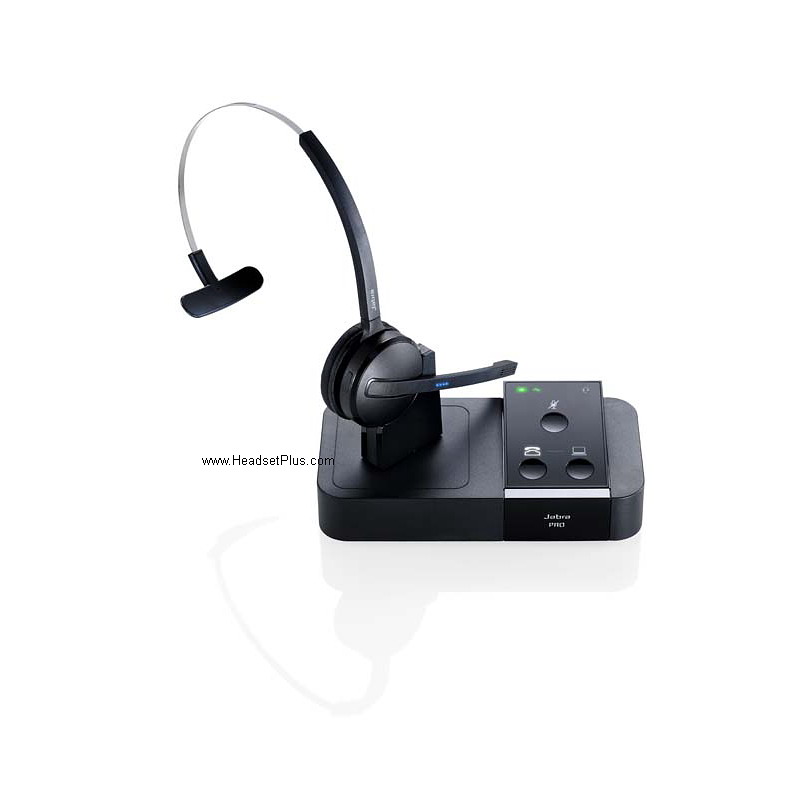 Best for: The comfort of your agents
Jabra's Pro 9450 headset system will add more flexibility and convenience compared to other headsets by providing convenient connection modes for working with PCs, desk phones, or both. 
The headsets feature wideband sound with amazing noise canceling technology that ensures fidelity for wearers and callers. The HD Voice technology ensures crystal clear voices and high\-definition sound for communication that's always intelligible. 
The headsets also allow for a seamless transition between taking a vital customer call and listening to music. Its wireless range is about 450 feet, which will give your call center agents plenty of roaming ability when they have to leave their desk to research any caller's request. 
Price Range – $150 to $200
6. Plantronics-CS540 Wireless and Convertible Headset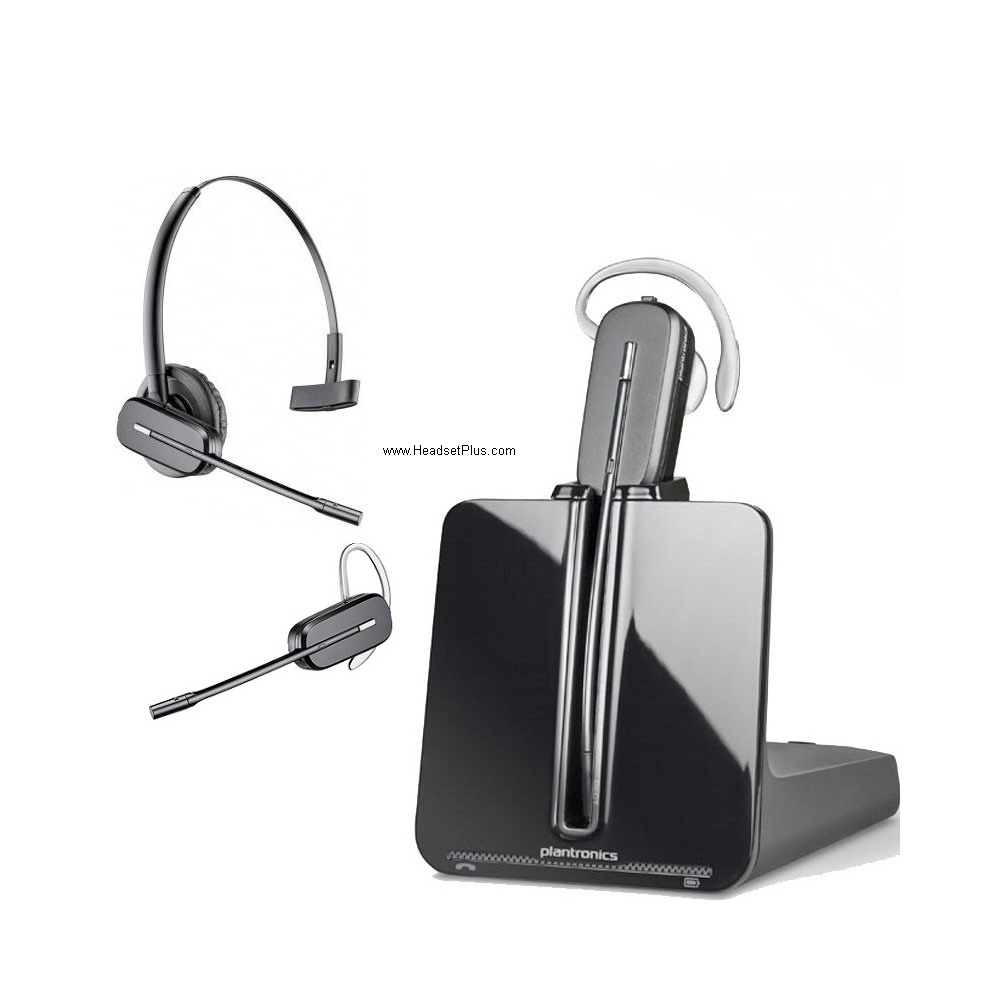 Best for: Customization and wearability options
Keep your team productive with a hands-free wireless solution.
This slim black headset from Plantronics is excellent as it flaunts a contemporary and sleek design. It is a stylish and unique alternative to bulky and heavy devices. The product comes with a headband and both ear loops. This will allow your employees to customize it to their wearing preferences, making this pick one of the best in terms of personalization options. 
And in terms of sound, this headset features an extended boom microphone that helps eliminate ambient noise. Not all versions include this feature so double-check when you make the purchase to have the functionality included.
CS540 also has DECT 6.0 technology and allows wearers to roam up to 350 feet while maintaining clear and crisp sound for communication. This is a fun choice if you've divided your call center into smaller teams as it can conference up as many as four headsets on one base. 
Price Range – $150 to $180
7. Sennheiser SC 660 Headset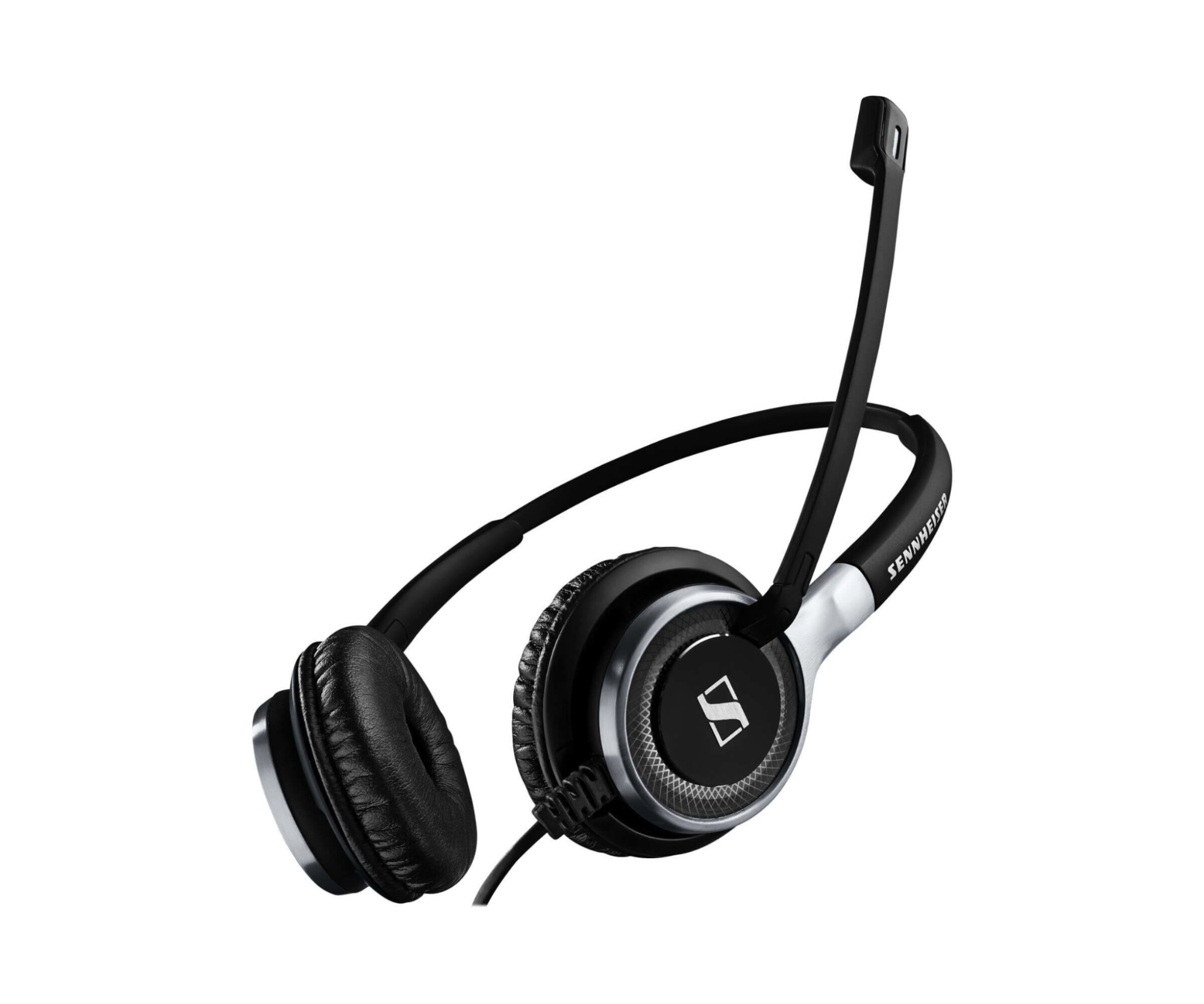 Best for: Long-term wear and virtual call centers
SC 660 headset by Sennheiser is a wired telephone headset. This is one of the solutions that are suitable for both call centers and office environments. The headset features stereo sound and has dual earpieces for customer calls that require maximum clarity and focus. 
The product uses a USB connector, so it is plug-and-play with several different devices you may receive calls with. And this makes it very convenient for your agents as it provides improved communication, superior sound quality, and higher productivity.
The headset is great as it is perfect for all-day sessions. In fact, it was designed for users with hearing aids so it's made to last you hours on end. Its noise canceling functionality further helps improve your agents' focus by blocking unwanted background sounds.
Price Range – $130 to $150
8. Koss CS100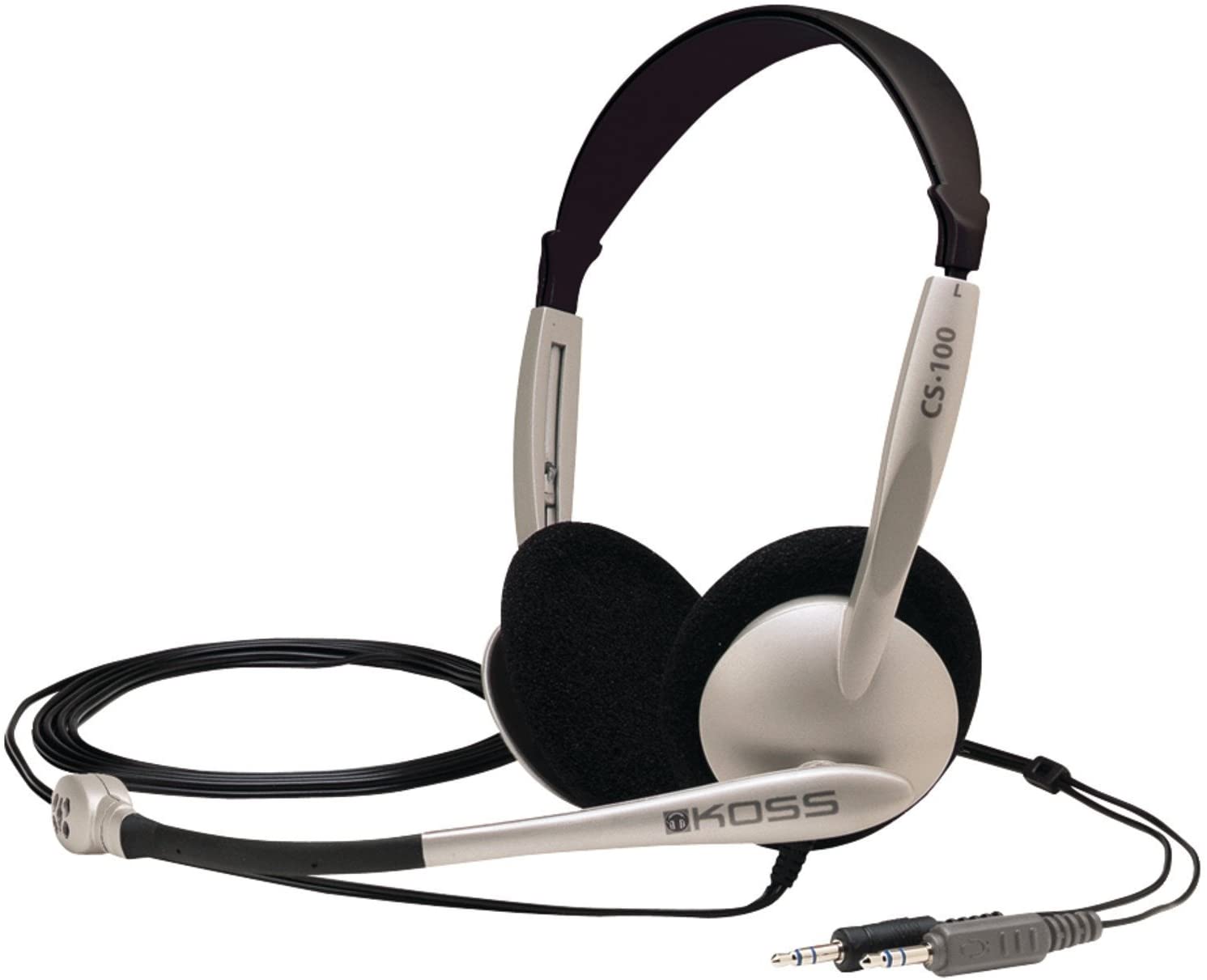 Best for: Long-term warranty
The Koss brand is popular in the industry for its top-notch headphones. Your call center reps will appreciate this high-quality and reliable headset. The product is perfect for call centers as it comes with a noise-canceling microphone — alongside high noise sensitivity and reduced sound distortion.
Like other products on our list, the Koss CS100 provides clear audio quality and comfort thanks to its foam ear pads and adjustable headband. However, Koss stands apart from other companies as it offers a three-year warranty and 30-day money back guarantee. 
All this at a super low cost that works for new call centers or if you need to have back-up equipment on hold. 
Price Range – $20 to $40
9. Bose QuietComfort 35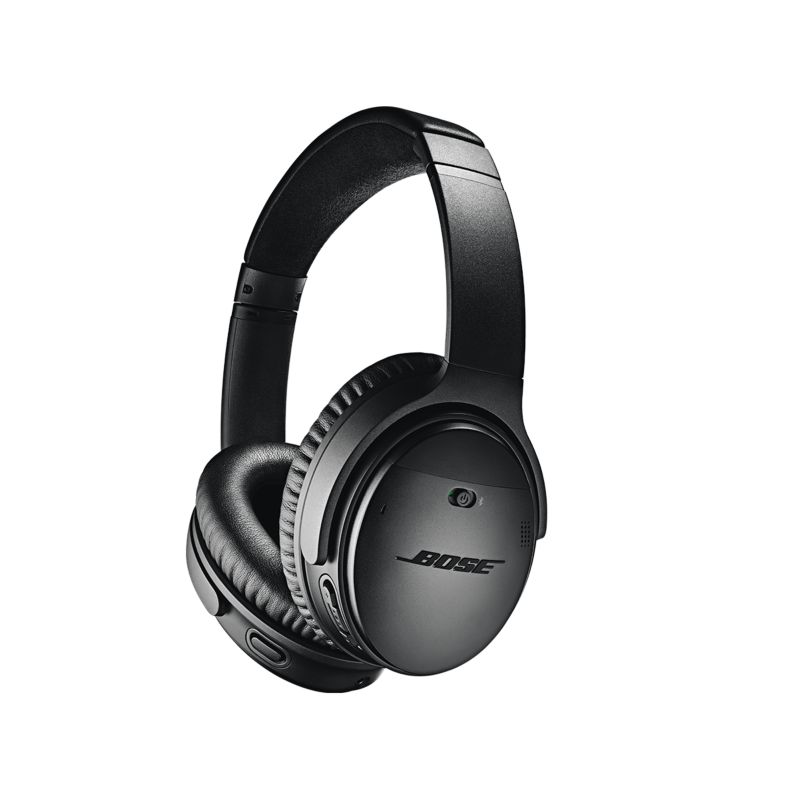 Best for: Extended battery life
20-hour battery life. Built-in voice announcements. Acoustic noise canceling. And even a voice assistant.
What if you could have all of these [and more] features in a single headset?
There is no doubt that Bose has made a name for itself as one of the leading brands of headsets that cancel out ambient background noise. So, whether you are talking in a busy and noisy call center or on a noisy airplane, these headphones are fabulous. 
They have customizable noise cancelation, dual microphones, and comfortable earplugs that will not bother your employees' ears or head even if they wear them all day.
Price Range – $250 to $350
10. Cisco 500-Series Headsets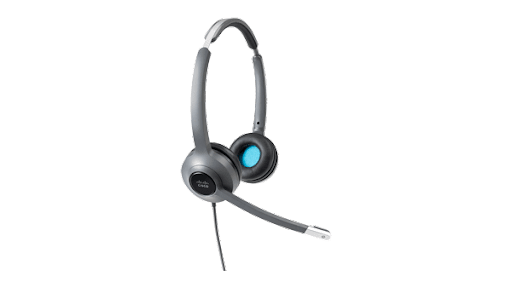 Best for: Improving agents' focus
You cannot get much better than Cisco, whether you are looking for wired or wireless headsets. This Cisco headset comes with power noise cancelation. This feature is fantastic as it will not only minimize background interference but also enhance the user's voice. This will promote crystal clear conversations and keep your customers happy.
The 500-series headsets also come in both wireless (Bluetooth) and wired variations. Connect the excellent headset with your Bluetooth-enabled smartphone and make hands-free business calls.
This headset is the perfect fit for busy call centers if you're looking to improve your agents' focus in an otherwise noisy work environment. The fitted noise isolation also ensures comfort throughout the entire day. 
Price Range – $250 to $300
11. Callez Pro USB Headset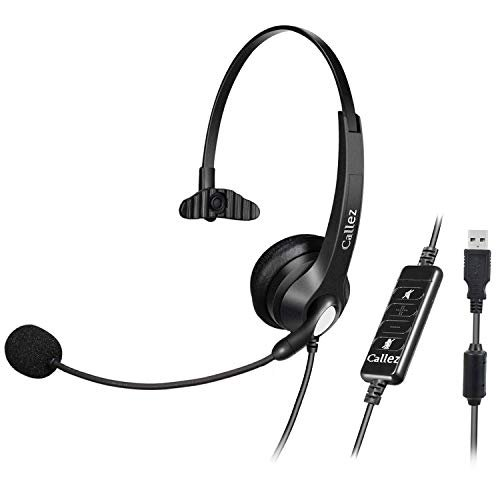 Best for: When you're on a budget
Need one more cheaper option?
If you're just starting a call center business or want to give your agents a headset they can use at home [if your team is hybrid], this is a good choice that comes with a two-year warranty.
On top of this, the Callez Pro USB Headset is highly durable in case of minor accidents thanks to its flexible boom mic. 
If you're worried about keeping your team members safe, note the default Acoustic Shock Protection (ASP) feature protects agents from sudden loud sounds they might be predisposed to. Due to their lightweight (2.97 ounces), employees can wear them extensively without feeling discomfort.
This headset comes with USB-A connectivity so it works with both Windows or Mac devices. There's no built-in noise canceling features so you'll want to pair it with a tool like Krisp to ensure great audio quality and no noise complaints.
Price Range – $42 to $58
12. Yealink WH66 Wireless Headset
Best for: Testing out innovative features in a noisy environment
The smartest headset on our list comes at a premium price with a plethora of innovative features.
Yealink WH66 is an entire workstation that gives your agents the flexibility to connect different devices and manage all of them in one place. This hub can integrate a full-duplex speakerphone, a 4-inch touch console, and a USB hub.
You'll get a 120m wireless range and 8 continuous hours of talk time. The hub comes with some noise canceling features, including a standard option which adapts the mute mode based on the position of your headphones.
Besides, the ergonomic design and soft leather cushions let users wear it all day without any issues.
No wonder over 15 million Yealink IP endpoints have been sold all across the world.
Price Range – $329 to $359 [variations of the product come at a cheaper cost]
So, Which Call Center Headsets to Choose?
In any call center, a headset is the primary communication device for your call center agents and employees. This is why it is vital to choose a model that is comfortable, compatible, and sounds good. 
The best headset for call centers will also help in blocking out the noise and distraction in your call center or office. So, it will increase the productivity of your employees while avoiding the annoying distractions of a noisy and crowded office. 
We know that buying the best quality headset for your call center or office work can be a very overwhelming and involved task. This is because there are so many models on the market.  If you want to make an informed and sound decision for your employees, you should closely look at what your agents need and what type of call center headset works best for them. 
You should also consider your budget. The headsets in our list offer you the best value for your money, especially from a work perspective. But we've made sure to include some premium options if you want to provide an award-winning customer experience. 
The best way to find out which headset works best for your employees is to try it. We hope that our list of top 12 headsets for call centers and buying criteria will make the decision easier for you.