Whether you're looking to better understand your colleagues during meetings or make sure no one hears your dogs barking in the background, you've probably already started to consider a noise cancelling tool. 
Noise cancellation software enhances the audio in calls by removing unwanted background noise in real time. This includes common background noises like barking dogs, crying babies, keyboard tapping and more. These software-based noise cancelling solutions can remove background noises and even echoes no matter where you work from, even on the go.
In this article, we're going over the main differences and common features between two noise cancelling solutions: Krisp and SoliCall.
Krisp vs Solicall: Brief Introduction
Before we jump into the performance comparison, let's take a closer look at what each tool does.
What is Krisp?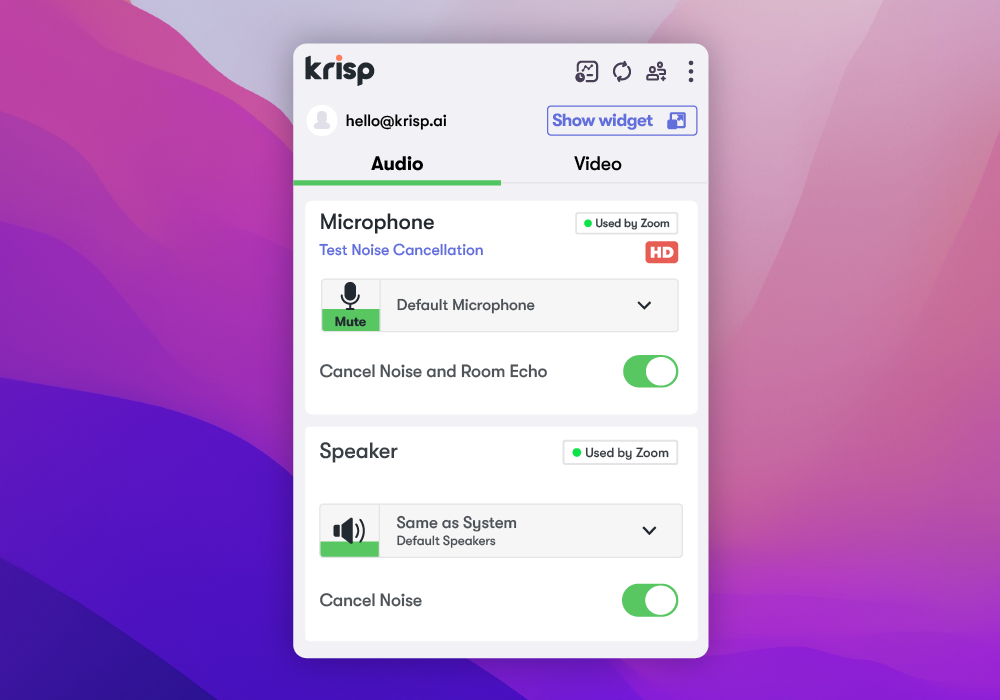 Krisp is a global software company that develops audio and video solutions to empower everyone to communicate with clarity and confidence. Its AI-powered noise, voice, and echo cancellation technology has been recognized as an industry leader, named one of TIME Magazine's 100 Best Inventions of 2020 in the Artificial Intelligence category and one of "America's Most Promising Artificial Intelligence Companies" by Forbes. 
Krisp supports more than 150 million users across the world and thousands of small businesses, enterprise organizations, contact centers, and business process outsourcers to create clearer communication — regardless of where they work. This noise cancelling software is trusted by some of the world's largest and most prominent organizations, including GitHub, Discord, Accenture and more.
Krisp provides bi-directional background Noise Cancellation, Voice Cancellation, and Echo Cancellation. It works with any conferencing app or VoIP software to detect and eliminate unwanted noise, leaving only crystal clear HD audio. 
During the pandemic, Krisp became an essential solution, especially for call centers. After turning Krisp on, customers report 6% reduction in Average Handle Time (AHT), 8% increase in customer satisfaction score (CSAT), while noise complaints are reduced by 78%. 
"We frequently refer to Krisp in internal meetings as 'working like magic. Agents, their managers, and customers are all ecstatic and happy, and the difference is black and white."
Nathan Yap, CEO, SupportZebra
With Krisp, call center agents can resolve customer issues with confidence and maintain customers' trust, knowing that background noise and distractions won't get in the way. 
Besides call center noise cancelling, Krisp works for a variety of different use cases and gives individuals and teams the tools to improve their meeting experience and gather insights on communication habits to improve their digital well-being.
[demo-new]
What is SoliCall?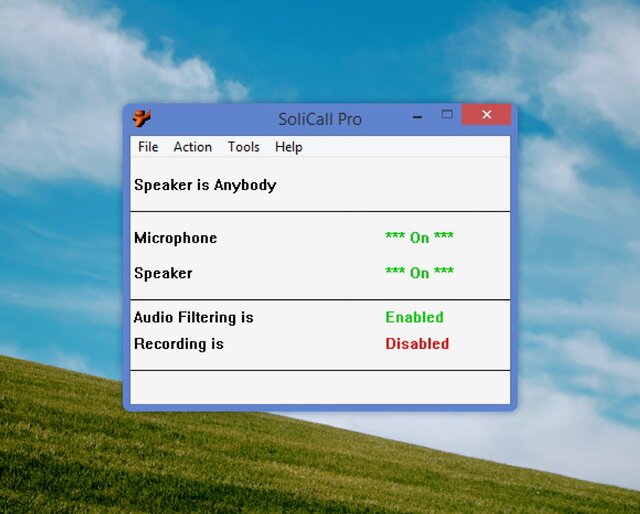 SoliCall develops software products that improve the sound quality in telephony. Their products are used in mobile phones, desktops, call centers, conference bridges, VoIP networks and in the cloud. Among their products are Noise Firewall for call centers and shared workspaces, as well as robust echo cancellation for the network and other challenging environments. 
SoliCall Pro solution aims to improve the quality of audio when using soft-phones without needing centralized audio filtering or analysis. It improves audio quality when making calls from any PC/laptop running on Windows and can be easily integrated with any soft-phone/VoIP application like Zoom, Skype, or Teams.
Another innovative solution is PBXMate for call centers. This product removes ambient noise in order to improve customer experience. It uses custom algorithms to correlate the audio of different calls, find the noise's location, and remove it from calls. 
But which option is right for your needs: Krisp or SoliCall? Let's see both of them in action!
Krisp vs. SoliCall: Features and Technical Requirements
To compare the two noise cancelling solutions, we're first going over their features and technical requirements needed.
Krisp features
Krisp provides a suite of various features, packed in an easy to use app. The main features of Krisp are:
Noise cancellation – Removes background noise from both ends of the call.

Background voice cancellation – New groundbreaking feature of Krisp that removes background voices, such as the chatter of other agents nearby.

Echo cancellation – Eliminates distracting room and acoustic echo. 

Call summary – Provides a quick overview and insights on talk time after each call to keep track of the effectiveness of your meetings.

Widget – Handy tool to easily control Krisp during a call.

HD Voice – Krisp work with any HD-supported device to maintain clear audio quality

Low power mode – Allows agent devices to run smoothly without taking up too much of CPU power.
Learn more about Krisp's features.
SoliCall features
Noise reduction – profile-based noise reduction (PNR) to reduce non-human sounds and reference-based noise reduction (RNR) to attenuate ambient sound.

Echo reduction – Cancels echo generated on local or remote devices.

PBXMate for Call centers – Displays real-time statistics on calls in progress and aggregated insights for past calls. 

Automatic Gain Control – Keep voice volume in a normal range.
Supported apps
Krisp can be used with any communication app, including all audio and video conferencing tools and VoIP solutions, such as Zoom, Microsoft Teams, RingCentral, Avaya, Genesys and 800 more. 

SoliCall can be integrated with any soft-phone on any operating system and with any desk-phone as well as any communication software like Skype for Business or Genesys.
Supported headsets
Krisp works with all headsets and earphones.

SoliCall works best with certain USB headsets.
Technical
requirements
Krisp works both on Mac and Windows (versions 10-11) devices

Solicall works only on Windows (versions 7-11) devices
Pricing
Krisp has a free plan so you can try and evaluate the tool at no cost. There's also custom plans for Teams and Enterprise users. For more information visit Krisp's Pricing page. You can also request a demo to see how the tool can help you with your specific needs.
SoliCall provides the basic version of Solicall Pro that doesn't contain some of their advanced tools for a testing period of only 3 days. For more information and custom plans, you will need to contact their team. 
Krisp vs. SoliCall: Performance Comparison
Now let's move on to a more technical comparison between Krisp and Solicall and see how both of these tools performed in various tests. 
In this section, we evaluate Krisp vs. Solicall based on the audio quality, meaning how well the app removes the most common background noises and maintains high voice quality.
Audio Quality (Noise Cancellation + Voice Cancellation)
For this test, we used VoIP tools which enabled us to get processed files and calculate the Perceptual Objective Listening Quality Analysis (POLQA) metric.
If you are not familiar with the terminology, POLQA is a global standard for benchmarking audio quality by comparing processed audio files with the corresponding clean voices. The results are on a scale from 1 (bad) to 5 (excellent).
When comparing Krisp with SoliCall, we did the evaluations in the exact same conditions and tested their performance for reducing background noise and voice. Two audio files were created and processed using the Krisp microphone and, respectively, the SoliCall microphone.
Results
Let's consider the POLQA results for the processed noisy audio samples below. As you can see from the chart, Krisp has higher scores for all noise types. This means that Krisp is better able to clean background noise while keeping the main speaker's voice intact.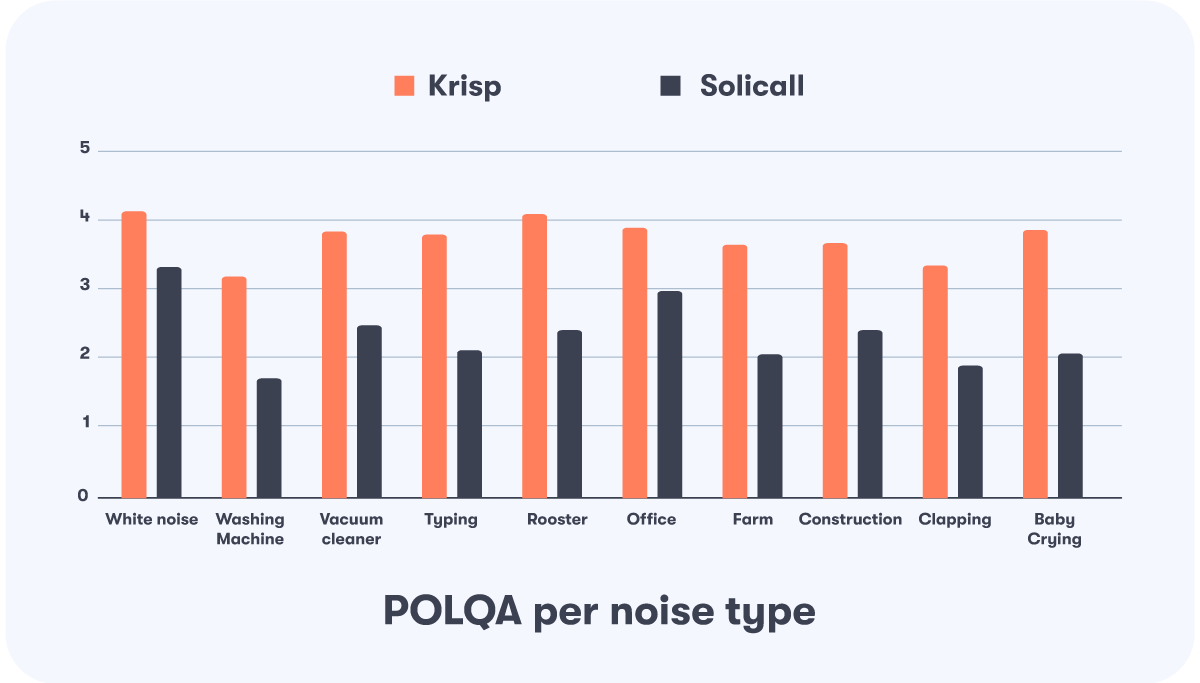 When subjectively listening to the audio, we could notice that SoliCall suppressed background noises but also removed the main speaker's voice, meaning it has some voice suppression as well. When listening to the audio snippets, we also noticed that some noise is heard during speaking time and noise is cleaned comparatively well when there was no human voice in the audio.
Let's consider the POLQA results for the processed multi-voice (main speaker and background voices) audio below. Similar to the results above, Krisp has performed significantly better compared to SoliCall.
When listening to audio fragments processed by Solicall, we noticed that it didn't fully clear background noises. While testing Krisp, we didn't notice such cases, which is confirmed by its high POLQA scores.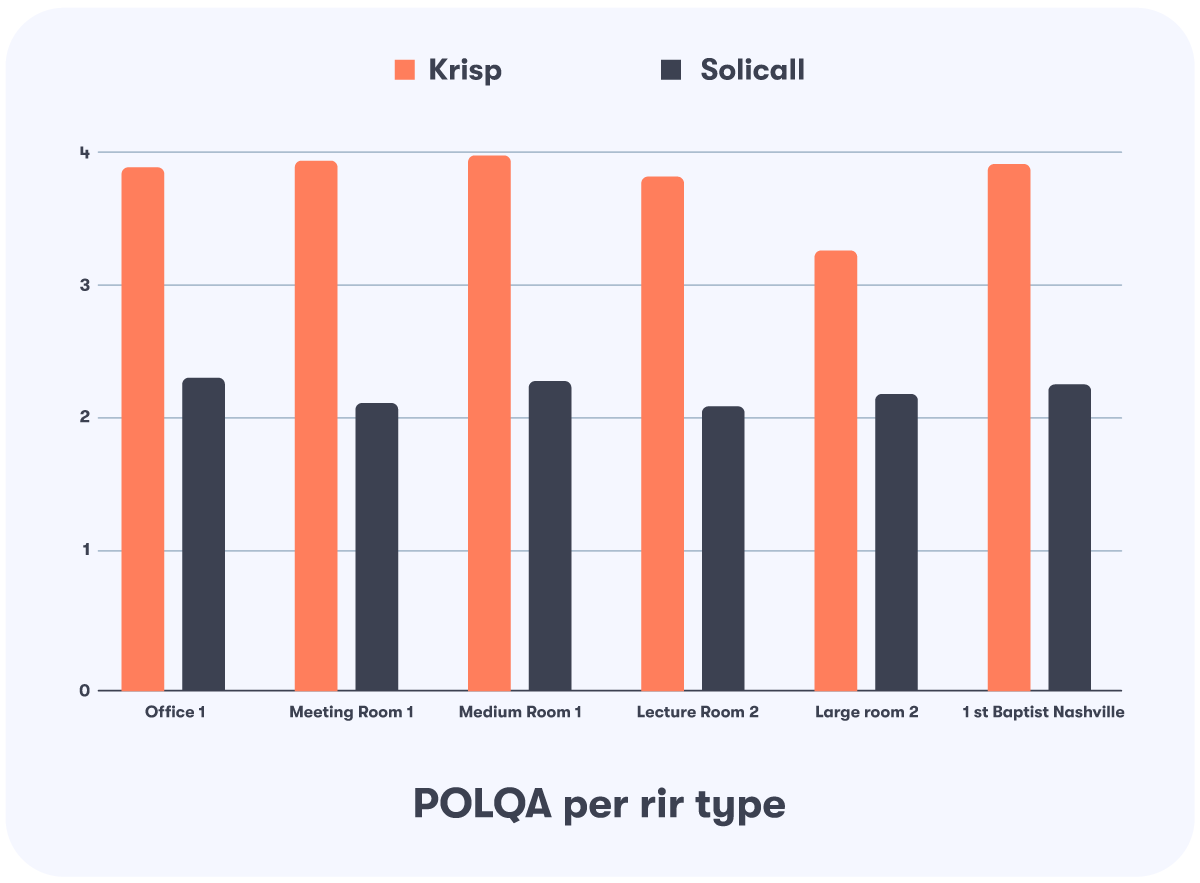 Looking at the results of this test, you can see that Krisp's noise canceling solution overall performs noticeably better than SoliCall, and does a better job of cancelling surrounding noise and secondary speakers' voices while keeping the main speaker's voice clear. In the case of Solicall, the tests showed lower results and during listening evaluations there were some instances where it even suppressed the main speaker's voice. 
Krisp vs. SoliCall Comparison Conclusion: Which One Should You Choose?
Our tests revealed that when compared to SoliCall, Krisp's noise cancelling product was able to accurately remove secondary speakers' voices and unwanted background noises from audio. Even in real-time. On the other hand, SoliCall had a worse performance, occasionally suppressing speakers' voices or failing to remove background noise altogether. 
If you want to rely on a single solution for clear audio quality during meetings or for use within call centers, Krisp is the perfect option that scales with your business. In addition to effectively removing unwanted noises and extra background voices, the tool also eliminates echoes bouncing off of the walls and those resulting from your voice or a sensitive mic. 
Want to test Krisp right now? Try it below in real-time to see it in action!
[demo-new]