Whether you've got to temporarily change your office space or you just want to protect the privacy of your personal space, blurring your background during Zoom meetings is always a good call.

But sometimes you've got to unexpectedly switch video communication tools or restart a call. That's when you're likely to bump into some unexpected background errors. We built this guide to prepare you for anything.
Here's how to get your background blurred in Zoom and some extra tips to ensure the quality of your call. No matter the challenges you might face with your future meetings.
How to blur your background on Zoom before a call
For Windows/macOS/Linux devices
Stick to the following steps to ensure the background blur is in place on a Windows/macOS/Linux device:
Launch your Zoom app and make sure you're signed in.

Head over to your profile icon and select

Settings

. 

Go to

Backgrounds & Effects

.

From

Virtual Backgrounds

, choose the

Blur

option. 

Simply selecting this option saves it so you'll notice it during your next call. 
Tip: Test your background by starting a New Meeting just to check what the blurred Zoom background looks like live.
Take full advantage of a blurred background even on the go or when your laptop decides it's time for an update just as you're about to start a meeting.
Open your Zoom mobile app.

Once in a meeting, tap

More in the bottom right-hand corner.


Tap

Virtual Background

(for Android) or

Background & Effects

(for iOS).

Tap the

Blur

option and you're done!
How to blur your background on Zoom during a meeting
Forgot to add the blur and your background's a mess? Don't panic. 
You can blur the background even after a meeting or online event started.
Look for the upwards arrow in the bottom-left corner of the video window next to Start/Stop Video and select Blur My Background.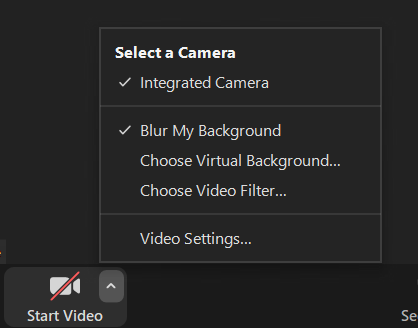 Keep in mind that once you choose to blur your background, that virtual background will be kept for your next meetings.
You can always disable the blurred Zoom background by going back to your profile picture > Settings > Backgrounds & Effects > None.
What to do if your blurred background isn't showing up
Sometimes the Blur background option just doesn't show up from the start for all accounts.
One quick fix is to make sure you've got the latest version of Zoom.
Head over to your profile picture and select Check for Updates. 
While this should do the trick, some users have reported having to restart their computer for the background to work.
If all else fails, double-check your system requirements as per Zoom's guide. 
Heads up: A blurred background takes a bit of time to load. Just like another virtual background. So if you switch from one Zoom meeting to another, you might get a pop-up that asks you whether you want to continue the meeting without the background or wait for the latter to load. In case the virtual or blurred background takes too long to load, just restart the meeting.
Avoid Zoom blurring out parts of yourself
Let's face it. A blurred Zoom background can make you look… different. Mostly because you can get parts of yourself blurred! 
To avoid looking blurry or the virtual background covering part of your face:
Make sure your camera isn't out of focus. 

Clean your camera lens on a regular basis.

As much as possible, try to make sure there's a considerable contrast between the background and your hair, clothes, and skin.
For an alternative method, take a photo of your background and blur it! You can then re-use this image as a virtual background to mimic the blur effect during a Zoom call without looking off. 
Other aspects to optimize for your Zoom calls
The perfect call isn't complete with just getting the right background. Other aspects like your outfit, the structure of the call, meeting intros, chat management, and background noise cancelation also play a vital role in a high-quality Zoom call.
What if you could magically "hide" all background noises in Zoom?
Krisp's noise canceling feature helps you ensure you also sound great by removing any background noises on both ends of a conversation. Plus, the tool doubles up as a virtual studio, erasing echoes and helping you record podcasts or videos like you would in a professional environment. 
It works well with Zoom and can be a great alternative if Zoom's noise cancellation doesn't work well for you. Besides Zoom, Krisp works across any communication app you're using.
[demo-new]
As for the next steps, we've got an extensive list of pro Zoom tips to help you impress other meeting participants or event attendees. Keep in mind call quality differs from one tool to another. So if Zoom isn't consistently good enough for you, consider other solutions like Google Meet or Whereby.