Smartphones have evolved to become a huge part of our lives and we use them for everything from navigating routes to checking the weather to surfing the web and even finding a date. But sometimes we forget the original reason mobile phones were invented: for actually calling people. 
If you're the type of person who often uses your phone for calling people – you might be wondering whether there is an app that can improve the experience. What are the options for the best dialer apps for iOS? 
There are many advantages to using a dialer app. First of all, the app saves you a lot of time because you don't have to type in numbers manually. You can automatically dial, which is convenient for those who work in customer service or phone-based sales. 
You can also find apps that offer call blocking, speed dial buttons, built-in caller ID and integrations with other apps such as Messenger and Whatsapp. 
So without further ado, let's see which are the best dialer apps for iOS.
What To Look For in a Dialer App?
What should you look for when choosing a dialer app? The truth is, it depends on what you want to use the app for. Here are some questions to ask yourself:
Will you be joining in with meetings and conference calls? If so, you should look for apps that are compatible with Zoom, Hangouts or other conference call apps you use. 

Could you use some help staying organized? Some apps will sync with your calendar app, so you can keep track of all your meetings. 

Do you need an app that offers VoIP capabilities? This refers to Voice Over Internet Protocol and it allows you to make phone calls over the internet rather than using a mobile network or landline. 

Do you often make calls in noisy settings? You may want to look for an app with noise cancellation qualities, so you can block out background noises and be heard clearly. 
8 Best Dialer Apps for iOS
Note: The Krisp Phone app will be removed from the app store and will be no longer available for download as of December 26th. However, if you've already downloaded it to your mobile device – you can continue to use it until then. As of December 26th, the app will be officially shut down. All existing users will be signed off and the app will no longer function. Please read more about our decision here.
1. Krisp Phone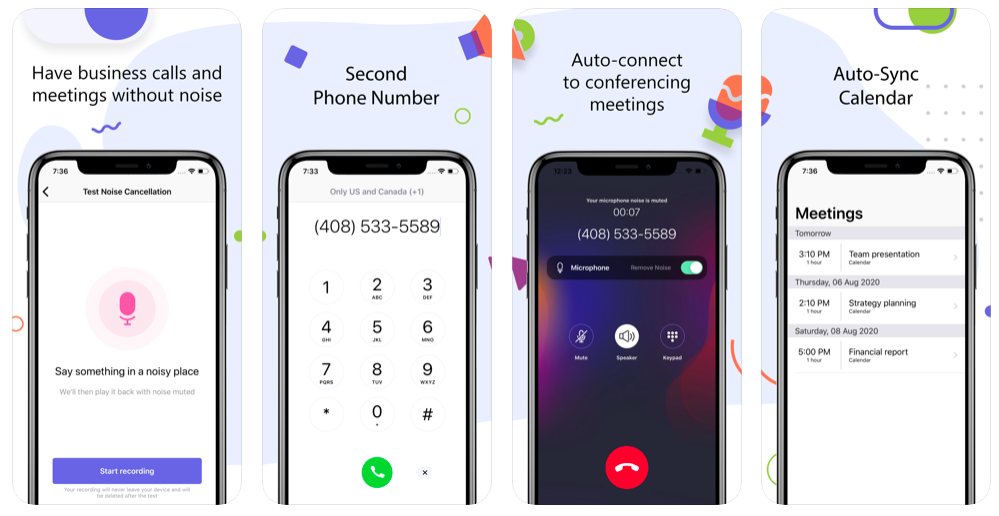 Krisp Phone is a mobile dialer for iOS, which allows you to join in with a conference or meeting or make outgoing calls from anywhere in the world. 
One of the best features of Krisp is the ability to cancel out any background noise. Krisp uses the power of AI to differentiate between the human voices on a call and the background noise such as barking dogs, noisy children or coffee shop chatter. It will remove all background noise that is unnecessary to the call, leaving only the crisp and clear voices. 
With Krisp Phone, you can get a second phone number to keep your privacy. Additionally, you can authenticate your phone number and use your own caller ID when having calls.
It's great for professionals who take calls while on the go and want to sound more professional.
Pricing Details
Krisp Phone has a one-time trial with 100 minutes of noise-free calls from any country to US & Canada.
With Krisp Pro you get unlimited noise-free calls & text messages from any country to US & Canada, as well as ability to add a second phone number and use it as dialer app.
Where to Download It
You can download Krisp Phone from the App Store.
Note: The Krisp Phone app will be removed from the app store and will be no longer available for download as of December 26th. However, if you've already downloaded it to your mobile device – you can continue to use it until then. As of December 26th, the app will be officially shut down. All existing users will be signed off and the app will no longer function. Please read more about our decision here.
2. Eyecon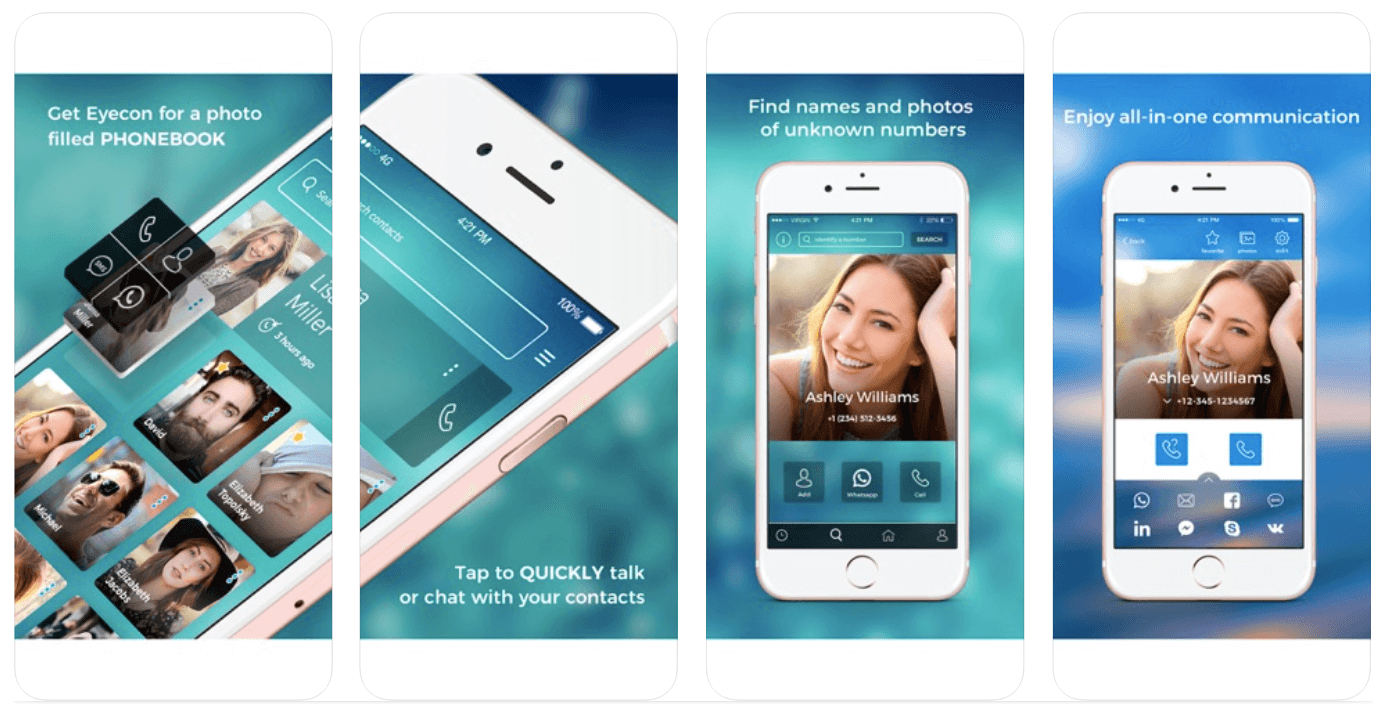 One of the primary functions of the Eyecon app is as a caller ID. It will allow you to identify calls and see photos and names of unknown callers and contacts in your phone book. 
When you sync the app with Facebook, you'll automatically see the photos of the person who is calling you. You can also sync Eyecon with Viber, Whatsapp, Skype, Linkedin and several other apps. It's also very easy and fast to set up a contact after you receive a call from someone who isn't in your phonebook. 
The app offers you a lot of options for personalization. You will have control over how your name and contact information appears to your friends when you call them. Also, the app will show you the contacts you speak to regularly first, as you're more likely to call them. 
Eyecon also has a handy "can you talk?" feature that allows you to found out if your friends are free before you call them. They will have the chance to either answer the phone, call you back or let you know they are busy and can't take the call. 
Pricing Details
Eyecon is free to download and offers optional in-app purchases. 
3. Truecaller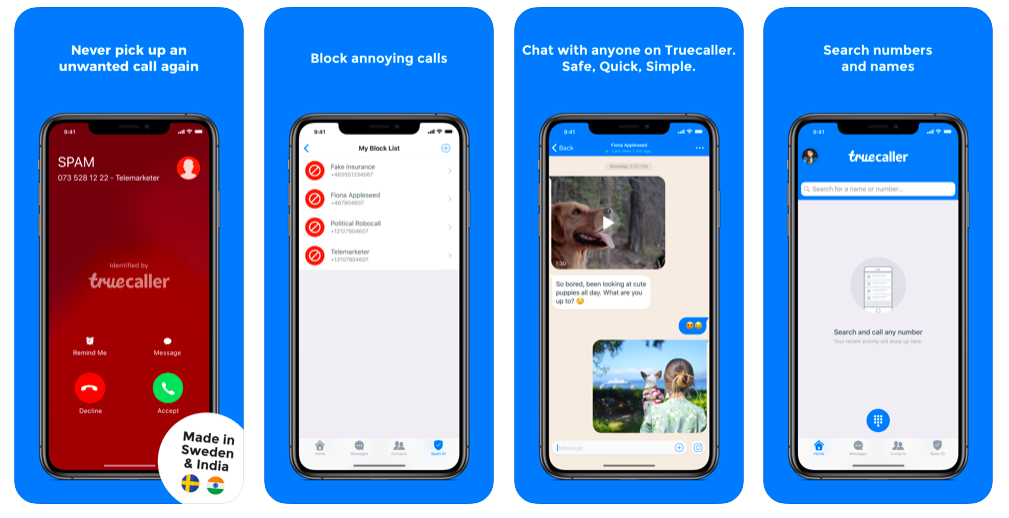 Truecaller is one of the well known and popular ones among dialer apps for iOS, with over 200 million active users and 10 billion spam calls identified and blocked so far. It was founded in Sweden in 2009, when the creators of the app wanted to build a service that would easily identify calls from unknown numbers. 
The primary purpose of the Truecaller app is to keep scam and telemarketing calls off your phone. It lets you see who is calling with a caller ID, which is based on a crowdsourced directory within their system. 
Although the Truecaller app uploads your contacts to their database in order to make their caller ID more accurate, they respect your right to privacy. According to their official policy, your phonebook is never made searchable or public. 
The app also offers smart messaging features that let you chat with your friends and send message and photos.
Pricing Details
The Truecaller Basic option is free and includes Caller ID and Spam Blocking. The Premium Version of the app has no ads and features Caller ID and Spam Blocking, as well as the option to see who viewed your profile, have more contact requests and much more. The Premium version of the app is $1.99 monthly, or $17.99 yearly (the price varies by country). 
4. Drupe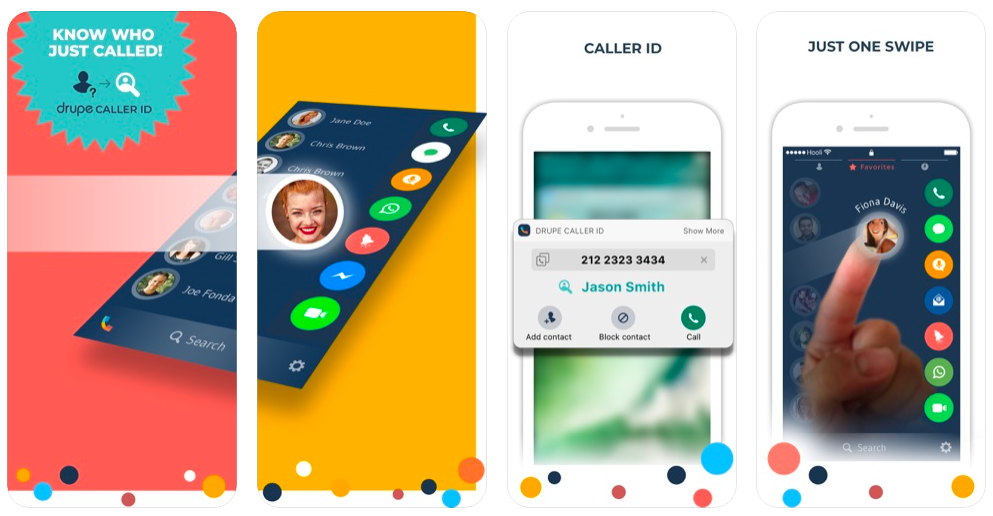 Drupe is one of the most popular mobile dialer apps. It features a very easy to use and attractive interface, as well as a call recorder, call blocker and much more. The smart caller ID tracker and blocker make it easy to find out unknown numbers, so you can avoid spam calls. 
The app is designed to allow you to dial, message, schedule, tweet, email and set reminders, all from one place. It's easy to access from the "drupe dots" that appear on your lock screen – just swipe up to use the app. You can even customize the look of your Drupe screen to match your style and preferences. 
The app even allows you to add animated GIFs to your outgoing calls – as long as the recipient also has Drupe installed. You can also set alarms and notifications for your missed calls and snooze them for later. Plus, the app features a built-in call recorder that allows you to record both sides of the conversation so you can play it back later for your reference. 
Pricing Details
The app is free to download and offers optional in-app purchases. 
5. Speed Dial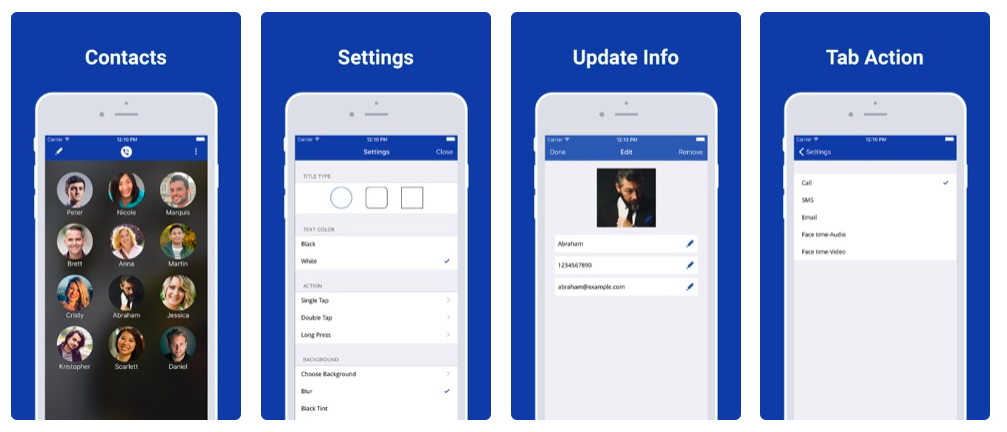 This is a simple and useful dialer app for iOS that allows you to get in touch with your friends with only one click. You can customize your speed dial screen to display the friends you keep in touch with most regularly. It is designed to help you communicate quickly with your frequent contacts and it also comes with Apple Watch integration. 
Speed Dial makes it very easy to add contacts – and you can even organize your contacts into groups. This is a useful feature for those who manage a lot of work calls on their phone. 
With Speed Dial you can switch to sending text messages by long-pressing on your contact widget. You can also change this function in the setting options to Whatsapp, call reminder and more. 
Plus, Speed Dial also offers a feature that allows you to speak the name of your contact to quickly call them. This can be handy when you are walking or driving somewhere and need to call someone. 
Pricing Details
The basic version of the app is free to download and offers some in-app purchases. 
6. Contacts+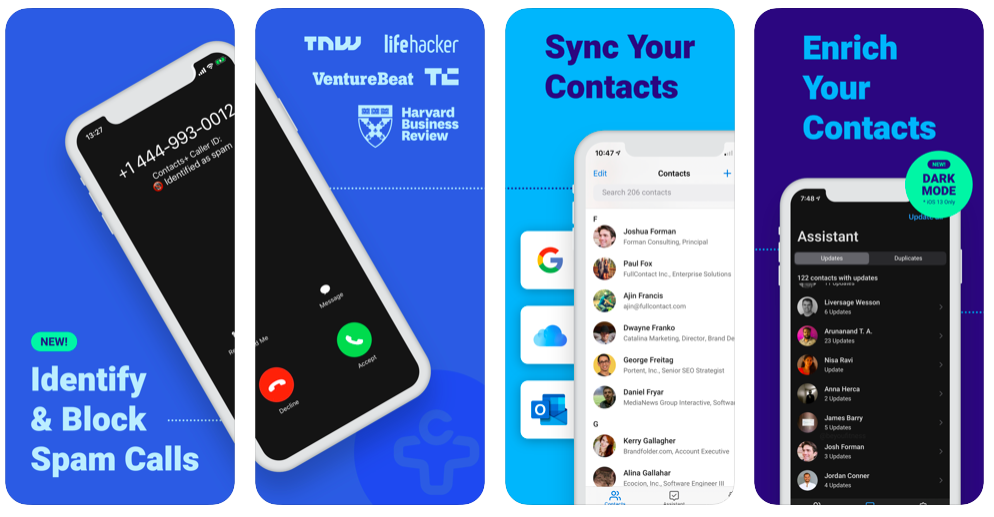 Contacts+ is another one of the best dialer apps for iOS, because of the seamless way it helps you keep track of your contacts without cluttering up your address book. It connects all your accounts to create a unified address book for you, syncing up to date information across all your devices. 
The app also features a business card scanner. Imagine you're at a conference or a networking event and someone hands you a business card. You can quickly scan it and the app will transcribe it and sync it to your connected account. 
Pricing Details
The basic plan is free and includes one amount, with space for up to 1,000 contacts. Plus, you can scan and save up to 5 business cards. 
The Premium version costs $9.99 per month and includes five accounts, with space for up to 25,000 contacts. You can scan 50 business cards per month, plus you'll have access to Premium-only features like third party integrations with Google Sheets, Zapier and more. 
There's also a Team & Small Business option, available at $14.99 per user per month and designed for small start-up teams. 
7. Google Voice

Google Voice is an app that gives you a phone number for text messaging, calling and voicemail. The app only works for personal Google Accounts in the US, but if you qualify you'll be able to use it on your smartphone and computer – as well as across all your devices. 
The app allows you to filter spam automatically and block any numbers that you don't want to hear from. You can customize your settings for voicemail, text messages and forwarding your calls. 
All of your calls, text messages and voicemails will be backed up and stored, making it easy to search through your history. You can also send a receive individual and group SMS messages across all of your devices. 
Pricing Details
Google voice is free, but it is only available in the US. Calls to the US and Canada are free, and calls to other countries will be charged at the listed rates. 
8.  Instacall

Instacall is another great smart dialer app, with a beautiful design and a powerful search function. It allows you to select up to five of your favorite contacts, and then call them quickly and directly by tapping a custom notification. 
This app helps you to organize your contacts, create groups and do much more. You can also  customize the colors to suit the aesthetic of your phone. There's also a Lite version of the app, with fewer features.
The app also supports multiple languages, such as Danish, Dutch, Japanese, Polish, Turkish and Czech, making it usable all over the world. 
Pricing Details
Instacall is $3.99.
Find the Best Dialer App for You
If you use your smartphone for calls a lot, dialer apps for iOS offer many features that can make your life easier. 
The most basic dialer app is simply the "phone" part of your smartphone – the default option that comes already installed. Every mobile phone will come with a simple dialer app built in that does the basics – such as display contacts and dial phone numbers. For many people this will be sufficient, but there are many other options out there. 
When you start to try different dialer apps, you'll see there is so much more that a good dialer app can do. Some apps allow you better search function and automatic dialing, help you organize your contacts and much more. 
It's worth taking the time to try out a few different dialer apps, to find out which one is the best for you. With the right dialer app, calling can be a lot more convenient and enjoyable.