Are messages from your customers piling up? Is it hard to keep track of who's handling which support request? Have you ever forgotten to respond to someone or messed up a refund?
If any of this sounds familiar, you absolutely need customer service software. And below, we'll walk you through the best software to use in 2022. 
What Is Customer Service Software? 
Customer service software helps you and your team effectively collect and store information, route customer requests to the right agent, track and resolve support issues, and communicate with your customers. It does this through features such as ticketing, which helps you open, assign, monitor, and close customer issues without anyone falling through the cracks. 
The Different Types of Customer Service Software
When you're searching for the right customer service software for your business, be sure to familiarize yourself with the different types out there. 
Knowledge Base
A knowledge base is a website that stores articles that answer your most frequently asked questions. Customers can then visit your knowledge base and search for information. It's a great way to prevent unnecessary contact with your support reps.
Ticketing System
A ticketing system helps you assign a ticket to each customer request, track progress, and mark it as closed. It's crucial for monitoring and managing customer support requests.
Chatbots
Powered by AI, chatbots can answer common questions via chats embedded in your website or app. It's another way to save time for your customer support team.
Shared Inbox
A shared inbox pulls customer requests from all sources, such as social media and email, into one space that everyone on your team can access. It allows teammates to collaborate on tickets to find a quick and effective solution.
Live Chat, Phone Support, Emails
Many customer service software solutions offer live support via live chat, phone, social media, or emails. These should be considered your last line of defense, after self-service options like the knowledge base fail to resolve customer issues.
Customer Relationship Management (CRM)
Customer Relationship Management (CRM) is most often talked about as a sales feature, but it overlaps with customer support too. CRM tracks every interaction a customer has with your brand and helps you deepen relationships and improve conversions.
11 Best Customer Service Software for Every Type of Business in 2022
Help Scout
Boasting shared inbox, knowledge base, live chat, messaging, and more, Help Scout is a fantastic all-in-one customer service software option. It's trusted by more than 12,000 businesses, including FlexJobs, Honey, and OkCupid. Plus, as a Certified B Corp, Help Scout plants a tree with The Nature Conservancy for each new customer.
Best Help Scout Features
Shared inbox:

Collaborate on support requests by sending private notes to your teammates, templatize answers to FAQs and insert them into replies to customers, avoid duplicate responses with real-time indicators of when someone else is already responding to a request, and create workflow automations.

Knowledge base

: Build and brand your own help center site for each product. Add images, tables, videos, and categories to knowledge base articles. Plus, you can optimize them for SEO. Enable Beacon to have a popup appear in the lower corner so your visitors can view relevant Knowledge Base articles from anywhere on your site.

Messages:

Send targeted messages to your visitors and customers based on viewer characteristics or completed events, such as when they've visited specific pages on your website. 

Live chat:

Save your support reps time by suggesting articles to a customer based on the page they're visiting. If customers still can't find an answer, they can be connected with a support rep for live chat.
Help Scout Pricing
Help Scout offers a free 15-day trial (no credit card required!) and will extend the trial if you need it. After that, plans start at $25 per user per month (billed monthly).
Zendesk
Zendesk is the biggest name on this list, dominating more than half of the help desk software market share, according to Datanyze. It's the leading option in this space for good reason. The Zendesk suite has robust features and leverages AI to cut down on customer wait time and make your agents' jobs easier.
Best Zendesk Features
Ticketing system:

Communicate via email, Tweets, and Facebook posts. You can even turn these into tickets. 

Help Center:

Publish answers to frequently asked questions. 

Unified agent workspace

pulls all conversations from web, mobile, and social channels into one place. 

Provide support via email, SMS, voice, and live chat. 

Use machine learning to provide instant answers via email, live chat, and more. 

More than 1,000 apps and integrations

HIPAA compliant
Zendesk Pricing
Zendesk offers a free trial. After that, Suite plans start at $49 per agent per month (billed annually). Zendesk does have pared-down Support plans with limited features starting at $19 per agent per month (billed annually) and includes things like ticketing, customer details, and reporting.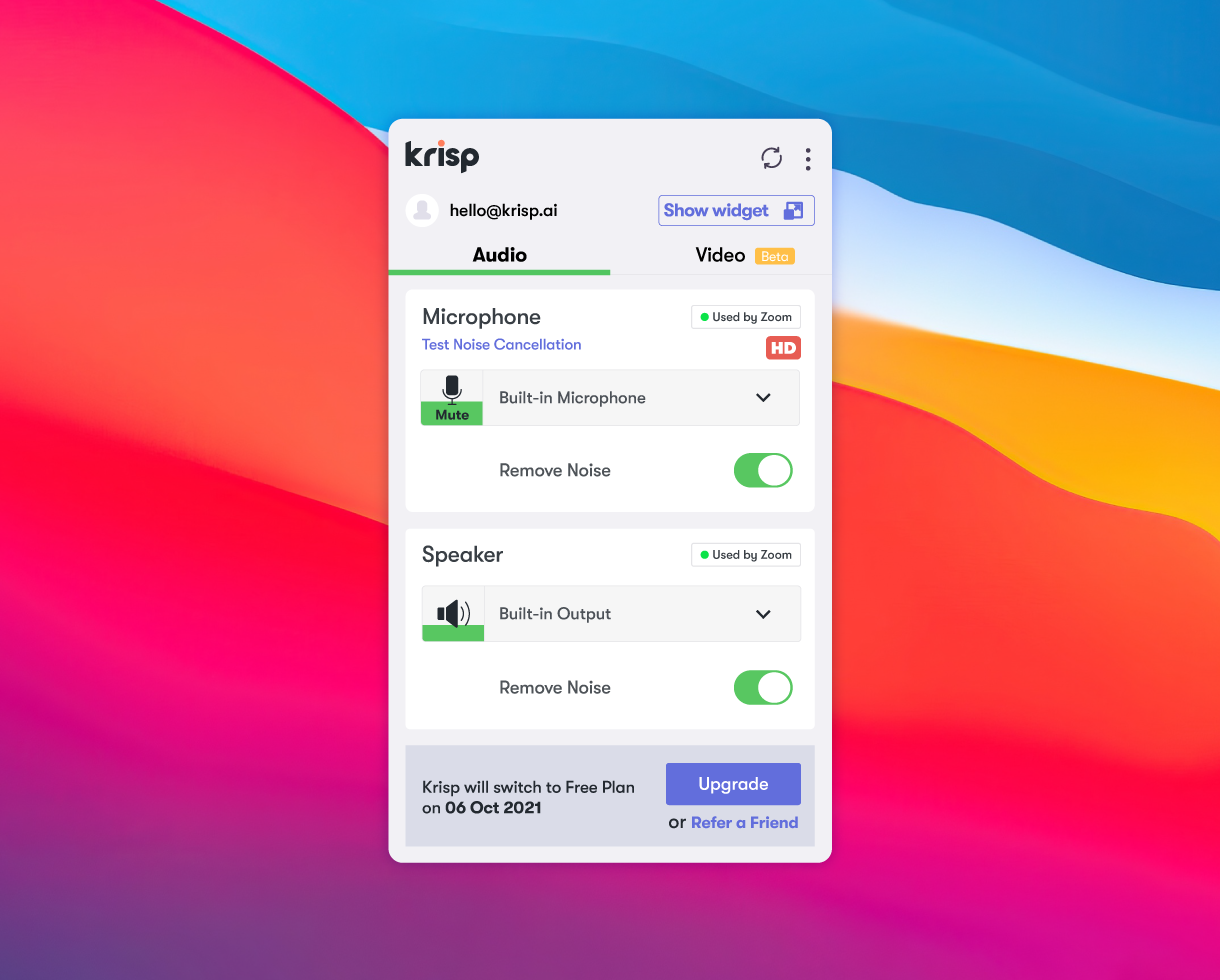 One of the biggest obstacles to your agents providing quality customer support over the phone is background noise. It's nearly inescapable. Whether they're working in an office with a chatty coworker next to them or working from home with construction going on next door—noise is everywhere. But with Krisp's AI-powered noise cancellation, your customers will hear nothing except your agent's voice. And even better, Krisp cancels out noise in both directions, so your agents can hear your customers perfectly clearly too.
Best Krisp Features
Uses AI to cancel background noise and remove room and acoustic echo

Removes noise from both ends of the call

Provides free

virtual backgrounds

across all your video conferencing apps

Easy to install

Works with more than 800 communication apps
Krisp Pricing
Krisp has a free forever plan that offers 240 minutes per week of noise removal. For unlimited noise removal and more storage space for audio recordings, upgrade to a paid plan, which starts at $5 per month (billed annually).
SupportBee
SupportBee offers affordable ticketing software for businesses of all sizes. With a shared inbox, knowledge base, and a customer portal, SupportBee makes it easy to track and manage issues. 
Best SupportBee Features
Shared inbox:

Collaborate with your team on tickets all pulled into one central place. From the shared inbox, you can create labels, assign tickets, comment on them, and ask others to review responses before you hit send.

Knowledge base:

Add text and inline images to the articles. Upload PDFs and other files. You can even create several knowledge bases within SupportBee. And your knowledge base integrates with the shared inbox.

Customer Portal:

Customers can track their own tickets within an online portal, and they don't need a login to do so. Your team can share a private link with your customer for them to access the portal.
SupportBee Pricing
SupportBee offers a 14-day free trial. After that, plans start at $15 per user per month (billed monthly).
Freshdesk
Freshdesk is another leading customer service software provider with robust features such as omnichannel service, shared inbox, and chatbots. Launched in 2010, Freshdesk now has more than 50,000 customers, including 7-Eleven, The University of Sydney, and Bridgestone.
Best Freshdesk Features
Shared inbox:

Convert emails into tickets, color code emails to keep track, and send internal notes to team members to collaborate on issue resolution. Avoid duplicate responses by seeing who's already working on a ticket. Save time with workflow automations and canned responses.

Knowledge base:

Collaborate with teammates on creating knowledge base articles with approval workflows and versioning. Use Freddy, an answer bot that suggests relevant knowledge base articles to your customers. Build and brand your own knowledge base site and optimize it for SEO.

Messages:

AI-powered chatbots can answer customer questions fast, avoiding the need for support from your team. 

Community forums:

Allow your customers to help each other by allowing questions and answers in a community forum moderated by you.
Freshdesk Pricing
Freshdesk offers a 21-day free trial (no credit card required!) and has a free Support Desk plan for unlimited agents. Paid plans start at $18 per agent per month (billed monthly) for Support Desk and $35 per agent per month (billed monthly) for Omnichannel.
Gorgias
Gorgias has carved out a niche for itself as the customer service software for ecommerce. It can connect with major platforms Shopify, Magento, and BigCommerce. More than 8,000 direct-to-consumer brands use Gorgias, including Timbuk2, Steve Madden, and Marine Layer.
Best Gorgias Features
Connects with three major ecommerce platforms Shopify, Magento, BigCommerce

Shared inbox: Access customer history, edit orders, and issue refunds all in one place.

Create automations to save time on repetitive tasks. Insert canned responses to common questions.

Live chat, text, and social media support

30+ integrations, including Instagram, Facebook, and Gmail
Gorgias Pricing
Gorgias offers a 7-day free trial, no credit card required. After that, plans start at $60 per month (billed monthly).
Zoho Desk
Zoho Desk is the omnichannel help desk software product of Zoho (which, by the way, has a CRM if you're interested in that too). It's used by more than 50,000 businesses worldwide. Zoho Desk is an ideal solution for large companies with a complicated structure, many products, and a high volume of support requests. One feature unique to this software is the ability to structure your help desk to reflect your company's structure, allowing you to create departments for each specific product.
Best Zoho Desk Features
Custom help desk organization

: Create separate departments for each product in your help desk, allowing your teams to specialize and provide better support, no matter the volume.

Multichannel ticketing and support

: Communicate with your customers via email, social media, live chat, voice, and webform.
Contextual AI:

AI technology allows for sentiment analysis, meaning it can tell your agents the tone of incoming customer messages. It can also provide instant answers to your customers, auto-tag tickets, and guide your agents in responding to tickets.
Self-service:

A knowledge base and community forums empower your customers to find solutions themselves without needing to contact support.
Zoho Desk Pricing
Zoho Desk has a 15-day free trial. After that, there is a free plan for up to three agents. Paid plans start at $20 per agent per month (billed monthly).
HubSpot Service Hub
HubSpot has a strong reputation as a provider of an extensive suite of software products, including a free CRM. This CRM integrates with its other products, including Service Hub customer service software, making HubSpot an excellent option for businesses on a budget.
Best HubSpot Service Hub Features
Shared Inbox:

HubSpot Conversations shows you customer data alongside messages so you have sufficient context to answer the request.

Help Desk and Ticketing:

HubSpot's ticketing system has routing and automation to save your support team time and ensure each customer gets routed to the best person for the request. It also allows you to prioritize requests. 

Knowledge Base:

It's easy to create SEO-friendly articles that answer your customers' common questions. Plus, you can brand your Knowledge Base. Additionally, HubSpot's free CRM knows which articles your customers have already seen, so your team doesn't accidentally send redundant content.

Live Chat:

Brand your chat widget and create welcome messages targeted to specific audiences to ensure you connect visitors with the right team. Plus, its chatbot builder can help you save time by getting a chatbot to answer common questions.

Automated routing and workflows

save your team time.
HubSpot Service Hub Pricing
HubSpot offers a free plan. Service Hub paid plans start at $50 per month for two users (billed monthly).
Odoo 
Businesses on a tight budget, pay attention: Odoo is an open-source software platform with a suite of apps that help you power your business, and what's more, its Helpdesk app is completely free (so long as you don't need extra apps or hosting). Odoo's website says it has 7 million users.
Best Odoo Helpdesk Features
Use a timer to track how much time is spent on each ticket.

Assign tickets to the best customer support rep and prioritize based on urgency.

Turn emails into tickets.

Provide support via live chat.

Create a Helpdesk page and publish Odoo Slides, which are educational materials your customers can access.

Allow customers to close their own tickets within their online portal.
Odoo Helpdesk Pricing
Odoo Helpdesk is completely free, unless you add more apps or need hosting. 
Olark
Olark's CoPilot is a chatbot that makes your support team's jobs easier and improves the customer experience. Using AI, CoPilot can understand questions and send answers to the common ones. It can also route customers to the right agent based on their needs. One of the best parts is that Olark will build your chatbots for you so you don't have to spend time and energy on it.
Best Olark Features
Customize your chat box to match your brand.

Create automation rules to optimize the live chat workflow.

Receive reports on chat volume, agent activity, and customer satisfaction.

Get transcripts of every live chat.

Take advantage of PowerUps to add more rich features to your live chat.
Olark Pricing
Olark offers a 14-day free trial. After that, plans start at $29 per agent per month (billed monthly).
Tawk.to
Tawk.to is a fascinating customer service software product because it is 100% free and takes up much of the market share for live chat. So how does it make money? Easy. If you want to remove the "Powered by tawk.to" branding, you pay $19/month for the privilege. You can also pay tawk.to $1 per hour to answer your support chats for you.
Best Tawk.to Live Chat Features
One-minute setup: Installing tawk.to is as easy as copying and pasting a line of JavaScript into your website's HTML. 

Android and iOS apps allow you to answer chats from your smartphone. 

Canned messages let you respond instantly to common questions.

More than 100 integrations
Tawk.to Live Chat Pricing
It is completely free to use tawk.to live chat. If you want to remove branding, you pay $19/month. You can also pay $1/hour to have tawk.to's agents answer chats for you.
Improve Customer Satisfaction With Customer Service Software
As you scale your business, the right customer service software becomes a necessity. It helps you keep track of issues, empower customers to find their own solutions, answer in a timely manner, and boost your customer support team's productivity.
All of the options on this list have free trials or free plans, so take each solution for a test drive before deciding which ones are best for your business. And if you want to see an instant improvement in your customer calls, it takes only a minute to install the Krisp app and start enjoying noise-free calls today.