Customer experience can be a powerful differentiator between you and your competition. In the PwC Future of Customer Experience Survey, respondents said they were willing to pay up to 16% more for a good customer experience. And bad experiences? They have a stronger impact. In the same survey, 32% said that just one bad experience was enough to stop using a brand they loved. Ouch. 
Given how critical the customer experience is, how can you get it right? Well, customer experience tools can help you optimize every interaction between your customers and your brand—ensuring a positive experience every time (or close to it!).
These tools can provide you with data on how your customers are interacting with your website, how they feel about your brand, and how you can improve or optimize their interactions and overall experience.
Below, we've rounded up some of the best remote customer experience tools. 
Let's dive in and see how you can use these in your business.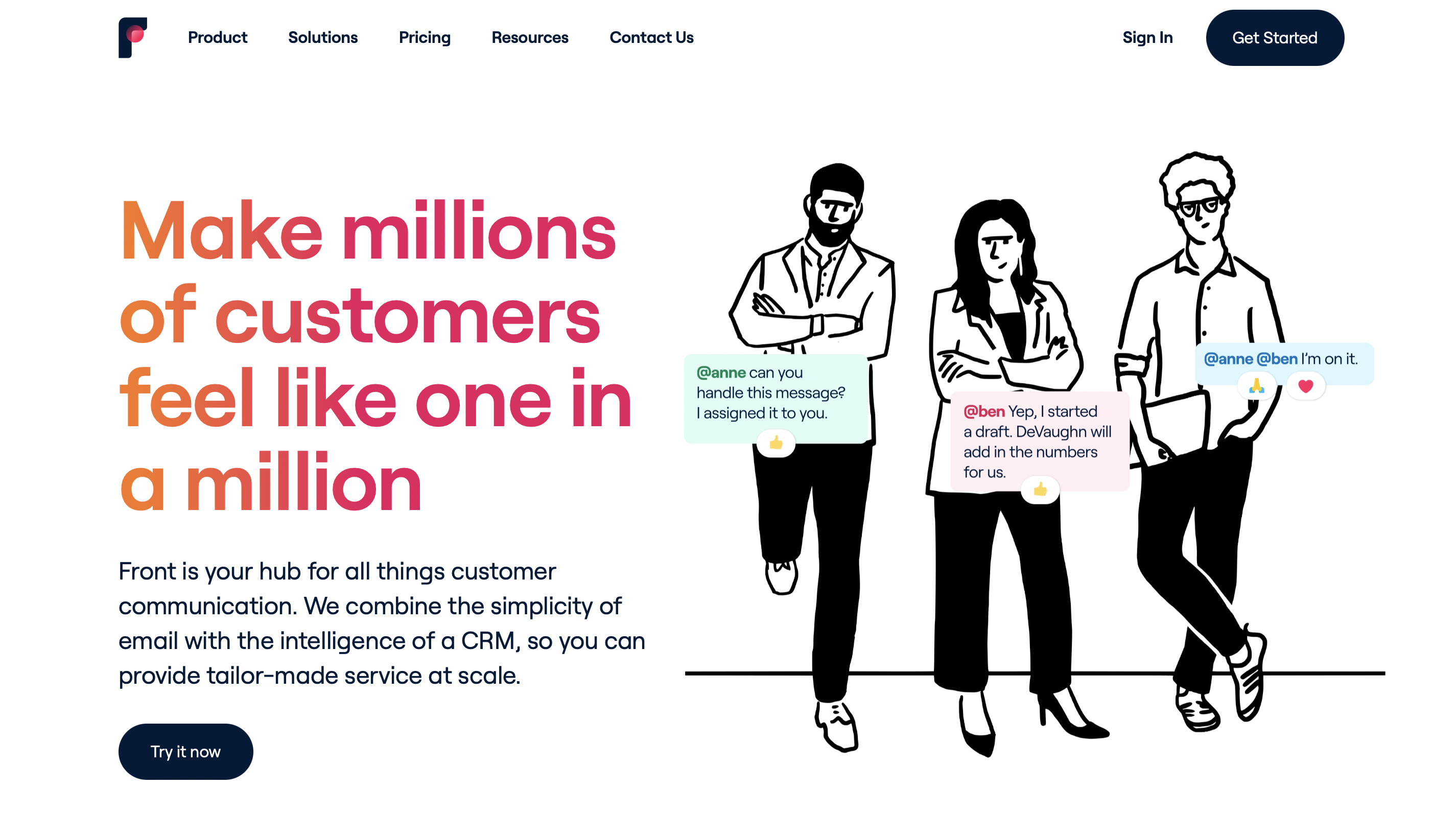 Used by more than 6,500 businesses, Front is a customer communication platform that helps you improve the customer experience by combining all your communication apps into one central hub. No more switching tabs, pinging teammates, or scrambling to figure out who owns what. With Front, all of that is made clear and organized inside a shared inbox.
Top Front Features
Gain visibility and cohesion with one inbox shared among team members.

Connect to as many email, SMS, and social media accounts as you want.

Assign messages, comment, and @mention teammates.

100+ integrations

Basic rule templates and custom rules

SLAs and advanced workflow templates

Analytics: Track response times, email volume, CSAT, and NPS.
Front pricing
Front offers a 7-day free trial. Subscription plans start at $19 per person per month (billed annually).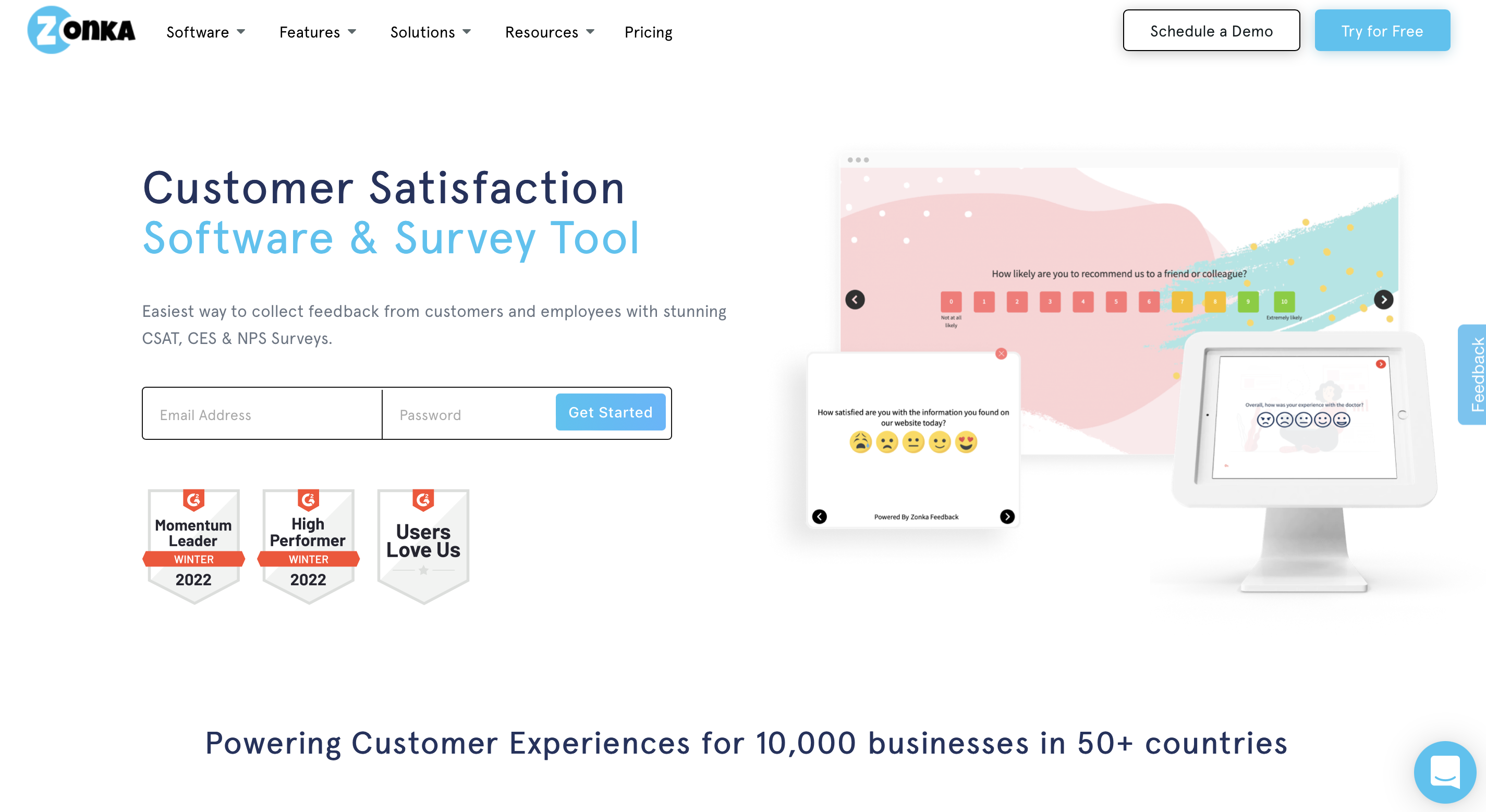 Zonka Feedback is a survey software and customer experience management platform that businesses use to create any type of surveys to measure and improve Employee and Customer Experiences across all touchpoints. It provides various ready-to-use templates and questions types for creating comprehensive customized surveys of different kinds and industries like Customer Satisfaction Survey, Patient Feedback Survey, Guest Feedback Survey, Employee Feedback Survey, and Student Feedback Survey. With Zonka Feedback, you can measure and improve CX metris like NPS, CSAT and CES. Moreover, it not only lets you gather feedback, but also take timely action through its advanced features like real-time alerts and the ability to assign feedback as tasks to your teams and team members. You can set triggers to automatically send surveys of both types – transactional surveys, and relationship surveys.
Top Zonka Feedback Features
Works across multiple channels – SMS, email, website, tablets(both kiosk and handy), and smartphones.
Conduct surveys to measure experience metrics like NPS, CSAT, and CES.
Add logic to survey questions to make your surveys sound logical.
Real-time notifications of all responses received, you can also set alerts for only negative feedback or low survey scores.
Real-time analytical reports of survey responses, and feedback tracking.
Works offline and saves response data for weeks without the internet, syncs automatically on connecting your device with the internet.
Covert feedback into tasks, assign, take action and close the feedback loop effectively.
Zonka Feedback Pricing
Zonka Feedback prices start from $29/month. It offers various plans:
Professional Plan costs $79/month
Growth Plan costs $169/month
Enterprise Plan costs $429 per month
Custom plans are customized as per user requirement.
It also offers a free trial for 15 days.
3. Contentsquare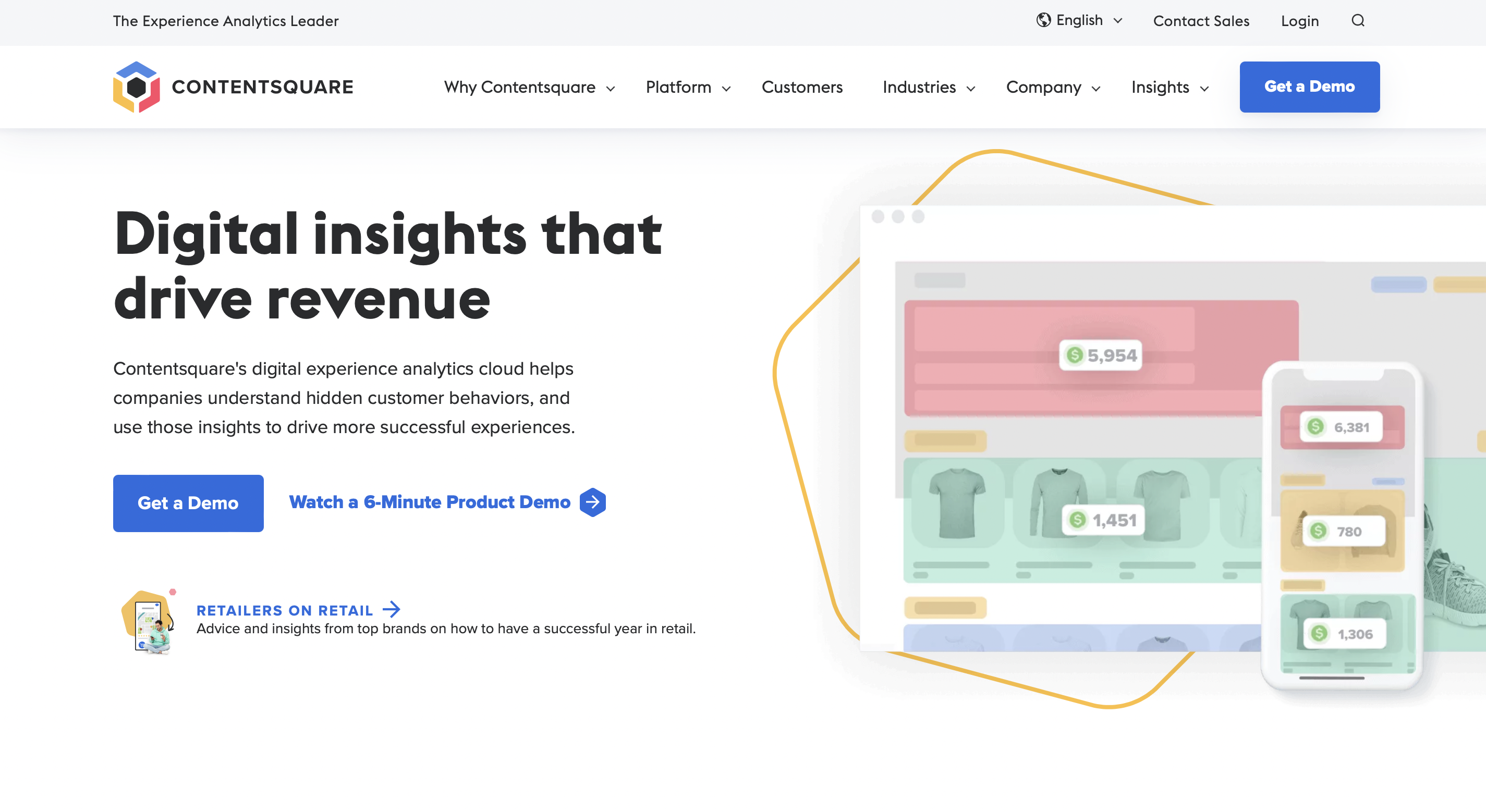 Contentsquare is growing fast and becoming increasingly popular with anyone trying to optimize the customer experience. In the past year, it acquired AI company Upstride and raised $500 million in Series E funding. Contentsquare is a digital experience analytics platform that focuses on many things traditional analytics don't, such as AI, accessibility, and digital trust. 
Let's take a closer look at each of those three features. 
AI:

Contentsquare has AI algorithms that can detect when your business metrics deviate from the norm and alert you. It can also help you find revenue opportunities and score your customer's experience across five dimensions, benchmarking the scores against industry standards.

Accessibility:

Contentsquare helps your brand be more inclusive with things like the Web Assistive Technology plugin that allows users to adjust your website based on their needs, such as by increasing font sizes and adjusting contrast.
Digital trust:

Contentsquare helps you build trust with your customers by featuring bolstered privacy and security features. Contentsquare is GDPR and CCPA compliant, ISO 27701 certified, ISO 27001 certified, and Soc 2 Type 2 compliant. And while Contentsquare does capture customer analytics and behavior, it protects their privacy by blocking, by default, text and keyboard input so sensitive things like credit card information are not captured.
Top Contentsquare Features
Zone-based heatmaps: Find out how visitors engage with your website and use that data to optimize your site.

AI insights: AI algorithms can detect problems and opportunities, helping you boost revenue.

Struggle analysis: Find the friction in your customer experience so you can eliminate it.
Contentsquare pricing
Contentsquare does not publish prices on its website, so you'll need to get in touch with its sales team.

Mention is a social media monitoring and management platform that helps you with social listening: discovering what people are saying about your brand across the web. It monitors more than 1 billion sources, including press articles, review sites, and blogs. It then provides context around the sentiment of those conversations and offers you actionable insights into how you can leverage this information to improve the customer experience. Find out what people are saying about you and manage the conversation.
Top Mention Features
Pick keywords and receive alerts when those keywords are mentioned on the internet.

Filter out any irrelevant sources and choose to monitor only specific ones.

Understand the sentiment of conversations about your brand.

Get data visualization.

Connect Facebook, Instagram, Twitter, and LinkedIn and schedule posts. 
Mention pricing
Mention offers a free trial. It also has a free plan that grants you one alert, 1,000 mentions, three social account connections, and one user. For more features, upgrade to a paid subscription which starts at $29/month (billed monthly).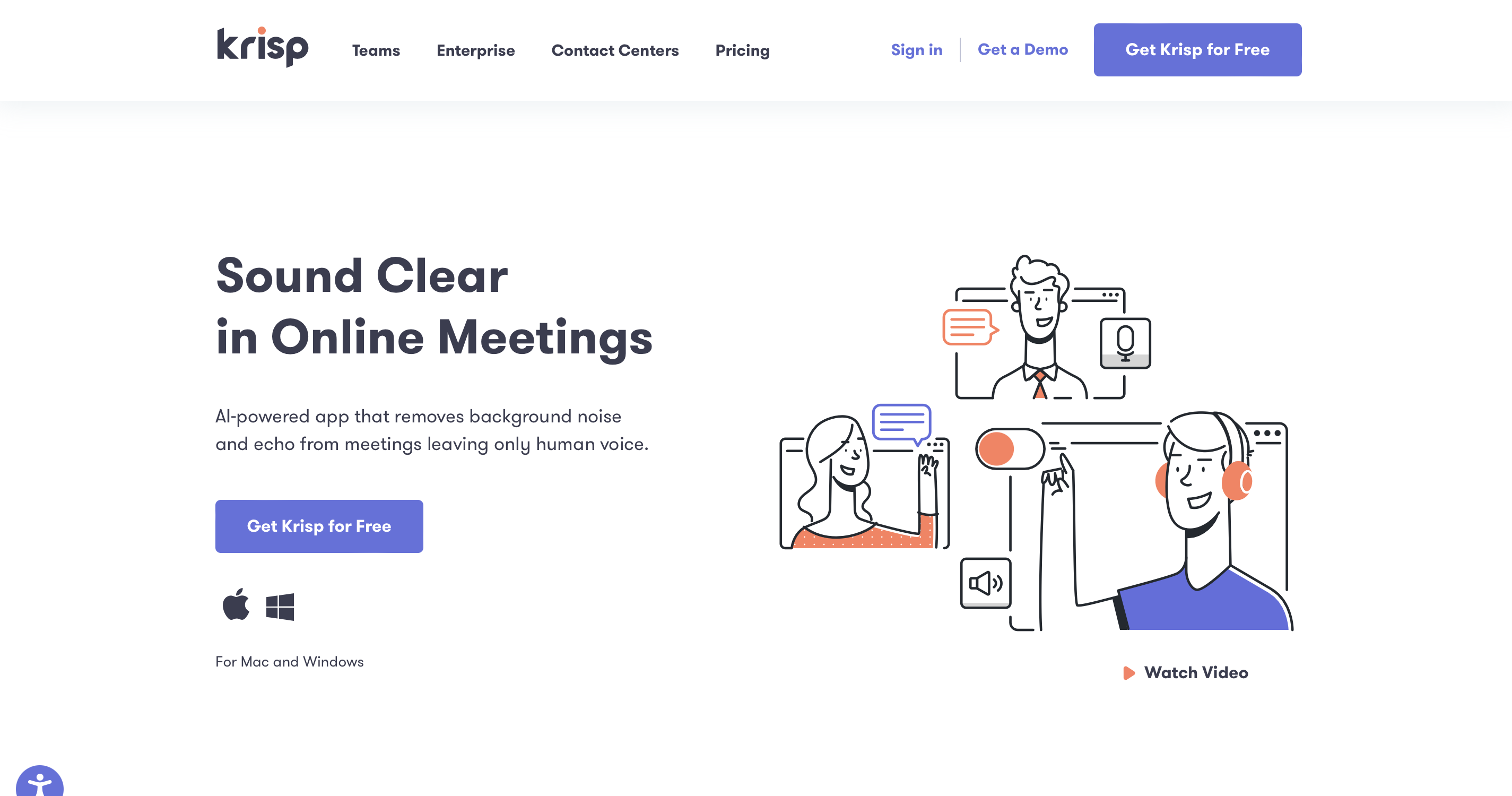 When a customer calls your support team, background noise can absolutely ruin an otherwise good customer experience. And this is happening a lot as many employees continue to work from home. For instance, if your work-from-home agent is giving a thorough explanation of how to troubleshoot, but all your customer can hear is the agent's kids playing in the background, the customer may wrongly assume that your agent isn't listening or isn't taking their job seriously.  
[demo-new]
That's why you need Krisp. Through the power of AI, Krisp works in the background of every voice and video call to identify distracting noise and cancel them out. It cancels out echoes too. That way, your employees' audio comes through crystal clear, improving the overall customer experience.
Top Krisp Features
Two-way noise cancellation so both your employee and the customer can hear each other perfectly clear

Room and acoustic echo removal

Virtual backgrounds

Audio recordings
Krisp Pricing
Krisp's Personal plan is free forever and gives you 240 minutes a week of noise removal. But if you want unlimited noise removal and 10GB of audio recordings storage, upgrade to Personal Pro for $5/month (billed annually).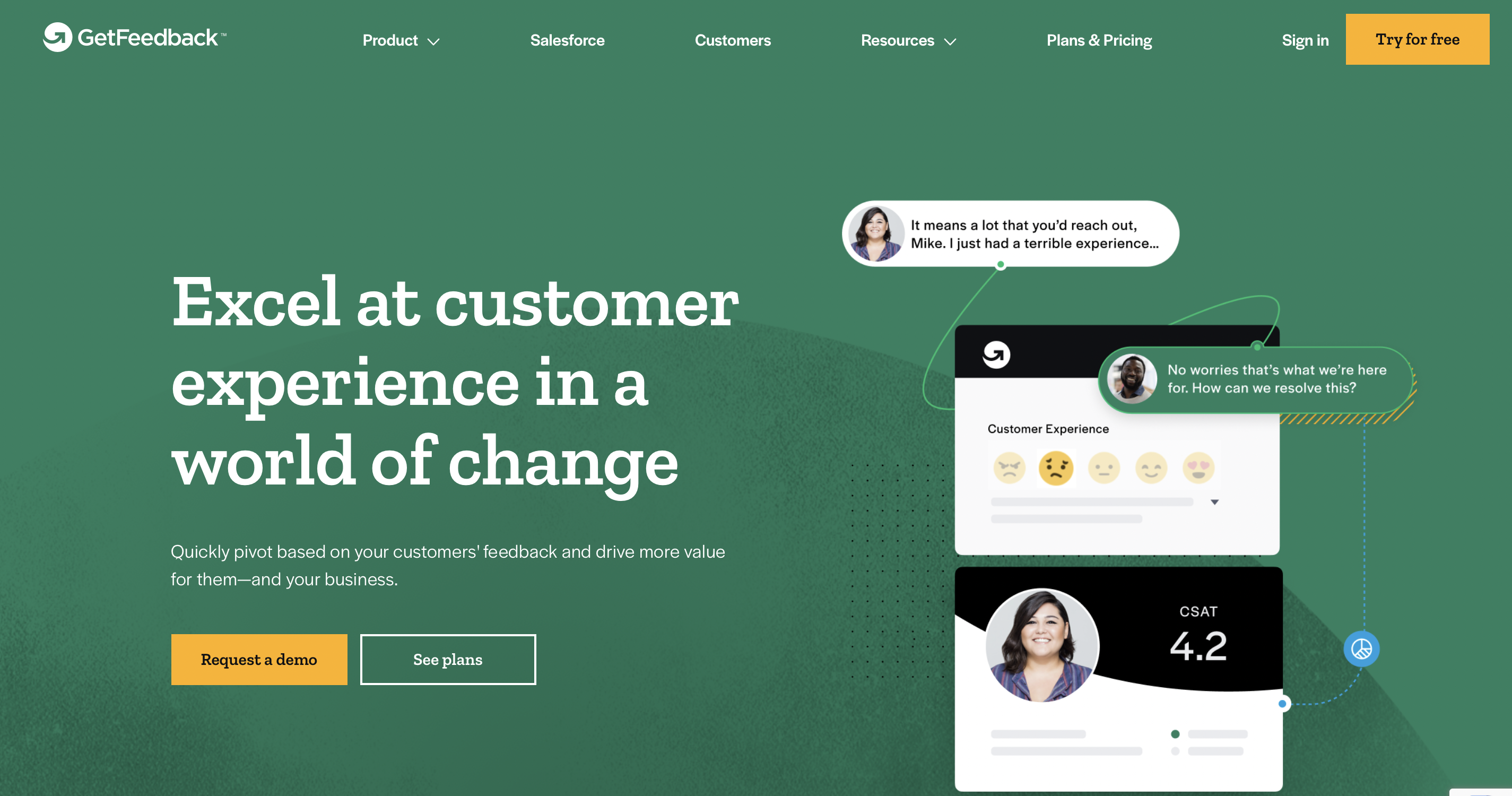 Recently acquired by SurveyMonkey, GetFeedback enables you to capture customer sentiment and data in the moment. Whether they're perusing your site, reading your newsletter, or interacting with a customer service agent via live chat, GetFeedback's surveys measure crucial customer satisfaction metrics such as NPS, CSAT, and CES. Most importantly, it helps you take action when you'll have the most impact. For example, you can create rules such as if a CSAT score falls below a certain threshold, a task will be created where the agent needs to follow up within 24 hours. This is an effective way of automating actions that will boost the customer experience.
Top GetFeedback Features
Get feedback across five channels: website, email, SMS, chat, and mobile app.

Conduct customer surveys for NPS, CSAT, and CES.

Analyze the sentiment of what customers are saying online.

Take action with insights from GetFeedback on how to optimize the customer experience.
GetFeedback Pricing
GetFeedback offers a free trial. It does not publish prices on its website, so you have to contact the sales team to learn about pricing.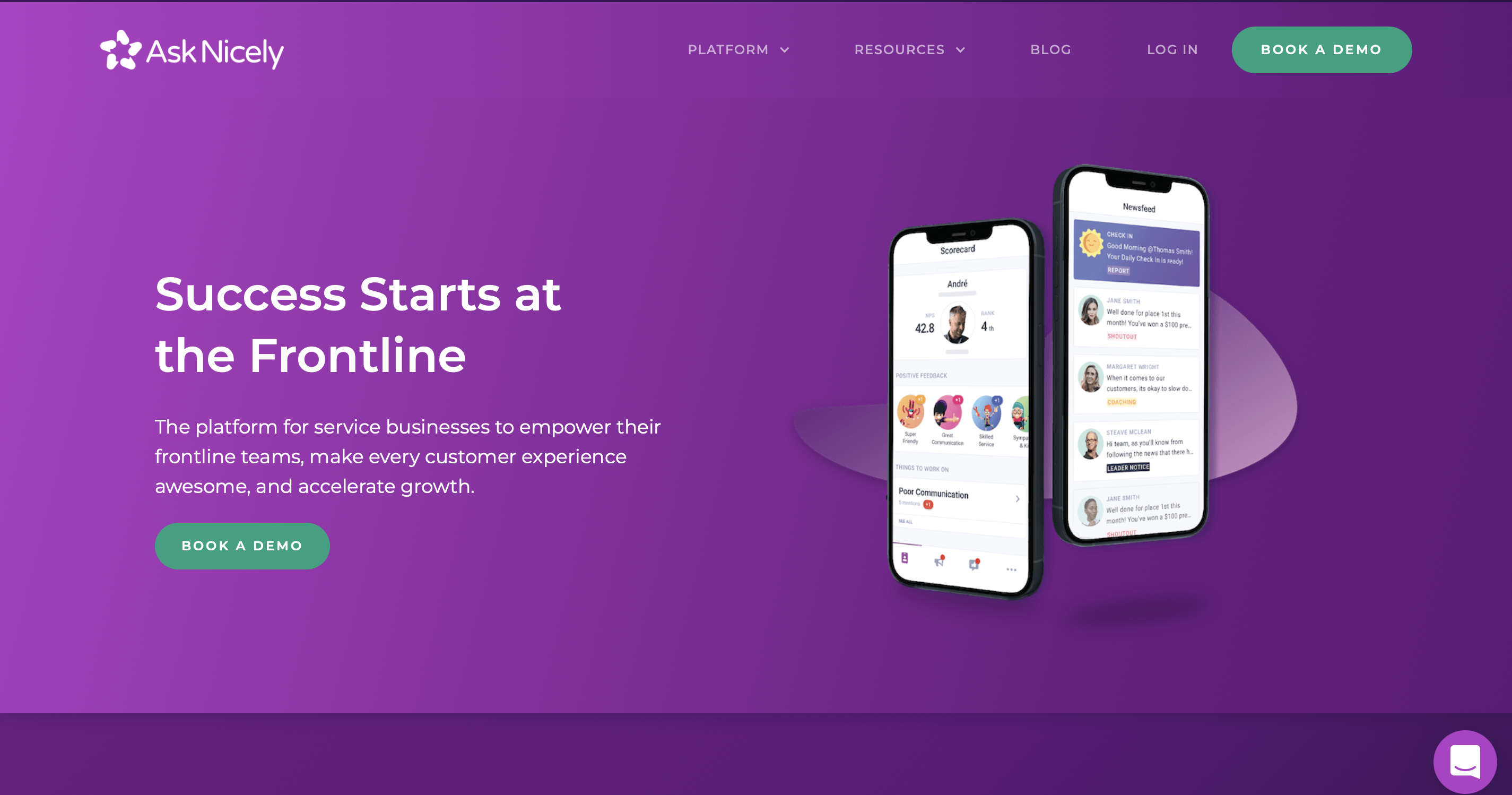 AskNicely aims to help you boost customer satisfaction based on the NPS framework. Collect customer feedback via email, SMS, and the web and use the insights to improve the customer experience. What's more, AskNicely helps you increase employee retention, too, by giving you tips on how to coach your workers so they can perform their best. The employee experience affects the customer experience, so this is a key benefit to the AskNicely platform. By having happy, engaged employees, they'll be able to deliver the best service to your customers. AskNicely's own NPS score is 71.2—so they must practice what they preach! 
Top AskNicely Features
Conduct surveys via email, SMS, or your website.

Track customer satisfaction scores (NPS, CSAT, CES).

40+ integrations, Give praise and recognition to employees.

Receive suggestions on how to coach your frontline workers.
AskNicely Pricing
AskNicely does not publish prices on its website, so you'll need to get in touch with its team.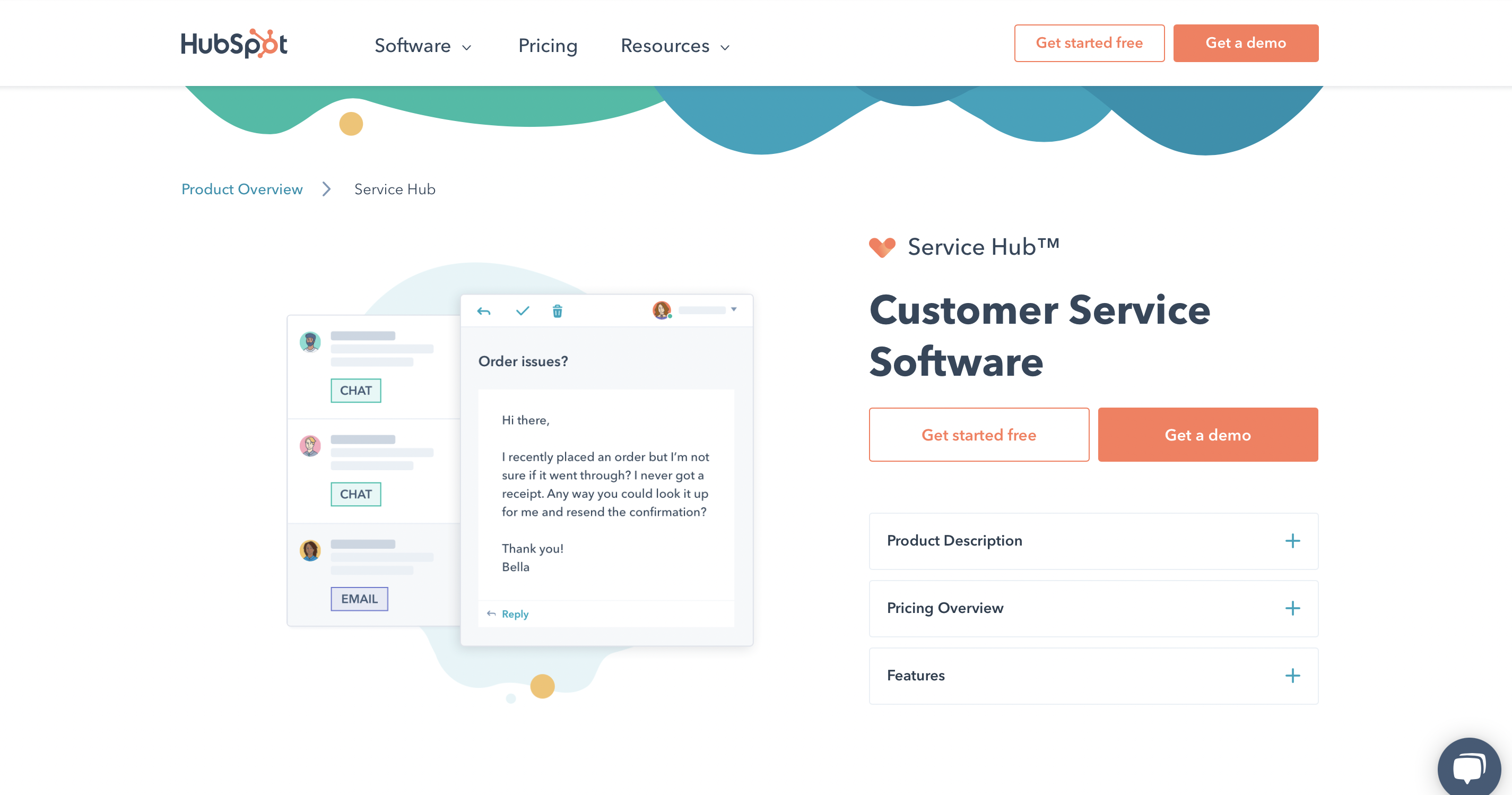 This end-to-end service software assists you on the customer journey from onboarding to support to relationship-building. By bringing all your customer interactions data into one leading CRM,  you can have the overview and insights you need to improve the customer experience. HubSpot's software has a help desk, knowledge base, feedback surveys, and reporting. In turn, HubSpot provides you with excellent customer service with 24/7 customer support and educational content and certifications.
Top HubSpot Service Hub Features
Help desk and ticketing system

Knowledge base to cut down on the need for customers to speak with an agent

Live chat to provide quick and easy customer support to website visitors

Automated customer service helps you scale support

Shared inbox and team email

Customer satisfaction and customer experience surveys

NPS surveys

Email templates

Slack integration
HubSpot Pricing
HubSpot offers a free plan that doesn't even require a credit card. For more features, upgrade to one of the paid plans, starting at $50/month (billed monthly).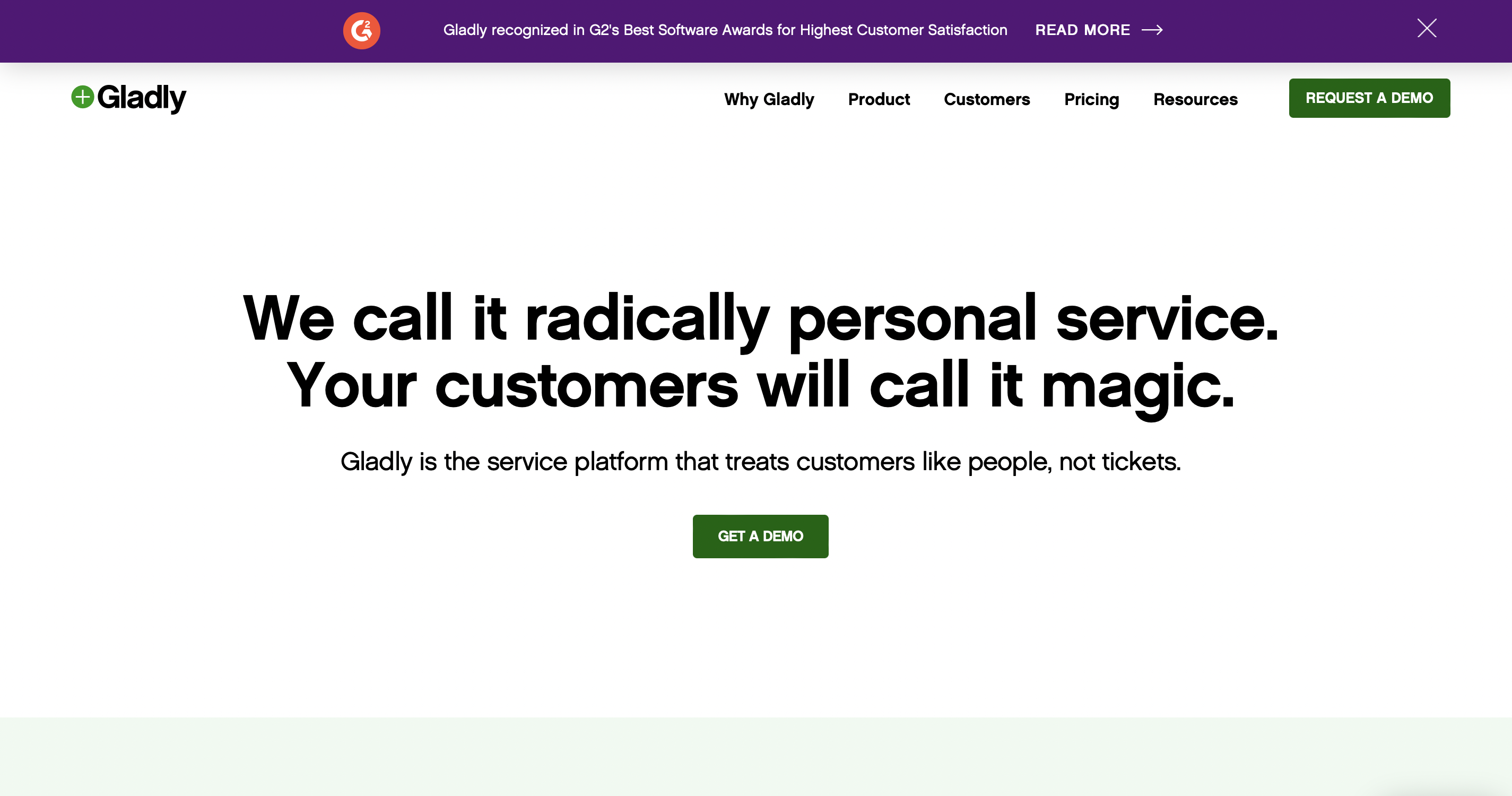 Gladly is an all-in-one customer service platform that aims to humanize CX software. With its built-in voice and IVR, you can provide phone support with context to personalize every call. You can also do text, chat, social, email, and in-app chat support. See customer details, like name and address, along with other important info, like lifetime value and past purchases.  You can also match each customer with the right agent for them based on their history, situation, and needs through People Match. And remember how Gladly is all about humanizing? They make relationship-building easy by allowing you to set a dedicated support agent for each customer, so they can have that one-to-one connection. Nurturing those relationships can help to ensure a positive customer experience every time.
Top Gladly Features
Voice is included! Plus text, chat, in-app chat, email, and social

Get all the context you need with customer details (name, address, etc.), customer attributes (lifetime value, return rate, etc.), preferences (favorite color, for example), and more. 

People Match: Pair customers with the best support agent for them based on history, situation, and needs. 

Knowledge base: Publish answers to common questions so customers can get instant solutions without needing to contact your

customer service team

.

Integrates with Shopify, Magento, Medallia, Slack, and more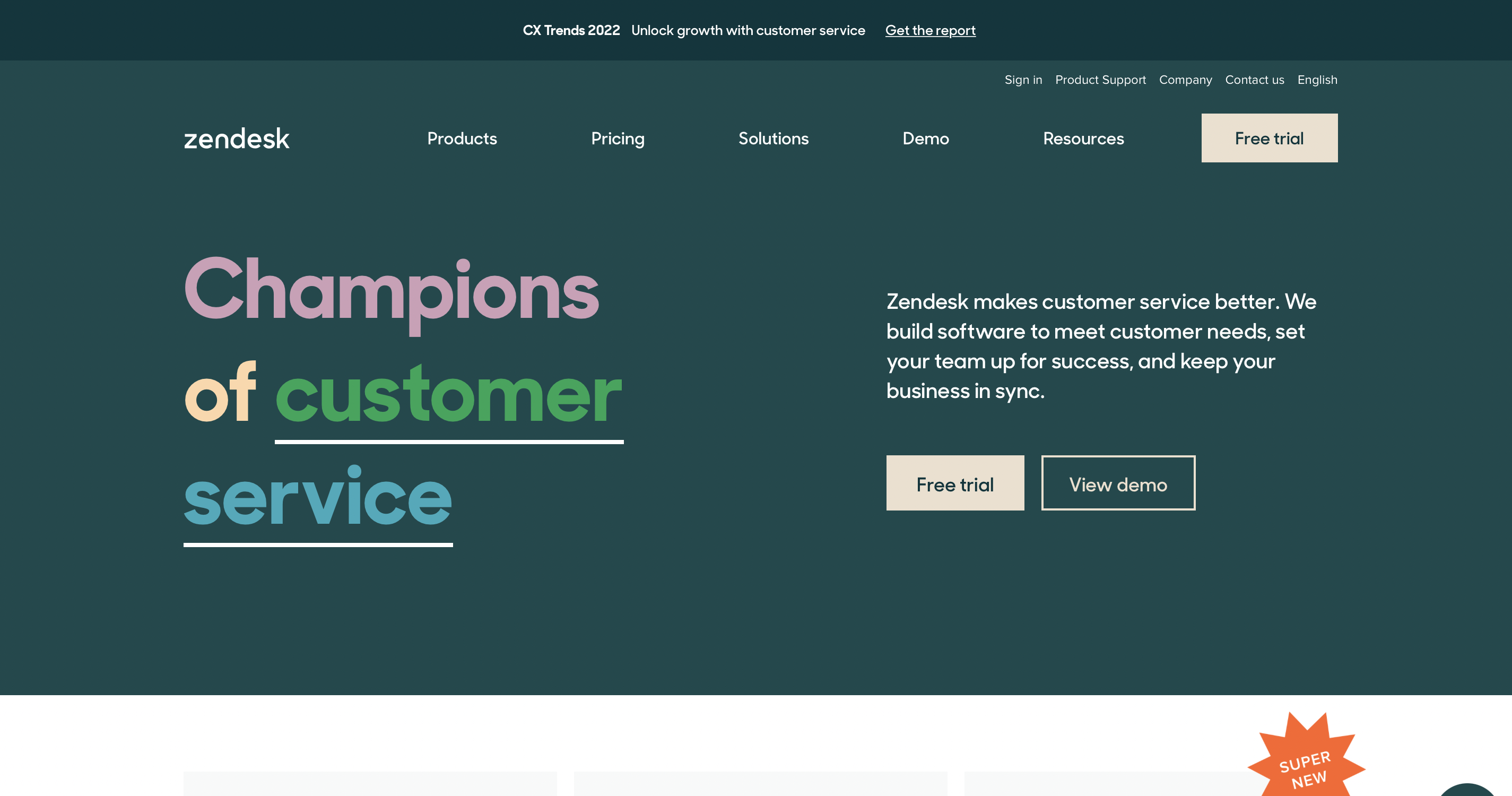 Zendesk is one of the most popular customer service software providers. While it's best known for its help center and ticketing system, its reporting and analytics features are changing the game when it comes to customer experience. Inside the dashboard, you'll gain insights that help you spot roadblocks, determine effective resolutions, and measure and improve agent performance. According to Zendesk's website, customers who use data provided by their software see a 79% decrease in customer wait times. This software provides you with the context you need to understand and improve the customer experience.
Top Zendesk Features
Ticketing system that lets you convert emails, Tweets, and Facebook posts into tickets.

Provide customer support via email, voice, SMS, and live chat.

Publish answers to FAQs in the help center so customers can quickly find solutions.

Get more than 1,000 apps and integrations.

Zendesk Benchmark shows you how you stack up to competitors within your industry regarding metrics like customer satisfaction and first response time.

Get real-time and historical data.

Analytics dashboards that come pre-populated with top customer service metrics.

Data exploration lets you create custom metrics and dashboards.
Zendesk Suite Pricing
Zendesk Suite offers a free trial. Subscription plans for Zendesk Suite start at $49 per agent per month (billed annually).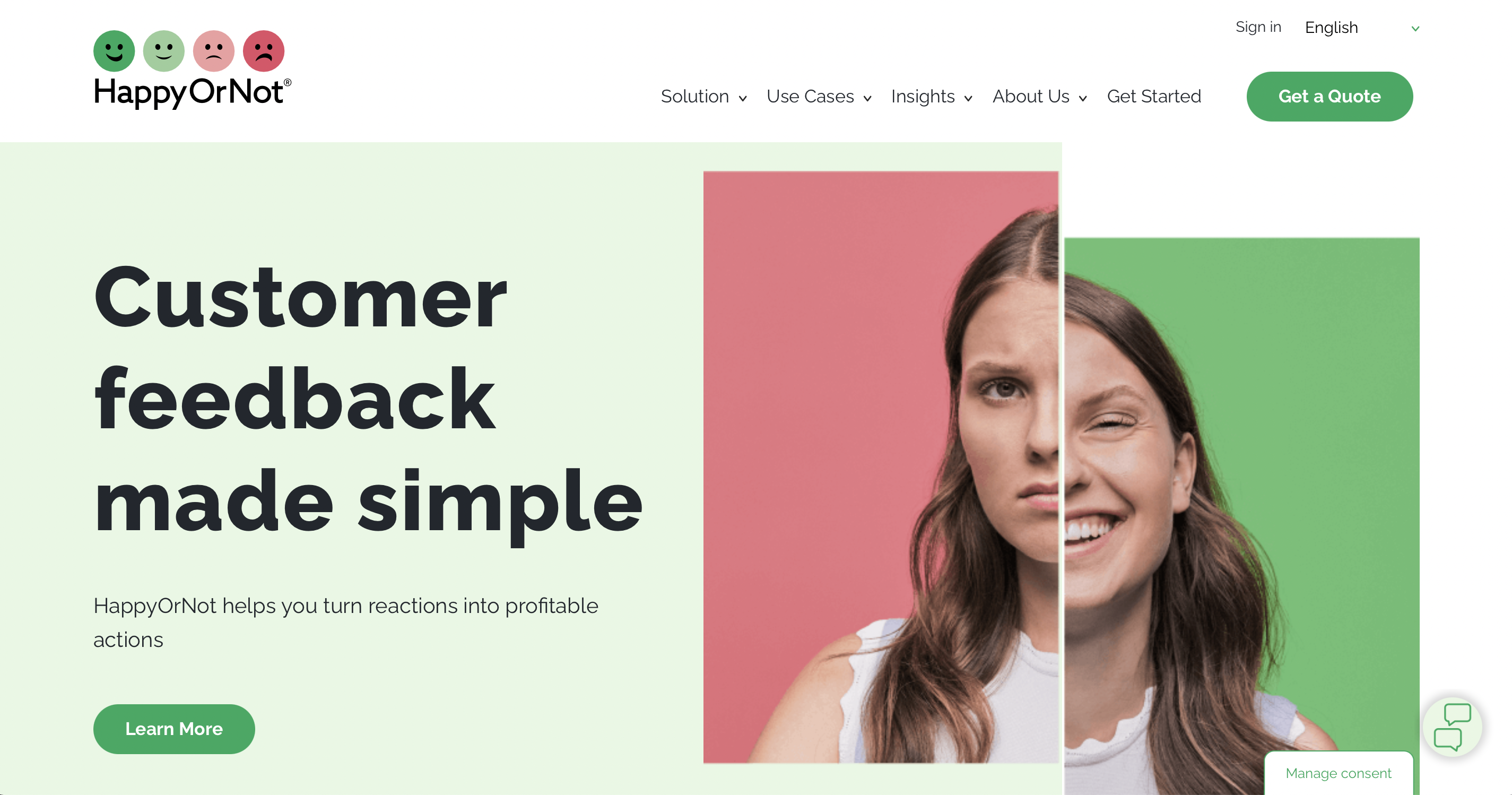 If you want a simple way to find out if you met customer expectations, HappyOrNot is for you. HappyOrNot is an analytics tool that gauges feedback from customers through the use of simple smiley faces. There are four smiley faces of varying colors from left to right: dark green, light green, light pink, and dark pink. The farther to the right of the colors you go, the less happy the customer is. Because it's so easy and fast to complete, you'll get more feedback typically than you would with a complicated survey.
The idea is to gather "happiness pulse" at critical points throughout the customer journey—and most importantly, allow you to take action as needed. Its analytics provides predictions so you can prevent issues from getting worse and real-time collaboration so you can work as a team to resolve problems.
Top HappyOrNot Features
Get unlimited responses, surveys, and users.

Quick View gives you instant key performance metrics so you can see how you're doing.

The analytics dashboard helps you do a deep dive into your customers' experiences.

Assign tasks and chat with

your team so you can collaborate

on resolving issues.
HappyOrNot Pricing
HappyOrNot does not publish its prices on its website. So you'll need to contact the team to get a quote.
Which Customer Experience Tools Will You Add to Your Software Stack?
When it comes time to make a purchase, the customer's experience can make or break a sale. By using customer experience tools, you can ensure you solve problems for, get feedback from, and delight your customers. From HappyOrNot, which gauges customer sentiments, to Krisp, which helps your customers enjoy a noise-free experience—there are so many tools you can leverage. Which one will you try next?