What are some of the available options for the best Windows software?
Many software programs have a free alternative and if the software is something you only use occasionally, then that may be absolutely the best option for you. 
However, in some cases you get functions with the paid version that can truly increase your performance. If you use the software on a regular basis and it makes a big difference in your productivity, it becomes easy to justify the investment. Every now and then, it's worth paying for software. 
Check out a few of the most popular paid software programs for Windows 10 and apps you might want to check out. 
The Best Windows Software
CCleaner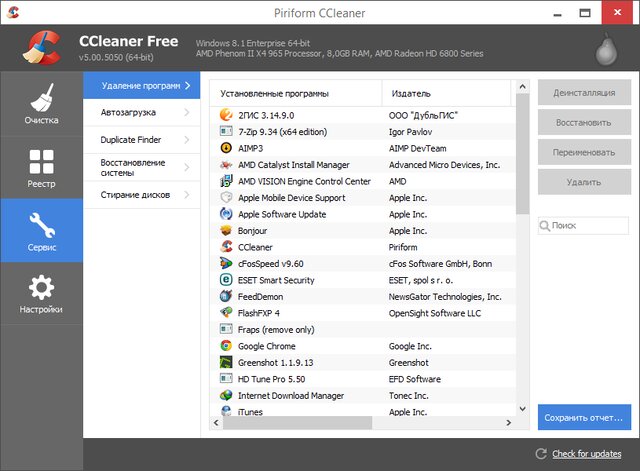 CCleaner is a very handy app that is designed to clear your system of unnecessary files. It's considered one of the most popular PC optimization software options around – for good reason. 
It is a powerful tool for clearing up disk space and will often identify several gigabytes to be removed. Using this software can deliver a noticeable boost in performance and system speed. 
It's important to note that all the functions of CCleaner could be performed with the tools within Windows. However, this would take much more time and patience. CCleaner is the easy way to free up disk space with just a few clicks. 
How Much Does it Cost?
This software offers both free and paid versions. If you want features such as real-time monitoring, automatic updates, premium support, privacy protection and scheduled cleaning, you should opt for the paid version. 
The paid version, CCleaner Professional, costs $19.95 for one PC for one year. There's also a package option for 3 PCs for one year for $29.95, or for 3 PCs for two years for $54.95. 
Microsoft Office 365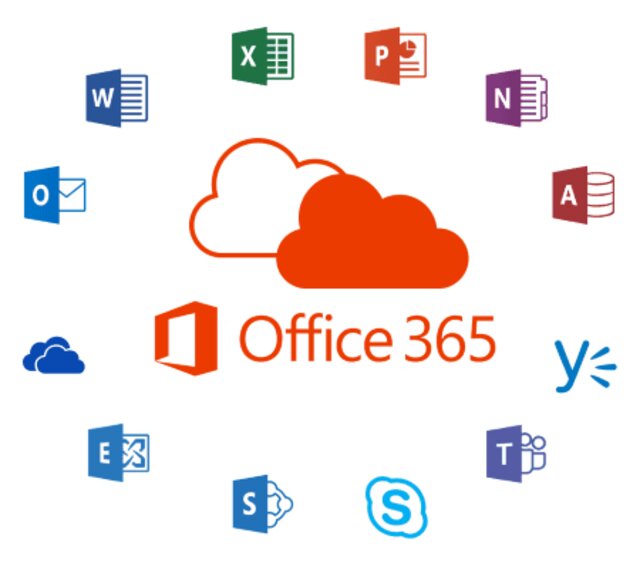 Microsoft Office 365 brings together Word, Outlook, Excel, OneNote, Powerpoint and Publisher –  creating a powerful suite for freelancers and businesses. It's one of the best paid software for Windows 10 available. 
One of the big advantages of using Microsoft Office 365 is that it allows you to have all your apps (from word processing to email to chat) in one place. Sharing files between apps is extremely simple and convenient. Multiple team members can work within the same document at the same time and it is easy to share files between different users. 
You'll also be able to work on or offline and easily sync what you've been working on to the cloud once you get an internet connection. 
The newest version of Microsoft Office 365 is even more intuitive, with AI features that suggest files you might need, or people who may want to see a copy of that PowerPoint presentation. 
How Much Does it Cost?
There are many different plan options available, ranging from $5.99-$7.99 per user per month. There's also a one-time purchase option for Office Home and Student for $119.99 per month. The membership fees include software updates when they happen.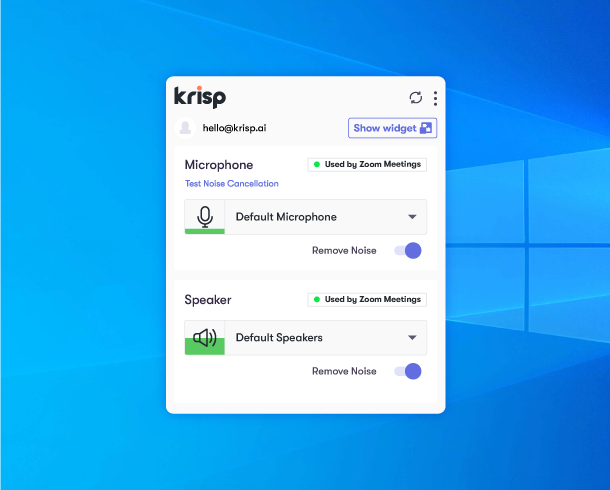 Krisp is a very useful app for anyone who has regular conference calls, but can't always find a quiet environment. It uses innovative noise cancelling technology powered by a deep neural network to remove background noise from any call. 
Whether it's your kids playing in the background, your dog barking outside or construction noise on your street, Krisp will make it sound like you are surrounded by complete silence. It integrates with over 800 communications apps, including Meet, Teams and Zoom. 
Plus, you don't have to worry about security as all the audio is processed right on your device and not stored anywhere. When it comes to the best Windows software, it's a very useful option! 
How Much Does it Cost?
Krisp operates on a freemium model and provides a set number of free noise cancellation minutes per day depending on your account type. It supports over 800 apps, including Zoom, Microsoft Teams, and Google Meet. The Pro version offers an unlimited usage for all features. There are also Team and Enterprise versions designed for multiple users. Head to the pricing page to learn more about the available plans.
F.lux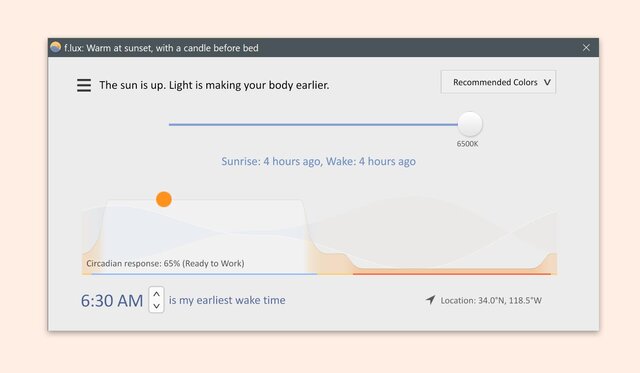 F.lux makes using your computer easier on your eyes, making the color of the display adapt to the time of day. It gives your screen a warmer hue at night and a brighter, sunlight hue during the day. This will help you avoid eye strain and also make it easier to get to sleep at night, even if you've been working late. 
You can set the software to your desired screen lighting settings, then forget about it. F.lux does the rest automatically. 
How Much Does it Cost?
The basic version of F.lux is free for individuals and there is also a paid Corporate Edition The corporate edition costs $200 USD for up to 10 devices. You can add on additional devices after that for $10 per device. 
Display Fusion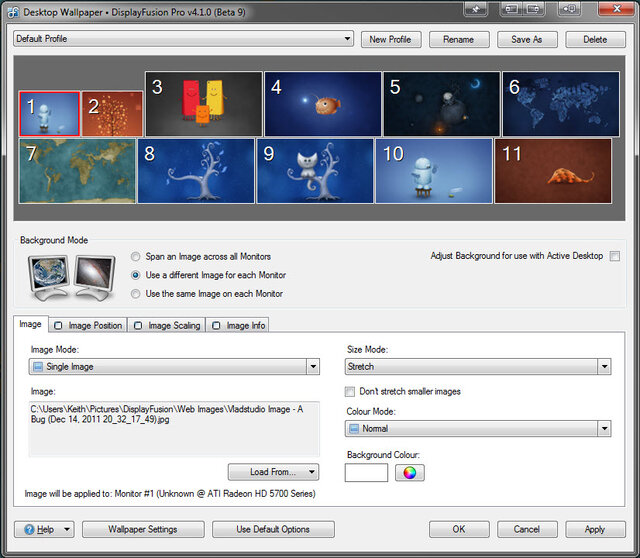 Having a multi-monitor setup can be a fantastic way to improve your productivity. You can jump quickly between different screens seamlessly and get more done. If you want to make multi-screen work even more efficient, consider using Display Fusion. 
The software offers powerful features such as TitleBar Buttons, Multi-Monitor Taskbars, customizable HotKeys and so much more. It even allows you to have separate Functions, Trigger rules and even Screen Savers for each monitor. You can even dim your unused monitors automatically, allowing you to focus even better on the task at hand. 
How Much Does it Cost?
DisplayFusion is available for a one-time license for $16.49 USD. or, you can save a bit of money by purchasing a 4-pack for $45.99 USD. 
Fences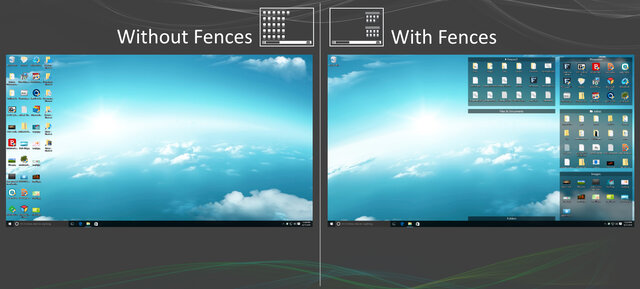 Fences is a smart app that allows you to automatically organize your desktop shortcuts and icons. You can save a lot of time navigating around your PC by automatically placing the shortcuts and icons you use the most into resizable shaded areas on your desktop known as "fences." 
You can then use the "roll-up" feature to keep your Fences on the desktop where it's easier to find them. The software even allows you to create multiple pages of fences, then quickly swipe between them. It can take a bit of time to set it up, but once you do you'll find your desktop so much easier and enjoyable to use. 
How Much Does it Cost?
The basic version of Fences is available for €9.99 (approximately 11 USD) and Fences For Business is available for €14.99 (approximately 17 USD). There's also an advanced version called Object Desktop, which costs €28.99 (approximately 32 USD). It's a more powerful suite of desktop enhancements, including other applications such as Tiles, SpaceMonger and Iconpackager.
Revo Uninstaller Pro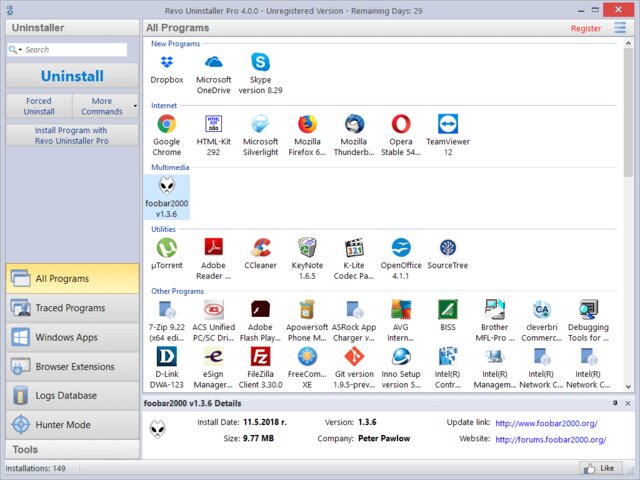 If you want to be able to quickly and effectively remove programs from your PC, Revo Uninstaller Pro is a great option. The paid version offers several more features than the free version – such as a full 64-bit functionality. (The free version can only remove 32 bit apps). 
The difference is important. When an application is uninstalled, it can leave behind junk files on your PC that affect system performance. The Pro version will allow you to completely uninstall these programs, without leaving anything behind. There's even a forced uninstall setting, that allows you to clean up previous botched uninstalls. 
How Much Does it Cost?
Revo Uninstaller Pro costs $39.25 for a single license. You can also purchase a package to use Revo Uninstaller Pro on three PCs for $58.86, or five PCs for $98.10. 
At the time this article is being written there's a promotional price available for two years of Revo Uninstaller Pro for $19.97 – a great deal on one of the best Windows software options. 
Enpass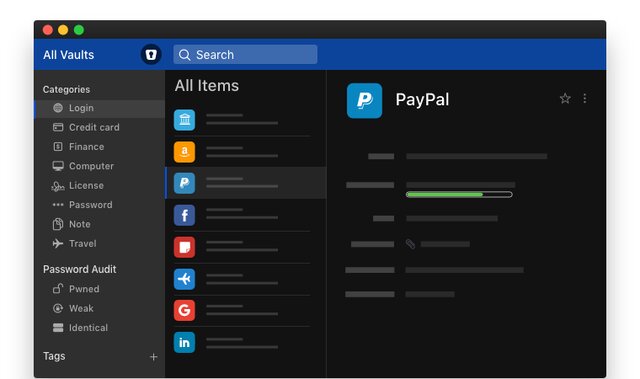 Using a password manager can save you a lot of time and also help you keep your data more secure. If you're using the same password for all of your websites, accounts and services you are setting yourself up to fail. 
Enpass is software that stores your password locally – or uses third party cloud storage for syncing. The software enables automatic password capture and will generate unique, strong passwords for you for every site. 
It also gives you the option to store your sensitive financial information, so you can use it as a virtual wallet and store your personal IDs, bank info and credit cards in there. 
How Much Does it Cost?
Enpass was once known for having no subscription model and only selling permanent licenses for its software. However, since November 2019 it introduced its first subscription offering. The premium version of the mobile app costs $7.49 for 6 months or $11.99 for the year. You can also opt for the permanent software license for all platforms for $59.99 (marked down to $39.99 at the time of writing this article.).
Groupy 
Are you the type of person who often has 17 different browser tabs and 5 different programs open at once? Are you looking for a way to keep what you're working on more organized? 
Groupy is a handy program that lets you group your various open windows and programs into one single windows. This makes it easy to switch between them while you are working. 
You can group together any open windows into tabs within a single window, even programs like Outlook, Slack, Word, Excel and File Explorer. You can even save your groups of applications together for future usage. No more looking around and opening and closing multiple programs! 
How Much Does it Cost?
Groupy costs €4.99 to download (approximately $6 USD). When it comes to paid software for WIndows, this is a very affordable option and really worth the price! 
However, you can try it free for 30 days first to see if you like it and if it makes a difference in your work flow. Groupy is also part of the Stardock Object Desktop, which is a powerful suite of desktop enhancements for Windows. 
The pack costs €24.99 (approximately $30 USD) and also includes Curtains (adds additional style modes to Windows 10), Cursor FX (customizes your cursor), Multiplicity (controls two PCs with one keyboard and mouse) and several more programs. 
Breevy
If you find yourself typing out the same snippets of text again and again, Breevy can save you a lot of time. You can set up a shortcut for a text expansion and it will automatically expand into a full block of text. For example, set for your email address you can simply type "@@" and the full address will appear no matter what application you are using. 
You can even use it to abbreviate phrases you type often. For example, "tyfe" can expand to "Thank you for your email regarding…" etc. 
Plus, Breevy offers more than just the text expansion feature. It also offers folders to organize your expansions, thousands of autocorrect entries and much more. Once you get the hang of using it, you'll be able to fill out forms and enter information in seconds with the handy shortcuts. It's one of the most convenient and best paid software for Windows options out there. 
How Much Does it Cost?
Breevy costs $34.95 as a one time payment for the software. If you want to give it a try before you commit, there is a free 30 day trial available. 
Seer Pro
If you are familiar with using macOS devices, you may know the "quick look" tool that allows you to view file contents without even opening a file. With Seer Pro, you can use that same feature in Windows. In fact, Seer Pro is even faster, more powerful and more customizable than the macOS version. 
This software allows you to quickly preview files by pressing the spacebar. The app includes support for a wide range of file formats. Plus, it even allows you to copy images, text or photo frames right from the preview. 
This simple yet handy app can really change the way you interact with files on your PC and is very easy to use and install. 
How Much Does it Cost?
You can download Seer Pro to your Windows 10 computer for $12.49 USD. It also has a free trial, so you can test it out before you decide if it's the right option for you. 
iA Writer
Do you find it difficult to concentrate when you are writing? Wish you had a clean, simple interface with no distractions? iA Writer is one of the best paid software for Windows 10 options designed for writing productivity. It is used by half a million people around the world, so it is definitely doing something right! 
One of the great features of iA Writer is that when you are writing, only the current line will be highlighted while the rest of the text is greyed out. This will help you focus directly on what you are writing. 
Not only will the software help you concentrate, it can also improve your writing! It  will highlight different parts of speech, such as adjectives, adverbs and nouns, in different colors. This allows you to spot when you have used too many adjectives, or are relying on weak verbs. 
Also, it has a dark theme which can be a lot easier on the eyes when you are staring at a screen for a long time. 
How Much Does it Cost?
iA Writer costs $29.90 USD, but you can give it a try for free for 14 days before you buy.
Best Software for Windows 10 – The Best Options
These are just a few examples of the best paid software for Windows 10. These software options can really be work paying for – especially if they save you time or significantly improve your productivity. 
Often these types of software options will have offer free trials, which is a great way to give them a try and find out whether an app is helpful for you before you commit to the paid version.