10Virtual backgrounds are a gamechanger when you're working from home, but searching for the best meeting background is a hassle.
Well, search no more! Below, I've rounded up 27 places where you can find free, professional-looking backgrounds for your next video meeting.
But first, let me let you in on a hack for quickly changing your meeting background across all your video apps.
How to Set a Virtual Meeting Background in Zoom (and Any Other Video App)
You can set a virtual background in pretty much any of your conferencing apps in three simple steps:
Step 1: Install Krisp.
Installing Krisp is as easy as a single click (and did we mention it's free?). Once installed, you'll see the Krisp icon in your upper right corner on hover. Click the icon, select the "Video" tab, allow access, and choose your camera. 
Please note that Krisp Virtual Backgrounds is still in beta and currently only available on Mac. But it's coming to Windows soon! 
Step 2: Open your video conferencing app settings and select Krisp as the camera.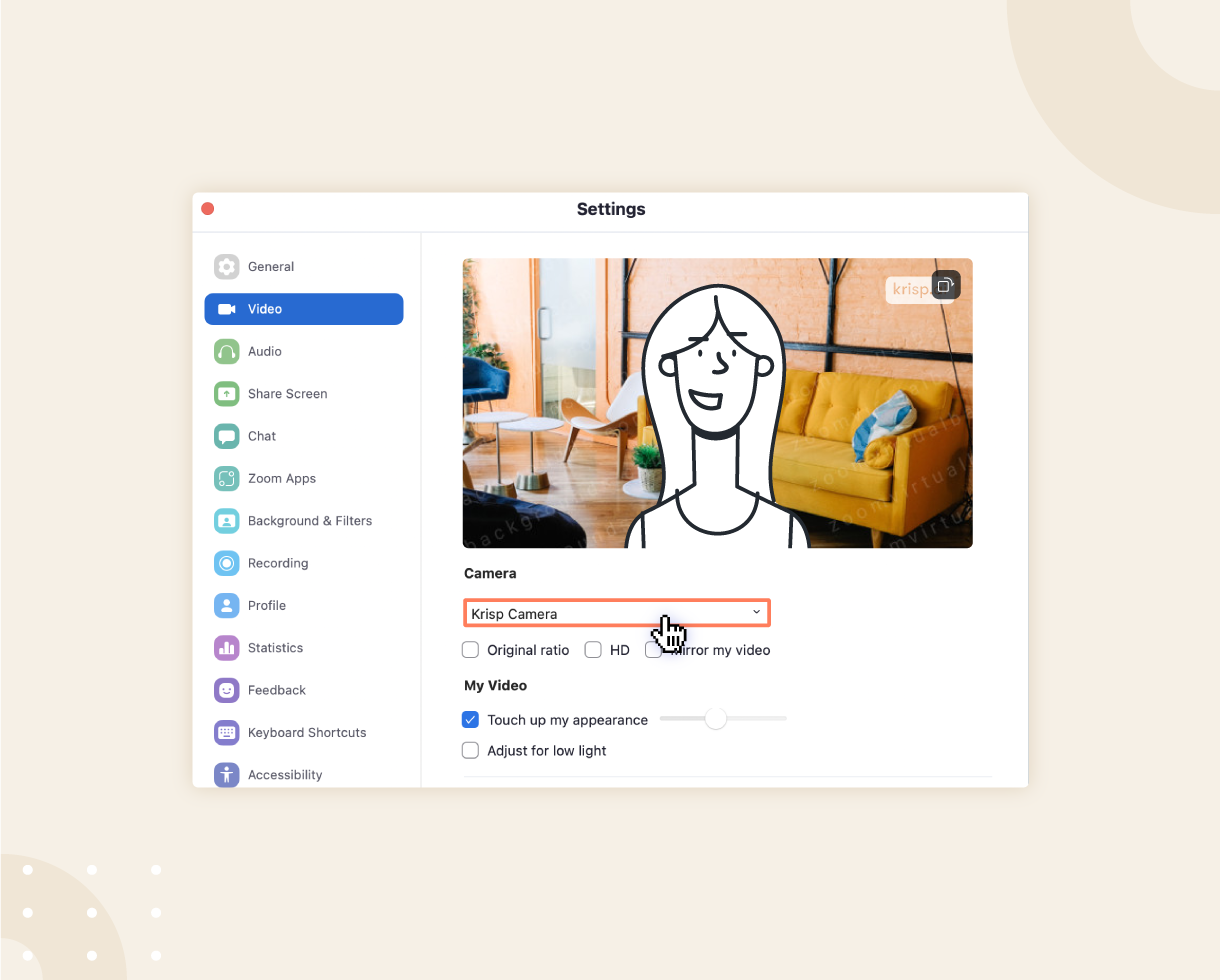 Step 3: Choose a background from Krisp or upload your own.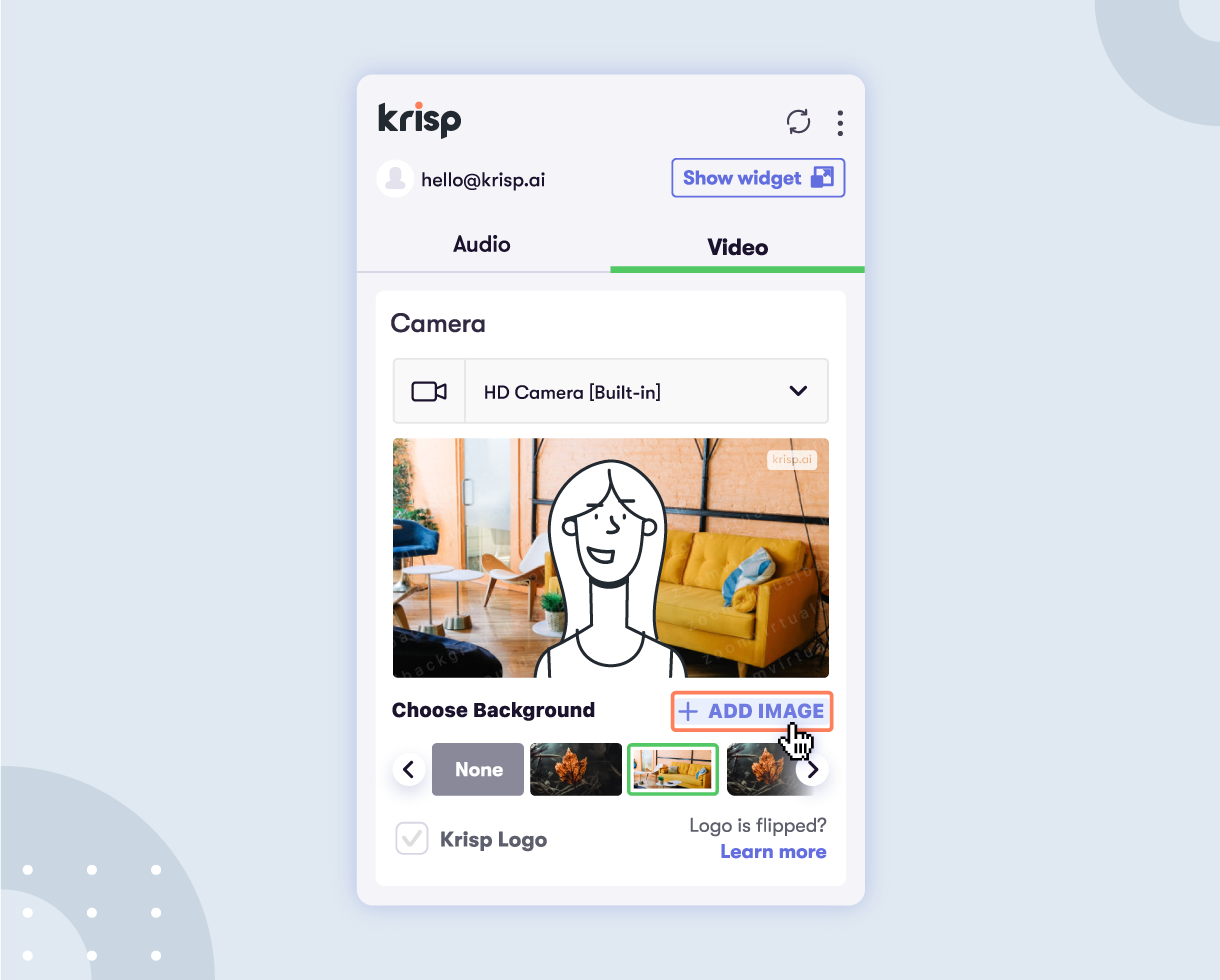 Krisp already has a gallery of high-quality images for you to choose from—so you don't have to go searching for a meeting background! If you want more variety, though, read on for some great places to find virtual backgrounds. 
Once you find one you like, you can upload it to Krisp to have the same background across all your video conferencing platforms.
27 Places to Find Professional (and Fun!) Meeting Backgrounds 
Below, I've organized the meeting backgrounds into categories for your easy reference. We've got:
Library

Office setting

Home 

Travel

TV shows and movies

Nature

Custom
Enjoy!
Library Virtual Backgrounds
Libraries have long been associated with deep concentration and studious vibes, so what better meeting background than an image from one of these prominent institutions?
New York Public Library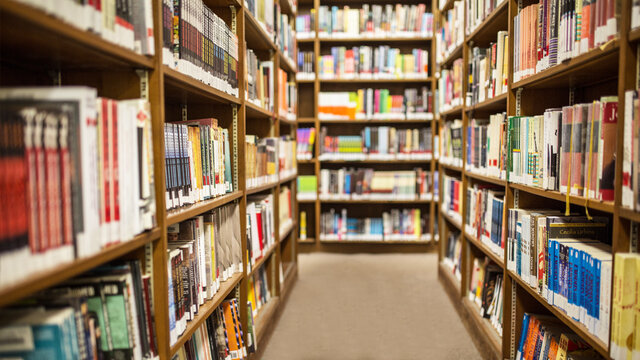 In April 2020, the New York Public Library shared images of its buildings' interiors and exteriors for the public to use in Zoom calls. Grace your video meetings with the gilded ceilings and ornate chandeliers of the Rose Main Reading Room, or exude a stately air with the library's iconic lion statues (Patience and Fortitude) in the background.
And if you want to get festive, the New York Public Library shared holiday-themed backgrounds too.
Los Angeles Public Library
Another generous public institution, the Los Angeles Public Library shared a gallery of its photos for you to use as a virtual background. You'll feel regal against a backdrop of the Central Library's ornate and colorful motifs. Or, if you're looking for a more scholarly feel, there's plenty of photos of stacks of books.
Harvard Library
As a distinguished member of the Ivy League, Harvard University embodies prestige. So if you're looking for a professional meeting background, look no further than this gallery shared by Harvard Library. A photo of the Loeb Music Library's Spalding Reading Room offers a stained glass window contrasted by deep green walls and rows of books. Move it outdoors with an image of a terraced garden at one of Harvard's libraries in Florence, Italy.
University of Southern California Libraries
USC Libraries shared 27 high-quality photos of its properties for meeting background use. I was absolutely mesmerized by the photo of the Hoose Library of Philosophy, with its seven stained glass windows with intricate details and blue, red, and yellow hues. If you want to liven up your meeting background with people, there are photos with library patrons included in them too.
Trinity College Dublin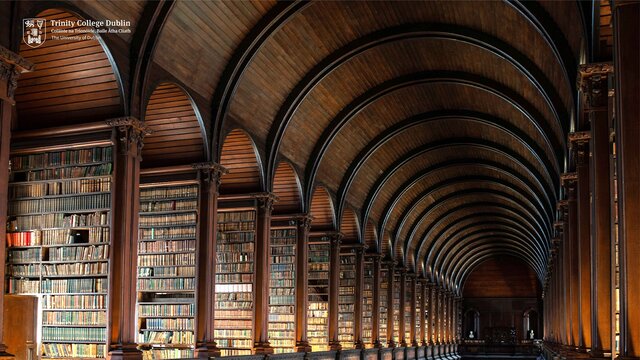 Let's round out this library list with an international institution: The Library of Trinity College Dublin is recognizable for a good reason. With its soaring walls, arched ceilings, and dark wood, it's a sight to behold. And Trinity College Dublin shared photos of it for you to use as your virtual background. 
Office Setting Virtual Backgrounds
Few things are more professional than an office setting. So if you're feeling nostalgic for the days when you used to work in a building surrounded by your colleagues, then these meeting backgrounds are for you.
Breather
Breather is a company that provides professionally decorated workspaces with high-end amenities, so these images of their actual workspace offerings might even be nicer than your actual office. Characterized by clean lines and lots of white space, these clutter-free offices will feel like a breath of fresh air.
NPR
On the opposite end of the office background spectrum, you could swipe the famous cluttered shelves that serve as the backdrop of NPR's Tiny Desk concerts, thanks to the nonprofit's sharing of a library of images for the public to use as virtual backgrounds.
Home Virtual Backgrounds
There's no place like home, but even if you work from home, I bet you've never seen abodes quite like these. 
Airbnb
Airbnb rounded up 10 high-quality images of some of its best properties around the world for you to use as the backdrop of your next meeting. So whether you want to feel like you're waking up among the clouds in mountainous Vestland, Norway, or sipping a cold drink in a tropical treehouse in Bali, there's a little something for everyone in these images.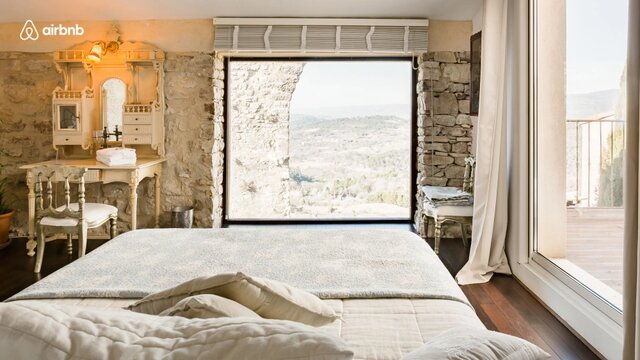 West Elm
Home decor company West Elm is a favorite among interior designers, so how lucky are we that it's sharing these images? The company has collected some of its favorite homes featuring its decor and shared them for people to use as conference backgrounds. With these photos, you can get cozy in a log cabin or look chic in a modern city apartment with floor-to-ceiling windows.
Apartment Therapy
If you're looking for a different vibe, try out these digital illustrations shared by Apartment Therapy. Quirky and colorful, these virtual backgrounds are just what you need to stand out during your call (in a good way).
Travel Virtual Backgrounds
Ah, remember when we used to travel? If you're feeling restless during your work meetings, maybe these vacation-inspired virtual backgrounds will ease your wanderlust.
HotelTonight
For those who miss hotels, HotelTonight shared 10 inspiring images for you to use as your meeting background. Watch a rooftop sunset over LA at the Freehand Hotel, or catch some rays beneath the swaying palm trees of the Hotel Adeline in Scottsdale.
Montage Hotels & Resorts
Step it up a notch to sheer luxury with one of these virtual backgrounds from Montage resorts. Take in the deep blue waters at the bayside pool at Montage Kapalua Bay, or luxuriate in the warmth of the stately fireplace of Montage Palmetto Bluff.
Omni Hotels & Resorts
Whether you want a resort-like feel or you're all business, these 21 photos from Omni have what you're looking for. There are a few photos just of their conference rooms, as well as some photos of their spas and beachside amenities.
NASA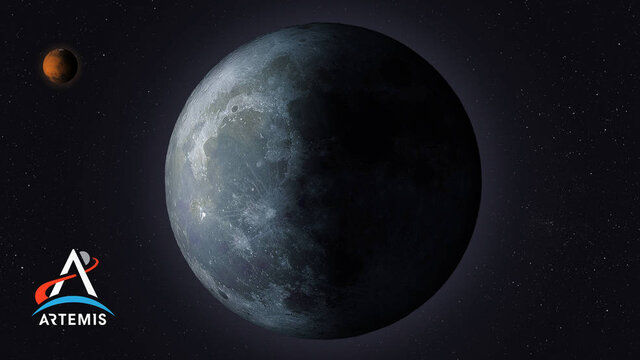 Space travel counts, right? Get celestial with these images that NASA shared related to its Artemis program, which aims to land the first woman and first person of color on the Moon. They've got artists' renditions of what it'll look like when this mission is completed.
TV Show and Movie Virtual Backgrounds
For those in a more relaxed work culture or in the entertainment industry, you'll appreciate these TV show- and movie-inspired meeting backgrounds.
Pixar
Pixar shared these recognizable movie backdrops for you to use as a virtual background. Among the selection of images, they've got the cloud wallpaper from "Toy Story," the living room from "Up," and the kitchen counter from "Ratatouille."
NBC
Fans of NBC shows will love the backgrounds the TV network shared. You can get the yogurt shop from "The Good Place," the set from "Saturday Night Live," and even Ron Swanson's office from "Parks And Recreation."
ABC
For your video conference calls, ABC tweeted images of the recognizable sets from TV shows such as "Modern Family," "American Idol," and "Who Wants to Be a Millionaire?"
FOX
FOX tweeted out images for you to use as Zoom backgrounds, giving you the chance to lounge on the couches of "The Simpsons" and "Family Guy" or take a seat at the counter of "Bob's Burgers."
Nature Virtual Backgrounds
With as much screen time as we're getting these days, we need more nature in our lives. Thankfully, many parks and wildlife organizations shared images for us to use as meeting backgrounds. Check them out below!
New York City Department of Parks & Recreation
The Big Apple may be known for its concrete jungle, but don't forget that it has nature scenes too! The New York City Department of Parks & Recreation shared these delightful meeting backgrounds. Take a stroll through snowy Central Park or take in the sights at Coney Island Beach.
National Park Foundation
The National Park Foundation has loads of love for (and images of) America's 400+ national parks. They've made some of these images downloadable so you can spruce up your next Zoom meeting. Gaze upon the golden autumn leaves at Grand Teton National Park, or bask in the glory of the snow-capped peaks of the North Cascades.
The Wilderness Society
The Wilderness Society has a real treat for you: They've shared video loops for you to use as meeting backgrounds! That's right, you can have backgrounds in motion, such as video of the sun breaking through the clouds over the peaks of Alaska's Arctic National Wildlife Refuge or a river flowing at Nantahala National Forest in North Carolina.
National Audubon Society
Birds make everything better. And with these virtual backgrounds from the National Audubon Society, your meetings could be better too. With images of a cute little Burrowing Owl, colorful Scarlet Macaw chicks, and a regal Osprey—you won't be able to keep yourself from smiling during your next video chat.
Woods Hole Oceanographic Institution
Immerse yourself in the splendor of the sea with one of the images from Woods Hole Oceanographic Institution. Marvel at a coral reef or a Great White Shark. They've even got season-themed nature images featuring adorable penguins.
Custom Virtual Backgrounds
Upload your own photo
Can't find a meeting background you love? You can always take your own photo and upload it to the Krisp app to set it as your virtual background. So whether it's a photo from a vacation or an image of your actual office when it's clean, when you upload your own photo, you get exactly what you want.
Blur
When you're working from home and want something professional in an instant, you can't go wrong with blurring your background. Some virtual background apps like VCam have the option to control how blurred your background is. That way, you keep a polished look and keep your personal space, well, personal.
Canva
Canva is a free design tool made for non-designers. Choose from hundreds of Canva's virtual background templates, and customize them within the easy drag-and-drop editor, where you can add icons, text, photos, and more.
Krisp
Once you've customized your background, use Krisp to keep it consistent across all your video conferencing apps—from Zoom to Teams to Meet. Install the Krisp app here, switch to the "Video" tab, and click "+ Add Image."
Which Meeting Background Will You Choose?
You've got to love virtual backgrounds. No matter where you are or how unkempt your space is, you can exude an air of sophistication. Now, the only thing you'll have to worry about is, with so many good options, which meeting background will you choose?
Get
Krisp
for free today to use Virtual Backgrounds in almost any conferencing app!