Most audio recording software out there are quite similar when it comes to their functionalities. So how do you pick the right one for you?
The best audio recording software for you is the one you'll find easy to use and get used to. Besides design and interface structure, some tools are just better at one thing than the others. In our list, we're going over the best audio recording programs and highlighting their top use case.
Best practices to keep in mind when choosing your next audio recording software
Let me take you through a quick outline of all the factors to consider when analyzing and testing audio recording tools:
Platform and device availability. 
Features you use on a regular basis.

These can be anything from an extensive sound library to advanced automation, routing, or editing. Remember that most of these audio recording apps have similar features. So regardless of your choice, you're likely going to have a favorable experience with them. Keep an eye on the

Cons

sections of our analysis to spot any features that you can't give up on.

Note that some audio recording tools double as audio editors.

So if you need more than just basic recording and audio trimming, a digital audio workstation (DAW) is what you're looking for.

If you need to make live recordings.

Some of the picks on our list (see Ardour) are better suited for live recordings while others don't support them at all.

What your experience level is.
Cost and additional spendings for library assets.
Reviews on usability to get an idea of the tool's learning curve.

And, don't worry. All of the tools here have loads of tutorials available so you can get started with using them on day one.

UI and features layout.

Although the features are quite similar among the tools on this list, it's the design of the app that can make it or break it for a user. If you're switching from an old tool, consider picking one with a similar interface structure. When you're happy with your current choice, don't jump into making a purchase for a new audio recording solution. Give each pick a trial run or have a friend show you how they work so you're not switching just because you assume a new tool will make your creation process more efficient.
But what about those pesky background sounds that ruin most recordings? Good news is you won't need extra equipment to maintain the top quality of your audio when recording podcasts, videos, meetings, or interviews.
Krisp is a noise cancellation tool that works with any recording apps that support changing the audio settings so the input is from Krisp. When you record audio with Krisp on, the final recording will require no further editing as the tool removes background noises and different types of echoes. The HD voice feature makes for the best voice quality and you can even use the tool in a low power mode along with other apps that require high CPU usage.
Audacity – best recording and editing app for podcasters
Audacity is an audio and recording tool that's commonly preferred by podcasters thanks to its complete suite of features and ease of use. This open-source app works on Windows, macOS, and Linux on top of which it supports multiple audio files so you can easily transfer them from one device to another. Audacity also boasts features such as audio monitoring, multi-track editing, batch processing, and a basic sound effects library.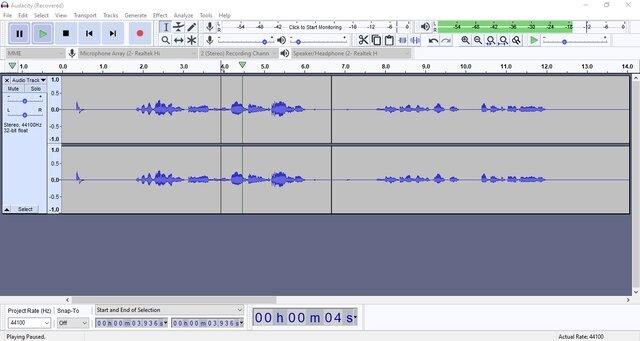 Pros:
It's completely free to use.

Seamlessly integrates with

Krisp

so you can maintain clear audio files even during recording.

Easy to download and use for beginners when compared to other similar tools.

Supports spectrograms.

Comes with VST plug-in support.

Its open-source nature has made it possible for loads of plug-ins to be available in case you're missing a functionality.
Cons:
Outdated UI.

The integrated noise reduction feature doesn't fully remove background noises.

It's not suited for recording songs due to a lack of specific features such as loops and sequencers.

You can only record via Audacity through a single device.

Not available on mobile devices so you won't be able to use it for on-location interviews.

Since the tool's free, there's no customer support team readily available.
FL Studio – best for blasting those jams like a pro
If you've ever tried to make music yourself, you've probably already downloaded FL Studio at some point. The tool's a reputable one you can use just for song creation or turn to for recording your podcasts and videos, audio snippets, or that memorable audio branding jam.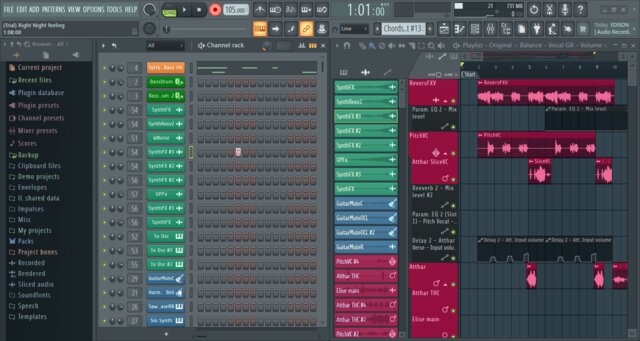 Pros:
Users generally get accustomed to the interface quickly.

Has a diverse library of effects, samples, instruments, and synths.

Includes an audio visualizer feature so you can get your music on YouTube in no time.

Makes time stretching easy.

Highly compatible with MIDI recording.

Supports resampling.

There's lots of preloaded plug-ins to choose from.
Cons:
The Fruity edition of the tool is useless as it doesn't come with an audio recording or editing feature.

The free trial doesn't allow you to test out all potential features, but the trial is unlimited and it lets you save songs too.

Due to the complexity of the tool, current users often claim the recording feature of FL Studio is more time-consuming and tiring than with other tools.
Garageband – best free audio recording software
Garageband has previously made our list of best podcast software solutions thanks to how easy it is to use it for recording short songs and sound snippets. This free audio recording software is suited for beginners who are looking to create memorable tracks with limited resources. In fact, it's already installed on your Mac. It's just a bummer you can't get it on Windows.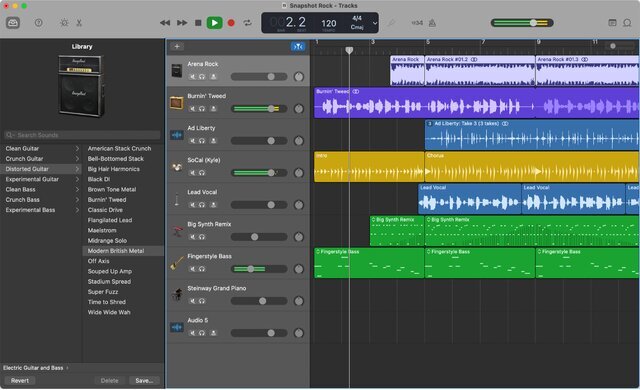 Pros:
Easy to use for first-time producers.

Comes with an audio monitoring feature.

Supports multi-tracking recording and equalization for multiple audio files.

Had built-in MIDI keyboards 

Available on iOS too.

Gives you access to Apple's own sound library which is constantly being updated.

Works with 24-bit recording and extra third-party plug-ins.

The audio recording app is free to use, but additional instruments come at a separate cost which can make Garageband an expensive solution if you want a full suite.
Cons:
There's no dedicated mixer screen view which might not make it a first-choice for professional music producers.

Certain actions such as changing a song's tempo can require extensive time compared to other automated tools.
Ardour – best free digital audio workstation 
Ardour is a DAW you can use for free if you want professional recordings but you or your studio are on a limited budget. Just note this is definitely not a pick for beginners due to the complexity of the user interface. This audio recording tool runs with any audio engine and comes with leading MIDI editing capabilities that make it ideal for pros too.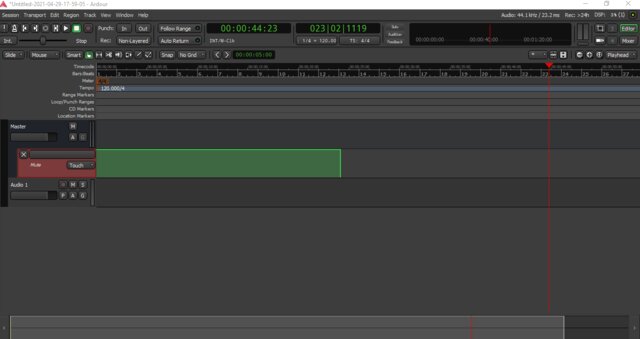 Pros:
Supports non-destructive editing and has diverse routing capabilities.

Boasts support for VST, LADSPA, and LV2 plug-ins.

Comes with an inline mixing console and multi-display support.

Works well for live recordings thanks to its capability of recording 32 channels simultaneously.
Cons:
The complicated interface and functionality distribution takes longer to get used to.

This isn't a problem if you have a setup prepared, but you can only record sound if you have a keyboard, microphone, or similar recording device plugged in.

The sound library isn't as extensive as with the solutions from Apple, for instance, which are regularly updated.
Adobe Audition – best complete suite for recording and editing
Need to sync audio and video recordings? Adobe Audition provides the full stack of features you need to record a podcast, online course, presentation, YouTube video, you name it. And the fun part is that it allows you to edit tracks even as you're recording. Perfect for team collaboration, right?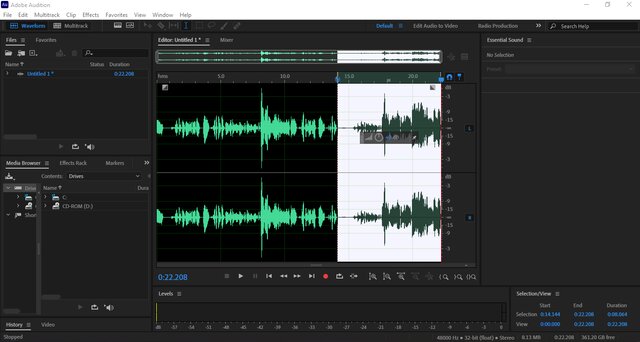 Pros:
Purchasing a Creative Cloud subscription gives you instant access to Adobe Audition too so you're keeping your budget safe when using multiple Adobe tools. 

Supports multi-track and wave editing.

It comes with ready-made templates you can use to kick-start your audio creation process.

Comes with advanced audio editing options like pitch correction and a spectral frequency display.

The interface is fairly intuitive, especially if you're used to other Adobe apps.
Cons:
Despite the complexity of the features, the audio restoration option isn't perfect so you'll need to use

Krisp

to block out all surrounding noises and echoes.

It's an expensive solution if you're looking to get solely this tool from Adobe or when you count in the recurring monthly costs.
Soundtrap – best for collaborative audio recording
No need to download Soundtrap to get everyone on board for a recording thanks to its collaborative platform. This supports podcast hosts who want to record interviews remotely and maintain control over their audio quality. Plus, the tool is now owned by Spotify so publishing your podcast to their platform takes just a couple of seconds. Soundtrap is also used for educational purposes to get students to make music together.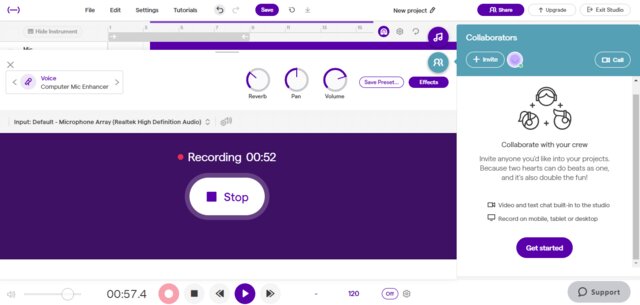 Pros:
The free trial comes with a full set of advanced features, including Antares Auto-Tune®, automation, and time restore.

The loops library is one of the most extensive ones with over 11890+ choices to pick from.

The tool is highly intuitive and comes with a comprehensive onboarding that lets you choose whether your primary goal is to record music or podcasts.

Available on mobile devices.

There's basic editing options and sound effects you can use as you are recording.
Cons:
Doesn't come with the advanced recording and editing options that pro tools on this list have.

The free version as well as the cheapest one doesn't come with a high-quality downloads option.
Tools for recording short snippets
Simply need quick audio snippets to add to your videos? The Simple Recorder app is a simple yet fun solution for iOS users who want to record short interviews or voice notes on the go. 
Want something in-browser? Try HYA.WAVE. You can also use your phone's audio notes, the Voice Recorder app on Windows, or QuickTime Player to record these.
Whatever your choice, remember that it's the user who ultimately decides if a tool works for them. Some people will find that one audio recording software has an interface similar to something they've used before. In this case, switching should be easier. So don't let the look and feel of the graphics distract you from focusing on all the automation functionalities or extensive libraries you could get your hands on.