It's no secret that meetings are much more productive when there are less distractions, allowing for crisp and clear communication and full attention on the topic of discussion…not to mention proper online meeting etiquette as an attendee.
And since effectively removing audio distractions is what we are most known for, it only made sense to create a solution for easily eliminating visual distractions too, allowing for a fully immersive experience during your online meetings!
With our new feature, Virtual Backgrounds, you can sound and look professional on almost any communication app—even ones that don't have a built-in virtual background option. It's currently available in beta for Mac users (Windows is coming soon!).
With the click of a button, Krisp Virtual Backgrounds lets you:
Replace your background with a professional-looking one from our gallery of more than a dozen high-quality photos

Upload photos of your choice

Try on different backgrounds before you start your call

Hide any messes or people behind you

Infuse a little fun into the humdrum of video meetings

Set it once—use it everywhere. Krisp Virtual Background works on any communication app that lets you choose your camera (including Zoom, Google Meet, and Skype) so you can stay consistent across all platforms.

Use this feature for

free

on all Krisp plans
You no longer have to worry about tidying your office or shooing your family members out of view—Virtual Background hides it all for you.
Sounds Great! Where Can I Find Krisp Virtual Background?
We're providing early access to Mac users (coming soon to Windows, too!). This beta version of Krisp Virtual Background is available for free on both Krisp Personal and Team accounts, with no time limits. You can use it on desktop and web apps, as long as they let you select which camera to use.
To access Virtual Background, update to the latest version of Krisp. You can do this by opening Krisp and checking for the "Update available" notification. When you find it, click "Install."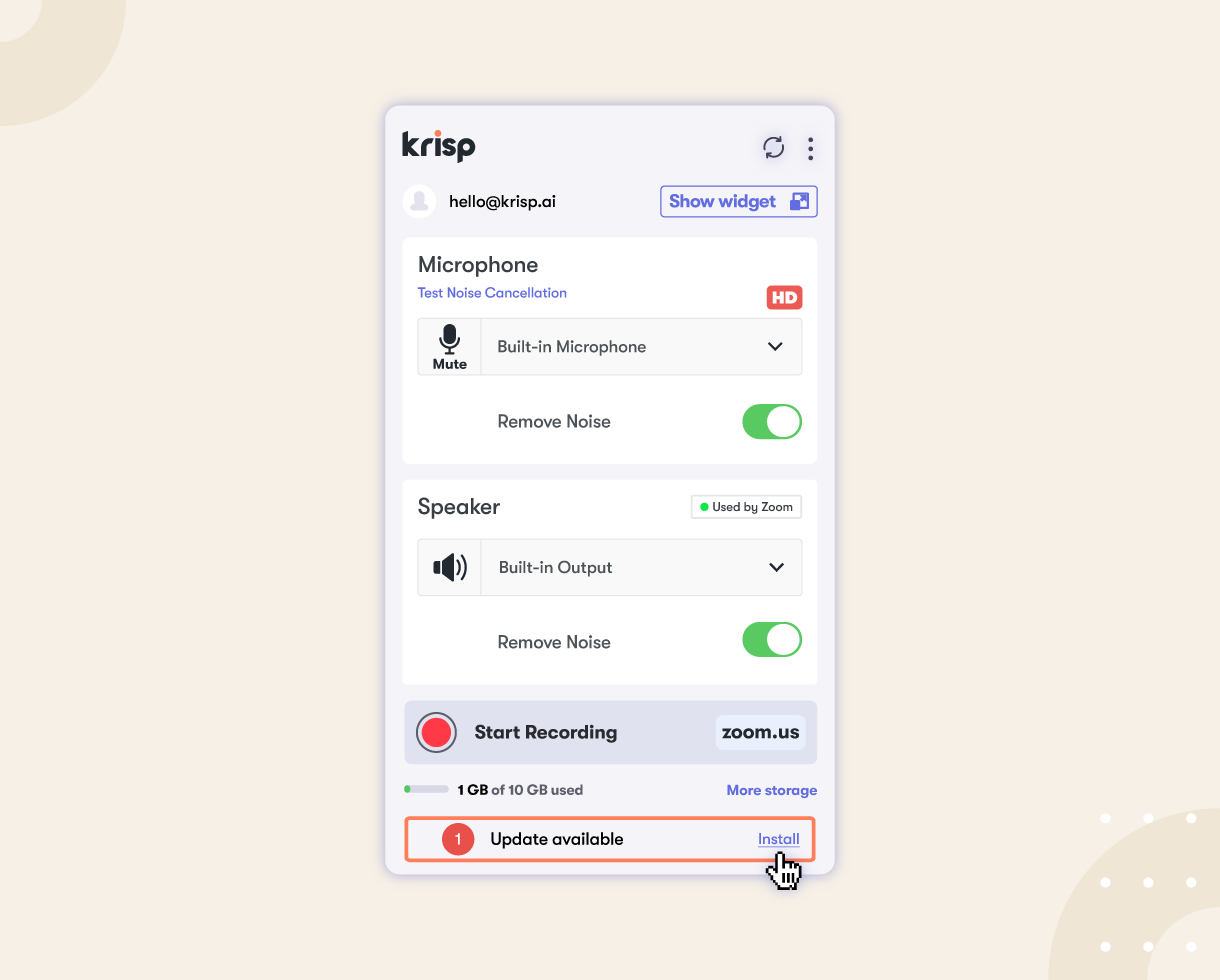 Did you update Krisp? Great! Here's how to set up Virtual Background.
How to Set up Krisp Virtual Background With Your Communication Apps in 3 Steps
You can use Krisp Virtual Background with any communication app that has dedicated video settings and allows you to select which camera to use. You can also use it in different apps at the same time.
For Virtual Background to work, you must set it up on both Krisp and your communication app (e.g., Zoom, Teams, Skype, etc.). 
Step 1: Allow access and select the camera in the Krisp app
1. Click on the Video tab of Krisp. Then, pick the physical camera you want to use during calls.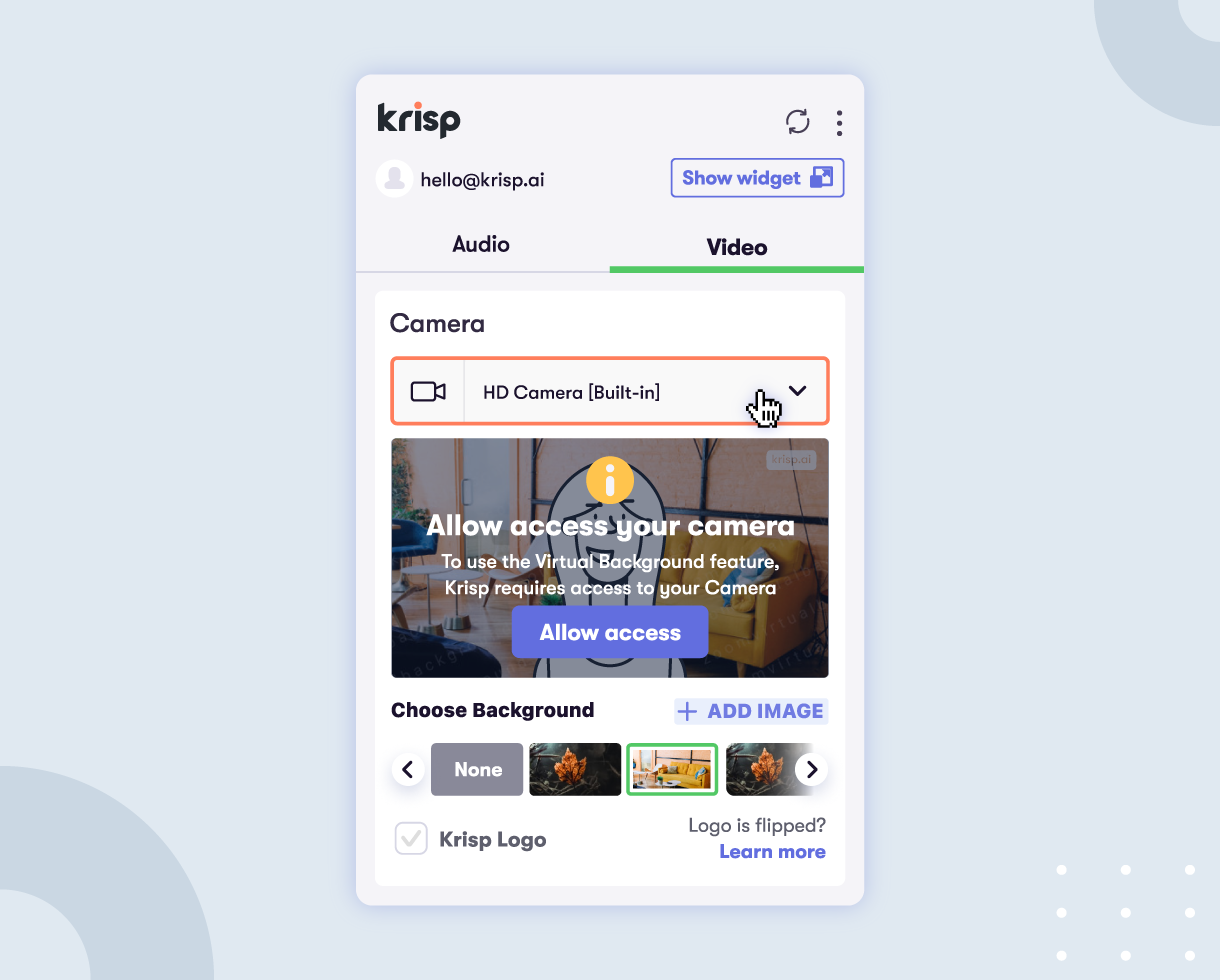 2. Allow Krisp to access your camera by clicking on "Allow access."
3. When the system settings window pops up, click "OK."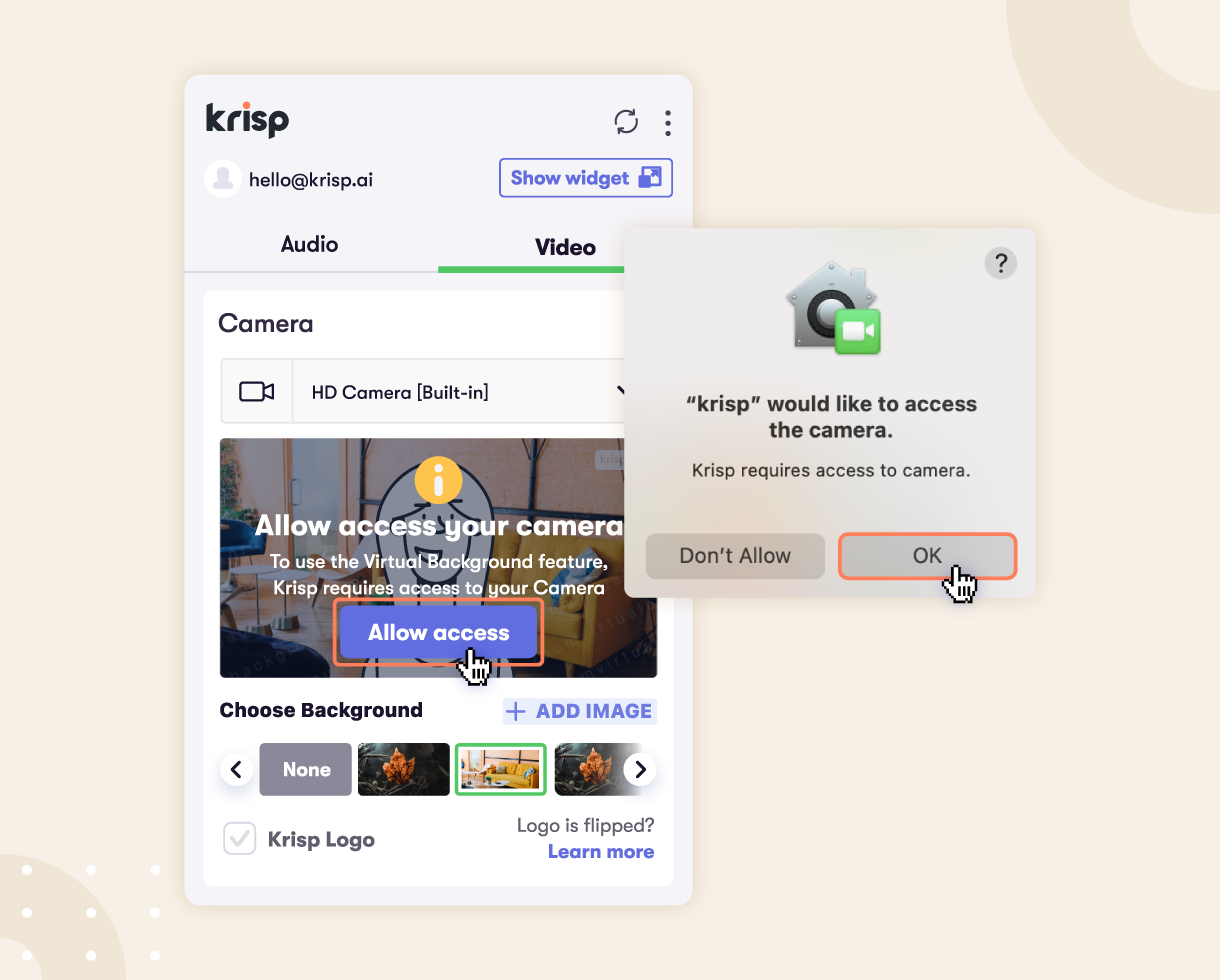 Step 2: Choose Krisp Camera in your communication app
1. Restart the desktop app or the browser where a web app will be used. This is so the Krisp Camera appears in the available cameras list.
2. Go to the video settings of the app and choose "Krisp Camera" as the camera. See the example with the Zoom app settings below: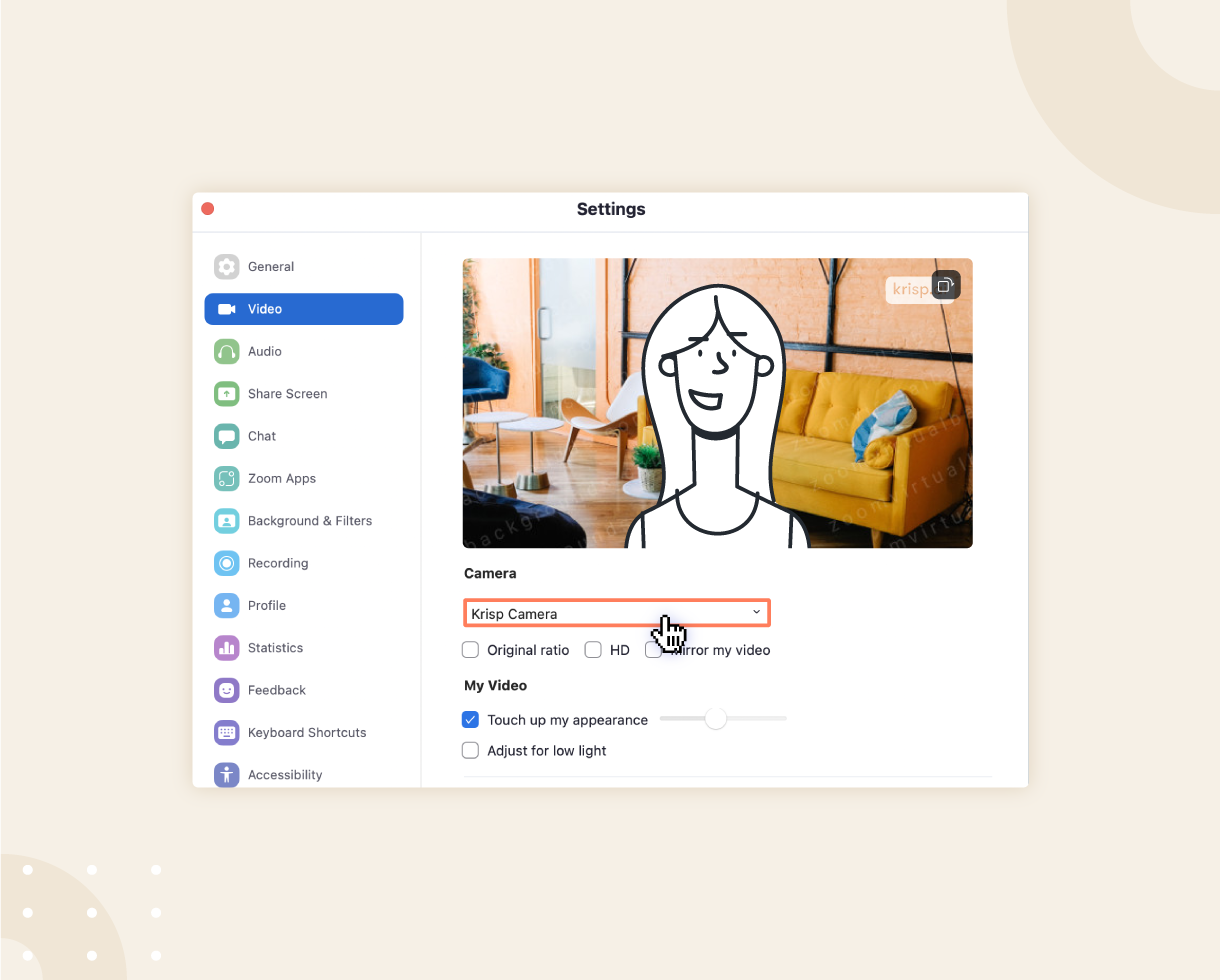 Now, the image you choose in Krisp will be shown as your background in your chosen communication app during video calls.
NOTE: Why the Krisp Logo Looks Flipped
Many video conferencing apps "mirror" your video preview to make it easier on your eyes. That means the video you see of yourself is flipped horizontally, which is why the Krisp logo looks backwards to you. But don't worry! Your meeting attendees see the unflipped version of your video—so the logo looks normal to them.
Step 3: Choose an image as a virtual background
Use the images included in Krisp or upload your own as a virtual background. There's no limit on the number of images you upload. Within Krisp, you can try out different backgrounds beforehand to ensure you feel confident before starting the call with it.
To upload your own image, click on "+ ADD IMAGE" and choose a .png, .jpg, or .gif file from your computer. The uploaded image will automatically be set as your background. To change it, click on any other image.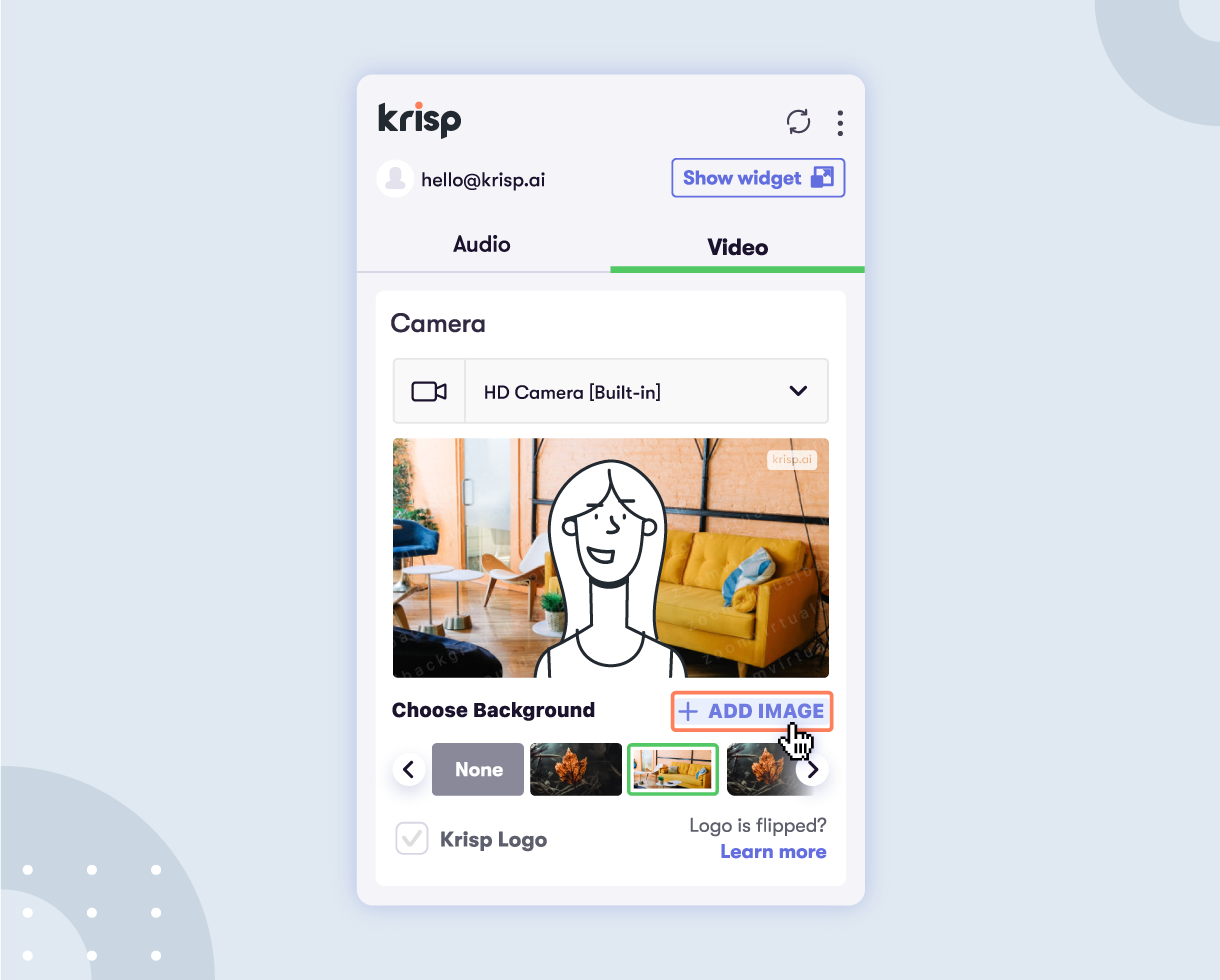 Don't want to use an image ever again? Just click the "X" icon and confirm the deletion.
Who can use this feature
The virtual backgrounds in Krisp are available for all Krisp Personal, Personal Pro, Teams, and Enterprise accounts. There are no time limitations or extra costs for this feature. 
The virtual backgrounds work with both desktop and web video conferencing apps. These will be extra useful if you're using a teleconferencing tool that doesn't have integrated background images. The Krisp Camera works with any platform that lets you change cameras so you can keep the same background image even when you unexpectedly have to switch tools. 
Need More Help?
Make sure you have Krisp version 1.23.6 or higher on Mac for this feature to work. 
For more detailed instructions or to get in touch with our support team, visit our help article.
We Welcome Your Feedback
Give it a try, and let us know what you think! We'd love to hear from you and see how you're using Virtual Background for your meetings. Please share your thoughts on Linkedin and mention us on Twitter @krispHQ.
Important note: Virtual Background is a beta feature, which means some stability and compatibility issues are expected. If you run into any issues or have feedback, help us make the feature better by reporting a problem from inside the Krisp app or reaching out to us at [email protected]. Thank you!