So you're considering (or have started) working remotely — but which tools for remote workers should you choose?
There's a dizzying array of options from which to choose. Talk to a dozen remote workers or companies about what they consider the best tools for remote work and you'll soon have a crazy list of options to consider.
To save you time, we've compiled a list of resources and tools for remote work that suit multiple needs. 
Keep in mind we're looking beyond the basic solutions to offer you the most creative and useful alternatives to platforms you might already be using. Before starting, put together a checklist of features you must have based on your team's daily tasks so you'll be able to shortlist the apps below.
Remote team collaboration and communication software
Without being in the same physical space, something as simple as sharing a piece of paper or asking a simple question becomes far more difficult. Solve this challenge by trying some of the following best remote software for text, voice, and video communication and remote collaboration.
Hassle-free virtual meetings, video conferencing, and chat for remote employees
Combine your remote work tools for video or audio with the best technology for working remotely. One of the vital working remotely tips and tools in any good remote work guide is to ensure clarity in the communication process. That's just what the next remote work tools do.
Krisp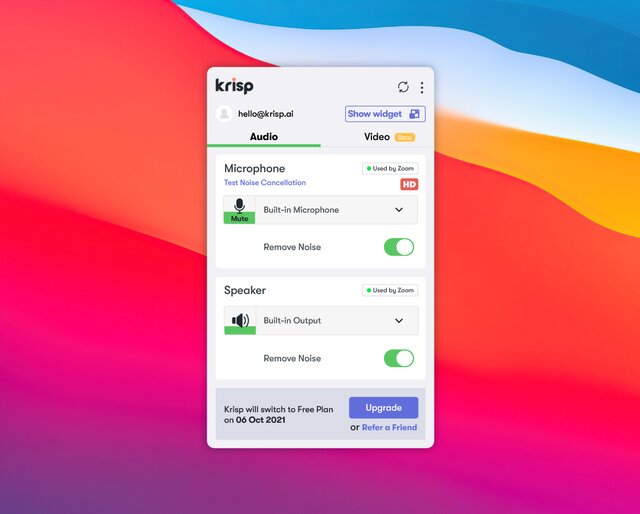 Krisp is a noise cancelling tool that blocks unwanted background sounds on both ends of a conversation, preventing misunderstandings from affecting work. Krisp works with any conferencing app you're already using by making use of more than 2.5 thousand audio, 20,000 noise samples, and 50,000 speakers. The recording feature also lets team members share review meetings and share them with colleagues who missed the call.
Flowdock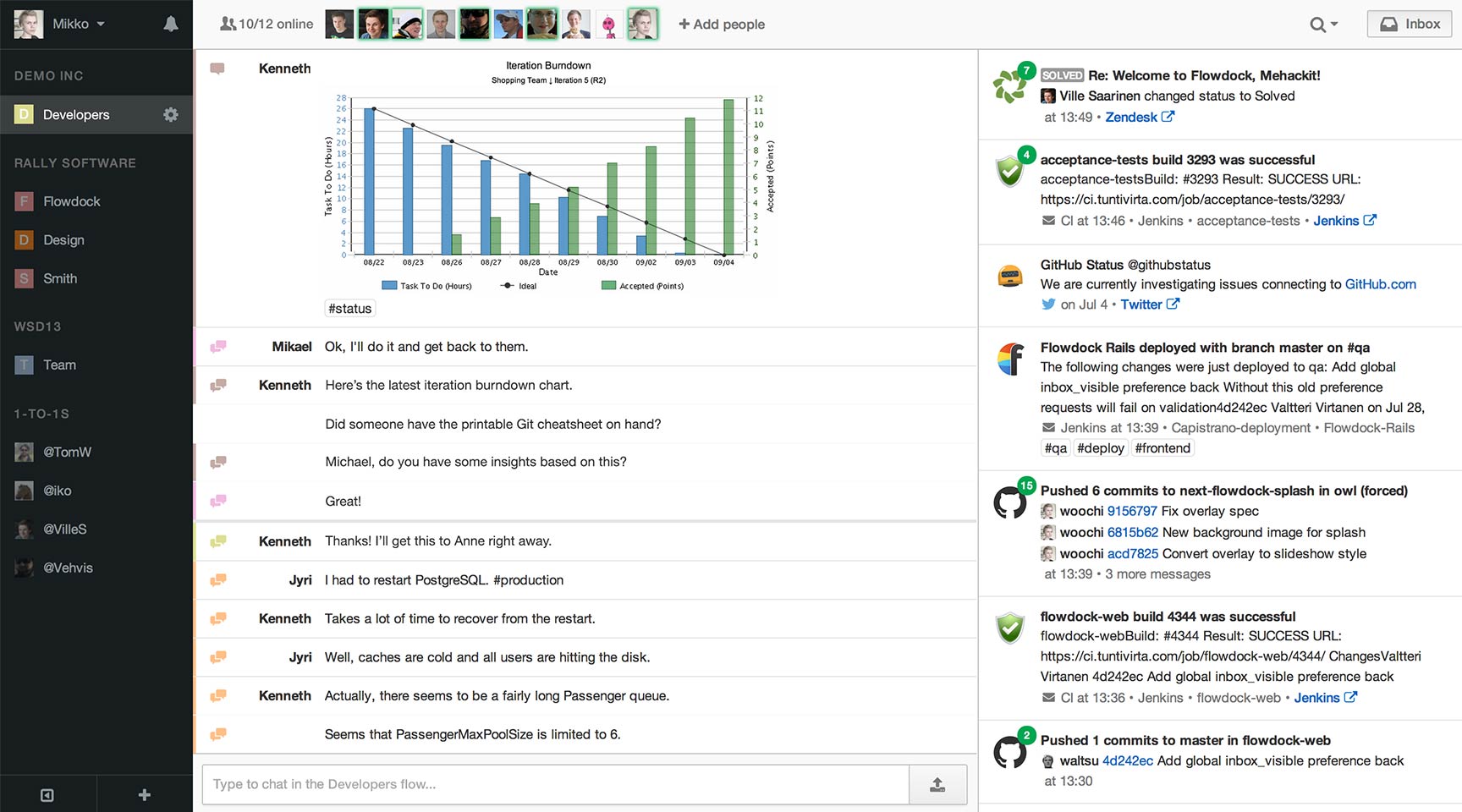 Similar to Slack, Flowdock is a remote office platform that focuses on providing chat requirements for teams. It also brings conversations, work items, and resources to one single place. This makes it easy for you and shareholders to organize tasks and discussions without resorting to switching between multiple apps.
Twist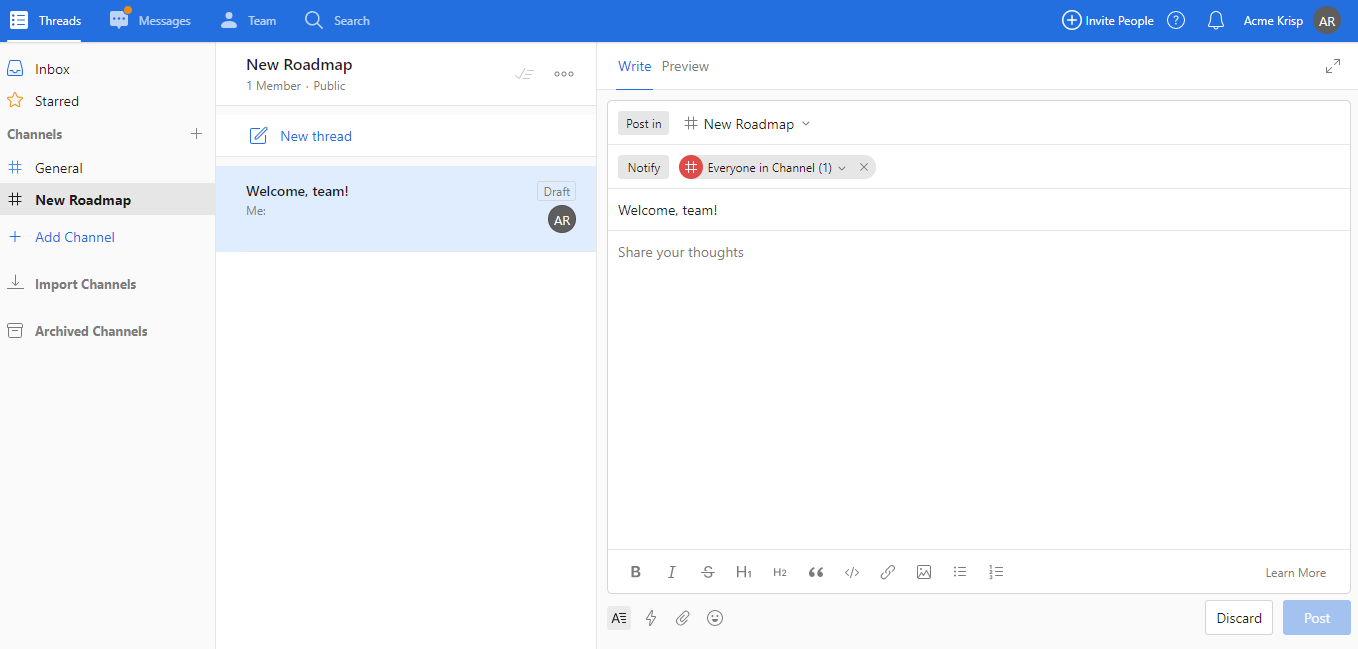 While Slack offers a powerhouse of features, some criticize it for being too distracting for remote workers. The need to stay connected and watch for (often distracting) notifications from the real-time chat can prevent you from "getting in the zone" of deep, focused work.
Twist aims to circumvent these distractions by providing a more asynchronous approach to remote communication. It's more akin to an organized collection of email inboxes rather than a chatroom. This makes it an interesting alternative for communication tools for remote workers.
Doodle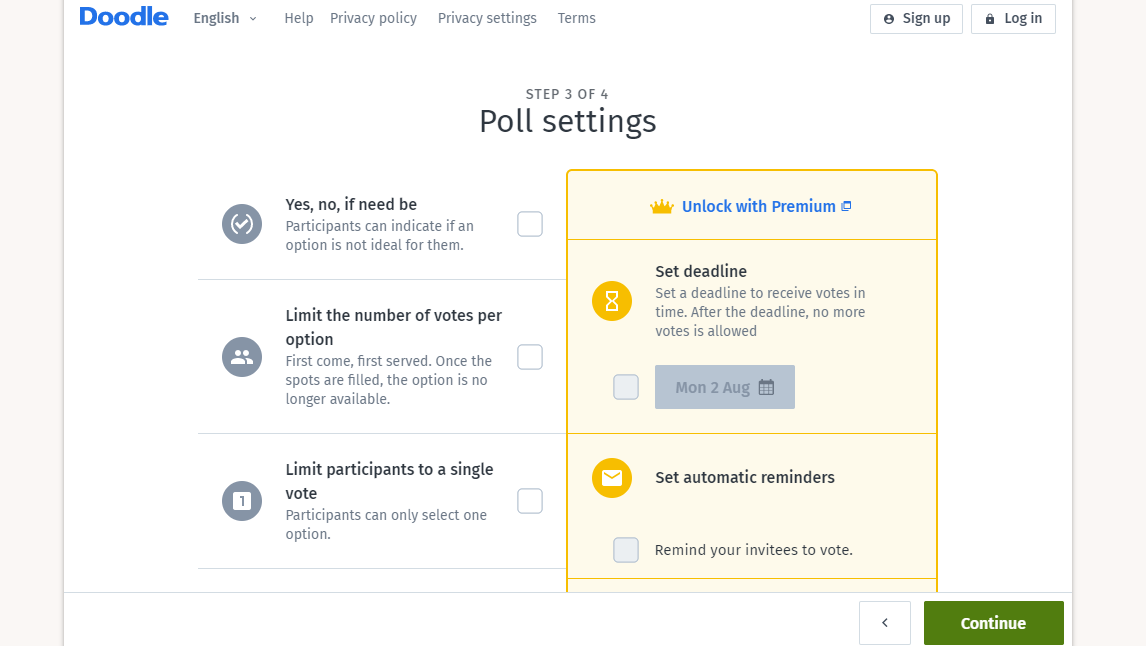 Part of the art of remote communication is to be mindful of interrupting your coworkers and disrupting their productivity. This calls for specialized remote work tools like Doodle that let you schedule meetings and appointments in no time. Perhaps sending a poll through Doodle is all that's needed to see if a meeting is even necessary.
Howspace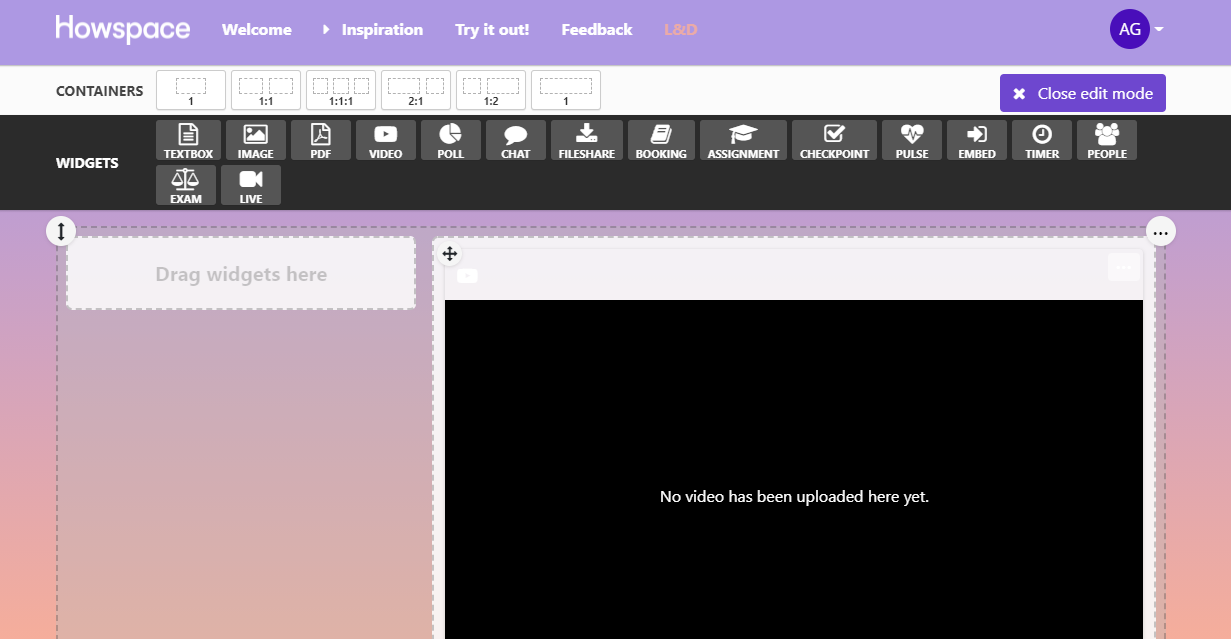 Larger projects (like social learning, events, and workshops) aren't always easy to manage through traditional video conferencing apps. Howspace earns its place in your managing remote worker's toolkit, giving a platform to create programs centered around learning, organizational change, and collaborative growth.
Timezone.io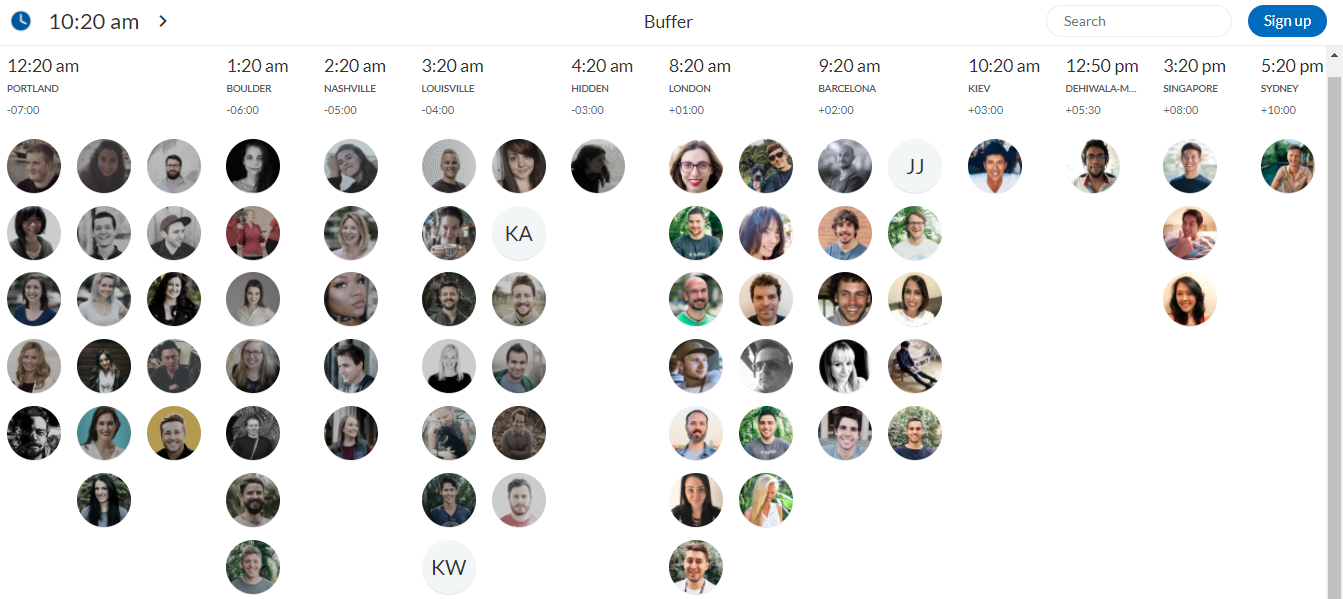 One of the more challenging parts of the transition to remote work can be collaborating across multiple time zones. Quickly see which team members are available right now with the simple interface that Timezone.io provides.
Join.me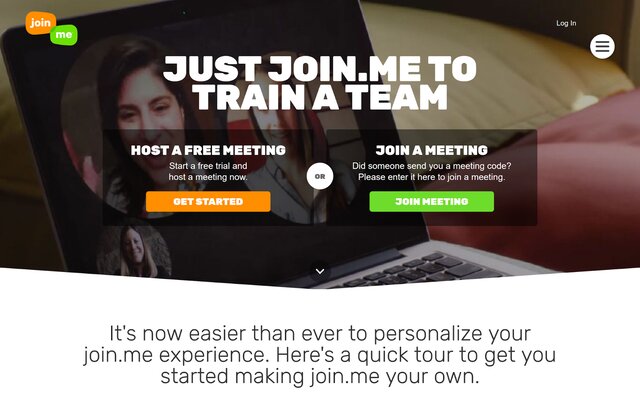 When you need to ask your coworker a quick question, creating and scheduling a meeting through traditional conferencing software can be a hassle. Join.me lets you quickly spin up a meeting with a link to a quick video chat. This convenience makes it one of the remote work tools likely to increase the quality of your team's communication.
Tip: You can always connect Krisp to join.me or other video conferencing tools to remove background noises in real-time. This will prevent misunderstandings and make for a complete and efficient video call experience.
Store and collaborate on virtual assets and documentation
Most project management and collaboration tools include some functionality to share documentation and files. However, your remote team likely needs a more robust way to store assets and documentation in an easy-to-find and searchable place. 
Confluence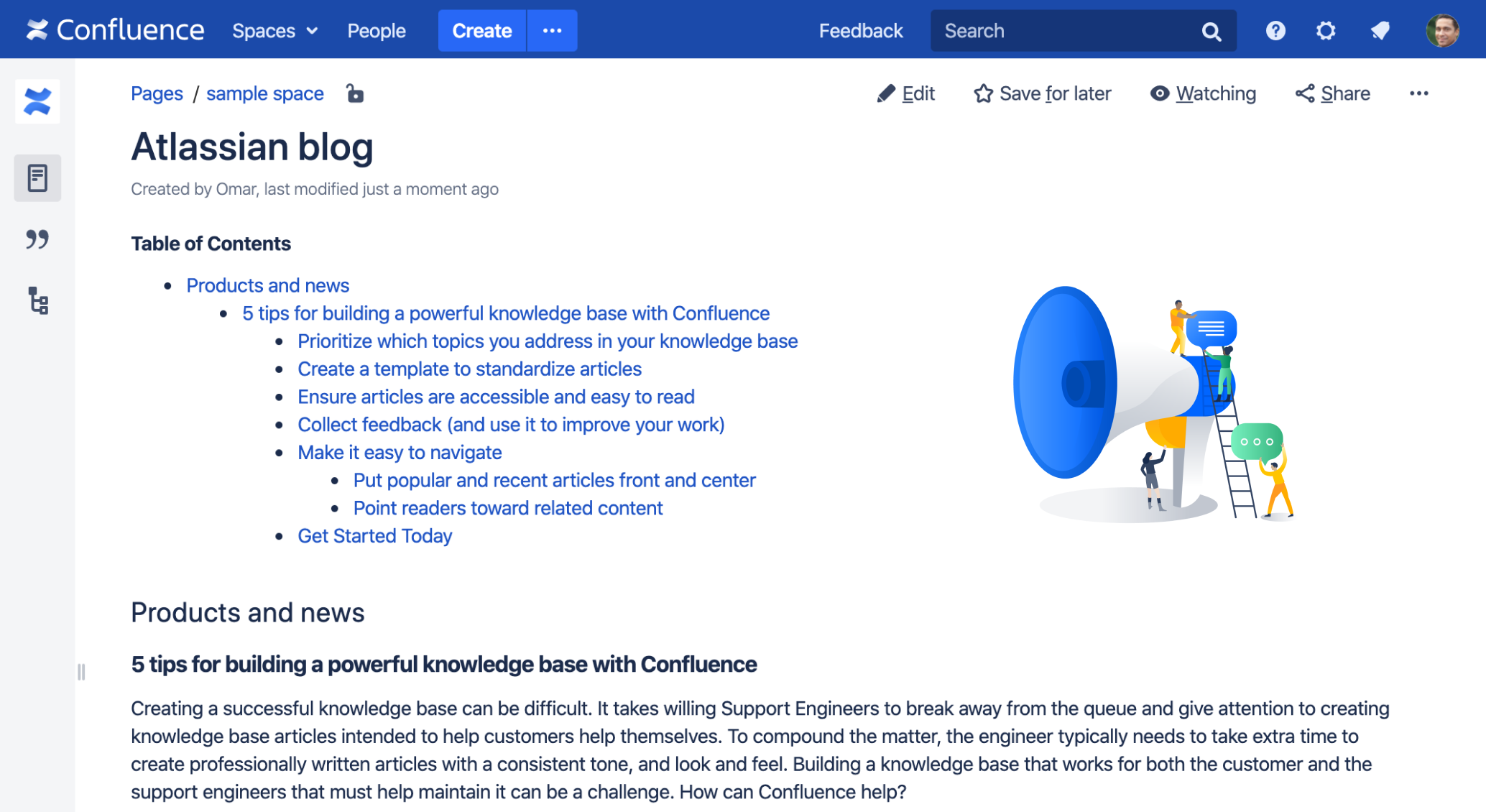 Need a wiki to centralize your team's documentation? Look no further than Confluence, which comes with an array of quick-start templates for common document types to save you time.
Canva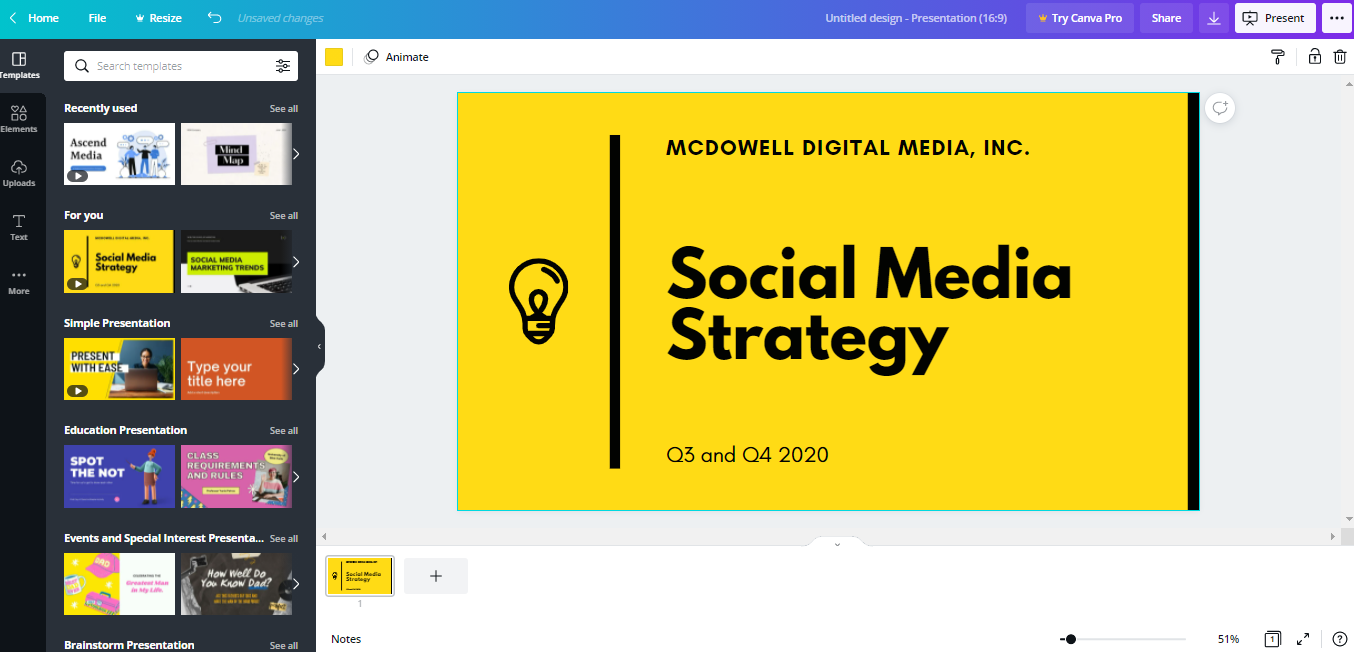 Popular due to its ease of use, Canva provides diverse graphic design functionalities that anyone on your team can use. It also lets you share your images, branding, and files with other team members and is gradually adding advanced features to help replace the classic but clunky Photoshop.
Adobe Creative Cloud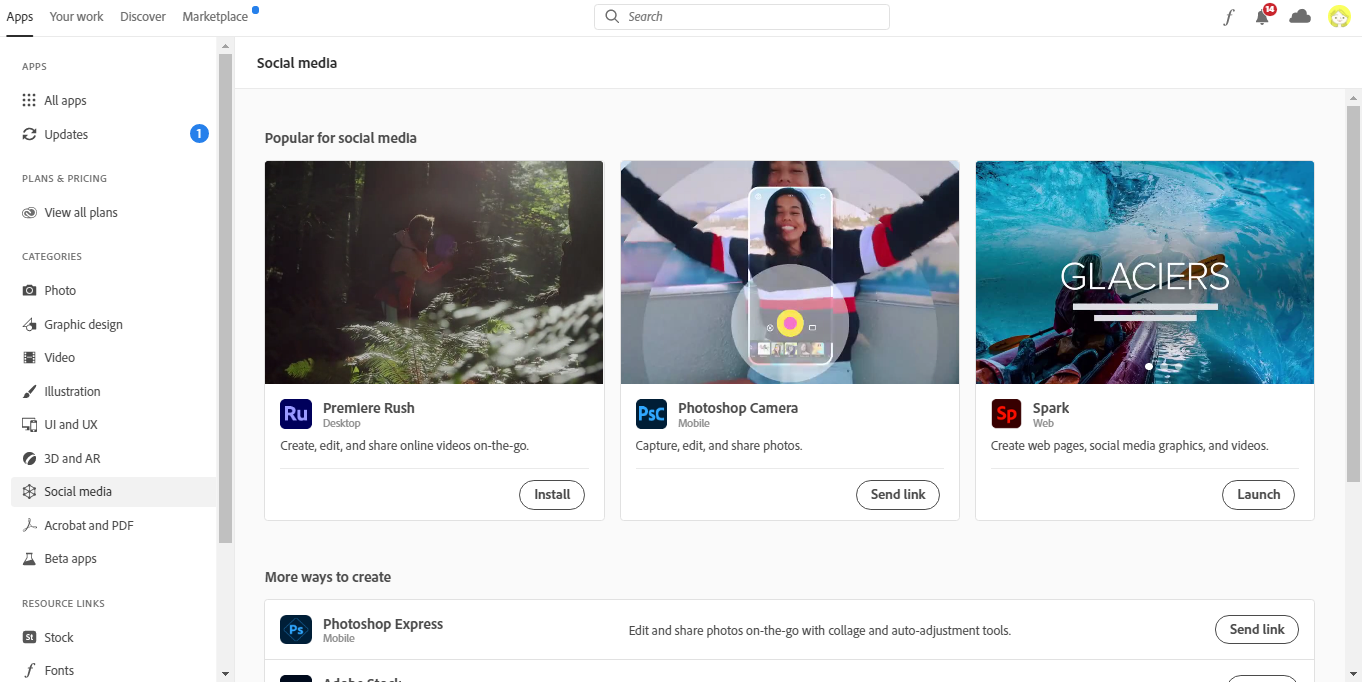 If your team needs something more professional than Canva, you might want to shell out for Adobe Creative Cloud's features. Adobe has been a mainstay in creative work for years, and you'll find every collaboration feature your creative team needs in Adobe Creative Cloud.
Loom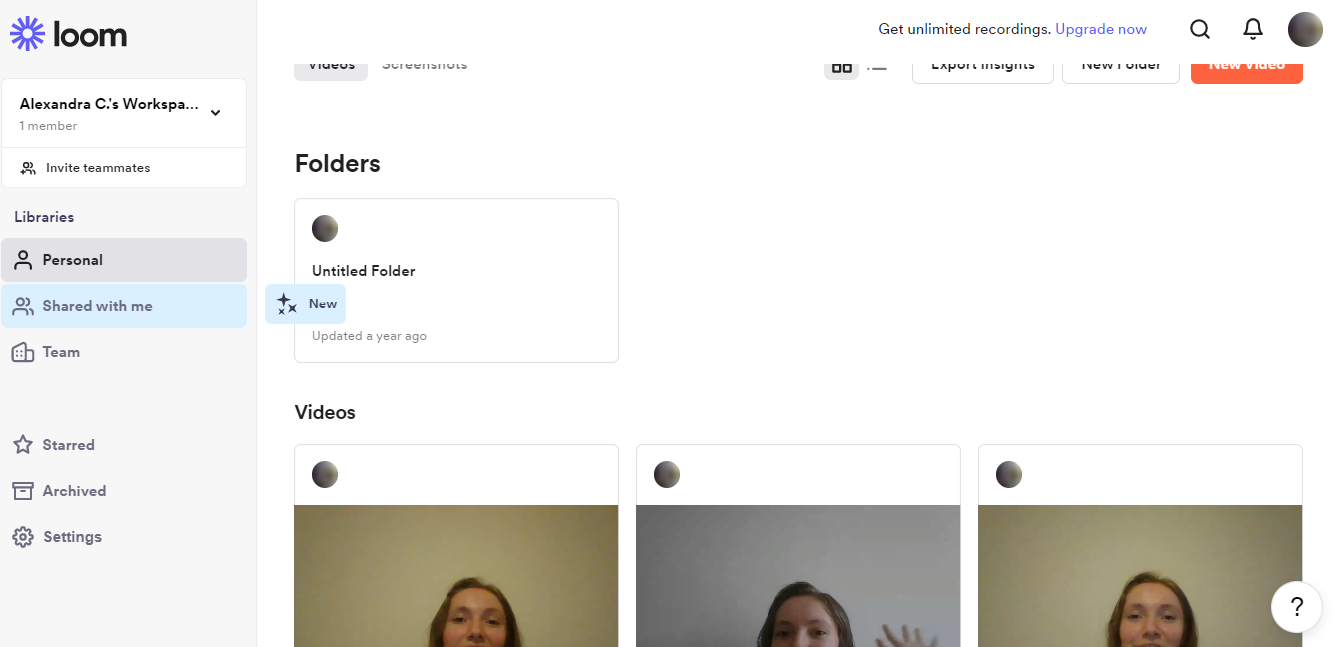 A picture is worth a thousand words, but a video can be worth a thousand pictures when you're explaining a complex topic or just need to maintain that face-to-face connection with your colleagues. Use Loom to create a quick video recording of your screen and/or face. You can use these recordings for official documentation, reports, demos, or to send explanations to colleagues and clients.
Markup Hero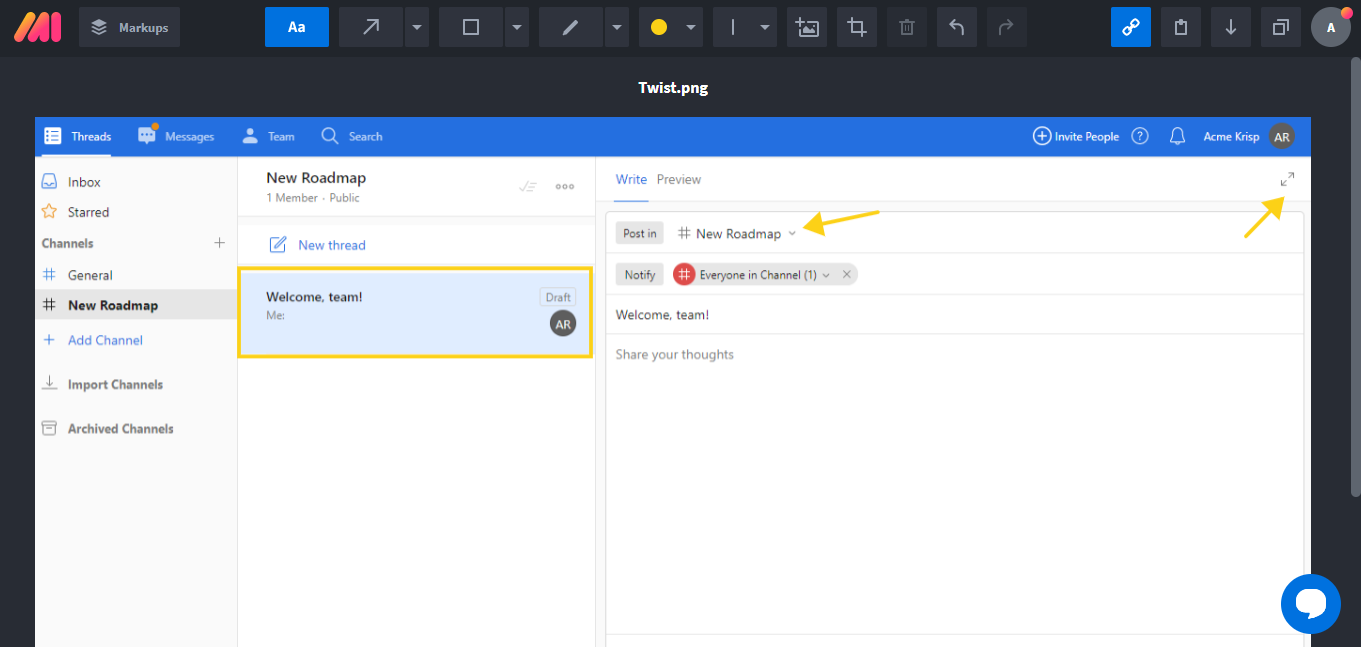 Markup Hero helps you capture ideas, communicate clearly, and save time. Instantly snap and share ideas with Markup Hero's screenshot app and image uploader. This tool for working remotely allows you to clearly communicate messages on any image or PDF with easy-to-use annotation tools. Markup Hero also has a really nice Slack integration that enables users to annotate files with one click, directly from Slack.
Project management for remote teams
Keeping track of which team members are working on which tasks can be challenging with a remote team. Staying on top of their assigned tasks, related updates, and upcoming deadlines can be even more challenging for the team members. Avoid confusion or wasted work by trying out some of these winning options for remote workforce management software.
Trello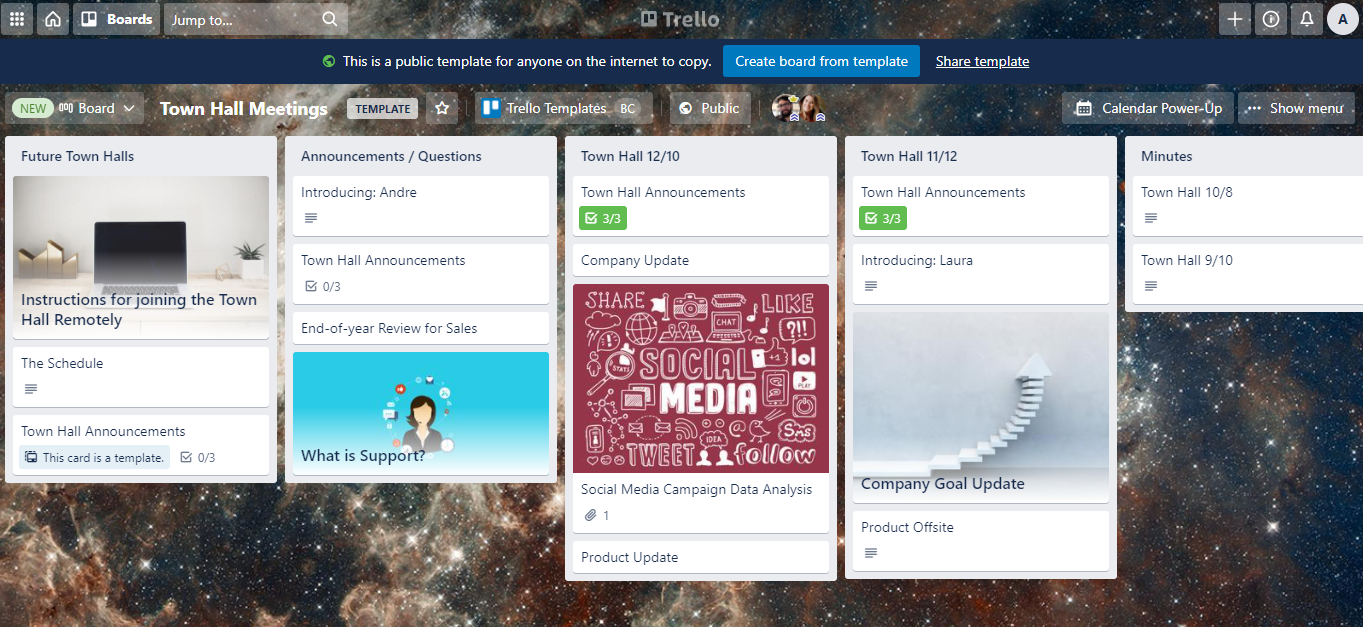 As one of the most intuitive (and free) remote work management tools, it's no surprise that Trello is some of the most widely-used software to work remotely from home. Simple drag-and-drop Kanban cards allow you to organize tasks, add attachments, and host discussions in a simple web interface — minimal app onboarding needed.
Todoist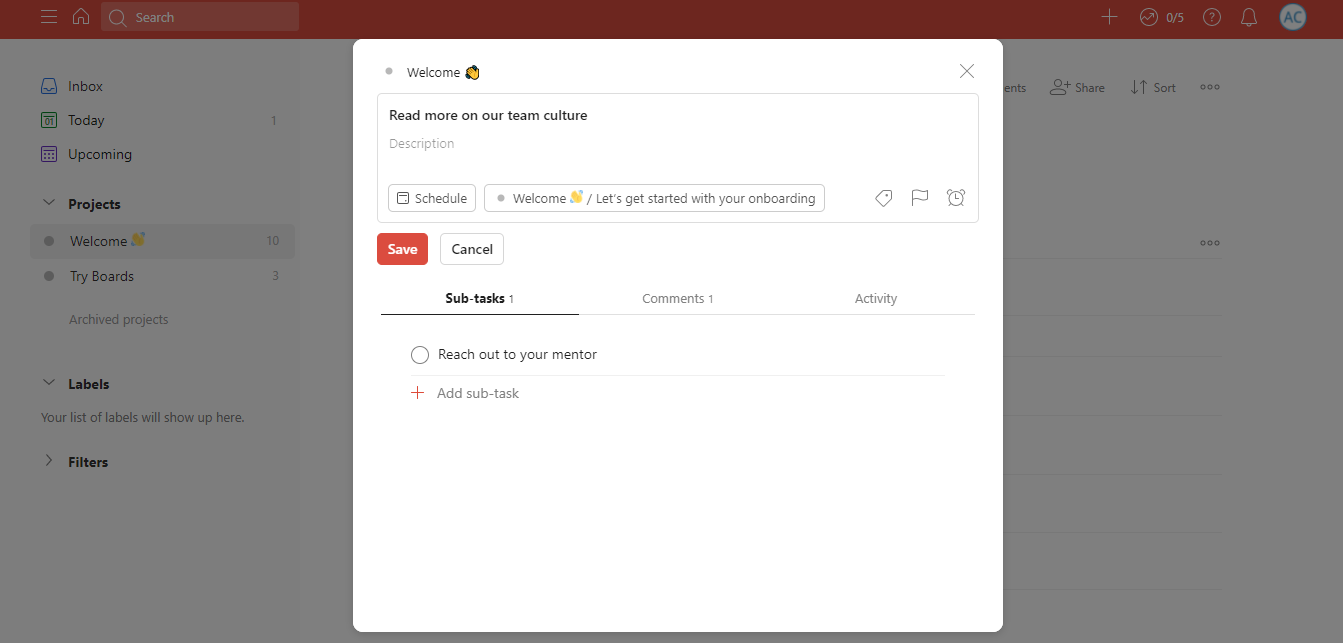 Todoist has more in common with a to-do list than a Kanban-style product like Trello. Still, this solution may be everything a small team needs — or you can just use it as a personal addition to your organization's planning software. It provides an intuitive, quick-and-easy task list with basic collaboration features for your team and contractors.
Milanote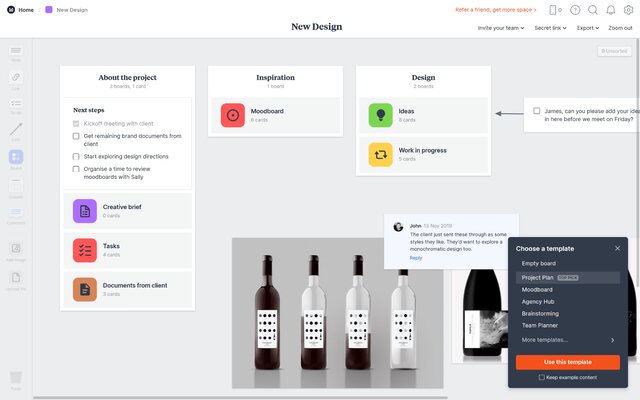 Milanote is primarily a visual note-taking platform but can be used to manage creative projects. It's a perfect choice for creatives and design studios who will still be able to use classic task management features like project templates, to-do lists, and file storage.
Basecamp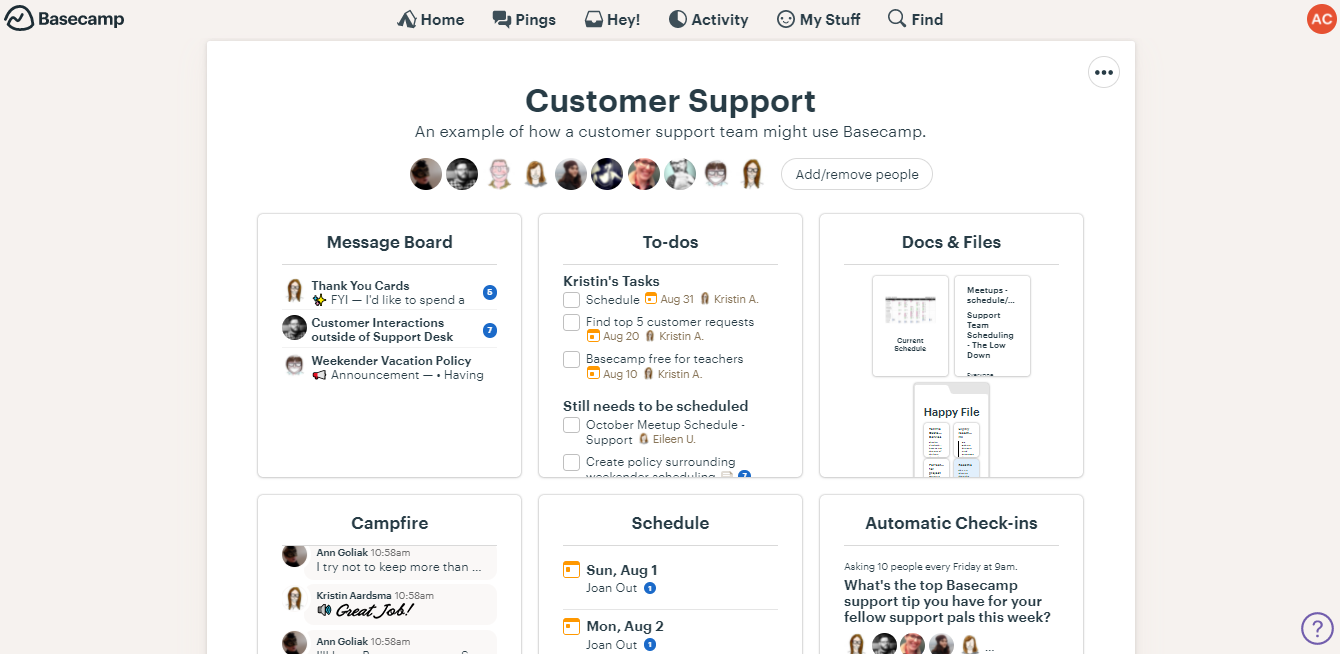 No discussion of tools to manage remote employees would be complete without Basecamp, used since 2004 for managing projects. Created by a team as a way to manage their tasks, you'll get all the necessary remote working essentials — automatic check-ins, task scheduling, group chat, etc.
Airtable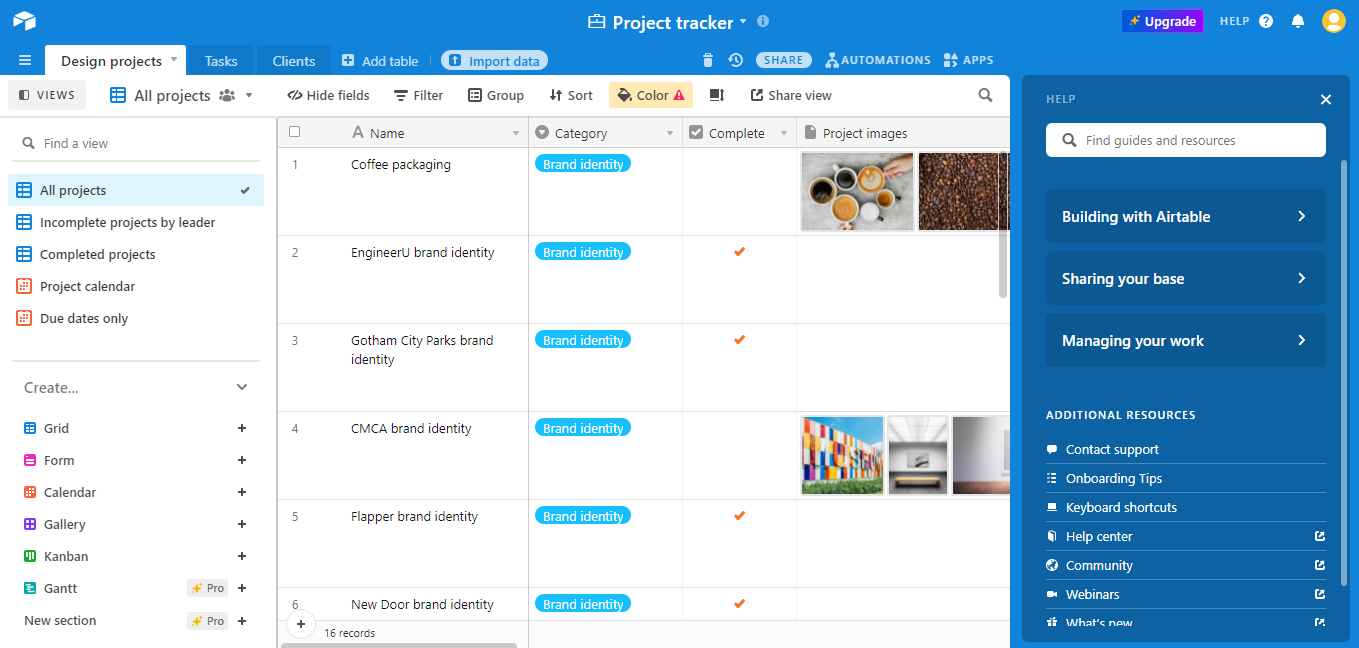 If Excel or Google Sheets aren't enough for your business, consider Airtable. It's a user-friendly mix of spreadsheet and a relational database, allowing complex functionality in a pleasant interface (without requiring a developer team to create a custom tool).
Tracking remote workers' progress
Staying on top of multiple team members' progress can be difficult when they're scattered around the globe. One of the best tips for working remotely is to keep abreast of your team's (and your own) progress with these handy work-from-home productivity and time tracking tools.
Toggl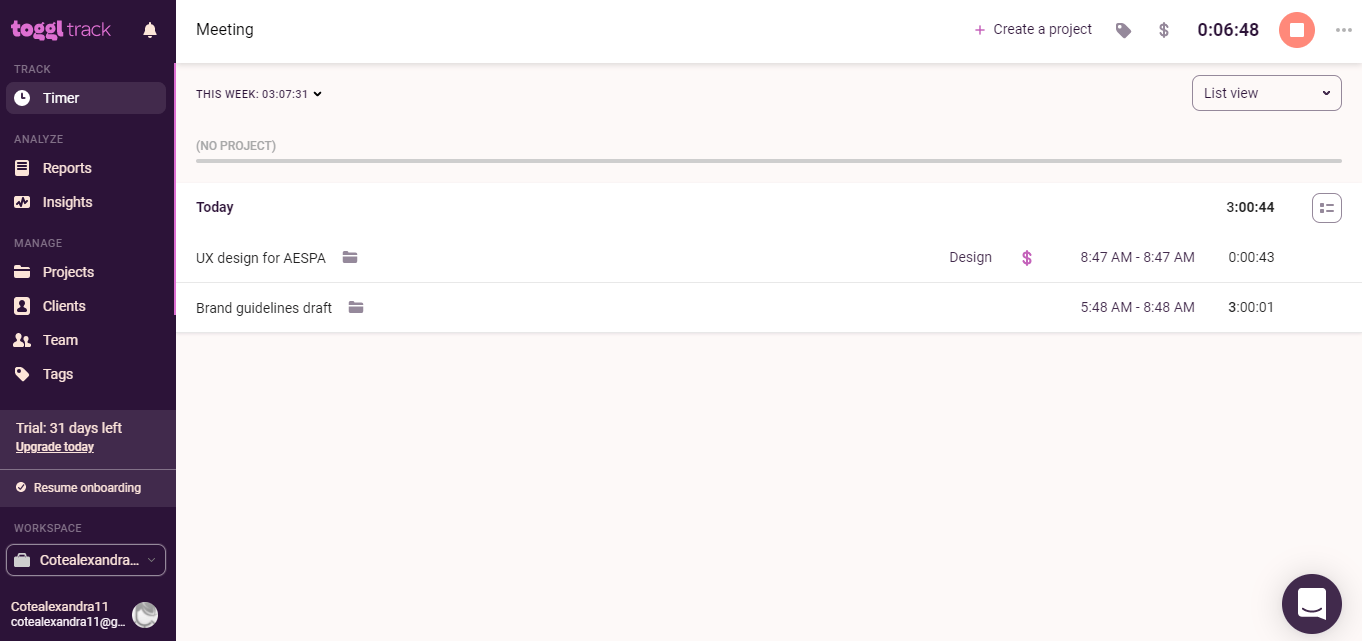 Toggl makes it easy to record how much time is spent on each task and has multiple integrations for quick one-click tracking. The tool gives you a streamlined, no-frills approach to tracking time spent on projects. You'll also find the Chrome extension and variety of integrations handy for connecting with other work management and invoicing solutions.
And.co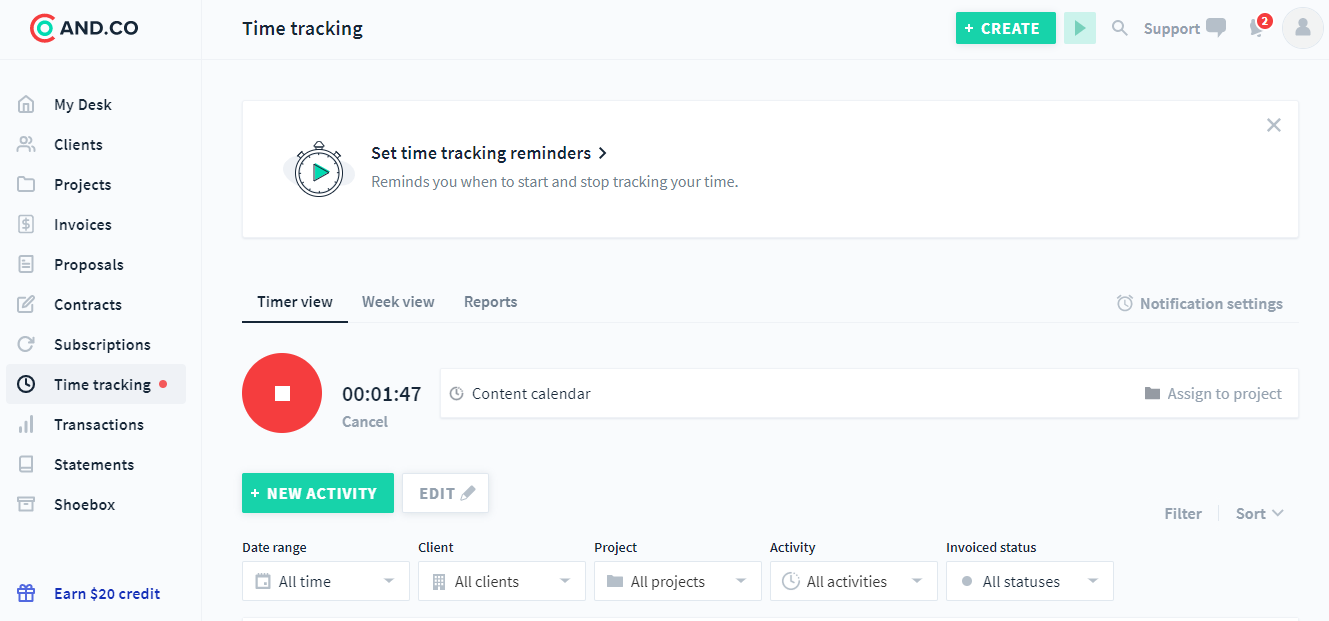 And.co offers a bit more than Toggl, including tracking business expenses and handling invoices. The tool is primarily used by freelancers, but teams can also turn to it for keeping track of client contracts, sending proposals, accepting payments, and even time tracking.
Time Doctor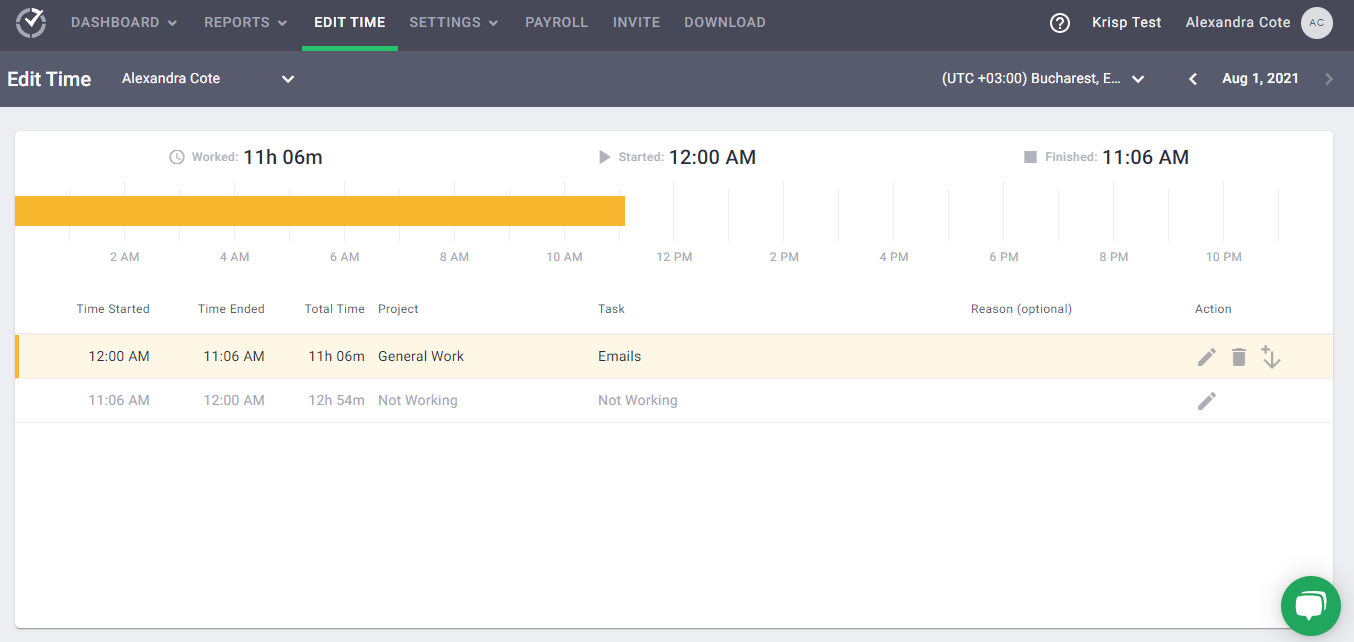 Toggl keeps it simple, but Time Doctor is a remote employee software that adds a few extra features that might be considered as work-from-home requirements. For example, Time Doctor records all time spent on all activities (including things like watching Netflix). It can even send a pop-up to remind a distracted remote worker to get back on task.
Tools for finding remote employers and clients
If you're already still looking for your next dream remote role, go over the following best online resources for connecting remote workers with jobs:
We Work Remotely

– The most popular remote jobs website for all kinds of professions and experience levels.

Dynamite Jobs

– This is your safest choice if you want to check out new daily roles.

DailyRemote

– This job listing website often displays opportunities that aren't posted elsewhere, but note that most of the jobs are for U.S. citizens.

Remote.co

– Another resource for finding remote jobs here that companies haven't posted somewhere else.

AngelList

– A go-to source for open positions in startups. You can also find more internships here than on the other websites.

Twitter

– This can be a convenient resource for finding new jobs as soon as they're out there. Use search terms like "hiring remote [your role]" or "remote job" and you'll get in touch with your future teammates who are more than eager to get to know you.
Tip: It's always a good idea to check out the Careers page of your favorite company. You can also reach out to them directly to see if they're planning on hiring for your role soon. Don't forget about the classic job boards like LinkedIn or Indeed, but use these along with the websites above and industry job boards for more diverse opportunities.
Set your team members up for success with these remote work tools
Working remotely creates some challenges — but that doesn't mean that you or your team have to struggle with those challenges. Getting started with remote work doesn't require you to purchase and learn a dozen new programs. 
Instead, save your focus for what matters and pick what you need from these tried-and-true tools for remote workers. You can improve the collaborative situation within your remote team with these popular remote work tools combined with our favorite working from home tips.
Did we miss your favorite app or useful resource? Let us know in the comments below and it might just make our list!