Modern phones have brought the world a lot closer together. But, they can also make things more complicated, especially if you're trying to manage your personal life, business life, and a gig on the side all through the same phone.
Constant buzzing and notifications can be hard to manage, and even harder when you don't know why people are calling.
Fortunately, there are a few options for ways to make your phone even more effective, and easier to manage at the same time. One of the best for working professionals is to get a second phone number app to help organize your calls and recognize which ones are most important.
If you're wondering how to get a second phone number, you're in the right place.
What is a Second Phone Number App?
Second phone number apps give you a second number on the same phone you're already using. Many rely on an internet or cellular connection to make the calls work, instead of regular phone signal.
Second phone number apps also often give you access to other features and functions at the same time. Many will also let you use a variety of different area codes, and some can even create a phone number from a different country entirely.
It's also easy to set up a recording function to run through your second phone number so that you never lose the details of an important conversation.
Second number apps are easily the simplest and most cost-effective way to get a second phone number since you don't need a second sim card, separate phone subscription, or any other additions to your existing phone.
Now that you know what a second phone number app is, let's talk about how they can be useful.
Why Do You Need a Second Phone Number App?
There are plenty of reasons to get a second phone number app, but one of the most common is organization.
Organizing Business and Personal Life
With a second phone number app, you can separate your business and personal life into the two numbers without having to pay for a second phone and phone plan.
Having a second phone number just makes it easier to keep your busy life organized. It can also help you screen calls. If you only accept business calls during certain hours, using a second phone number for your business line can make it easier to tell when you're getting a business call, and when a friend is trying to get in touch.
Of course, the reverse is also true. When you need to focus on work you can screen your personal line, while still accepting business calls on your second phone number.
International Calling
It can also be helpful if you have to handle international calls or are expanding your business and need a local phone number for both locations.
Changing Your Phone Number
If you're changing your phone number, you can also use a second phone number app to provide a temporary number while you're waiting for the switch to complete. Since many of these apps also offer a call forwarding service, you can also get your second phone number to forward calls to your new phone number, which helps make that transition easier.
Privacy
The last major reason you might want to use a second phone number app is to give yourself more privacy. If you think about it, people can get a lot of information about you from your main phone number app. Using a second, separate, phone number through a phone number app gives you another layer of privacy.
That additional privacy makes it a lot easier to give out a phone number, especially since you know that you can drop the phone number any time you need to.
Okay, let's talk about how to pick the best second phone number app, and look at which apps are the best options on the market right now.
What is the Best App for a Second Phone Number?
There is no one true winner when it comes to second phone number apps. We've put together a list of ten of the best options, but when you really get down to it the best second phone number app is going to be the one that offers more of the features and benefits you need.
How to Pick the Best Second Phone Number App for You
That might mean that the best second phone app for you is one that has very few bells and whistles, a low subscription price, and consistent performance. Or, you might need a second phone number app with a few more features, a reasonable subscription, and great customer service contacts.
You also need to make sure you're matching your second phone number app to the kind of phone you own. Some will only work on iOS (and will need you to keep your phone reasonably up to date), while others are Android-specific.
Don't worry though, there are plenty of options in both markets. We've selected some of the best from each marketplace, as well as some of the best options that are available in both the Google Play Store and the Apple App Store.
Best Second Phone Number Apps for iPhone:
Krisp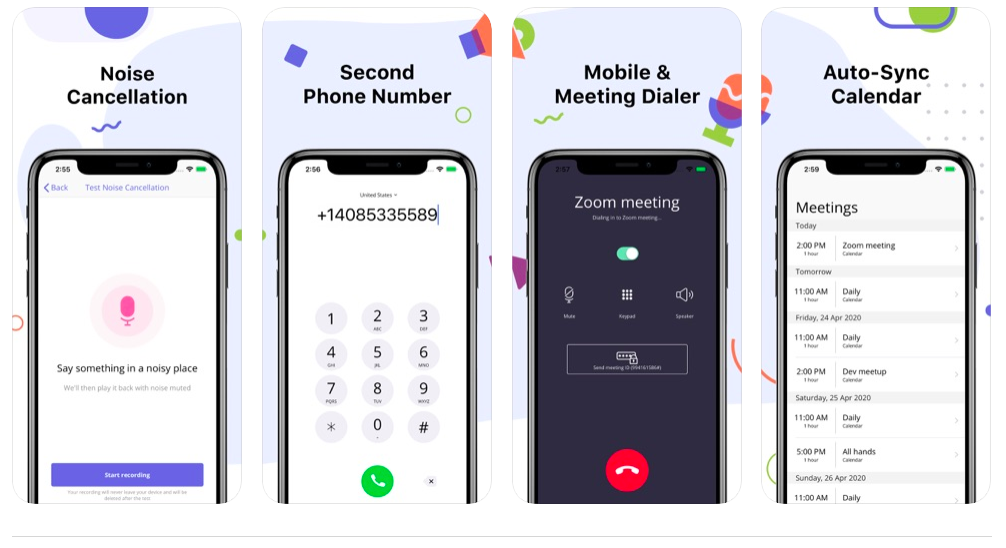 Krisp is one of the best second phone number app for iPhone available on the App Store. Besides providing you with a second phone number, Krisp mobile dialer is equipped with revolutionary noise cancelling technology to make your phone calls clearer. That's a huge advantage if you're a business person on the go.
With Krisp, you get the second phone number to keep your privacy as well as make and receive US and Canada phone calls from anywhere in the world. For better privacy, you can authenticate your number and use your own caller ID for calls.
The free version gives you 120 minutes of call time within the United States and Canada per week, while the paid version comes with unlimited call time.
There are several subscription levels, and each added subscription adds more features and benefits to the program, so head over to the pricing section to learn more.
Key Features:
Noise Cancelling Feature: This app comes with an impressive AI-powered noise cancelling function that will let you have crisp and clear phone calls no matter where you are or how noisy the area around you is. In free version you get 120 mins/week of call time with noise cancellation.
Second Phone Number: You will receive a second phone number that you can use to make and receive phone calls to US and Canada from anywhere in the world.
Use Krisp as a Mobile Dialer: With this app, you can have noiseless incoming and outgoing calls with your contacts, or any other phone number.
Caller ID: For better privacy, you can authenticate your phone number and use your own caller ID when having calls
Available on Mac, Windows and as a Chrome Extension: Krisp is available cross-platform, and you can use desktop versions for having noise-free remote meetings and calls with Zoom, Slack, WebEx and many other popular conferencing apps. 
Free Version Available, Subscriptions starting at $3.33 a month
Second Phone Number +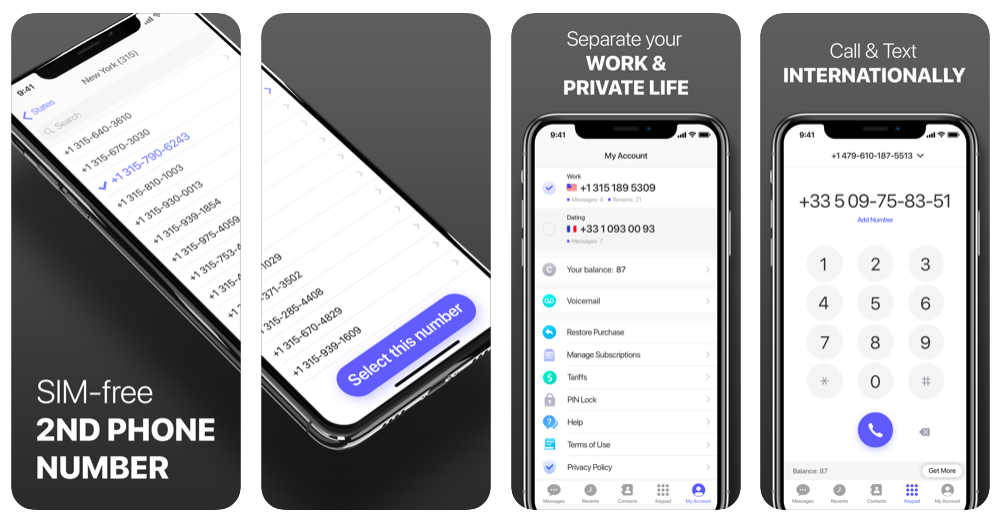 Second Phone Number + is a full-service phone app that gives you a wide range of different numbers to choose from. In the United States, they have available phone numbers in almost any area code, so you simply type in your preferred area code and choose the number you like best.
They offer full-service texting and messaging service, including the ability to send pictures via your second phone number.
They don't offer a free second phone number, you do have to pay if you want the second phone line. However, they have a range of subscriptions or pay as you go options that make it easy to choose the most cost-effective options for you.
Key Features:
Full Text and Messaging Service: Texts, video and photo messages, and voice messages are all fully supported through your second phone line with this app.
Wide Technology Compatibility: this service uses 3G, 4G, and Wifi to provide more connection options on the go.
Choose Your Area Code: with many different phone numbers available in each area code, getting a customer area code and number is simple.
Temporary Numbers: You also have the option of getting temporary numbers as you travel to allow friends and family to call local instead of long-distance.
Free version included / 2nd phone number $6.99 / Monthly Subscription $12.99
Numflix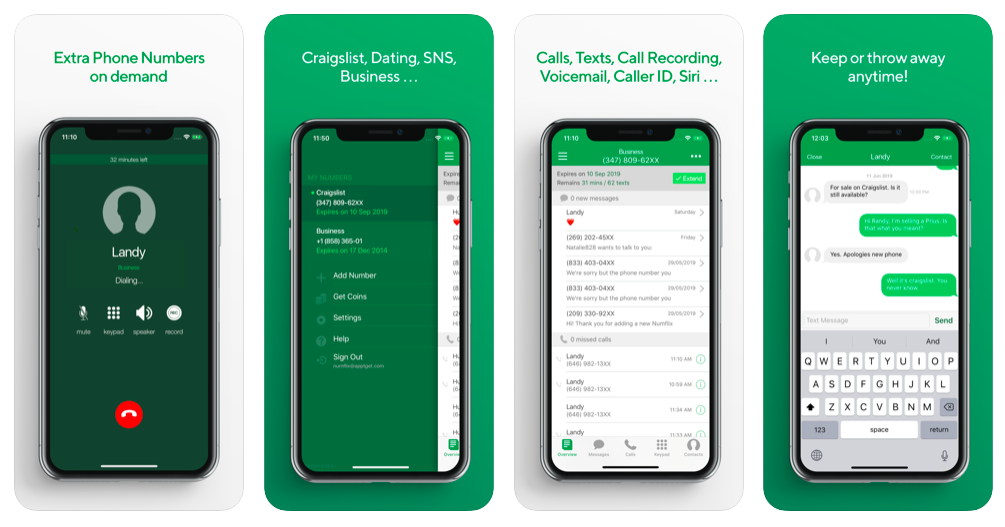 Numflix is another full-service phone line that's designed to help you manage your life with a second phone number or a third or fourth for that matter. This app lets you separate your personal life from business, dating, and even get another number to manage sales listings in Craigslist or other websites. Those are just a few examples of course.
This app is designed to provide multiple temporary phone lines, with very little need to stick to any one line or phone number. You can get rid of any line as soon as you need to.
However, while they offer full voice call, texting, and messaging abilities, Numflix does charge for 'coins' to handle those interactions. So, you'll pay a small fee for each line, and then additional fees to use those phone numbers.
Key Features:
Phone, Text, and Messaging: as a full-service phone app, you can get phone, text, and messaging services on each phone number you get through the app.
Caller ID: you also get a fully functional caller ID on every phone line, without interfering with the caller ID function on your main phone line.
Siri Compatible: this second phone line is also Siri compatible, so you can use the virtual assistant to take and place calls just like on your phone's main phone line.
Works on all iOS Devices: this app can also be used to turn your iPad and other Apple devices into fully functional phones, in addition to adding a second phone line to your existing phones.
Free, $1.99 temp line, Freemium Pay As You Go Charges
Best Second Phone Number Apps for Android
Telos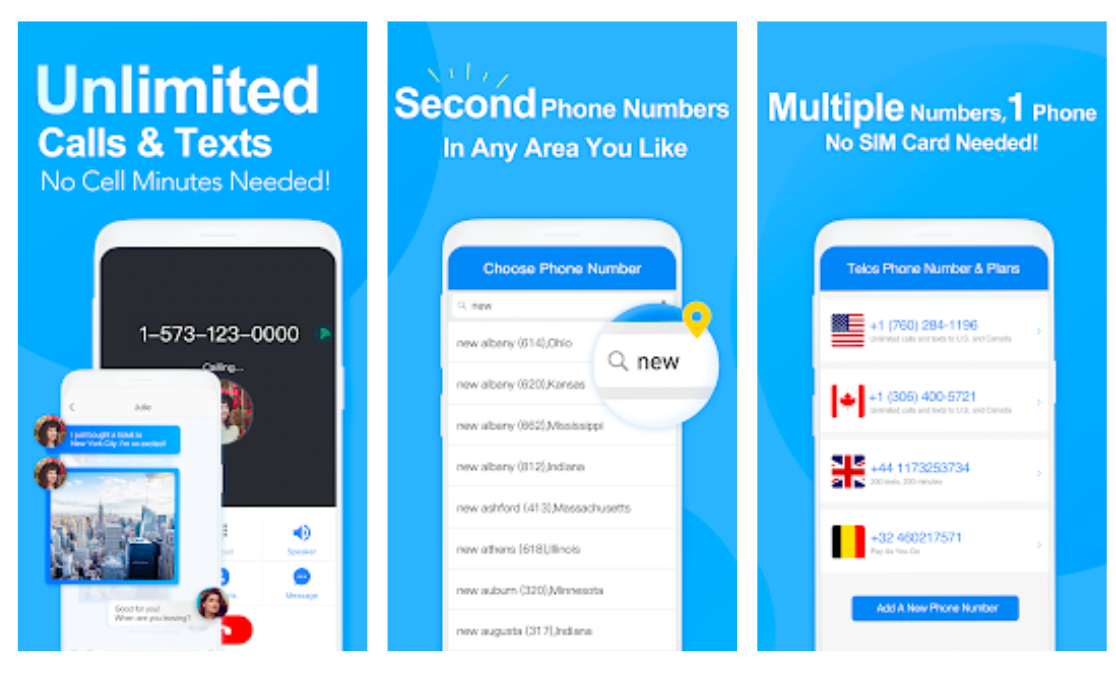 Moving to the apps that are compatible with Android, this option is an international calling program that works in the United States, Canada, China, Belgium, and the United Kingdom. This app works a little different than the other apps we've discussed since it has a per-minute charge.
The amount of the charge depends on the location of the call. In the United States, calls cost.09 credits per minute. Calls to Japan cost slightly more than two and a half credits per minute. 500 credits cost 9.99 USD, and you get slight volume discounts for larger credit purchases.
Telos also offers free call and texting offers, from bonus credits to watching ads and other relatively low-effort tasks. If you're primarily using Telos for personal reasons you can probably get a lot of call time for free. Business users are probably better off using a paid version of the app.
Key Features:
Call Recorder: this app offers the ability to record your most important calls so that you have a solid record of your communications.
Conference Calls Are Free: Conference calls are no more expensive than standard calling, which means long-distance business meetings are easier than ever.
International SMS: Telos has a wide variety of international texting options, and international texts are no more expensive than regular texting
Also Serves as a Fax Machine: This app also lets your devices function as a Fax Machine
Telos to Telos is Free, All Other Calls Have a Variable Per Minute Charge
WhatsCall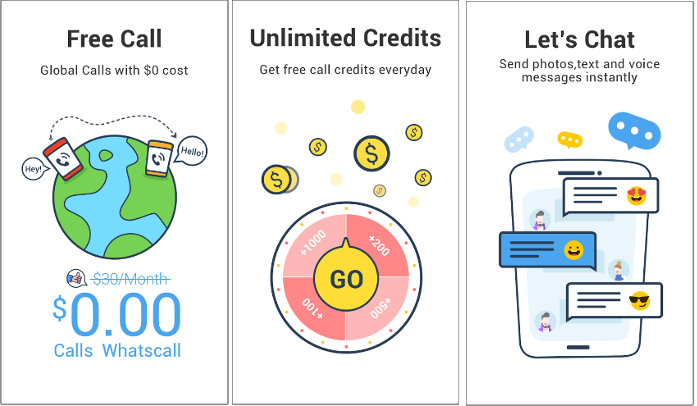 WhatsCall is another phone app that's completely free to use, as long as you're only calling from one WhatsCall device and account to another. Once you're calling to a normal phone you will need WhatsCall credits.
Like Telos, WhatsCall makes it relatively simple to earn free credits by completing simple in-app tasks and even playing online games of roulette. However, you need a lot more credits to place calls with WhatsCall, so despite the high credit earnings, it's still likely that you'll need to pay for additional credits if you need to make long calls or regular calls.
This system is one of the simpler options you can get, though we'd recommend it more as a supplemental personal line than the phone number you run your business through.
Key Features:
Call Forwarding: you can easily set up calls routed through WhatsCall to forward to another phone line, including landlines if necessary.
Free Credits: You can earn a reasonable number of credits (about enough for a 30-minute phone call) through free activities in the app
Free Calling To Other App Users: You can also make free calls to anyone else using WhatsCall Combine that with the referral program, and this can be a very useful addition to the app.
Free to Use, Calling Requires Credits
2ndLine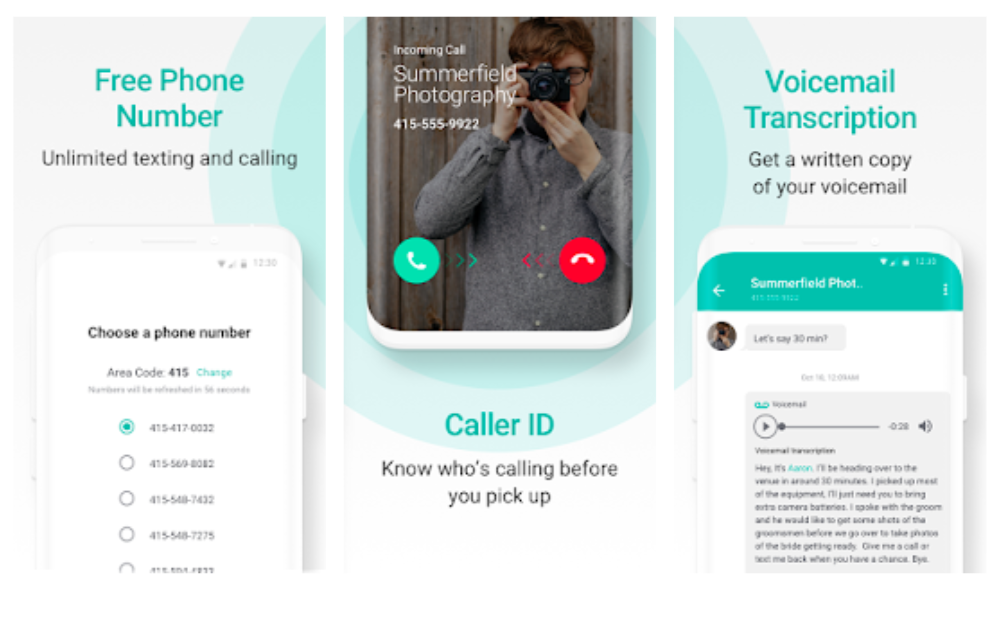 This app offers a fantastic free calling service inside the United States and Canada. They also offer highly affordable international calling services. Whether you're traveling abroad, need to talk to customers across the country and the globe, or just want an alternative to traditional calling services, this is a good option.
2ndLine is also fully compatible with talk and text, and even supports the use of emojis, video clips, and images.
You have the option of using a passcode to keep all messages and calls routed through your new second phone number to keep everything safe and secure. You can also use Google Smartlock to avoid having to put in your passcode when you don't need to.
Key Features:
Passcode Protection: This app gives you access to a separate passcode protection so that your call records and text messages are secure.
Free Calling Inside the United States and Canada: If you're only calling inside of the United States and Canada, you may not need to pay any additional for this app, since calling in both countries is completely free.
Lots of Customization options: You can customize the app background, ringtones, and all the other details of your app.
Quick Reply: Quick reply is easy to use and lets you get in touch with your most important business partners, even when you're too busy for a full reply.
Free Calling and Texting to the United States and Canada, Subscriptions Start at $9.99
Best Second Phone Number Apps for iOS and Android
Google Voice
Of course, no second number apps list would be complete without at least mentioning Google Voice. Despite the name, this flexible app works on both iOS and Android systems. There are two different versions of this app, one for personal use, and one for business use.
That helps you to customize the features, and the cost, of the program to what you use it for. At 10 dollars a month, the starting subscription of the business level is more affordable than almost any traditional phone plan.
Google Voice also includes handy features like voicemail transcription, 24/7 support, and call forwarding on even the lower subscription levels.
However, while calling in Canada and the US is free, international calling isn't supported until the $30 a month subscription level.
Key Features:
Unlimited US and Canadian Calling: Google voice offers free calling for all users inside the United States and Canada
Personal Use is Mostly Free: While you should be prepared for occasionally charges for certain calls or for high use, personal calling is mostly free through Google Voice
Voicemail Transcription and Other Features: Google voice is also incredibly feature-rich, with a number of adaptability and quality of life adaptations that make this app much easier to use and more complete than most alternatives
Mostly Free for Personal Use, starting at $10 a month per user for Business Use
Sideline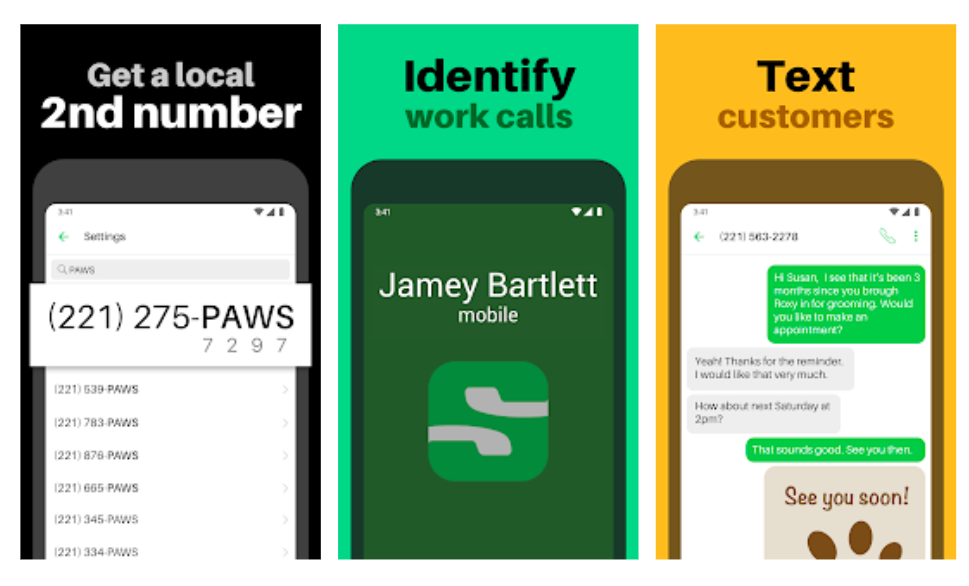 Sideline boasts that their service works just like your traditional phone number, but costs 80% less than the average phone plan. You get the flexibility of choosing whether you want to be billed monthly, bi-annually, or annually. They also offer unlimited texting and calling on all subscription levels, and as well as their full suite of features.
The free trial is also a great way to decide if this is the right program for you. Since it's compatible with both iOS and Android, it works for almost all smartphones.
It includes the basics like Voicemail on all subscription levels, and you also get to choose your area code and pick from the available phone numbers to find one that's easy to remember.
Key Features:
No Wifi Required: You aren't attached to wifi services like many other second phone number subscriptions. You can plan on being able to make and receive phone calls anywhere you have regular service.
Number Porting: If you have an existing second phone number, like your home line or existing business line, you can also port that number onto Sideline to keep the existing number.
Uses Carrier Limits: Instead of paying for a separate unlimited calling plan through Sideline, you can access the limits from your existing carrier. Since most cell phone plans are unlimited anyway, this system gives you access to plenty of calling time.
Free for 7 days, $9.99 per month starting subscription
Burner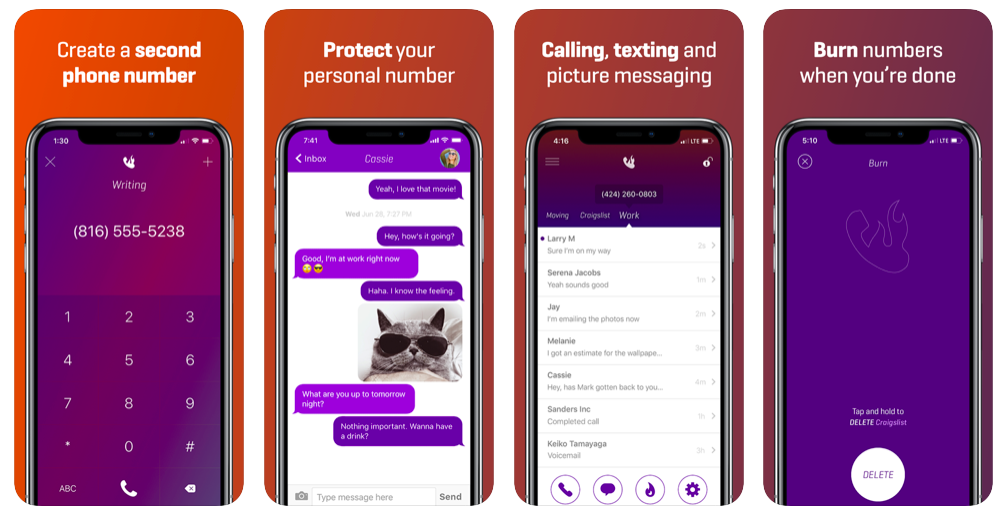 Burner is named after the colloquial burner phone and is designed with people who want to have and drop phone lines relatively quickly. That doesn't mean that's how you must use it though. They offer a permanent second number service as well.
Burner automatically routes phone calls from your second phone number to call to your main number. That makes it a little less effective as a business number, but you'll be able to use it for dating, gig work, craigslist ads, and generally anyone you don't want to have your permanent phone number.
The app is also designed so that you do not commit any particular number and can drop it any time you want.
Key Features:
Designed for Creating Many Numbers: Burner is designed to let you create and drop multiple numbers whenever necessary
Unlimited Calling/Texting: as soon as you upgrade to one of their subscription plans, you get access to unlimited calling and texting services.
Up to 3 Separate Lines: You can have subscriptions for up to 3 lines, and all your subscriptions will auto-renew until you manually choose to burn a number.
Free for 7 Days, Prepaid Price Per Minute Billing, or Subscriptions Starting At: $4.99 per month
Hushed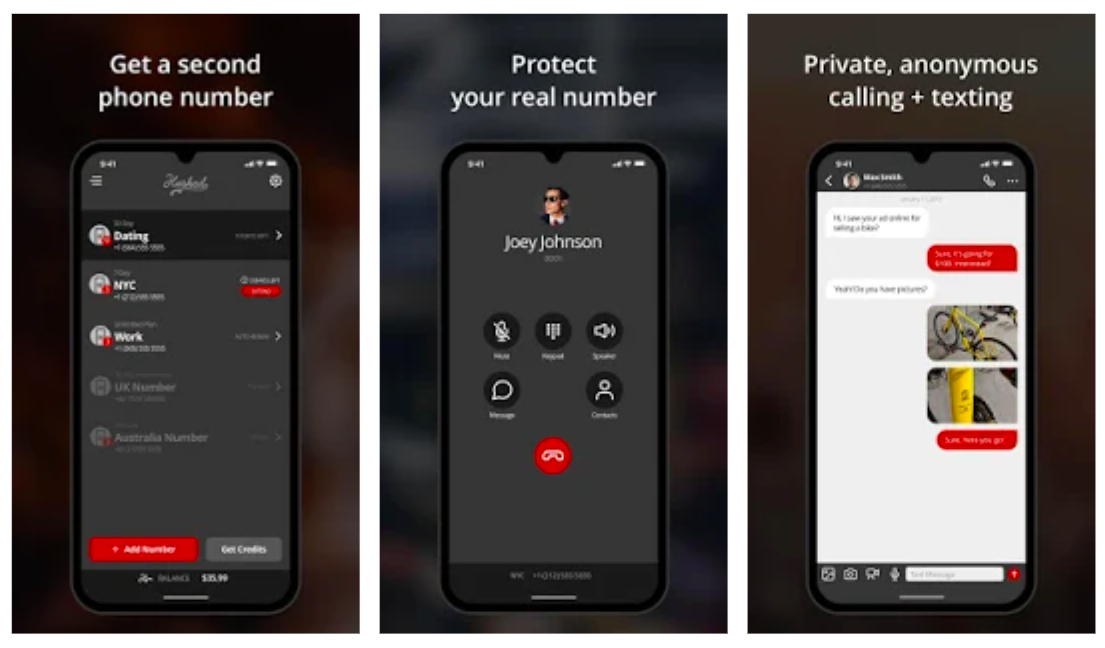 The last app on our list, Hushed is a VOIP service that lets you use the service as either a pre-paid plan or a regular subscription. If you choose the prepaid plan you can increase the days in your plan at any time and can let the app sit until you need it again if you only need it for a short period.
The subscriptions provide unlimited talk and text. They offer monthly and yearly subscriptions, with a 20% discount on yearly subscriptions.
They also offer the option of getting a pay as you go international calling plan that extends the reach of your second phone number to supported countries globally.
Key Features:
Unlimited Texting and Calling: While the pay as you go plan is limited to the minutes you've paid for, subscriptions give you unlimited texting and calling.
Multiple Numbers: You can have as many numbers as you want, with no requirement to keep them for any set length of time.
Custom Voicemail Greeting: You'll be able to customize several of the personal details of your number on this app, including the voicemail greeting. That way you can have a specific greeting for every phone number you use.
Prepaid Plans Starting at $1.99, Subscriptions Starting at $3.99 Per Month
Final Thoughts:
If you're looking to get a second phone number, whether you're looking for a business line or would just rather avoid giving out your personal phone number, these apps are easy to use and come in a range of prices, but they're all relatively affordable.
No matter your reasons for getting a second phone number, we're confident that one of the apps on this list will be a good match for your needs.