Becoming a better manager, supervisor, or executive is a must for anyone trying to grow their career and their company. But to get there, you'll need the right leadership tools.
According to some sources, we're already suffering a leadership crisis. In DDI's 2021 Global Leadership Forecast, only 28% of HR professionals said they believe their company has high-quality leadership. Fifty-seven percent of employees have quit because of their boss, says data from DDI's Frontline Leader Project. And according to a 2020 SHRM survey, 84% of U.S. workers say "poorly trained people managers create a lot of unnecessary work and stress."
Below, we've rounded up 20 essential leadership tools that can help anyone better manage and inspire their teams.
18 Leadership Tools that Every Remote Team Manager Needs
Mentorship
Mentorship can be a gamechanger for any professional. Mentors serve as role models and are within the same organization (or at least industry) as you and have achieved specific skills or roles that you wish to achieve, too. Your mentor can guide you through your career journey and be a resource anytime you have questions.
Where can you find a mentor? Usually, opportunities for mentorship will arise naturally as you network within your company. If you think about a more senior leader within your industry with whom you have a sense of camaraderie, you may realize you already have a mentor, even if you haven't asked them to be. 
If you haven't been able to identify potential mentors at your company, many professional societies have their own mentoring programs, where they match junior members with more senior members. Start seeking societies or clubs based within your industry and inquire about mentoring programs.
Executive Coaching
Coaching is different from mentoring. The biggest differences are that a coach isn't necessarily in the same role you wish to be in or has any experience with that role. A coach also doesn't tell you what to do so much as help you explore what you want to do by asking you questions that lead to greater awareness and realization. And lastly, you typically pay a coach, whereas you don't pay a mentor.
How to find an executive coach
A great way to find a coach is by asking for referrals from people you know. Often, you'll have a friend or colleague who has an excellent coach they can personally vouch for.
Center for Creative Leadership
The Center for Creative Leadership offers leadership programs, assessments, and coaching. They offer executive leadership coaching packages with three, six, or nine hours of coaching starting at $350 an hour.
International Coaching Federation
Though the coaching profession is not regulated by the government like other professions (such as being a mental health therapist or lawyer), there is a sort of gold standard within the coaching industry, and that's ICF credentials. By hiring an ICF-certified coach, you can rest assured that they have at least 60 hours of coach-specific training and 100 hours of experience coaching clients and have committed to abide by the ICF Code of Ethics. You can search for a coach on the ICF website.
Leadership Courses 
A leader is always learning, which is why it's crucial to focus on continuing education—no matter where you are in your career. To specifically develop your leadership skills, look into leadership courses, which are often online and can be taken at your own pace.
Here are a few options to consider when adding courses to your set of leadership tools.
Linkedin Learning is a paid membership platform with more than 16,000 courses. It comes with a one-month free trial. When the trial ends, you can pay monthly for $29.99. It has a learning path called "Become a Leader," which has more than nine hours of courses, including "Leading with Emotional Intelligence," "Developing Executive Presence," and "Prioritizing Effectively as a Leader." 
The teachers of LinkedIn Learning's courses are real-world professionals, such as Amy Edmondson, the Harvard Business School professor who popularized the concept of psychological safety. (She teaches a course called "Leading and Working in Teams.")
The Wharton School of the University of Pennsylvania offers a Leadership & Management Certificate Program in a 100% online format. It takes four to six weeks to complete, and enrollment is available anytime. Program tuition is $3,600 for four courses (or $995 per course if you want to take only a specific individual course). The courses include "Leadership in the 21st Century," "Managing and Motivating Talent," "Managing the Global Firm," and "Strategic Management: Competitive and Corporate Strategy."
Stanford University offers an online program specifically for remote team leaders called "Leading from Home." The 4.5-day program teaches you how to overcome Zoom fatigue, preserve team culture while working remotely, and onboard new remote team members. 
The university also offers other online programs to choose from, including "Leading Collaborative Teams," "Leading Change and Organizational Renewal," and "Building Business Models."
Leadership Skills
Let's not forget the skills that are essential leadership tools. Below are just a few, based on research.
Humility
Humility may surprise you on this list, but it is an essential part of being a leader. Humility ensures that leaders don't abuse their power. When you're humble, you remain more open to learning and listening because you realize you don't know it all and must rely on your team to enhance your decision making. 
In a study published in the Journal of Management, researcher Amy Ou and colleagues found that humility can bring a lot of benefits to CEOs. Humble CEOs built integrative top management teams, promoted pay equity among those teams, and built profitable companies.
Integrity
Integrity is crucial to any leader. When a leader abides by a strong set of ethics, it provides a solid moral basis for the company and promotes trust among direct reports. Recent research from Gallup concluded that having a company full of integrity starts with your leaders. They found that employees who trusted their leadership were more likely to believe that their company would do the right thing.
Gratitude
By gratitude, I mean being able to show one's appreciation for someone else's work. Being recognized and appreciated at work is crucial for an employee's job performance and satisfaction. In fact, according to the O.C. Tanner 2022 Global Culture Report, employees are 18 times more likely to do great work when they are recognized.
Listening 
Being able to listen well is a key to improving one's leadership. When you're able to focus on and understand what your direct reports have to share, you're more likely to find out key information and build trust in your team. Zenger Folkman research found that leaders with a strong preference for listening were rated as more effective.
Assessments
Many managers and executives regularly take tests to learn more about their strengths and weaknesses and work on a plan to improve their professional skills. Below are some evidence-based assessments that make fantastic additions to your leadership toolkit.
CliftonStrengths Assessment 
Developed by Don Clifton, who taught educational psychology at the University of Nebraska, the CliftonStrengths Assessment is different in that it focuses on maximizing strengths instead of finding weaknesses. To this day, it has been completed by more than 26 million people. In this 30-minute, 177-item assessment, you'll discover your natural talents by reading paired statements and choosing which statement best describes you.
Gallup specifically offers a CliftonStrengths for Managers Report to help you better lead your team.
Myers-Briggs Type Indicator (MBTI)
Published in 1962, the Myers-Briggs Type Indicator is one of the best-known personality assessments around. It has, though, received much criticism on its validity. Nevertheless, it's commonly used in organizational settings. On its website, The Myers-Briggs Company, which provides the assessment to companies, claims that 88% of Fortune 500 companies use its assessments. 
The MBTI was developed by Katharine Cook Briggs and her daughter Isabel Briggs Myers. Katharine was inspired by psychiatrist and psychoanalyst Carl Jung's work on psychological types.
The MBTI sorts you into one of 16 personality types based on extroversion or introversion, sensing or intuition, thinking or feeling, and judging or perceiving.
VIA Character Strengths Survey
Similar to CliftonStrengths, the VIA Character Strengths Survey also assesses what you're good at, rather than trying to correct what you're not good at. 
Developed by University of Michigan psychology professor Christopher Peterson, this assessment consists of 240 questions and ranks 24 character strengths, including fairness, bravery, creativity, humility, and leadership. You can take it for free on the VIA Institute on Character's website. 
Software and Apps
Krisp for distraction-free virtual meetings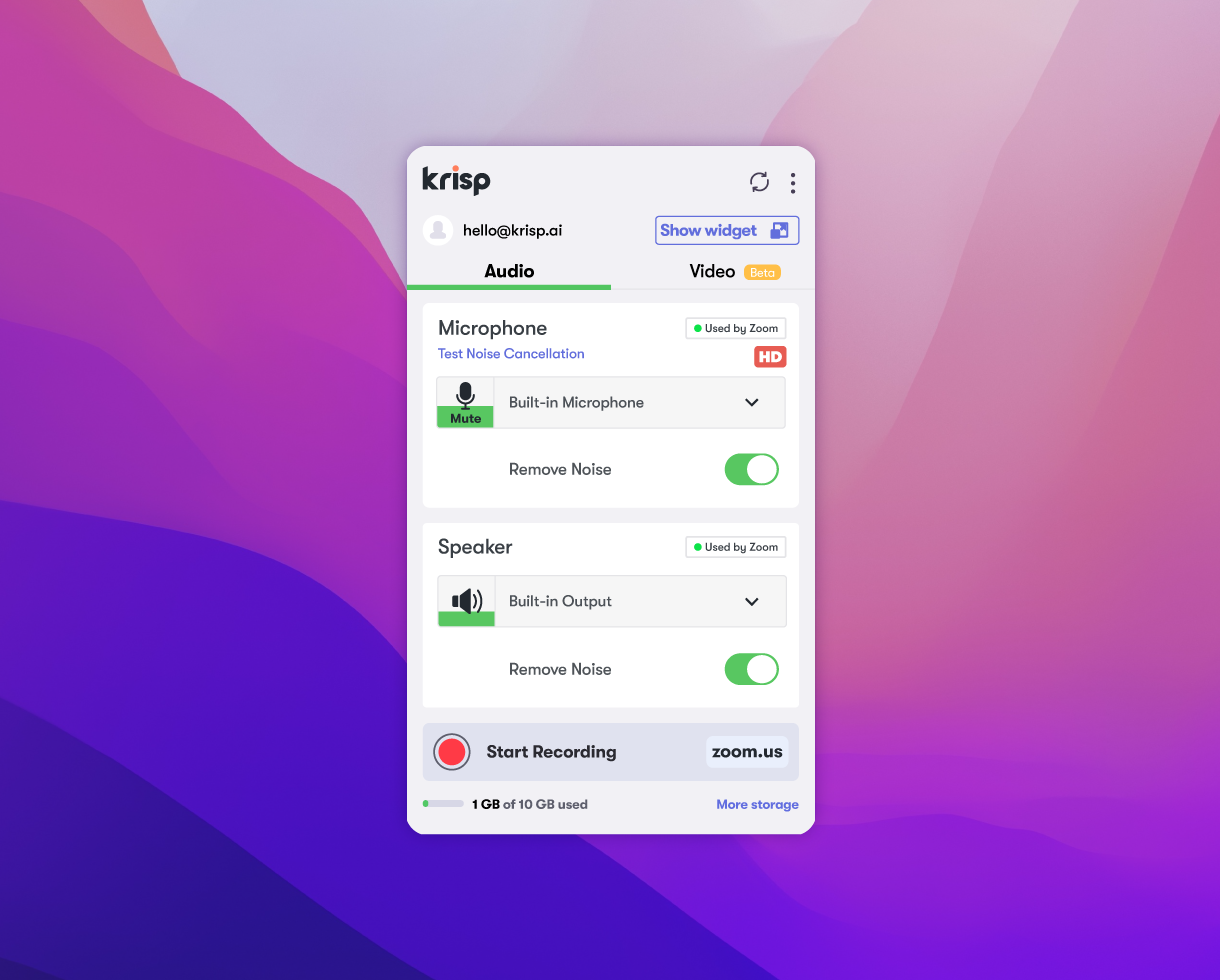 Want more productive meetings? Use Krisp as a leadership tool to help you host virtual meetings in a distraction-free environment. With AI-powered noise cancellation and virtual backgrounds, Krisp eliminates background noise and visual distractions so you can focus on the task at hand.
[demo-new]
The app is easy to install and provides consistency because no matter which web conferencing platform you prefer, Krisp noise cancellation and virtual backgrounds can apply to each one. And noise cancelling works both ways, eliminating noise coming from your mic or your attendees' mics. It's no wonder Krisp was named one of "The Best Inventions of 2020" by TIME magazine.
Teaming for Team Performance Management ​​ 
Calling itself "the coaching platform for team leaders, Teaming makes it easy to provide personalized guidance for each team member. By using the DISC survey and providing analytics on team dynamics, Teaming helps you assess team health and take action to improve blind spots. 
Top Teaming Features:
Team meetings:

Optimize meetings with in-meeting goals and OKR updates, automatic meeting summaries, and action item and decision tracking.

Team work style:

Understand each of your team members' individual strengths and blind spots through the DISC work style assessment. This can inform the way you coach each team member.

Team health:

Your team can take anonymous surveys that will calculate an overall score of team trust and safety. 

One-on-ones:

Make the most of one-on-ones with insights on work styles and progress tracking.
Lattice for Employee Performance Management 
Leading a remote team has a unique set of challenges, particularly when it comes to monitoring and encouraging team performance. And one of the leadership tools you'll want to help combat that is Lattice Performance. In one centralized platform, you can collect feedback from peers for performance reviews, set goals and OKRs, and even optimize one-to-one meetings. Lattice is used by companies such as Reddit, Asana, and Slack.
Top Lattice Performance Features 
Performance reporting and analytics

Performance review sentiment analysis

Weekly manager updates

Goal and OKR analytics

Employee engagement and Pulse surveys
Nectar for Employee Recognition
How can you make your remote team feel appreciated, even when you're far apart? Employee recognition software like Nectar makes it easy to virtually praise and reward employees, boosting morale and productivity.
Top Nectar Features 
Social recognition

: Let your team give shoutouts to each other by tagging them and adding a personal message and hashtag tied to company values.

Rewards

: Employees can earn points and use them to shop in a company gift store.

Awards

: Grant your employees points for special occasions, such as birthdays and work anniversaries.

Challenges

: Motivate your employees by creating challenges that earn them points when they complete them.

Integrations

: Nectar integrates with G Suite, Slack, Microsoft Teams, BambooHR, and more. The Slack integration is particularly useful because it lets you give shoutouts right within Slack (a platform many teams already use) instead of having you log into Nectar.
Wellable for employee wellness
Working from home can take its toll on your team's physical and mental health. One of the best leadership tools for ensuring the well-being of your remote team is employee wellness software. Wellable dubs itself the "all-in-one well-being hub."
Top Wellable Features
Gamification

through individual and team leaderboards makes wellness fun.

Personal Wellness Assessment:

Employees can take this evaluation and receive personalized feedback. 

Rewards:

Incentivize wellness with rewards like catered lunch, event tickets, and corporate discounts.

Analytics:

Get information that can help you measure your wellness program's impact.
Glint for employee engagement
As we saw above, listening skills are an important leadership tool. One way you can glean feedback from your team is through surveys. This allows them to feel more free to open up, especially if the surveys are anonymous.
Glint makes it easy to conduct quarterly employee engagement surveys to find out how engaged your workforce is. The feedback you gain from Glint surveys can help you make adjustments in how you lead, helping to create a happier, healthier workforce.
Make the Most of Leadership Tools to Grow as a Leader
Leaders don't have to have it all figured out. They use a variety of leadership tools to constantly learn more about their roles, gain self-awareness, and grow professionally and personally. Take advantage of the leadership tools on this list to better manage and lead your remote team.