After the pandemic, our work life has become quite different. Every day we have multiple online meetings, with our team members, customers, and partners. Every meeting is an online meeting now.
Being able to follow the discussions, remember the insights and decisions made during these meetings is critical for the success of our work.
By recording the meetings and then consuming them, remote teams are able to be more informed, extract more insights and as a result, make better decisions.
Imagine, being able to record any meeting you would like with a single click of a button, independent of what app you are using. And then having all these recordings stored in a centralized place, organized, searchable, and easily consumable.
We have spent the last 12 months talking to our customers (both individual users and enterprise customers) and rethinking the recording experience, and today, we are thrilled to introduce Krisp Recordings.
Our mission at Krisp is to empower people to become effective communicators. Recordings are a big step toward our mission, and we are excited to see how people will be using this new feature.
Record from Any App
By design, Krisp supports hundreds of meeting apps (Zoom, Chrome, Skype, Teams, Webex, Discord, etc.). This means that now, with Krisp, you can record your meetings from any of these meeting apps, and your experience will stay consistent.
All you need to do is click the new "Start Recording" button inside Krisp, and the meeting will be recorded. The recording is available instantly after the meeting ends.
Needless to say that recordings, by default, have great sound quality based on Krisp's noise cancellation technology and the added advantage of an AI note-taker to create comprehensive meeting summaries effortlessly.
Stored centrally
No matter what app you made the recording from, all recordings will be stored inside Krisp's secure cloud and be easily available when needed.
Free users will get 1GB of cloud recording space and Pro users will get 10GB.
Instantly shareable
Once recorded, the recording file is instantly available to be shared with team members via a link. By default, the recording links are private and visible only to the owner. The owner can change the permission of a link and share it with more people.
The Road Ahead
The roadmap of Krisp Recordings looks exciting. Soon you will be able to:
take notes and bookmarks while in a meeting
make recordings organized and searchable
easily navigate through playback and find the exact insights you were looking for
How it works
Note: Recording feature is currently available only for Mac users. Windows support is coming soon!
To experience the recording feature hands-on, you need to select Krisp as the microphone and speaker in your communication app and start a call.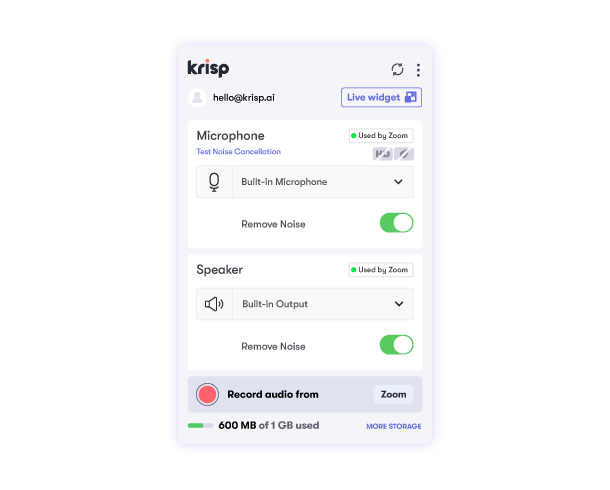 In case you have only selected the microphone, Krisp will prompt you to set up the speaker in the settings of the communications application as well. We generally recommend setting up Krisp in all of your communications apps to make the recording process simple and fast.
If you've finished the setup correctly, the function will activate so you can start recording with a single click on the record button.

Before recording, the app will prompt you to read and agree to the Terms and Conditions, after which you will be able to automatically start the recording. Please note that you will not be able to use the recording feature without this.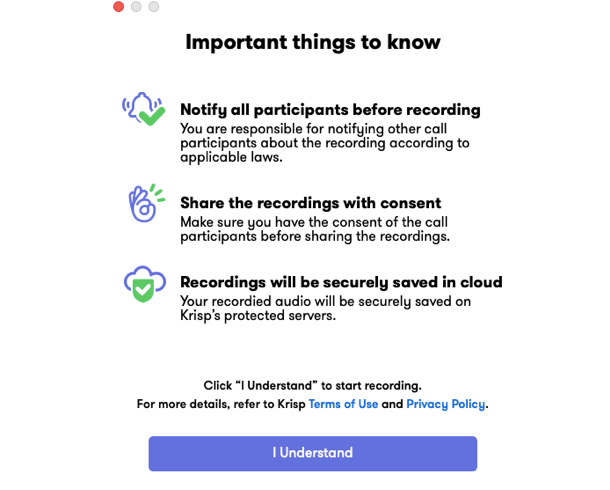 You can stop the recording manually or by exiting the app, otherwise it will stop as soon as the call ends. Please note that the recording will be terminated if you change Krisp devices in the audio settings.
Once the recording stops, you will be taken to that recording page in your krisp.ai web account. Here you can listen to your recording or, if you need to share the recording link with your coworkers, simply make it public and copy paste the link.
You can come back and change the privacy settings of your recordings anytime.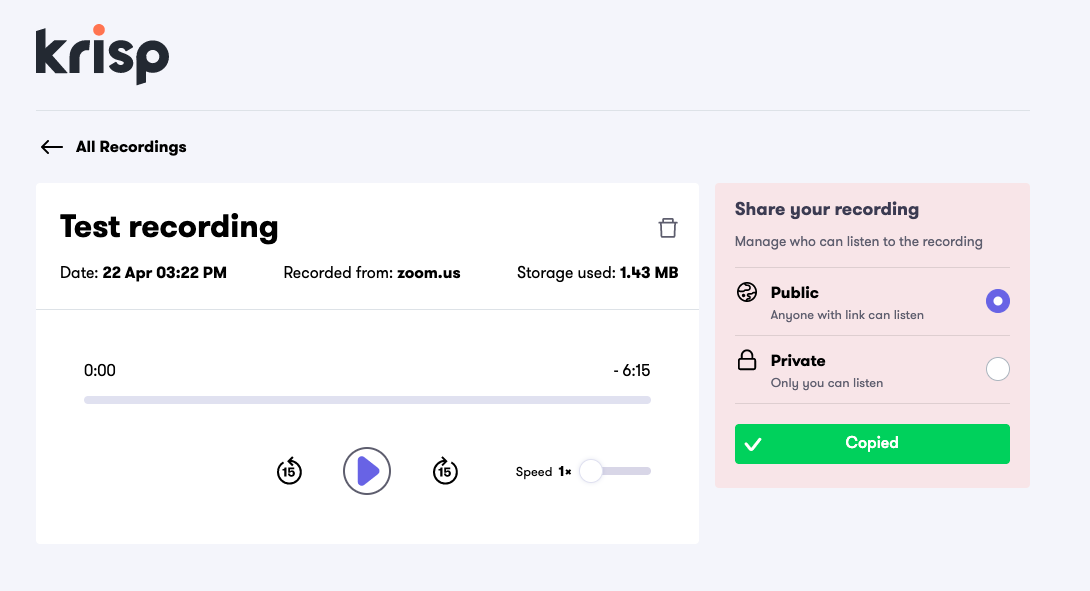 Your krisp.ai account also has a new "Recordings" tab where you can find all your previous records and check your available storage. You can easily manage your recordings by sorting, renaming, changing privacy settings and deleting them.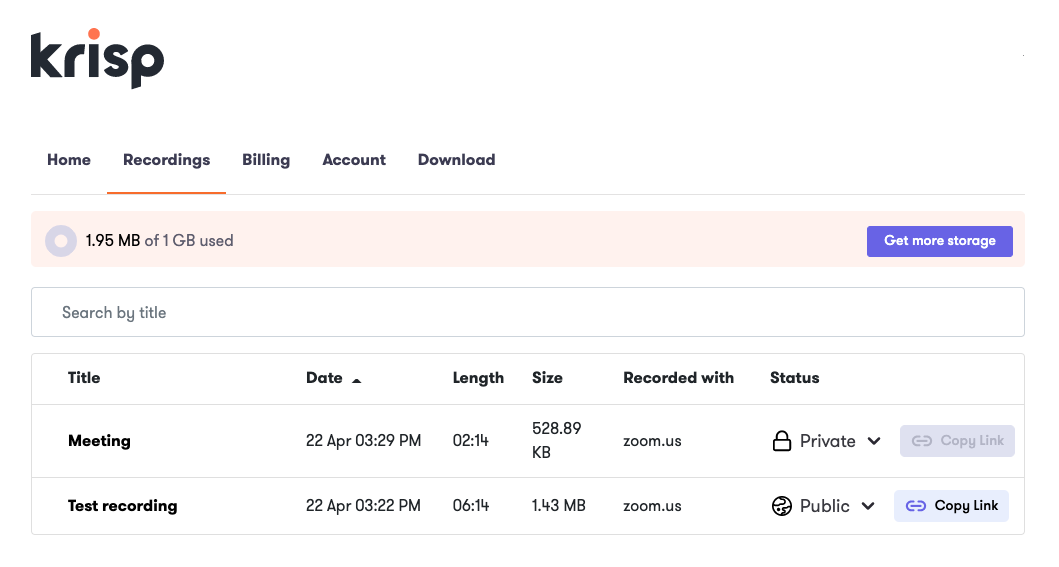 You can record 33 hours of meetings with your free 1GB storage, and if you need more space, you can consider upgrading to Pro with 10 GB storage or simply delete some of the old ones.
Try Krisp Recordings
If you haven't yet discovered Krisp, sign up today and enhance your conferencing and recording experience.