In the past few months, we've been working tirelessly on developing new features and significantly improving your experience with Krisp. Today, we're super excited to introduce recent additions to Krisp — Personal Insights, Widget and Super Mute. 
Explore how these features work and how they can help you do more with Krisp.
See the time you spent in meetings with Personal Insights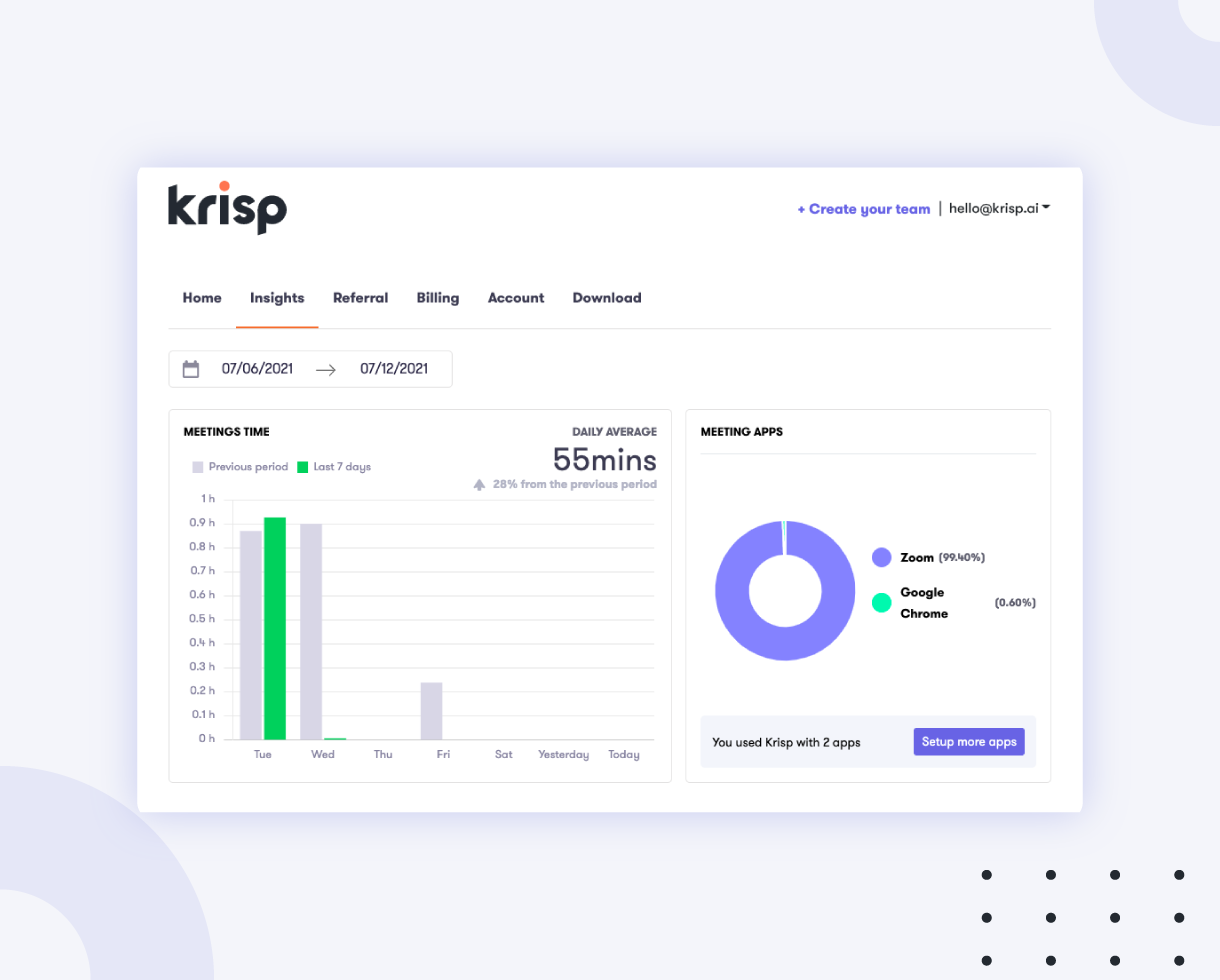 If you have the feeling that your day is spent in online meetings, you're not alone. What if you could actually see how much time you spend in meetings? 
With our new Insights section, you can know exactly how much time you spend on calls and what apps you use. This can help you see, track and take action to improve your meeting habits over time. 
In your dashboard, you can now find your personal statistics for several important "meeting metrics". Personal Free and Pro accounts only and not available to the tam users just yet. But it will be added in the future so keep tuned.
Meetings time – Time you spend in calls per day
The chart shows how much time per day you spend in online meetings. Whenever Krisp microphone and/or speaker are in use in any communication app, it counts towards your meeting time. Note that it does not matter if the noise cancellation is ON or off – as long as the devices are selected and are "in use" the insights will be counted.
So by having Krisp on, you will not only get rid of background noises, but also be able to keep track of your time at meetings across all the apps.
Daily average – Average duration of your meetings
This number shows the average time you have spent in calls during the selected period of time when Krisp has been used. It helps you get an insight on how much time you are spending in an average day and also see a comparison with the previous period to see the growing or decreasing trend.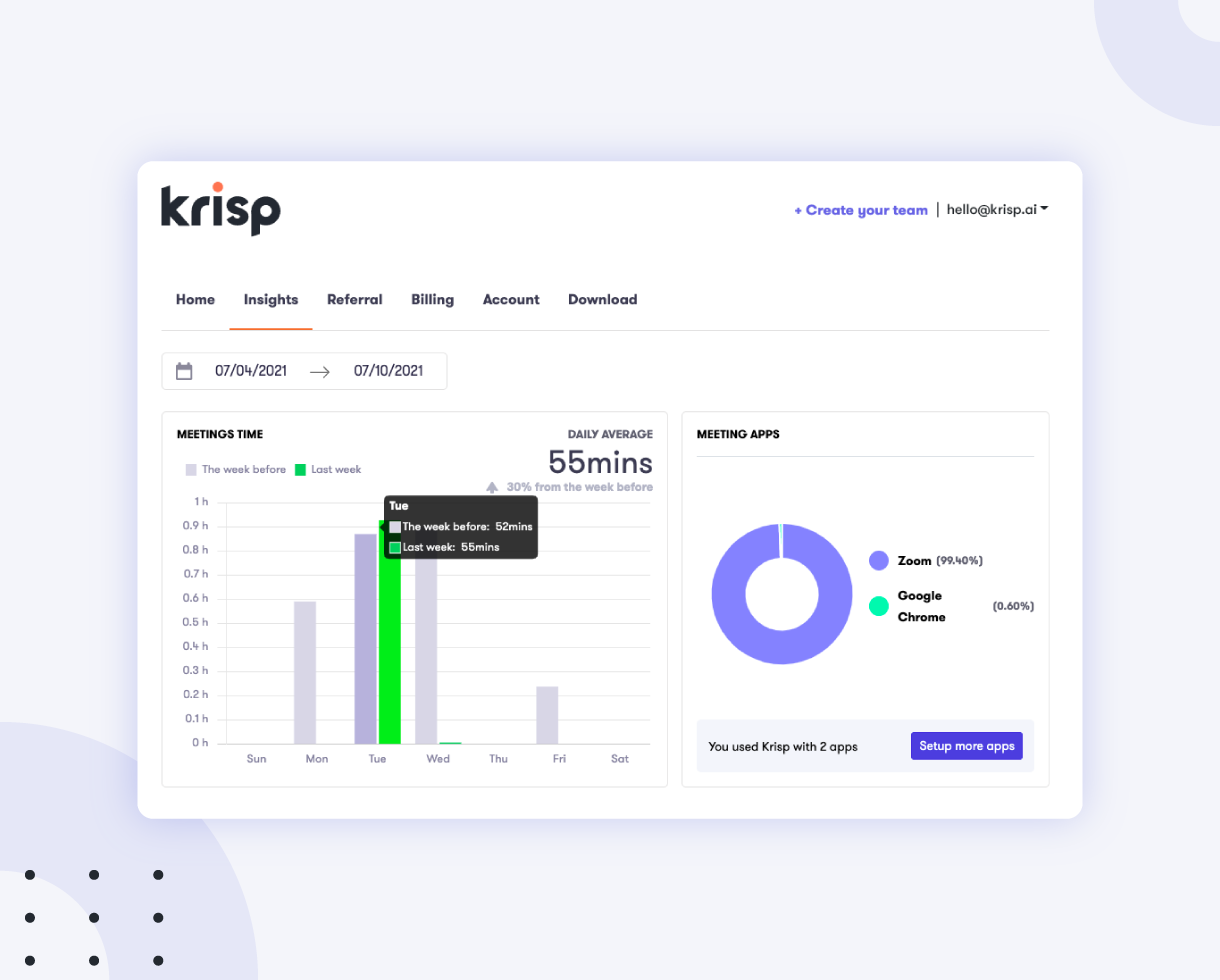 Note that days when you have not used the app will not be counted towards your average. 
Meeting apps
Here you will see the list of the apps you used with Krisp during the selected period of time. The list is in descending order: from the most used to the least used one. This can help you find out which apps you use the most, especially, if you're using more than just one for different purposes. 
How to use the Insights
Visit your personal dashboard at account.krisp.ai and go to the Insights tab. Select the time period for which you would like to see your statistics and enjoy the findings.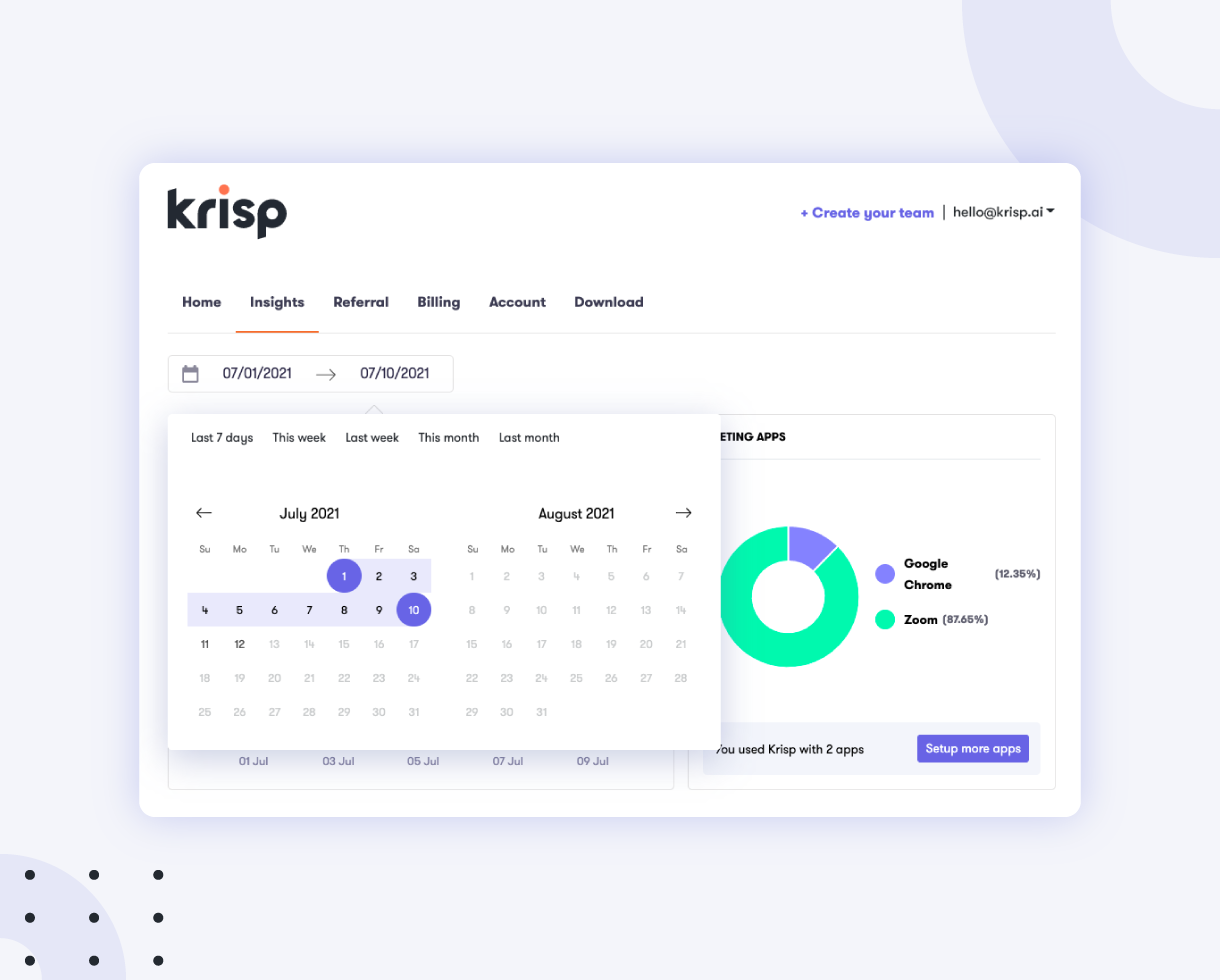 Currently, the Insights are available to Krisp users on the Free or Pro plan. It will be added in the future for Team and Enterprise users, so stay tuned.
Use Widget to easily control Krisp during a call
If you've ever wondered if there is any noise in your environment and if Krisp detects and cancels it — that's where Krisp Widget comes in.
It's a small floating window that will help you get a better indication of the background noise in your surroundings and easily manage Krisp through it before and during the call.
During the call, you can use the Widget to quickly turn Krisp on or off as it lets you instantly switch on the "Remove noise" toggle with one click from inside the widget to cancel background noise.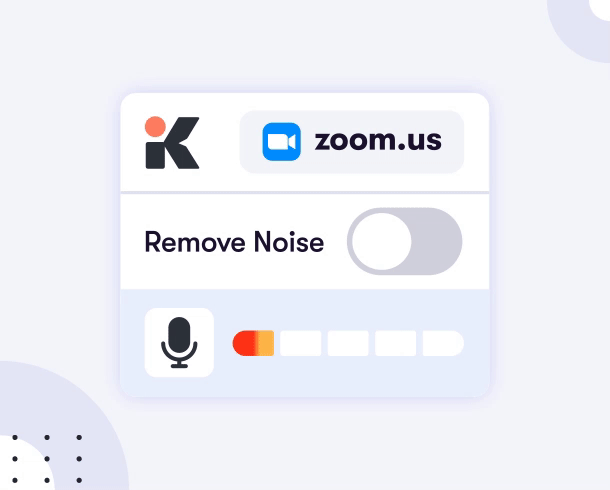 This widget is super handy for doing a quick check before your call has started, as it allows you to:
See if your voice is being captured by Krisp microphone
If the sound bar is moving, it means your voice is being captured.
See if there is any noise in your environment
When the Remove noise toggle is disabled, and the bar goes red, it means that the background noise is not removed and the bar will move from both noises and the voices your microphone captures. Once you enable the toggle, the bar will go green, which means that it will only move when you talk and only your voice will be heard. The noises will not make it move and thus you will know that nobody hears the noise.
The widget also shows the app that's currently in use, so that you know if Krisp is set up correctly. 
Mute your mic in all your apps with one click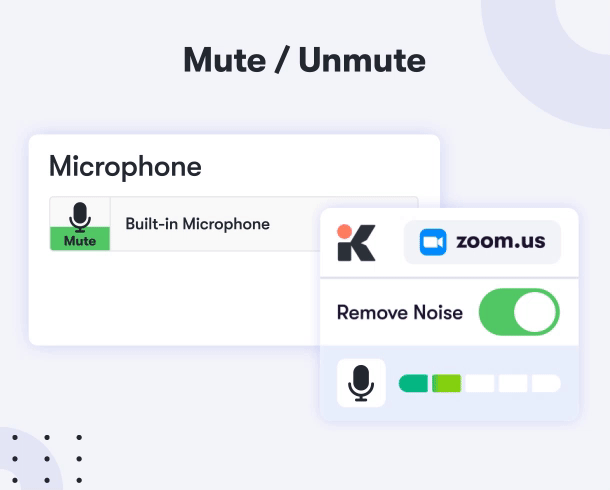 We've added the Super Mute functionality, so now you can mute the Krisp microphone and it will be muted in all the connected apps. There's no need to look for the mute button in all the apps – with Krisp it's all in one place and easily accessible. Click on the microphone icon in the Krisp app and check it out. And this is available in the Widget as well.
Improve your online meetings with Krisp
These features are only the tip of the iceberg in how we at Krisp are developing an AI-powered assistant to help you and improve communication skills. So stay tuned for more to come soon!
If you haven't yet discovered Krisp, sign up today and enhance your conferencing experience.
[demo-new]