A mobile dialer will offer you a lot of advantages when it comes to making phone calls.
It will allow you to make multiple calls quickly and conveniently, for a better rate. Because you'll spend less time dialling and have more calls connect, you'll enjoy more time actually talking on the phone.
This is beneficial for sales agents who are reaching out to leads, and for anyone else who has to make multiple phone calls during on a day to day basis. This includes market research, call centers, surveys and anyone taking part in conference calls.
What to Look For In a Mobile Dialer
There are many different types of mobile dialers out there, designed to eliminate the headaches of calling such as excessive wait time, call drops and misdialing. So, what features should you be looking for in a mobile dialer? Here are some advantageous features to look for:
Noise Cancellation: Whether it's coffee shop noise, office chatter or the next door neighbor's dog, a mobile dialer app can help block out background sounds so you can be heard clearly.
Compatibility: If you're joining meetings and conference calls with Hangouts, Zoom or Webex, make sure your mobile dialer is compatible with these other apps.
Calendar Sync: Another handy feature to look for is the ability for your mobile dialer to sync with your calendar app so you can keep travel of all your meetings.
VoIP Capabilities: VoIP stands for Voice Over Internet Protocol. It allows you to make phone calls over the internet, rather than via a regular mobile network or landline. The VoIP system will take your analogue voice signal and convert it to a digital signal, then send it as data over your broadband line.
The Top Mobile Dialers
Note: The Krisp Phone app will be removed from the app store and will be no longer available for download as of December 26th. However, if you've already downloaded it to your mobile device – you can continue to use it until then. As of December 26th, the app will be officially shut down. All existing users will be signed off and the app will no longer function. Please read more about our decision here.
Krisp Mobile Dialer
Krisp is the first noise cancelling mobile dialer for iOS. It allows you to join in with any conference, group phone call or meeting, or make outgoing calls from anywhere in the world. You'll also be able to auto-sync with your calendar app, to keep your meetings organized. All while being noise-free.
One of the major features of Krisp is the high quality background noise cancelling capabilities. Krisp is powered by Deep Neural Networks and it is designed to remove all background noise originating from your side of the phone call. The noise removal is done in real time and leaves only the clean human voice.
Pros
This app will allow you to join in with Webex, Zoom, Hangouts and other meetings and quickly made them noise-free with a single click.
With the mobile dialer, you can call your contacts or any other phone number from the US and Canada.
All you need to set up with Krisp is your Google account.
Cons
At the moment, you can make outgoing call only to US and Canada numbers.
Plus, this app is free for two hours per week!

Simpler Dialer
This calling app boasts a very simple interface and an elegant design. It allows you to manage your contacts and make phone calls with one tap. It's free to download, with an additional pro version available.
There's a feature in Simpler Dialer where you can input your favorite contacts. Under this list, you'll also find a list of the numbers you call the most often. Once you download it on your iPhone, you can use this app to search and make calls in seconds. In addition, you can add new contacts, block any unwanted calls and even connect your social networks.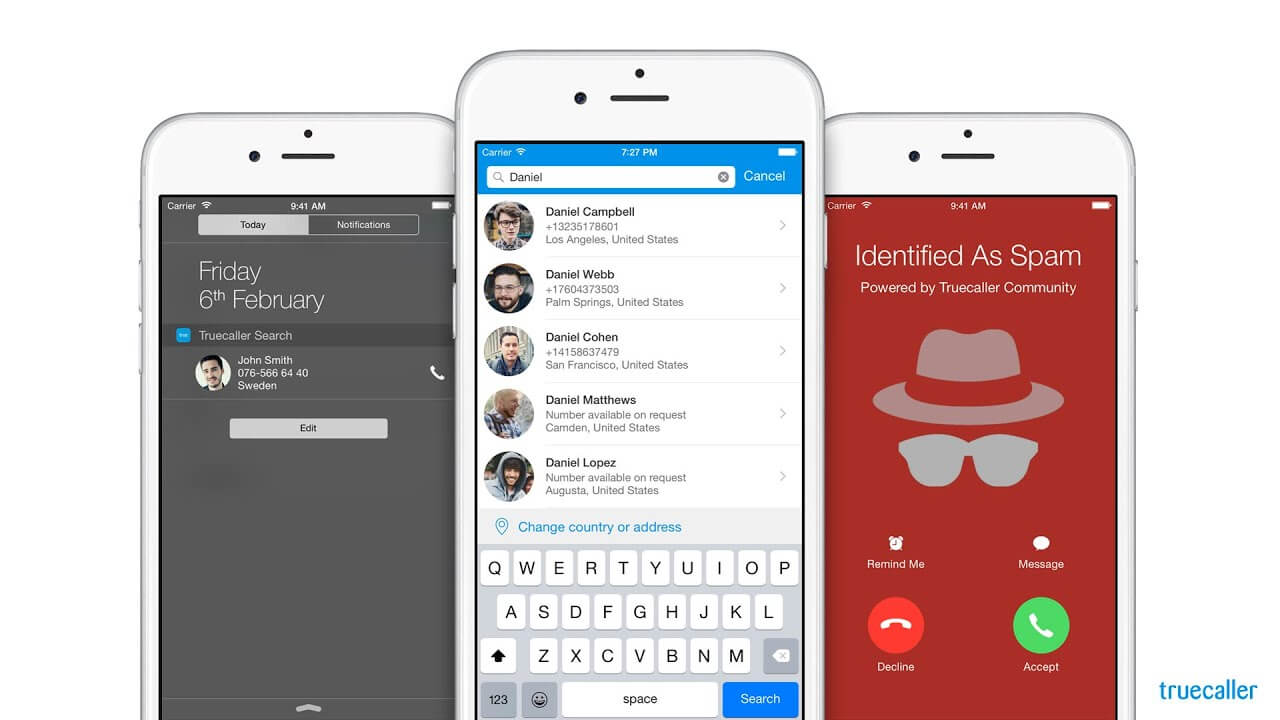 Pros
It's highly customizable. For example, you can change the color of the interface, which screen appears when you open the app and if you want the device to vibrate when you press a number.
The app offers Apple Watch integration.
You can link it to your social media accounts for fast and easy online calling.
Cons
The free version will only allow you to delete up to 10 contacts at once. If you want to delete more than 10, you'll need to pay for the software.
It doesn't appear to have noise cancelling technology, so it won't help be heard more clearly when making phone calls in busy places.
Truecaller
Truecaller is one of the most commonly used call dialler apps around the world. It has a database of 250+ million users and it is compatible with iPad, iPhone and iPod touch.
It works by running the number through your contacts and if it isn't found, it will go through various phonebooks until it finds the number.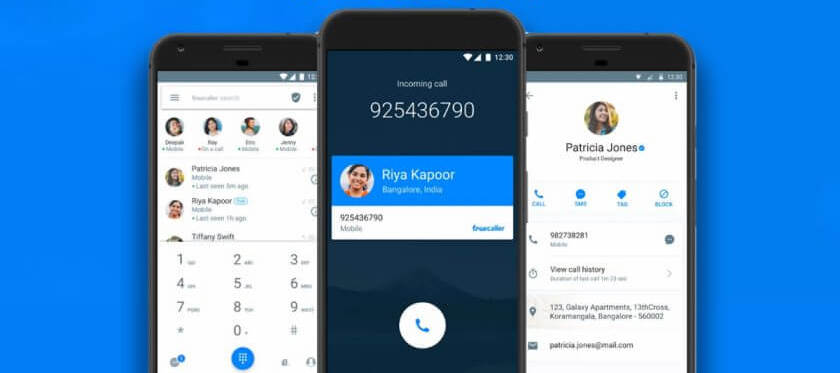 Pros
This app is known for being quite good at identifying and blocking spam calls and robo calls.
You can also use it to easily find the names of the people calling you – as it has such a large database.
Cons
Many users report that this app drains their mobile phone battery quickly.
Truecaller has begun to display ads in their call logs, which can be annoying.
It's quite affordable. There is a free version and the paid Professional version is only $1.99 USD per month.
GoDial
GoDial is an app that promises to "turn your phone into a call center." It is designed to automatically place calls for you, track your contact status (such as busy or unreachable) and much more.
This is a useful app for anyone who is making sales over the phone. It's much more efficient than manually calling numbers from a spreadsheet. You can simply import any CSV sheet with all the call details and your data will be safely stored on your phone.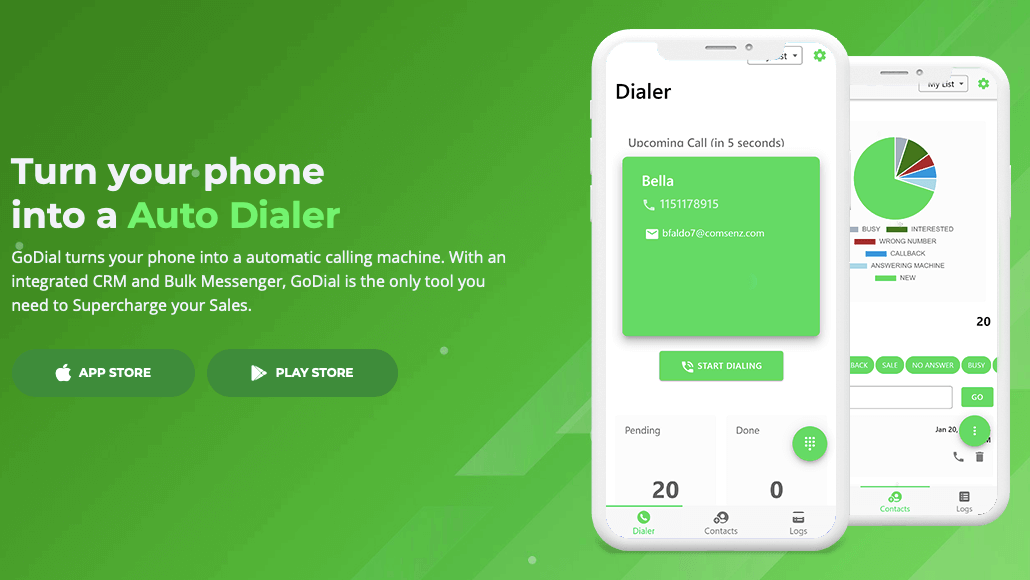 Pros
This app has a feature that will allow you to re-churn any busy or not available calls and dial them again.
You'll also be able to set up a template message that you can click on in Whatsapp, email or SMS.
Cons
With the free plan, you'll only be allowed to store up to 100 contacts. If you want to be able to have unlimited contacts, you'll need to upgrade to the paid plan.
Dial+
This smart dialer app is designed to allow you to use it single-handedly. The "One Hand Mode" (available for iPhone 6 and 6+) is quite helpful and makes it much more convenient to use. The app also features "Widget Speed Dial" which allows you to use the widget on your phone to dial your favorite contacts quickly and easily.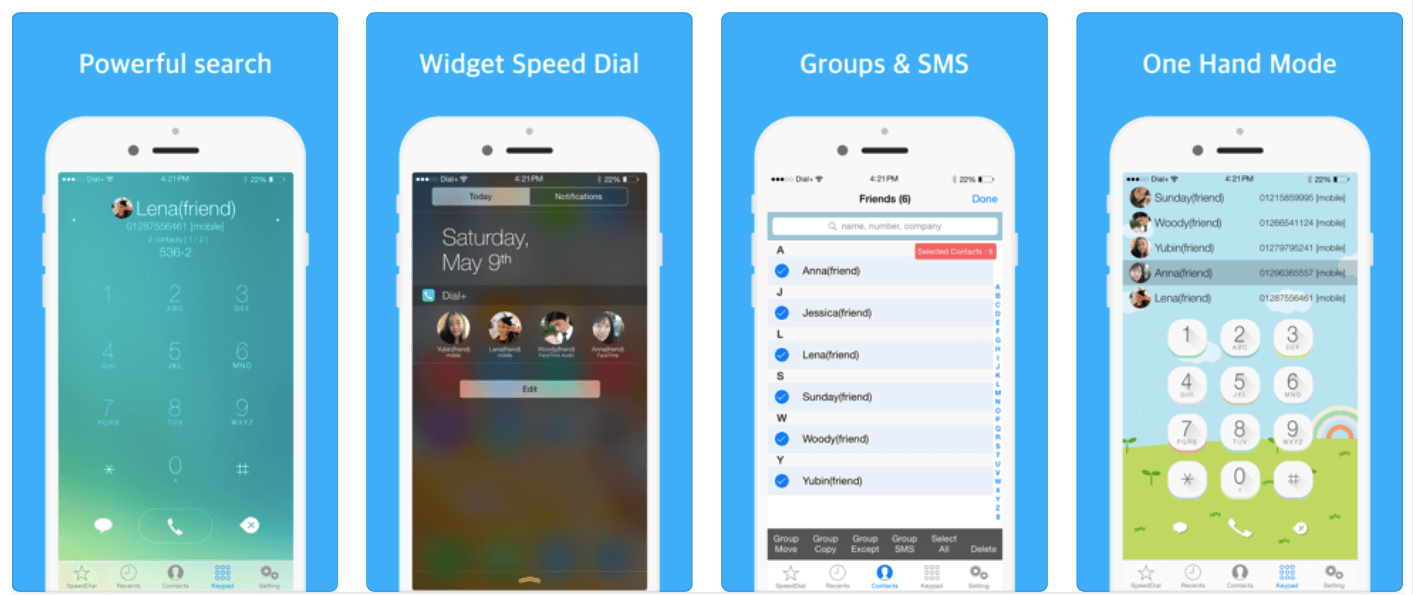 Pros
The app comes with customizable skins so you can make it look anyway you like.
It allows you to easily search for numbers based on your priorities.
Cons
The app has received negative reviews about the removal of the "double tap to call" feature. It now has a dial box down in the middle of the screen, which many users find inconvenient.
Dial+ is compatible with iPhone, iPad and iPod touch and it requires iOS 8.2 or later. It is available for free from the app store.
iTel Mobile Dialer
iTel offers advanced VoIP calling features from mobile phones. It offers both video and audio calling features with instant messaging.
It is a free app and it boasts more than 120 million users across the world. It has an easy setup and is user friendly – offering easy cross-platform messaging so that iPhone users can chat with users on any other platform.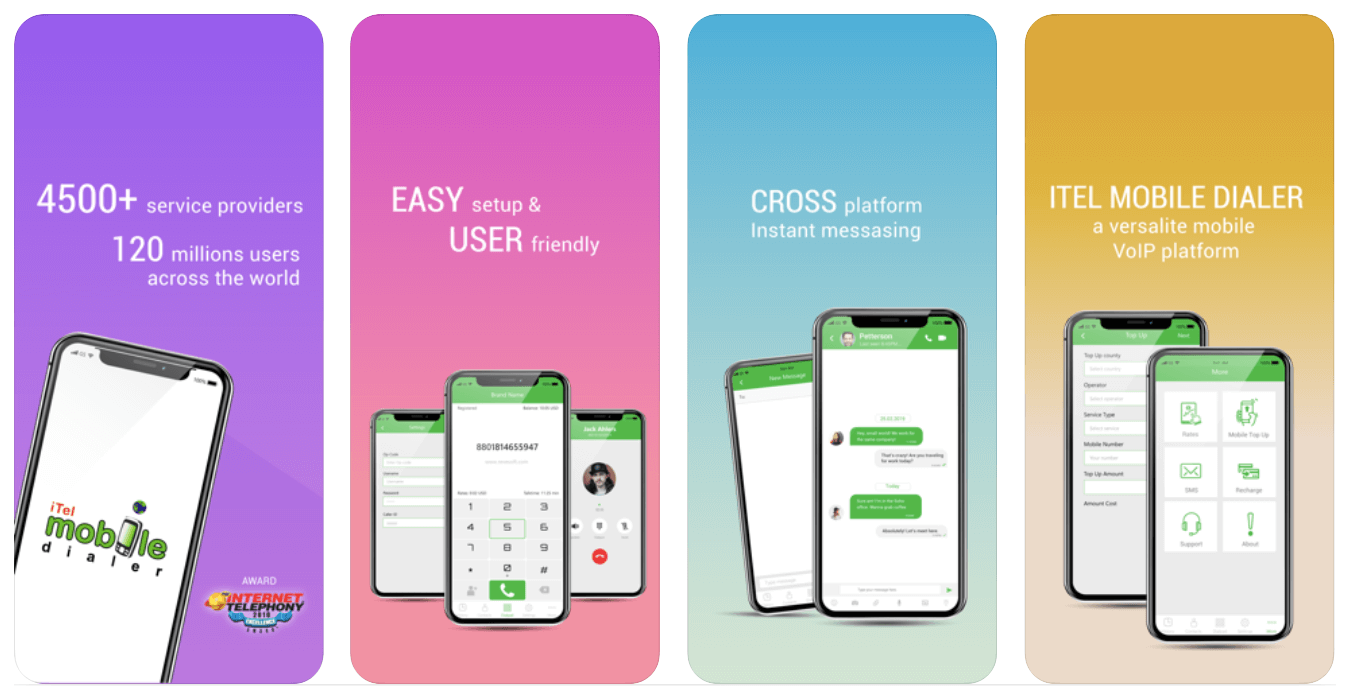 Pros
iTel Mobile Dialer is highly customizable. You'll be able to change the app depending on your own preferences and according to your diverse business requirements.
It is a great all-round app with a lot of capabilities including VoIP Calls, cross-OS Instant Messaging and more.
Cons
Some of the users of this app have complained that they found it difficult to connect it to their Bluetooth headphones.
This app has also received criticism for not being very compatible with Apple Airpods. Many users have stated that the sound quality is poor when connected to Airpods.
Eyecon
Eyecon is one of the most popular mobile dialer apps out there. It's easy to register – all you need is a mobile number. It has a beautiful interface that divides the calls into two subsections – All Calls and Missed Calls.
Eyecon is unique on this list as it is a picture-based phonebook app that changes the way you use your phone. It allows you to add photos for each of your contacts, as well as control how you appear on the smartphones of your contacts.
It also has a feature called 'Can Talk' which will allow you to check whether your friend, family member or anyone else is available to talk.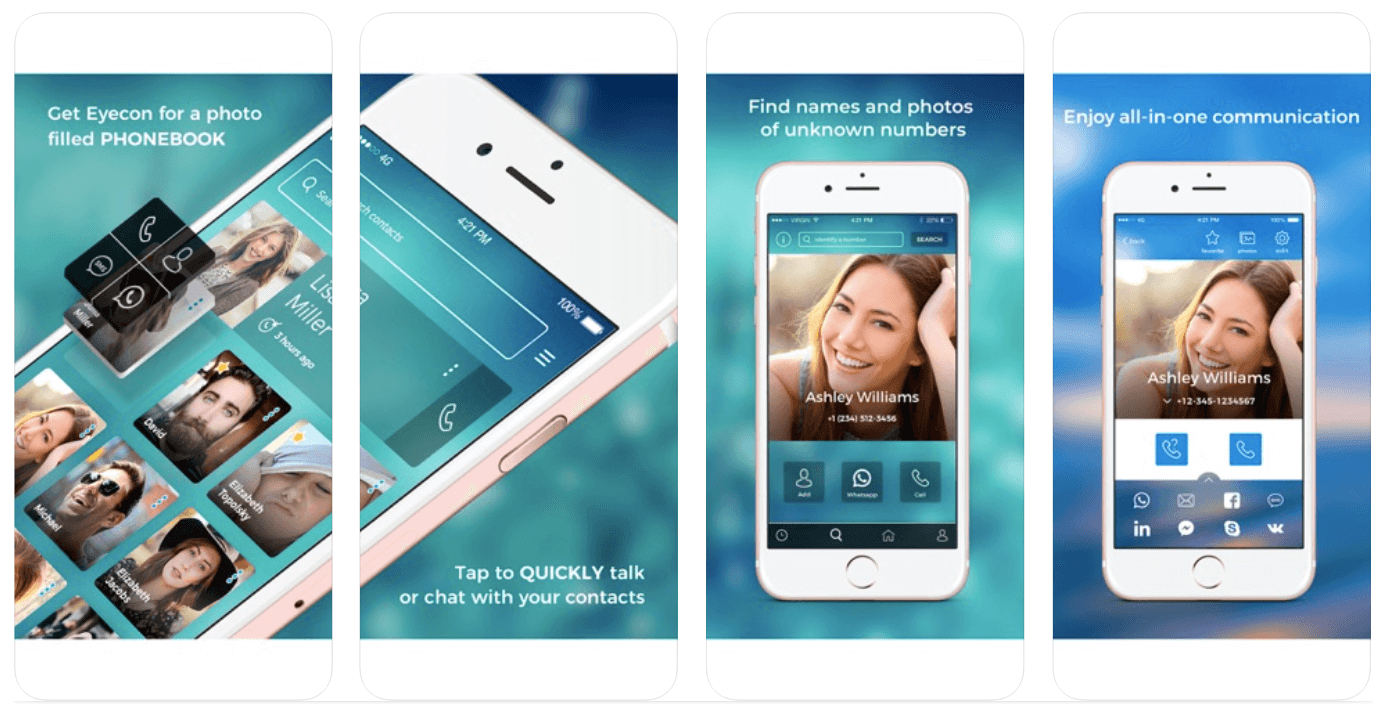 Pros
The visual approach of this app makes it very easy to recognize your contacts instantly.
The app can link together phone messenger with your Instagram, Facebook, Whatsapp and Twitter accounts.
Cons
One of the main criticisms is that the app doesn't always correctly assign the right photo with each contact.
Also, some negative reviewers warn that after deleting the app, the company still retains personal information from your contacts.
These are just 7 of the best mobile dialers available out there for iPhone. Which one is the best for you? It depends on why you want to use a mobile dialer and what the most important features are for you. The right mobile dialer will save you time and hassle and make your calls quick and easy!
Do you have any tips and tricks for getting the most out of your mobile dialer?
We'd love to hear them! Share them in the comments below.