Wondering how to reduce background noise in Avaya? We have you covered. Read on to learn more about the available solution for canceling noise from calls in Avaya for your agents and customers.   
What is Avaya?
Avaya is a global leader in communications solutions. Its product portfolio includes unified communication systems, contact center software, IP PBX, conferencing, collaboration tools, video telephony, and professional services. Avaya has customers in 190 countries and more than 90K customers worldwide trust Avaya for reliable communications.
Why do Call Centers Need Noise Cancellation?
Background noise is a major issue for call centers as poor voice communications impact the quality of support calls and can lead to noise complaints. Noise also significantly impacts the productivity of agents, especially with the transition to remote work and work from home. This makes it difficult for call centers to ensure the desired level of quality and professionalism.
The problem of noise is not new and call centers deal with it in different ways. Traditional methods for removing background noises are usually based on a physical setup and installation. For example, some common methods are using expensive noise canceling headsets, white noise systems, installing acoustic panels, increasing the distance between agents, and others. 
However, it's clear that physical solutions are no longer enough to guarantee perfect sound quality at both ends of a conversation.
Additionally, these physical options are expensive, require regular maintenance, and don't solve the background noise problem adequately. Despite their shortcomings, these were the only and the best options for the industry for years.
Things have also drastically changed with the transition to remote work. When contact center agents switched to working from home, these physical noise suppression solutions were no longer effective. Noise complaints escalated and resulted in a more negative customer experience. Customers were simply not used to hearing doorbells, dogs, kids, or sirens in the background of their calls, questioning not only the professionalism of agents but also the privacy of their conversations. 
All of these disruptions also affect the performance and well-being of agents as they become more stressed in noisy conditions. This adversely impacts not only the agent's productivity but also the call center's quality level and brand reputation.
The solution? Using call center software Avaya together with Krisp to ensure a noise-free call experience for your agents and customers.
Noise Cancellation App for Avaya: What is Krisp?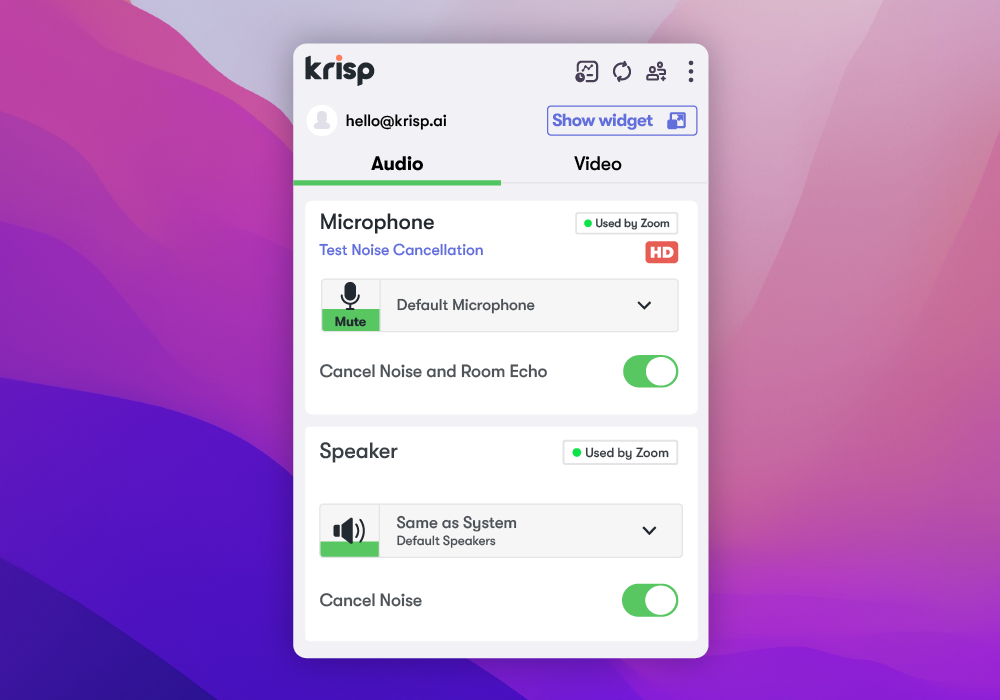 Krisp is the leading software company in the audio and voice industry that empowers everyone to communicate with clarity and confidence. Its bi-directional AI-powered Noise, Voice, and Echo Cancellations enable people to speak without worrying about background noise, interruptions, or echoes.
Avaya Solution & Interoperability Test Lab has vastly tested Krisp with Avaya one-X® Communicator and Avaya one-X® Agent, and announced it as a trusted and certified solution for the Avaya users.
Krisp is also a Technology Partner with Avaya DevConnect Marketplace with its "Krisp for Contact Centers" solution. The Application Notion about Krisp's operability with Avaya one-X® Communicator and Avaya one-X® Agent can be found on Krisp's Marketplace page.
Krisp has been recognized as an industry leader, named one of TIME Magazine's 100 Best Inventions of 2020 in the Artificial Intelligence category, and one of "America's Most Promising Artificial Intelligence Companies" by Forbes. 
It's trusted by some of the world's largest global brands and their business partners, including Accenture, GitHub, Discord, Concentrix, and more. Krisp supports more than 150 million users across the world and thousands of small businesses, enterprise organizations, contact centers, and business process outsourcers to create clearer communication — regardless of where they work. Krisp easily works with any communication software.
[demo-new]
During the pandemic, Krisp became an essential solution, especially for call centers. After turning Krisp on, customers report a 6% reduction in Average Handle Time (AHT), and an 8% increase in customer satisfaction score (CSAT), while noise complaints are reduced by 78%. 
"We frequently refer to Krisp in internal meetings as 'working like magic. Agents, their managers, and customers are all ecstatic and happy, and the difference is black and white," says Nathan Yap, CEO at SupportZebra, a business process outsourcing (BPO) company that supports SaaS and eCommerce companies.
With Krisp, call center agents can resolve customer issues with confidence and maintain customers' trust, knowing that background noise and distractions won't get in the way. 
Krisp works with Avaya to provide your agents and customers with the best possible call experience. It helps you make sure that your callers hear your agents clearly and vice versa, without having to worry about unwanted background noise.
Besides call center noise cancelling, Krisp works for a variety of different use cases and gives individuals and teams the tools to improve their meeting experience and gather insights on communication habits to improve their digital well-being.
How to Reduce Background Noise in Avaya?
Let's take a closer look at how you can add noise cancellation to Avaya and use Krisp's solution to make the calls crystally clear. 
Krisp has passed the Avaya Compliance test and is certified on Avaya's two major platforms: One-X communicator and One-X Agent. It sits in front of the communication application and serves as a hardware driver in front of the actual hardware. 
Below are the steps you will need to take to pair Krisp with Avaya.
Prior to setting it up with Avaya, install the Krisp application on the same device running Avaya's one-X Agent or one-X Communicator. Follow the instructions to set up Krisp.

After logging into one-X Communicator, go to General Settings. And for one-X Agent, open up Agent Preferences. Go to the Audio section and select the Basic tab.

From there set the Microphone and Speaker to Krisp Microphone and Speaker, respectively. You should see that Krisp Microphone and Krisp Speaker are automatically detected by platforms when Krisp is installed. 

Now set up the Krisp by choosing the correct physical microphone and speaker from the inside of the app.

Additionally, if you'd like to set up Voice Cancellation, open the Krisp Preferences and select Voice from the left pane. Click on the Setup Voice Cancellation button and start the voice analysis for Krisp to detect voices other than the one being recorded in this process. Wait until the voice analysis process is complete. 

Turn on Krisp by toggling the Remove Noise button for the microphone and speaker. When toggled on, Krisp will automatically remove all background noises, voices as well as echoes.
For more detailed guidelines and step-by-step instructions for each platform visit Avaya's support center. 
Final thoughts
Background noise became a major issue for call centers, especially with the transition to remote work. Besides being a distraction, it can also negatively affect agent performance. Studies show that workers who work in noisy environments perform worse on cognitive tasks than those who work in quiet environments.
Poor audio communication also leads to a lower quality level of customer experience. Many customers complain about being disturbed by background noises such as ringing phones, music playing, and conversations between agents. 
If you want to make sure your customer calls are clear of noise, background chatter, and echo, we recommend pairing your call center software, such as Avaya, with Krisp for clearer communication. The app allows you to eliminate unwanted sounds from both ends of the call and leads to improved performance as demonstrated by metrics.  
Learn more about Krisp's noise cancellation solution for call centers and start your evaluation today.