When Apple first released the M1 chip a year ago in a select few of its Mac models, the tech world was incredibly enthusiastic. Not only was this the output of easily 10+ years worth of innovation, but it was also the company's first release of a proprietary chip to compete with the likes of Intel, AMD, Radeon, and others. Long story short: The arrival of Apple's M1 chip to the market was big news – and for good reason. Let's take a closer look.
What makes Apple's M1 chip so special?
'Performance' is the word that stands out the most when talking about Apple's M1 chip. Unlike other chips in the market today, Apple touts the M1 as a "System on a Chip" that essentially powers all aspects of Mac devices, including the:
CPU
GPU
Unified memory architecture (RAM)
Neural Engine
Secure Enclave
SSD controller
Image signal processor
Encode/decode engines
Thunderbolt controller with USB 4 support
And the list goes on…
As opposed to past Mac devices where different chips powered different functions, by integrating performance into a single chip, the M1 is able to be faster and more efficient than previous Intel chips. But the benefits go beyond that. The chip's unified memory architecture (RAM) makes it possible for all device features to access the same data in one place – versus having to copy data across multiple processors. This is single handedly the biggest contributor to the M1 chip's speed, efficiency, and performance improvements.
To learn more, check out MacRumors's deep dive into the ins and outs of the Apple M1 chip.
Krisp Audio, now natively supported on the M1 chip
If you purchased a Mac device powered by an M1 chip, your goal was likely to get the most power and performance out of every single app that runs on your machine.
The good news for you: The latest release of the Krisp app now supports Krisp Audio* natively on the M1 chip. What does this mean? Glad you asked. This major performance upgrade enables Krisp to tap into the M1 chip's power for audio processing. This translates into more efficient operations, extended battery life, and optimized CPU usage on all M1 Macs.
Compared to the previous version of Krisp, you'll now get up to:
2X improved battery life
5X improved CPU power efficiency
In other words, you'll notice a big improvement immediately. So if you haven't updated your Krisp app to the latest version yet, be sure to do it now. It's super easy: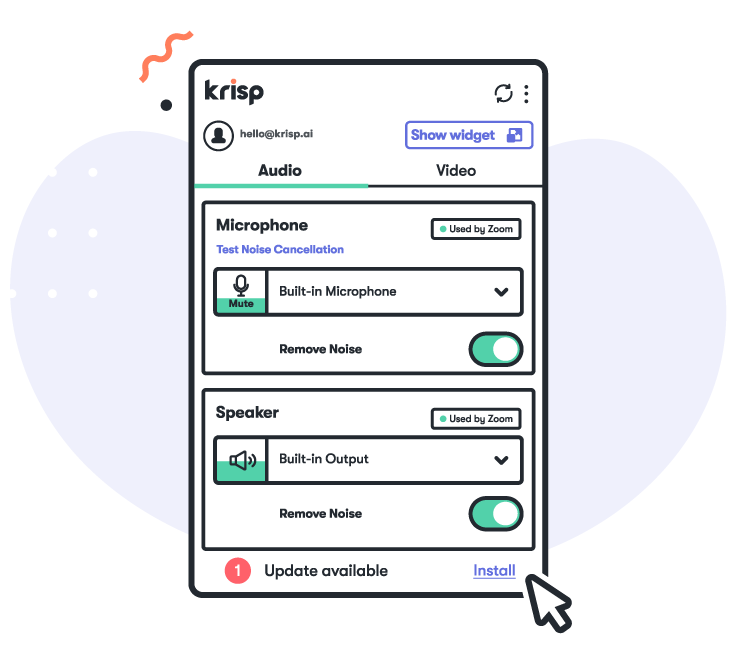 *Native M1 chip support for Krisp Video coming soon.
Say 'good-bye' to background noise with Krisp
Our number one priority at Krisp is to ensure that every single online call you make or meeting you take is free from disruptive or distracting background noise, so the end result is crystal clear audio quality every time. And because Krisp's "virtual microphone and speaker app" offers cutting-edge, bi-directional noise cancellation powered by the most advanced AI, it means that any noises from your end won't disrupt your call, nor will background noise from the other speakers on the line get in the way either. It's basically our version of magic.
The latest release of the Krisp app with native audio support for all Mac devices powered by the M1 chip is just one (of many) ways we're living up to this promise.